Collagen is a trendy nutritional supplement that many are adding to their diets, but why? What is collagen? What does collagen do? What does the science and research say about collagen? Let's dive in together to see what  collagen is and what research says about collagen benefits and collagen side effects.
First, a reminder: While I am a registered dietitian, all blog posts I author, including this one, are for informational purposes and are never to be substituted for individual medical or nutritional advice. Please see your personal physician, dietitian, and/ or other members of your healthcare team for questions or concerns regarding your unique care.
What is collagen?
Collagen is the most abundant protein in your body, found in skin, muscles, tendons, bones, ligaments, and even teeth, blood vessels, and corneas. Collagen has many roles, from helping give your skin elasticity to providing strength in your bones. While it contains 19 different amino acids, the predominant amino acids are glycine, proline and hydroxyproline (1). It's also important to note collagen is not a complete protein, as it only contains eight of the nine essential amino acids.
Collagen is endogenously produced and repaired in our bodies. Science shows us that taking dietary collagen supplements does not directly translate to more collagen in your body. Digestion breaks collagen supplements down into amino acids that may be used to help collagen production, or may be used elsewhere in your body.
Hydrolyzed Collagen vs. Collagen
Collagen is a long-chain of amino acids. Hydrolyzed collagen is when collagen has been processed and broken down into smaller chains of amino acids. These smaller chains of amino acids are more easily absorbed by your body.
Hydrolyzed collagen, collagen hydrolysate, and collagen peptides are terms that can all be used interchangeably as they refer to the same thing.
Collagen Types
There are at least 16 types of collagen, but 80-90% of collagen in the body is from types I, II, and III (2).
Type I is found mostly in skin, tendons, organs, vasculature, and bones

Type II is found it cartilage

Type III is found in reticulate, typically alongside Type 1
While all collagen dietary supplements will differ, many are a combination of Type I and Type III, although there are some Type II-specific supplements.
How is Collagen Made?
Hydrolyzed collagen peptides are made by processing animal cartilage, hides, and bones. This can be from cows, pork, chicken, or other animals and may include one source (i.e. bovine hides) or multiple (hides and cartilage). They can also be sourced from marine sources, like shellfish, fish skins, or cartilage from fish or sharks.
The actual processing will vary between companies but one company (Vital Proteins) notes that their process involves soaking bovine hides in hot water to remove fat, then soaking in an alkaline or acid solution, cooking in water, and then treated with enzymes to process from gelatin to collagen peptides. Then the product is dehydrated and milled to create a powdered supplement (3).
Collagen and Heavy Metals Toxicity
One potential concern with collagen, and any other dietary supplements that are derived from bones, is heavy metal toxicity since animal bones contain trace amounts of toxic metals (4). One study looking at bone broth (processed similarly as collagen) showed that heavy metals, like lead and cadmium, were found in commercial bone broths but were in such low quantities that any risks were considered minimal.
Marine collagen, sourced from fish skin, can also pose a concern for heavy metal toxicity due to mercury content in different fish. However, one study in rats noted no higher chronic toxic effects in any of the test groups compared to the control group (5).
Some companies will test every lot of their collagen for different heavy metals to ensure safety in their product, so be sure to investigate before purchasing.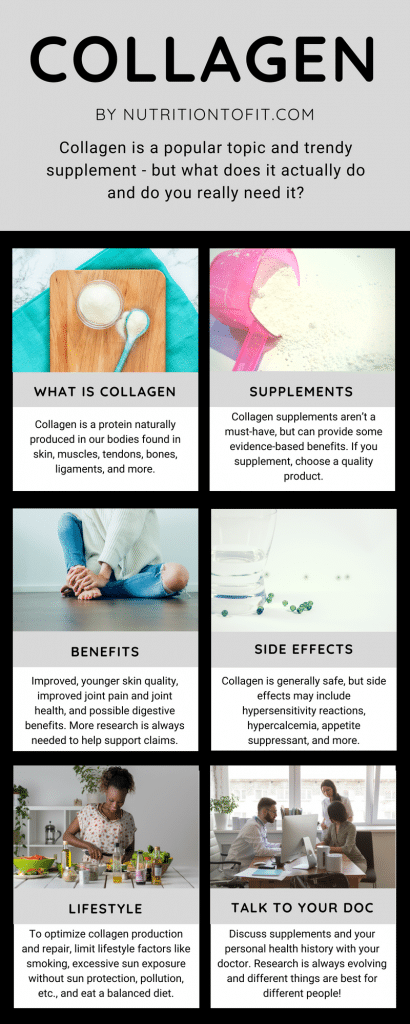 Collagen Benefits
Collagen enthusiasts anecdotally claim collagen benefits/ collagen peptide benefits for anything from improved hair, nails, and skin, to joint health, digestive health, and other various medical conditions.
Dietary supplements are not regulated by the FDA in the same way our conventional food supply is regulated, which means supplement companies are expected to evaluate the safety and labeling of their products before marketing to ensure they meet all requirements of DSHEA and FDA regulations (6). However, action against supplement companies isn't taken by the FDA until there are complaints made and an investigation is done - basically after their product has been sold for a while.
It's important to not base supplement purchases solely off the recommendation of a company's marketing team, but to look at what research actually says about the product. This is exactly what the next several sections will do as we look at several areas of benefits of collagen peptides and what the research says about them.
Collagen Benefits for Skin, Hair, and Nails
Collagen benefits for skin is an area with growing research. Studies have shown emerging evidence on collagen peptides consumption leading to improvement in skin issues associated with skin aging, like facial skin moisture, elasticity, wrinkles, and roughness (7). One study showed increased keratin and keratin-associated peptides in skin (which may possibly correlate with hair benefits) (8). Additionally, one review of available research in 2015 also noted a high level of tolerance and safety, potentially making collagen peptides "attractive" for long-term use (9).
Anecdotally, many individuals also have stories about how they feel consuming collagen peptides has led to improvements in hair, skin, and nail growth and quality. More significant research is needed to support these claims and the research mentioned above. It does not mean that these individuals are not seeing benefits, it just means we don't have enough consistent, statistically significant, concrete data that it does.
Collagen Benefits for Joints
Research is suggesting that collagen may reduce and prevent joint pain and bone density loss (9). One 24-week study looked at hydrolyzed collagen as a dietary supplement to help athletes with activity-related joint pain, noting possible benefits of collagen supporting joint health, reducing joint pain that could inhibit athletic performance, and possibly reduce the risk of joint deterioration in certain individuals (10). As with all studies, there are limitations and further studies will be needed to support findings.
Collagen Benefits for Osteoarthritis and Osteoporosis
There is a lot of interest in the topic of hydrolyzed collagen as prevention and/ or treatment for osteoarthritis and osteoporosis. One randomized, double-blind, placebo-controlled study indicated the positive potential of collagen peptide supplementation in osteoarthritis management and joint health maintenance (11).  In general, though, while there is potential for beneficial effects, current findings don't show statistical significance in pain management and provide insufficient evidence to support collagen as a recommendation in prevention or treatment of osteoarthritis and osteoporosis (12, 13).
Collagen Benefits for Digestion
When collagen peptides are mentioned in conjunction with gut health and digestion, it's often referring to the prevalence of the amino acid glycine in collagen peptides, which is thought to reduce gastrointestinal inflammation and improve digestion (14). Studies looking specifically at hydrolyzed collagen found that long-term ingestion of collagen or hydrolyzed collagen can change the compositional rate of hydroxyproline peptides in human blood, which could possibly change protease activity in the digestive tract with beneficial effects (15). Another study found that individuals with ulcerative colitis may see benefits from consuming collagen or collagen peptides, as treatments including collagen and collagen hydrolysate resulted in decreased mucosal damage and faster regeneration of damaged mucosa (16).
Of course, further studies are needed to support current findings and provide more clinically significant data.
Collagen Side Effects
While many studies recognize collagen as a generally safe ingredient, there are a few potential side effects to be aware of.
Hypercalcemia: high calcium levels may occur in some individuals, due to high concentrations of calcium, particularly in some sources of marine collagen, like shark cartilage (

17

). Be cautious especially if simultaneously taking any calcium supplements.

Hypersensitivity reactions: be sure to check the source of your collagen - if you're allergic or sensitive to the collagen source (i.e. cow, shellfish, fish), you'll likely have reactions to that collagen as well.

Bad taste in mouth: while many, many collagen peptide supplements are unflavored and consumers report no discernable difference in taste, some individuals may experience a bad taste in their mouth following consumption.
Anecdotally, some individuals have reported other side effects including constipation, bone pain, fatigue, and heart arrhythmia. Be sure to discuss your individual health history and potential side effects with your healthcare provider before starting supplementation.
Do You Need to Supplement with Collagen?
Collagen supplementation is not necessary. Our bodies naturally produce and repair collagen on their own. Collagen supplements consumed orally do not directly correlate to increased collagen stores. Some emerging research suggests potential benefits associated with collagen supplementation and that it's generally seen as safe. More research is always needed to further substantiate existing and explore additional evidence.
There are other lifestyle factors you can also focus on to support your body's natural collagen production and repair. Reduce exposure to free radicals, excessive sun exposure without sun protection, smoking, and pollution. Focus on a healthy lifestyle with plenty of water, amino acids, antioxidants including lots of Vitamin C-rich fruits and vegetables, and other anti-inflammatory foods, such as omega-3s found in salmon.
Overview of Collagen Supplementation
Collagen is a protein naturally produced in our bodies but can be produced from animal and marine sources as a dietary supplement.

Collagen peptides is collagen processed into smaller, more easy to digest and absorb pieces.

Potential research-based collagen benefits include skin, hair, and nail health, joint health, and gut health.

Potential collagen side effects include hypersensitivities/ allergic reactions, hypercalcemia, bad taste in mouth, heart arrhythmias, fatigue, constipation, and appetite suppressant.

More clinical research is needed to support current research and claims.

You can optimize your body's natural production and repair of collagen by consuming a variety of amino acids, antioxidants, and omega-3 fatty acids through foods like different protein sources, fruits, and vegetables.

Avoid smoking, excessive sun exposure without sun protection, pollution, and lifestyle factors that increase free radicals to avoid faster breakdown of endogenous collagen.

Always consult with your doctor before starting any new supplements or dietary changes to ensure it's a good fit with your individual health history.

If you are having any adverse effects, discontinue use and discuss with your medical provider immediately.
More Collagen Information
Check out part 2 of this collagen series where I do a collagen Q+A and answer common questions like how much collagen you need (if any), dietary collagen sources, and how to choose a quality supplement. I also share my personal take on collagen as a dietitian and how I use it.
If you are considering a collagen supplement, I have personally tried the following brands of unflavored collagen peptides purchased from Amazon (affiliate links below) and have had no issues, personally:
If you're looking for collagen recipes, here are a few of my favorite recipes where I include collagen:
If you enjoyed this post, be sure to share it with your health and collagen-curious friends on social media (tag #nutritiontofit!) and pin on Pinterest! Thank you, and live well!
References: