Perfect for busy weeknight meals, this 30-minute easy gluten-free lo mein satisfies take out cravings with chewy gluten-free noodles and crisp vegetables coated in an amazing sweet and savory sesame sauce.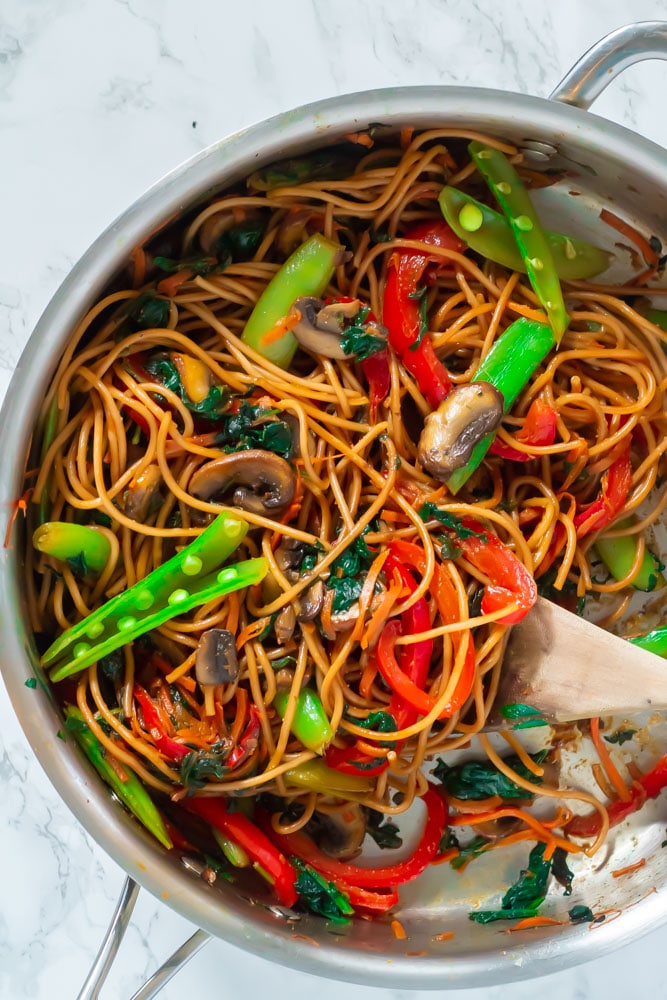 If you're new around here, you may be surprised to hear that I have no problem with occasional take out or dining out - yes, even as a dietitian! But overall, I know that my (and your!) families are a lot healthier with some home cooking. The problem? Sometime I have no energy to make a big dinner by the time dinner time rolls around.
Enter: simple dinners like these that are beyond delicious and the whole family loves!
Recipes like this easy lo mein use a few healthier, allergy-friendly swaps to make a meal that everyone in the fam will love.
Gluten-Free Lo Mein Ingredients
Here's what you need for this gluten-free lo mein that's free of the top eight most common food allergens (along with some substitution notes):
Noodles: Use whatever type of noodles you prefer (there are so many different varieties on the market). I chose a gluten-free yellow lentil spaghetti that added more fiber and protein. Any type of spaghetti, linuini, or long noodle will work - use what you love!
Vegetables: I love adding a variety of vegetables for different textures and nutrients. The recipe calls for julienned red bell pepper, carrots, mushrooms, spinach, and snow or sugar snap peas. Truthfully, you can swap out any veggie you don't like and add in whatever you prefer or have on hand.
Sesame Sauce: This sesame sauce is very allergy-friendly for the top 8 most common food allergens with a base of coconut aminos, a little sweetener, ginger, garlic, and sesame oil. Coconut aminos are similar to soy sauce in flavor, but they're gluten-free, soy-free, and naturally are lower in sodium. You can substitute low-sodium soy sauce, and can also use any sweetener like brown sugar, honey, maple syrup, or coconut sugar.
You also can also add more protein with the addition of something like shrimp, chicken, or tofu. I didn't, because by choosing a higher protein lentil-based noodle, one serving of this dish has 20 grams of protein!
How to Make Healthy, Easy Lo Mein
Keep it simple and dinner is ready kitchen to table in less than thirty minutes!
Fill a large pot ⅔ full of water and bring to a boil. Add the noodles. And pro tip? If you ever feel like you have a hard time with water and foam boiling over while you boil pasta, lower the heat to a little over medium heat, so there is a gentle boil.
Meanwhile, chop any vegetables that need chopping and whisk together the sauce ingredients to set aside.
Heat oil in a large skillet or wok. Saute your sturdier veggies first that need a little more cooking time (like the bell pepper, carrots, and mushrooms). After a few minutes, add the remaining veggies (snow peas and spinach) and cook a couple more minutes until wilted and tender.
Drain noodles and add to vegetable mixture. Pour the sauce over the noodles and veggies and toss to combine.
Plate it or portion it into meal prep containers and boom! Dig in!
Lo Mein Meal Prep Tips
This gluten-free lo mein meal preps easily. It's a fairly quick meal that offers four portions. You can either serve it up right away for a meal or portion into glass containers.
To reheat, I suggest covering your lo mein with a damp paper towel and microwaving 30 seconds at a time, stirring occasionally. You can also put it back in a pan for a few minutes, stirring occasionally, to reheat as well. With both options, you may need to add a teaspoon or two of water, as well (this seems to depend most on what type of noodle you're using).
I do not recommend freezing, FYI!
Make it Faster
If you're really short on time, try these suggestions:
Use pre-chopped vegetables. There's usually a trade off of time vs. money, but if you have a little less time and are willing to pay a little extra, buy pre-sliced mushrooms, matchstick/ julienned carrots, etc.
Use frozen vegetables. This won't turn out exactly the same, but if you're looking for a super quick dinner and all you have on hand is frozen vegetables, it'll work! Thaw the vegetables in the microwave for a couple minutes, then transfer to a large wok or pan with the noodles and sauce ingredients. Frozen veggies like frozen stir fry bell peppers and onions, frozen broccoli, and frozen stir fry vegetable blends are my favorite to use.
There you have it! A delicious, quick, healthy dinner!
Looking for more 30-minute easy, healthy dinners? Try these:
Don't forget to pin this recipe to Pinterest and share on Facebook and Instagram!
Easy Gluten-Free Lo Mein
Perfect for busy weeknight meals, this 30-minute easy gluten-free lo mein satisfies take out cravings with chewy gluten-free noodles and crisp vegetables coated in an amazing sweet and savory sesame sauce.
free from: wheat/ gluten, soy, egg, fish, shellfish, tree nuts, peanuts, dairy
Ingredients
8

oz

lentil spaghetti

1

tablespoon

olive oil

2

cups

mushrooms, sliced

2

cups

carrots, julienned

2

cups

red bell pepper, sliced

2

cups

snow or sugar snap peas

8

cups

spinach, roughly chopped or torn
For the Sauce
¼

cup

coconut aminos

1

tablespoon

brown sugar or honey

1

teaspoon

ground ginger

1

teaspoon

garlic powder
Instructions
Bring a large pot of water to a boil for the pasta. Boil pasta according to package directions.

Whisk together sauce ingredients in a small bowl or cup and set aside.

Heat olive oil in a large wok or skillet. Add vegetables that take a little longer to cook - the mushrooms, bell pepper, and carrots. Cook 3-4 minutes.

Add remaining vegetables (snow peas and spinach) and cook an additional 2-3 minutes.

Drain pasta and add to vegetables. Pour in the sauce and toss to combine, cooking an additional 1-2 minutes.
Nutrition
Calories:
346
kcal
|
Carbohydrates:
57
g
|
Protein:
20
g
|
Fat:
4
g
|
Saturated Fat:
1
g
|
Polyunsaturated Fat:
1
g
|
Monounsaturated Fat:
1
g
|
Trans Fat:
1
g
|
Cholesterol:
1
mg
|
Sodium:
439
mg
|
Potassium:
957
mg
|
Fiber:
10
g
|
Sugar:
13
g
|
Vitamin A:
19183
IU
|
Vitamin C:
146
mg
|
Calcium:
107
mg
|
Iron:
3
mg