A glazed ham is a popular main dish during the holidays. This pomegranate maple glazed ham is no exception! The pomegranate maple glaze is refined sugar-free and full of subtle contrasting flavors. Everything combines perfectly with the ham's saltiness, leaving all of your guests wanting more!
Pomegranate Maple Glazed Ham
Whether it's at Easter or Christmas (or both!), my family always looks forward to a delicious holiday ham. Baked glazed hams are super popular, but I've got to be honest - when the sweetness of the glaze becomes the only flavor you can taste, I quickly lose interest! That's why I was on a mission to capture some sweetness, but let some other flavors (like the salty ham) still shine! And I am SO happy with how this pomegranate maple glazed ham turned out!
Oh, and I wasn't the only one! We sliced up this ham and brought it over to my sister's house to enjoy with a bunch of family one night and it was a huge hit! Between everyone coming over and "sampling" slivers from the serving platter while the rest of dinner was finishing, to my two-year-old nephew asking for more and more and still more ham! It was definitely a hit with the whole family!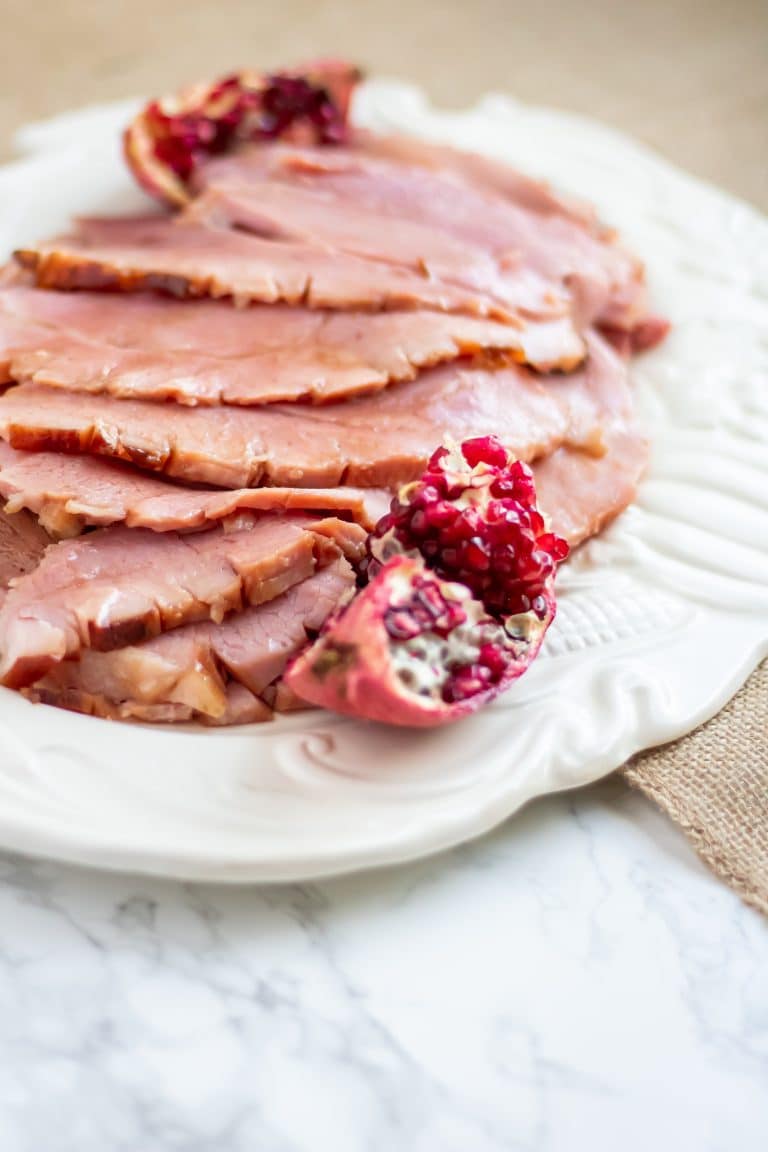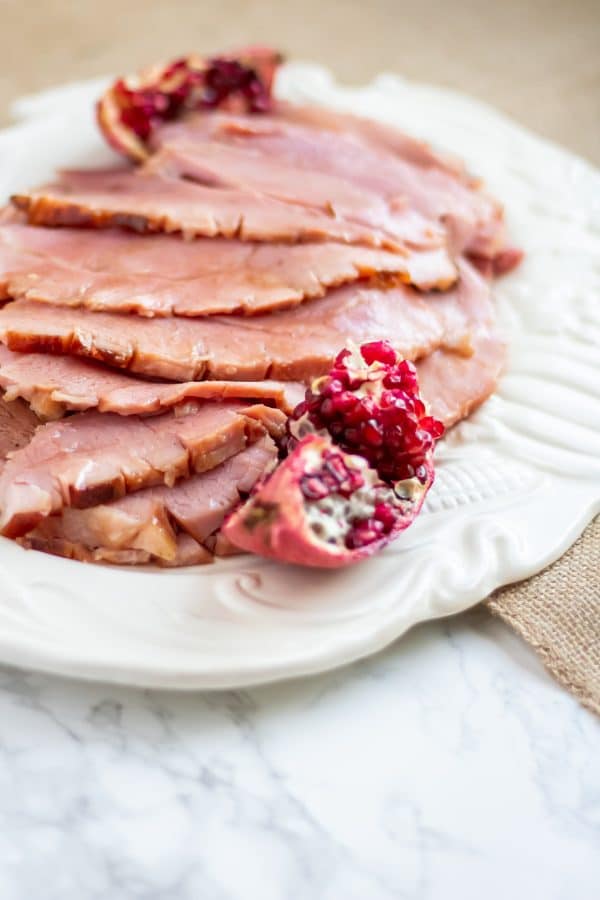 How to Choose a Ham
Picking a ham for your holiday centerpiece can be a little confusing because there are just SO many different types of hams you can find! Bone-in, boneless, spiral cut, smoked, cured, and more. At the end of the day, I'd say the most important thing you can try to look for is a ham that is free of nitrates/ nitrites and antibiotics.
I used a bone-in ham for this recipe (you can totally use the ham bone in other recipes, like soups!). Choosing a spiral-cut ham will make carving and serving the ham a bit easier for you, too, since it's already partially done for you.
If you're looking for ultimate convenience, I also wanted to share that Butcher Box currently has a promotion where new customers who sign up for their first Butcher Box in the month of December receive a free 7 lb spiral ham (affiliate link). The ham is a fully cooked, hickory smoked, uncured, bone-in spiral ham. It's free of nitrates, casein, and gluten. It's non-GMO verified, vegetarian fed, and no antibiotics and growth promotants ever! While this offer is good through December 31st, if you'd like to receive your free ham by Christmas, you need to order before December 17th!
How do you cook a ham?
The majority of hams available are already fully cooked, so all you have to do is heat it through. The USDA recommends reheating the ham at an oven temperature no less than 325 degrees and cooking until the ham reaches an internal temperature of 140 degrees.
I like to use a meat thermometer to ensure my meats are at the proper temperature. This is the meat thermometer I use (affiliate link) and bonus, the probe and wire connecting into to the display unit are oven safe, so you can leave it in the oven the whole time.
The amount of time required to cook a ham varies based on the size of your ham, but to hit an internal temperature of 140 degrees when cooking at 325 degrees, expect on average about 20 minutes per pound. You can see this isn't a super fast process - it can take up to 1 ½ to 3 hours (or even more!). The good news though, is that reheating a fully cooked ham is a pretty low-maintenance process, even with adding a glaze.
How do you make a glazed ham?
There are a bunch of different ways, but here's how I make my pomegranate maple glazed ham:
Let your ham come to room temperature before cooking. This will help the ham not have to be in the oven as long and will help it stay more moist.
Place the ham in a large roasting or baking pan with a little water in the bottom and cover with foil. Bake at 325 degrees until the ham's internal temperature is 120 degrees.
Once the ham is in the oven, start the glaze. All you need to do is whisk together the glaze ingredients in a small saucepan and let it simmer about 15 minutes, or until the mixture has reduced to approximately a half cup and is thicker and kind of syrupy. Pro tip: don't walk away as it's getting closer - you don't want it to scorch the bottom of the pan the last few minutes!
Pull ham from oven, remove foil, and brush ham with about ¾ of the glaze. Return to the oven, uncovered, until the ham reaches 140 degrees. 
Remove ham from the oven and brush with remaining glaze. Allow it to sit a bit so it cools, then slice and serve!
You can see making a glazed ham isn't that high maintenance! Just requires a little patience, but is totally worth the effort!
You also can totally make the glaze ahead of time, just store in a sealed container in the fridge up to 48 hours prior to using. I'd also recommend warming the glaze before applying it to the ham, so cold glaze doesn't bring down the temperature of the cooking ham!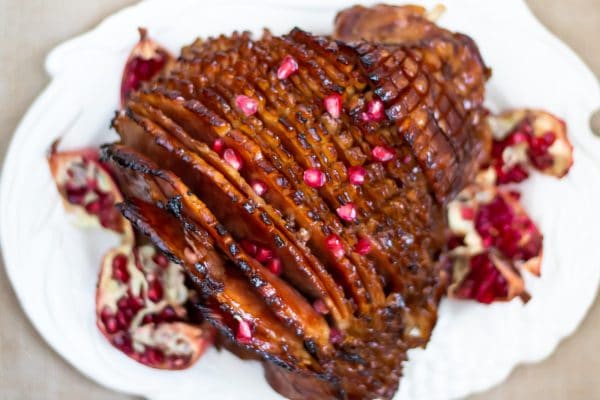 Don't forget the rest of your holiday dinner! Try some Nutrition to Fit holiday side dish favorites by serving with Greek yogurt mashed potatoes, maple dijon brussels sprouts, and cinnamon glazed carrots. Have some leftover ham? Try adding it to some veggie egg muffin cups for quick weekday breakfasts or to a leftover ham sandwich with brie and cranberry sauce (recipe coming soon!)
Pomegranate Maple Glazed Ham
This pomegranate maple glazed ham has a glaze with no refined sugars and a balance of sweet, salty, and a little tang! Perfect for your holiday centerpiece!
free from: gluten, dairy, soy, egg, fish, shellfish, tree nuts, peanuts
Ingredients
1

spiral cut, bone-in, naturally cured ham

(about 8-10 lbs)

1

cup

pomegranate juice

½

cup

maple syrup

1

tablespoon

dijon mustard

1

teaspoon

allspice

optional pomegranate broken into wedges for garnish
Instructions
Let ham sit out until it comes to room temperature (about one hour). Preheat oven to 325.

Place ham fatty side up in a roasting pan or large baking dish. Add about ½-3/4 cup water to the bottom of the pan so it comes up about ¼-inch up the pan. Cut diagonal slices into the surface of the ham (opposite the direction of the spiral cuts). Cover ham with foil. If you're using a thermometer probe that can be left in the oven, you can poke it through the foil now. Bake until ham reaches an internal temperature of 120 degrees (about 2-2.5 hours, depending on the size of the ham).

Combine all the glaze ingredients (pomegranate juice, maple syrup, dijon mustard, and allspice) in a small saucepan and whisk together. Allow mixture to simmer over medium heat until mixture has reduced to about a half a cup and is thicker and more syrupy (about 15 minutes). Whisk occasionally and be careful at the end - you don't want the glaze to scorch on the bottom of the pan by walking away and forgetting about it!

When ham reaches 120 degrees, remove ham from oven and remove foil. Generously brush with about ¾ of the glaze. Return to oven (uncovered) and cook until ham reaches 140 degrees, about another half hour.

When ham is at temperature, pull from oven. Brush with remaining glaze and allow ham to sit for another 20-30 minutes to allow ham to cool slightly to eat and the glaze/ juices to thicken as it cools slightly.
Notes
Cook times will vary based on size of ham - it's best to cook to temperatures specified!
Nutrition information may vary. Estimated based on a 3 oz serving.
Nutrition
Calories:
240
kcal
|
Carbohydrates:
8
g
|
Protein:
18
g
|
Fat:
14
g
|
Saturated Fat:
5
g
|
Cholesterol:
52
mg
|
Sodium:
1010
mg
|
Potassium:
296
mg
|
Sugar:
8
g
|
Calcium:
19
mg
|
Iron:
0.8
mg