Green Smoothie Oatmeal is the perfect hybrid breakfast when you want both an energizing green smoothie and a cozy warm bowl of oats. This green oatmeal is gluten-free, dairy-free, egg-free, nut-free, and vegan.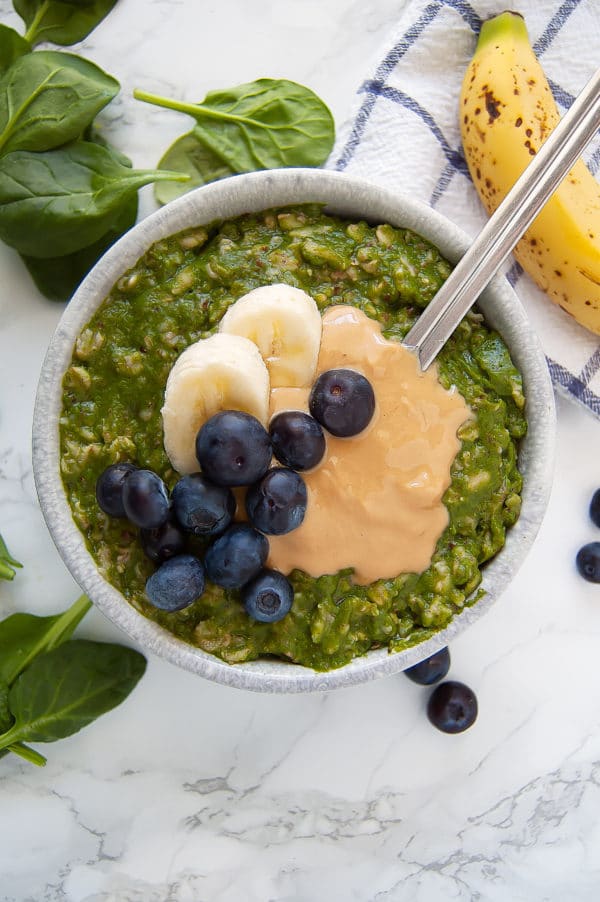 One way that I practice self-care is by nourishing myself with the foods that make me feel my best. And honestly? Vegetables make me feel really good! And I love getting to start my day first thing with veggies!
Typically I enjoy veggies for breakfast in the form of a smoothie (like this Strawberry Orange Squash Smoothie or even my Chocolate Veggie Smoothie!). If I'm in a more savory mood I'll pair some veggies and eggs, like in my Veggie Egg Muffin Cups.
But sometimes I want something on the sweeter side, but still warm. You know - like those mornings a green smoothie sounds delish, but you want something warm and cozy in your belly. Well - I got ya covered with tasty Green Smoothie Oatmeal!
This Green Smoothie Oatmeal is exactly that. With the use of fresh spinach and banana, the flavor is similar to many green smoothies. Yet it's a warm bowl of cozy oats!
This recipe packs:
1 banana (vitamin B6, vitamin C, manganese, potassium, + much more, including a delicious natural sweetness!)
2 packed cups of spinach (vitamin K, vitamin A, folate, + much more!)
½ cup oats (fiber, molybdenum, whole grain carbohydrates, a little plant-based protein, + much more)
flaxseed (fiber, omega-3s, antioxidants like lignans, + much more!)
cinnamon (antioxidants; may have benefits to blood sugar regulation, digestion, immunity system, and more)
Also? This Green Smoothie Oatmeal was a huge success with my one-year-old and my husband. We meal prepped a larger batch and it made the for the easiest mornings. My husband packed his in glass jars with a few extra blueberries and nut butter, and either ate it cold (like overnight oats) or reheated it when he got to work. I would scoop some out for my daughter's breakfast, and she actually devoured this before one of her most favorite foods (blueberries) I served with it. Which I've you've ever eaten around my daughter...you know that says a lot. 😉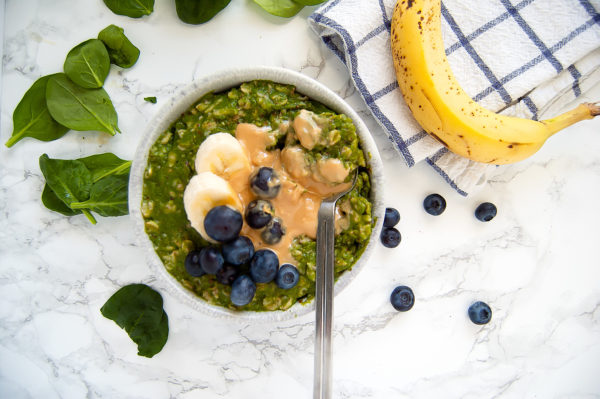 With St. Patrick's Day just around the corner, it's also the perfect time to bust out the green food, and what better way than a tasty, naturally-colored bowl of green oats. 😉 If you make some to enjoy, share with the NTF community on the NTF Facebook Page or on Instagram (tag @nutritiontofit #nutritiontofit). Live well!
Green Smoothie Oatmeal
Green Smoothie Oatmeal is the perfect hybrid breakfast when you want both an energizing green smoothie and a cozy warm bowl of oats.
free from: gluten, dairy, eggs, soy, tree nuts, peanuts, fish, shellfish & no sugar added
Ingredients
½

c.

old-fashioned oats

(certified gluten-free if needed)

1

c.

water

1

tablespoon

ground flaxseed

½

teaspoon

cinnamon

1

banana

2

c.

spinach

½

c.

unsweetened milk of choice

Optional toppings: sliced banana, blueberries or other berries, nut or seed butter, seeds, coconut, cacao nibs, etc.
Instructions
Combine oats, water, flaxseed, and cinnamon in a small pot on the stove over medium-high heat. Stirring occasionally, cook for 5-7 minutes or until oats have absorbed all the water and are cooked.

In a blender or food processor combine the banana, spinach, and milk/ milk alternative. Blend on medium speed for 30-60 seconds, or until smoothly combined.

Pour the pureed spinach banana mixture into the oats. Stir and cook another 2-3 minutes.

Serve immediately, or store in airtight containers in the refrigerator up to 3 days.
Nutrition
Calories:
357
kcal
|
Carbohydrates:
61
g
|
Protein:
11
g
|
Fat:
10
g
|
Saturated Fat:
1
g
|
Polyunsaturated Fat:
1
g
|
Monounsaturated Fat:
1
g
|
Sodium:
63
mg
|
Potassium:
990
mg
|
Fiber:
11
g
|
Sugar:
15
g
|
Vitamin A:
5675
IU
|
Vitamin C:
33.3
mg
|
Calcium:
99
mg
|
Iron:
4.1
mg