This baked pumpkin oatmeal is lightly sweetened and a delicious fall gluten-free, egg-free, dairy-free breakfast. Plant-based, it's full of fiber and micronutrients and makes an easy meal prep recipe for grab-and-go breakfasts for the week.
This post contains affiliate links.
Happy first day of fall!!!! In honor of fall, I have a yummy pumpkin recipe for you! Well actually I have two pumpkin recipes for you, but you only get this one today. 😉 I'm feeling pretty excited about fall if you can't tell. Primarily because that means it will only be another couple months before Florida's weather becomes a bit less like a swampy sauna. But also because I love fall foods, fall decorations, and the start of the holiday season that comes with fall. I can't wait!
How to Make Pumpkin Baked Oatmeal
This pumpkin baked oatmeal is entirely plant-based and vegan, which means no eggs, dairy, or animal products of any kind. To make it, you need the following ingredients:
Pumpkin puree (not to be confused with pumpkin pie puree, you want 100% pure pumpkin)
Old-fashioned oats (certified gluten-free if necessary)
Pepitas (aka pumpkin seeds)
Vanilla extract
Baking powder
Milk of choice
Cinnamon
To start, you'll combine the chia seeds with water and let them sit for a few minutes. Chia seeds are hydrophilic and absorb up to ten times their weight in water! You'll notice that as the chia seeds absorb the liquid, it takes on a gel-like texture. That's important here, because that's what we're using instead of an egg!
Mix together the chia "egg" with the other wet ingredients (pumpkin, milk of choice, maple syrup, and vanilla extract). Stir in all remaining ingredients, careful to reserve a tablespoon or two of the pumpkin seeds to top the pumpkin bake with.
Pour the pumpkin oatmeal mixture into a prepared 8x8-inch baking dish and sprinkle the reserved pumpkin seeds (aka pepitas!) on top.
Then just bake, slice, and enjoy!
Nutritional Benefits of This Recipe
I love the use of pumpkin in this recipe because not only is it delicious and seasonally appropriate, but it's a nutritional powerhouse.
Check out this whole post I've written on the nutrition and health benefits of pumpkin!
A half cup of pumpkin boasts just 40 calories, 5 grams of fiber, 2 grams of protein, and 300% of your daily needs of Vitamin A. Plus, I find the slightly sweet, earthy, mellow flavor to blend in well with baked goods, sauces, and more.
(Yup - I'm that pumpkin-obsessed that I have another entire post devoted to 30 ways to use pumpkin puree!)
Use Baked Pumpkin Oatmeal in Your Meal Prep Rotation
This baked pumpkin oatmeal is a family favorite to make for meal prep. Here we enjoyed it with some hard boiled eggs for more protein and micronutrients, along with a small apple for extra fiber, a serving of fruit, and more micronutrients.
You can also eat this baked pumpkin oatmeal as is (I'd recommend having a larger serving size if eating this alone, it's a little light as-is for a meal!).
Another favorite way to use this recipe in meal prep? Make a maple cinnamon Greek yogurt to top it with, almost like a healthy frosting. Combine a half cup of plain greek yogurt with a teaspoon or two of maple syrup and a few shakes of cinnamon. Simple!
Recipe FAQs:
Does it matter what type of milk is used?

Generally, no. I wouldn't recommend something incredibly thick, like canned full fat coconut milk. But as someone with food allergies, I understand that we all have different needs. I've made this recipe with soy milk, rice milk, cow's milk, and unsweetened almond milk before, all with good results! The only milk I didn't love was the lighter refrigerated coconut milk. My tastebuds are pretty sensitive to coconut flours and I just didn't love it here.

How long does this baked pumpkin oatmeal last?

It can stay refrigerated up to four days. You can also freeze it. I recommend freezing it in individual portions (either in small airtight containers or freezer-safe ziplock bags) so you can thaw and use whatever you need some.

Should I eat it hot or cold?

Totally your call! My husband prefers it warm and usually 30-60 seconds in the microwave will do it. Warm is delicious, but in real life I'm often eating breakfast with a baby and a toddler, so my meals usually end up cold anyway. 😉 Still delicious!

Any other ingredients I can swap or substitute?

Sunflower seeds can be used instead of pumpkin seeds
Pumpkin pie spice can be used instead of cinnamon
Any milk can be used

Does the chia "egg" work with whole chia seeds or do they need to be ground?

Originally I wrote this recipe with ground chia seeds, but that was years ago before kids. 😉 Whenever I've made it since I use whole chia seeds to save a few minutes and one less thing to wash, and ya know what? The oatmeal bake turns out just as stellar every time!

It's not that sweet, what should I do?

Sometimes if we're making this as like a cozy weekend breakfast in lieu of pancakes or something, we'll drizzle additional maple syrup over it fresh from the oven. But truthfully, I prefer it less sweetened for every day eats. I find it's all too easy for most us us (myself and my family included!) to consume more than the recommended amount of added sugar each day. Starting my day off a little less sweet with more fiber tends to help my energy levels, too!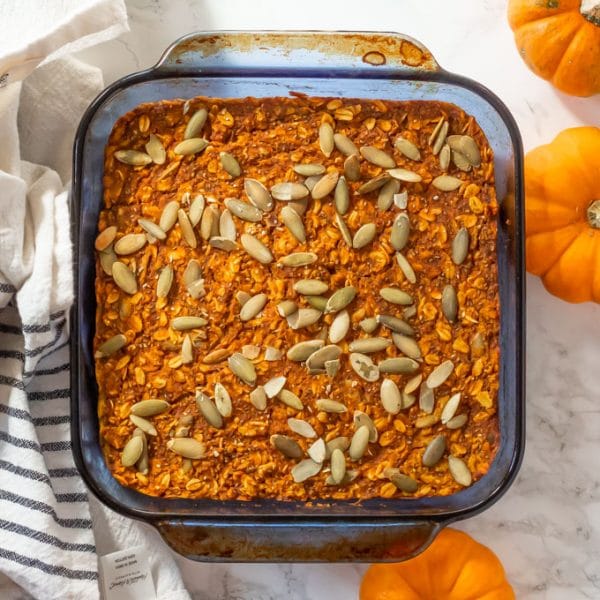 Ultimately this recipe is totally worth making. It's a great make ahead, easy meal prep recipe that provides a healthy breakfast ready to grab and go. Plus...it's pumpkin. Enough said. 😉
Want more pumpkin recipes? Try these!
Want more meal prep breakfast recipes? Try these!
Baked Pumpkin Oatmeal
This baked pumpkin oatmeal is lightly sweetened and a delicious fall gluten-free, egg-free, dairy-free breakfast. Plant-based, it's full of fiber and micronutrients and makes an easy meal prep recipe for grab-and-go breakfasts for the week.
free from: gluten, dairy, soy, egg, tree nuts, peanuts, fish, shellfish
Print
Pin
Ingredients
3

tablespoon

chia seeds

½

cup

water

1 ½

cups

milk of choice

2

tablespoon

maple syrup

1

teaspoon

vanilla extract

1

can (15 oz)

pumpkin puree

¼

cup

ground flaxseed

1

tablespoon

cinnamon

1

teaspoon

baking powder

2

cups

old fashioned oats

½

cup

raw pepitas/ pumpkin seeds
Instructions
Preheat oven to 350F and prepare an 8x8-inch pan with nonstick spray.

Combine water and chia seeds in a small bowl and let sit for a 3-5 minutes to create a gelatinous texture (it should mimic an egg-like consistency).

Mix together wet ingredients (pumpkin, milk of choice, chia mixture, maple syrup, and vanilla extract).

Reserve 1-2 tablespoon pumpkin seeds to sprinkle on top of the oatmeal bake. Add remainder of the pumpkin seeds along with the rest of the dry ingredients to the wet ingredients and stir.

Pour into prepared baking pan and sprinkle reserved pumpkin seeds on top.

Bake for 45-50 minutes or until center is set.
Notes
Nutrition information will vary based on milk used (I calculated with unsweetened almond milk).
Refrigerating and freezing instructions in the body of the post.
Nutrition
Calories:
170
kcal
|
Carbohydrates:
20
g
|
Protein:
6
g
|
Fat:
8
g
|
Saturated Fat:
1
g
|
Polyunsaturated Fat:
1
g
|
Monounsaturated Fat:
1
g
|
Trans Fat:
1
g
|
Cholesterol:
1
mg
|
Sodium:
6
mg
|
Potassium:
235
mg
|
Fiber:
5
g
|
Sugar:
3
g
|
Vitamin A:
17
IU
|
Vitamin C:
1
mg
|
Calcium:
87
mg
|
Iron:
2
mg