These delicious air fryer turkey meatballs are crispy on the outside and juicy inside. Plus they come together in less than 20 minutes for an easy, healthy weeknight dinner.
This post may contain affiliate links. As an Amazon Associate, I may earn from qualifying purchases. Click here to learn more.
Let me introduce you to my five year old's favorite meal: spaghetti and these air fryer turkey meatballs.
When I'm menu and grocery planning, I often ask my husband and kids for a meal they would like to have over the next week. Nine times out of ten, my daughter asks for these meatballs. But what's even better is that this recipe is simple enough that she can easily help make them. Mom win!
We love to serve them with pasta (we love high fiber chickpea-based Banza noodles, but don't discriminate against whole wheat or regular pasta, either!). And of course, a vegetable or two! They're delicious with blistered tomatoes, healthy sauteed mushrooms, or air fryer broccoli. Or even a simple side salad with my favorite 3-ingredient honey mustard dressing!
Side bar: if you want more recipes that are easy for your kids to make, too, our favorites are spinach banana muffins, overnight chia oats, and smoothies of any kind!
Ingredients
Ground Turkey: I use a 93% lean ground turkey (the label will likely say 93/7), but feel free to use whichever type of ground turkey you prefer or have access to.
Egg: helps bind the meatballs, and also adds moisture.
Breadcrumbs: another binding agent for the turkey meatballs. Any kind of breadcrumb will work (i.e. plain, Italian seasoning, whole wheat, gluten free)
Milk: I used nonfat milk, but use whichever you drink. This adds a little moisture to the recipe, as it helps moisten the breadcrumbs required for binding.
Soy Sauce: helps season the meatballs and is yet another ingredient designed to help keep the turkey nice and juicy. I use reduced sodium soy sauce to keep the sodium content lower.
Seasoning: Italian seasoning, garlic powder, onion powder, salt, and pepper. But of course, if there are other seasonings you prefer, season with your heart!
How to Make Turkey Meatballs in the Air Fryer, Step-by-Step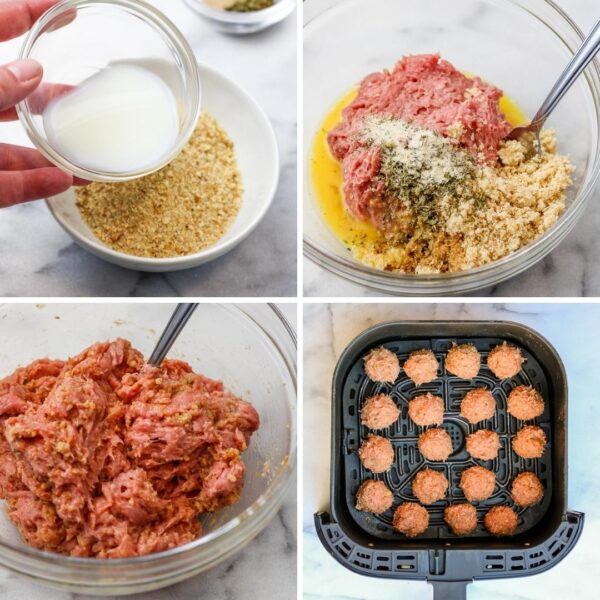 Add milk to breadcrumbs and toss gently to evenly combine.
Add milk-soaked breadcrumbs, a beaten egg, soy sauce, and seasonings and stir until evenly incorporated.
Roll meat into small balls (cook time and nutrition is based on a recipe yield of 16 meatballs).

TIP: If your mixture is too warm, it may be a bit sticky and hard to shape. If that's the case, pop it in the freezer for 5-10 minutes to chill and become easier to work with.

Place meatballs in the air fryer and air fryer for a total of 8 minutes, turning them over halfway through at the 4 minute mark.
Recipe Tips & Tricks
TIP 1: Beat the egg before adding to the meat mixture, to help create a more even meatball without having to overmix.
TIP 2: Use a small scooper to make meatballs more uniform in size and shape to help them cook more evenly. (I like this set of cookie dough scoops - they work perfect for meatballs, too!)
TIP 3: Keep the meat mixture cold before cooking so they will form meatballs much easier. If needed, you can pop the meat mixture in the freezer for 10-20 minutes to help cool it.
TIP 4: Cook meatballs until their inside temperature reaches 165 degrees (I love this meat thermometer!). Cooking by temperature can be very helpful for both food safety (you don't want to eat undercooked ground turkey!) and to ensure the meatballs aren't overcooked. Especially with how easy it is to have variations in meatball shapes and how much some air fryers can differ, cooking to 165 degrees will help you achieve the perfect turkey meatball in the air fryer!
TIP 5: The meatball mixture is supposed to feel wet! It's what helps keeps these turkey meatballs moist, juicy, and flavorful. If you're having trouble forming into meatballs, see tip 3.
Substitutions
While it's impossible to test all substitutions, here are some substitutions that I know work:
Ground Turkey - you can use this meatball recipe with whichever ground protein you prefer, like ground chicken, ground beef, ground pork, ground lamb, or ground venison.
Breadcrumbs - any type of breadcrumb works well here, like plain, seasoned, whole wheat, or gluten-free. If you're using a seasoned bread crumb, adjust the overall seasonings as needed.
Soy Sauce - you can use a reduced sodium soy sauce (my preference), a gluten-free soy sauce or gluten-free tamari, or you can also use coconut aminos for a gluten, wheat, and soy-free alternative.
Milk - you can use whatever milk you drink
Egg - you can substitute a flax egg, made by mixing 1 tablespoon ground flax seed with 3 tablespoons warm water. Give it a stir and let it sit for 5 minutes and you've got a flax egg!
Seasoning - get creative here! Season and measure with your heart. I kept the seasonings basic here, as these are things I always have on hand. But I also love adding finely chopped fresh parsley and basil when I have it. And you can season to create other variations, too (see below!).
Variations
Take a basic recipe like this and add some variety with seasonings!
Spicy - add chili pepper flakes and even a little buffalo sauce to make spicy turkey meatballs
Rosemary Parmesan - add finely chopped fresh rosemary (1-2 tablespoons) and grated parmesan (2-4 tablespoons)
Curry - omit the Italian seasoning and instead use a teaspoon of curry powder
Let me know in the comments if you try any delicious flavor variations!
Equipment
Let's chat a second about air fryers! Because as amazing as air fryers are, they're not immune to imperfection!
A couple things to be aware of when cooking with an air fryer:
The bigger your air fryer, the longer it will take to heat. I strongly recommend preheating your air fryer if yours is larger.
Cooking times can vary based on the air fryer. Smaller air fryers may sometimes require a little less time, whereas larger air fryers with more space to heat may require a couple extra minutes of cook time.
Always be sure to start on the low end of the cook time. You can always add more time, but you can't cook less once something is already overcooked.
The best thing to do is really get to know your air fryer. If you find most air fryer recipes typically are resulting in dryer, slightly overcooked food? Drop your cook time. Not quite done? Plan that recipes will take a little longer for you.
I have an Instant Vortext 6 quart air fryer and love it!
Turkey Meatball Meal Prep, Storage, & Reheating
Air fryer turkey meatballs are fantastic to meal prep.
Store in an airtight container in the refrigerator for up to three days. Alternatively, you can also freeze these meatballs up to 6 months.
Thaw overnight in the refrigerator, or on the defrost setting in your microwave.
Turkey meatballs can be reheated in the air fryer at 350 degrees for 3-4 minutes, in the microwave for 1-2 minutes, or can be warmed through in a pot of sauce on the stove.
Turkey Meatball Nutrition
Turkey meatball nutrition will vary based on the size of the meatballs you make, as well as any substitutions you make (like a higher fat or different type of ground meat).
Based on a yield of 16 meatballs, each turkey meatball has 75 calories, 8.5 grams protein, 3.7 grams fat, 2 grams carbohydrates, 0 grams fiber, 0 grams sugar, and 59 mg sodium.
"Healthy" is Subjective - You Do You
Know, too, that "healthy" is subjective. The foods that help one maintain their health may or may not work for you - and that's okay! Honor the body you have. As a registered dietitian nutritionist, I suggest eating a variety of nourishing foods that help you feel good and achieve or maintain your health, balanced with the foods you love. Remember - an election isn't won with every vote, but the majority. Your health is the same way - the overall dietary pattern is what matters most.
Food Safety
Cook to a minimum temperature of 165 °F (74 °C).
Do not use the same utensils on cooked food, that previously touched raw meat.
Wash hands after touching raw meat.
Don't leave food sitting out at room temperature for extended periods.
Never leave cooking food unattended (especially if you have young children!).
More Recipes You'll Love
If you're a fan of ground turkey and looking for more recipes, I highly recommend my gluten-free turkey chili and taco stuffed peppers.
Want more air fryer recipes? (Who doesn't, I mean it's my favorite kitchen appliance for a reason!) Try air fryer BBQ chicken, air fryer chicken cordon bleu, and my ultra-popular air fryer mozzarella sticks (with options for gluten-free included!).
Did you make this recipe? Give it a 5★ rating below! For more balanced nutrition and simple, healthy-ish recipes, be sure to follow me on Instagram!
Air Fryer Turkey Meatballs
These delicious air fryer turkey meatballs are crispy on the outside and juicy inside. Plus they come together in less than 20 minutes for an easy, healthy weeknight dinner.
Print
Pin
Rate
Ingredients
⅓

cup

bread crumbs

2

tablespoon

nonfat milk

1

lb

93% lean ground turkey

1

egg, beaten

1

teaspoon

low sodium soy sauce

1

teaspoon

Italian seasoning

½

teaspoon

garlic powder

½

teaspoon

onion powder

salt and pepper to taste
Instructions
Combine milk and bread crumbs to slightly moisten bread crumbs.

Add moistened bread crumbs to a large bowl with ground turkey, a beaten egg, soy sauce, and seasonings. Mix until evenly incorporated (be careful to not overmix!).

Roll meat mixture into 16 balls. The mixture best forms when it is cold, so if you're finding it too wet and difficult to shape, try freezing the meatball mixture for 10-20 minutes.

Place meatballs in the air fryer. Air fry for 4 minutes, flip meatballs, and air fry for another 4 minutes (8 minutes of cook time total).
Notes
Recipe yields 16 meatballs. Nutrition information is listed per meatball.
Nutrition
Calories:
75
kcal
|
Carbohydrates:
2
g
|
Protein:
9
g
|
Fat:
4
g
|
Saturated Fat:
1
g
|
Polyunsaturated Fat:
1
g
|
Monounsaturated Fat:
1
g
|
Cholesterol:
42
mg
|
Sodium:
59
mg
|
Potassium:
98
mg
|
Vitamin A:
66
IU
|
Calcium:
18
mg
|
Iron:
0.7
mg