This banana peach smoothie recipe is a nourishing, healthy peach protein smoothie with no added sugar and over twenty grams protein - and no protein powder!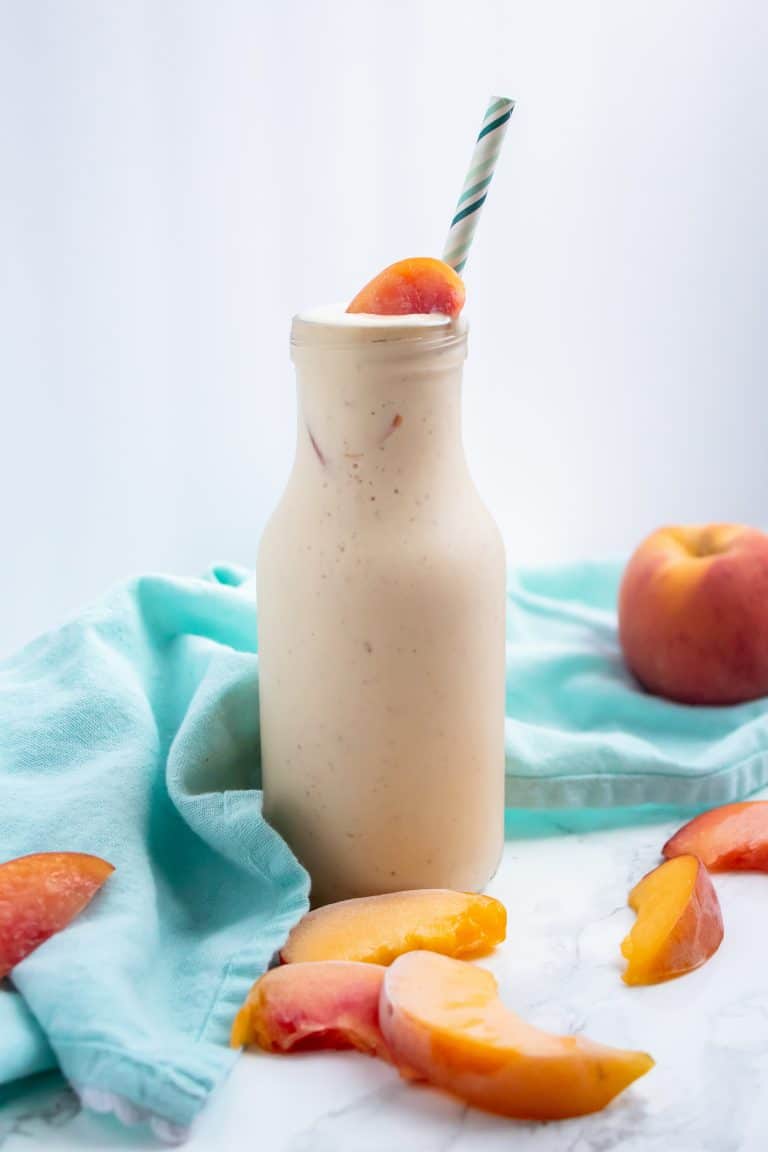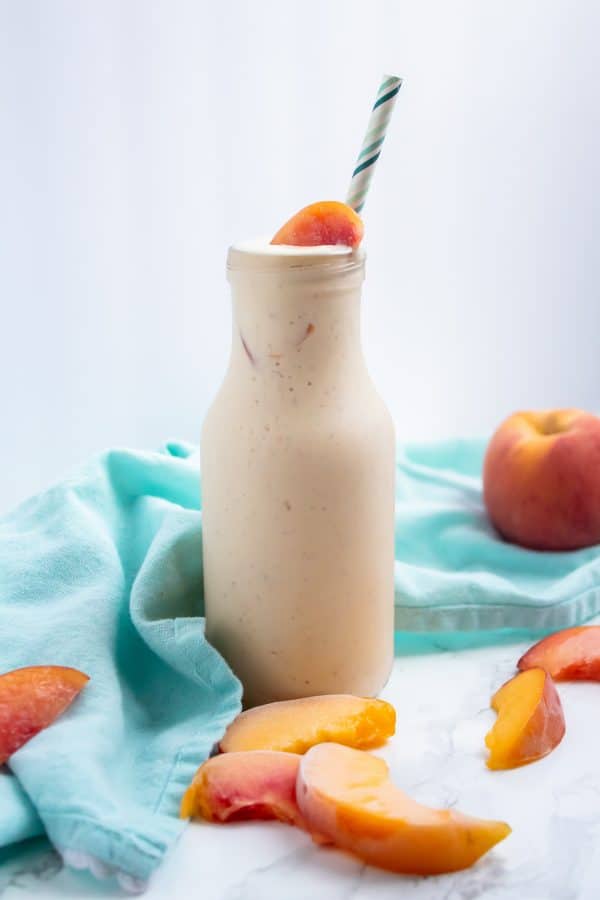 If y'all follow me on Instagram and Instagram stories, you've seen that we personally ushered in August with our AC breaking not one, not two, but THREE TIMES in 5 days. That was fun (especially in Florida)! Fortunately we were able to bring the babies to my parents house for a couple days to keep everyone cool, but I was definitely pretty focused on all the hydrating and all the cool foods. Just like this banana peach smoothie!
This banana peach smoothie is cool, creamy, and naturally sweet. It's also a naturally high protein smoothie with over twenty grams of protein - and no protein powder required!
High Protein Smoothie with No Protein Powder
I am a big advocate of "you do you" when it comes to diet and lifestyles, and for some people, protein powder can be a beneficial addition. Others may want a high protein smoothie, but don't want to spend the money on protein powders. Or they may not enjoy the taste! I know I'm really picky and there are a lot of protein powders I just don't care for (flavor and texture-wise). With ingredients like cottage cheese, hemp seeds, and milk, there are a lot of natural protein sources that add up to 22 grams of protein in one nutrient-dense glass.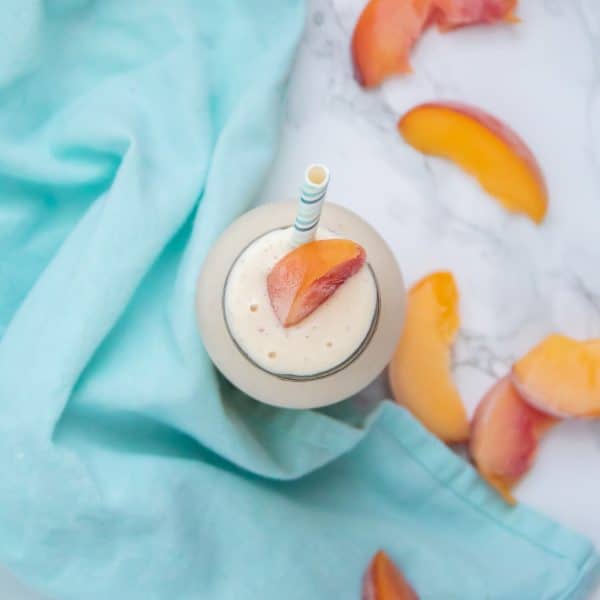 Nutrient-Rich Ingredients
This smoothie packs some ingredients that are delicious and incredibly nourishing!
Peaches: Peaches contain fiber and are rich in vitamin A, vitamin C, and other micronutrients including vitamins E and K, niacin, folate, iron, choline, potassium, magnesium, phosphorus, manganese, zinc, and copper.
Banana: Bananas get a bad reputation for being a "high sugar" fruit, but they're actually quite nourishing with many antioxidants! Micronutrients include vitamin B6, manganese, vitamin C, potassium, magnesium, and folate.
Cottage Cheese: If you've never tried cottage cheese in a smoothie before, it may sound a little odd, but give it a go! It makes your smoothie incredibly creamy and adds significant protein - 14 grams per half cup (may vary slightly based on brand used).
Hemp Seeds: Hemp seeds are a powerful little seed, full of healthy fats, protein, and micronutrients like calcium, iron, magnesium, and phosphorus.
Milk: Alternatives "milks" like almond, cashew, and coconut milks are popular in health and smoothie recipes, but if you can tolerate milk, it actually is loaded with some nutritional benefits! Milk helps boost the natural protein content of this banana peach smoothie, and it's also a source of calcium, potassium, phosphorus, riboflavin, niacin, vitamin A, and vitamin D.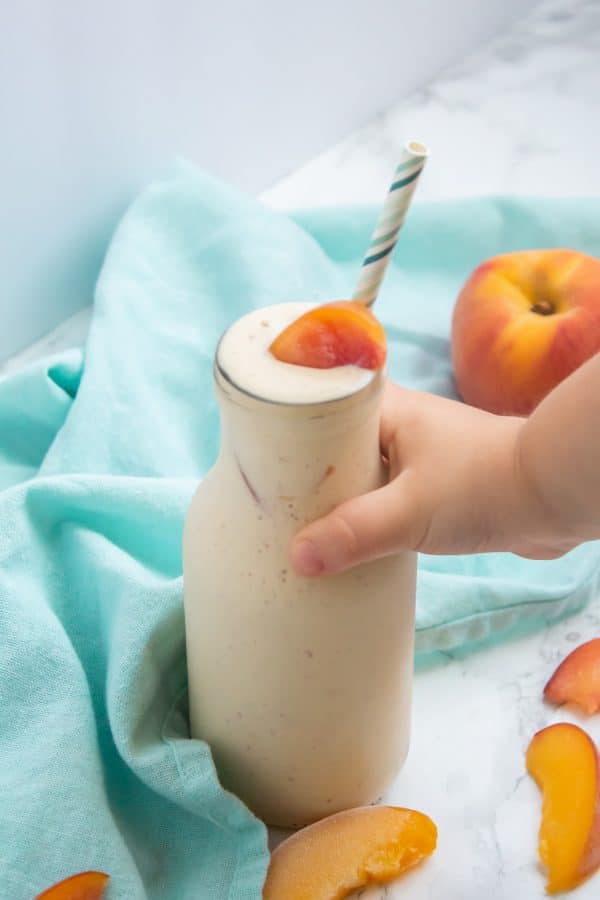 More Nourishing Smoothie Recipes
Looking for more nourishing smoothie recipes? Try these Nutrition to Fit smoothie favorites:
Also, don't forget to check out my go-to guide for creating a nutrient-packed smoothie: the Nutrition to Fit 5-a-Day Green Smoothie Guide!
Pin this recipe for later and share on Facebook and Instagram with your friends. Be sure to tag me and use #nutritiontofit so I can see and share your creations! Live well!
Banana Peach Smoothie
This banana peach smoothie recipe is a nourishing, healthy smoothie recipe with no added sugar and over twenty grams protein - and no protein powder!
free from: wheat/ gluten, soy, egg, fish, shellfish, tree nuts, peanuts
Ingredients
½

cup

frozen peaches

½

banana

½

cup

1% milk

½

cup

1% cottage cheese

1

tablespoon

hemp seeds
Instructions
Add milk and cottage cheese to the blender first, then remaining ingredients. Blend for 30-60 seconds, or until smooth and creamy.
Notes
Nutrition information calculated using the Cronometer app. Exact information may vary based on specific ingredients/ brands used.
Nutrition
Calories:
270
kcal
|
Carbohydrates:
31
g
|
Protein:
23
g
|
Fat:
8
g
|
Saturated Fat:
2
g
|
Polyunsaturated Fat:
4
g
|
Monounsaturated Fat:
1.3
g
|
Trans Fat:
0
g
|
Cholesterol:
10
mg
|
Sodium:
517
mg
|
Potassium:
735
mg
|
Fiber:
4
g
|
Sugar:
23
g
|
Vitamin A:
989
IU
|
Vitamin C:
123
mg
|
Calcium:
234
mg
|
Iron:
2
mg