This banana peach smoothie recipe is thick, creamy, and delicious. Naturally sweet with no added sugar, this smoothie also has twenty grams of protein - with no protein powder necessary!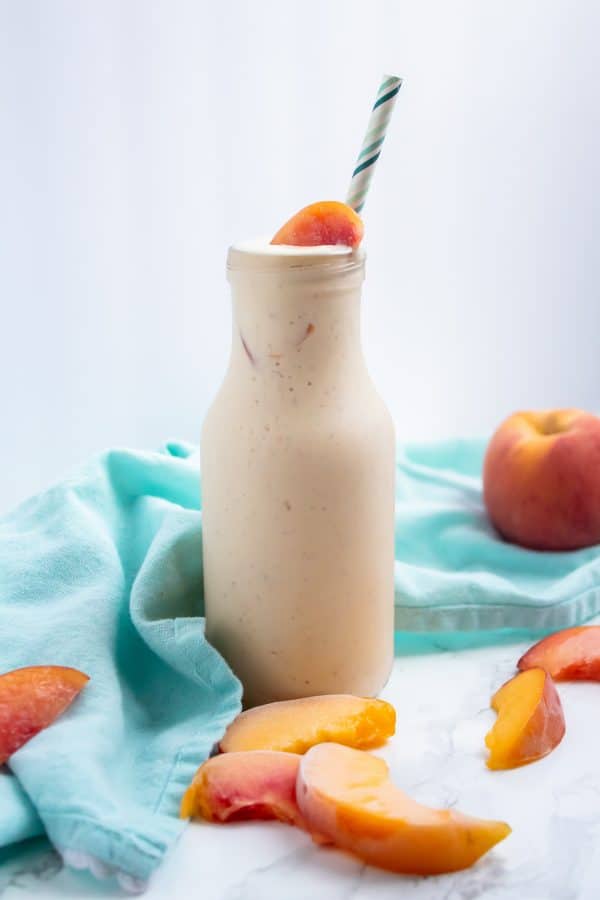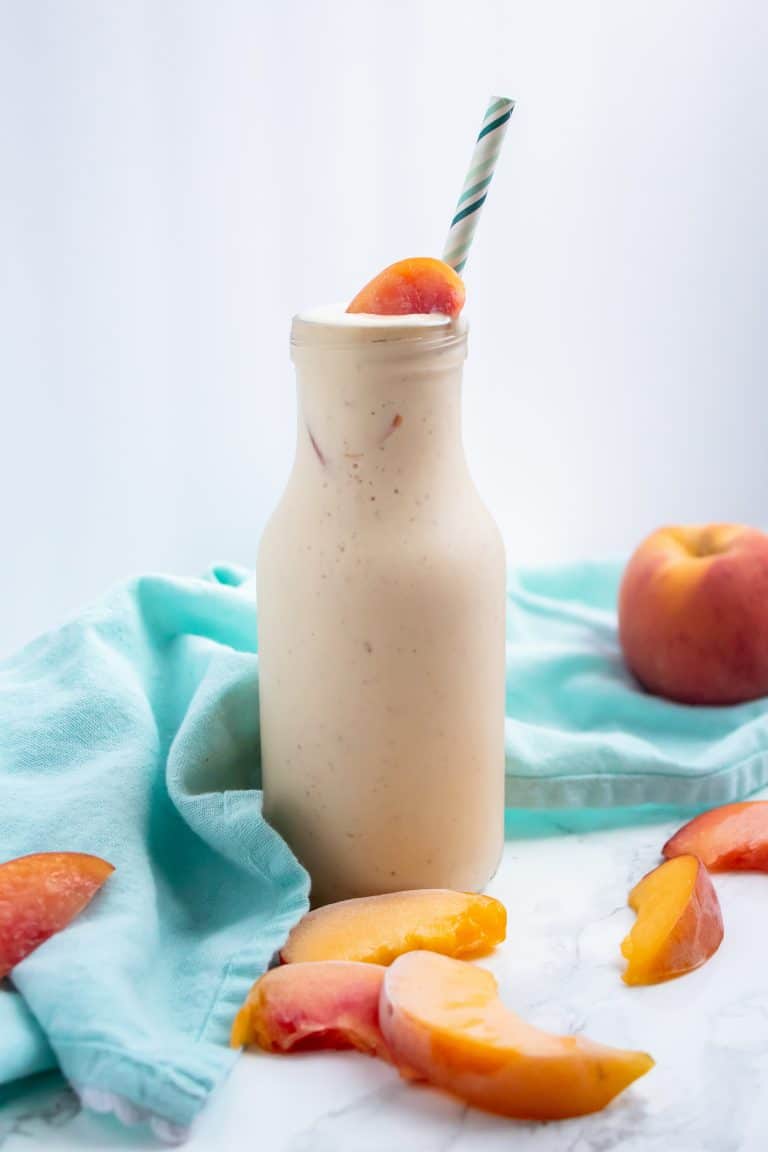 If y'all follow my Instagram stories, you may have seen that we personally ushered in August with our AC breaking not one, not two, but THREE TIMES in five days. That was fun (especially in Florida)! Fortunately we were able to bring the babies to my parents house with working AC for a couple days, but we also focused on all the hydrating and cooling foods. Just like this banana peach smoothie!
Why You'll Love This Banana Peach Smoothie:
This banana peach smoothie is cool, creamy, and naturally sweet. It contains healthy fat, plenty of protein, and fiber. All of these help make this smoothie more satiating, keeping you fuller, longer.
Plus, pairing carbs with healthy fats, fiber, and protein help promote more balanced blood sugar levels! In fact, I've got a whole post sharing 40 ways to add protein to smoothies for more balanced smoothie inspiration.
And nutrition aside? It's delicious. Everyone in my family loves this smoothie, even the toddlers! (And since there's no protein powder in it, I don't have any problem with them regularly enjoying it!)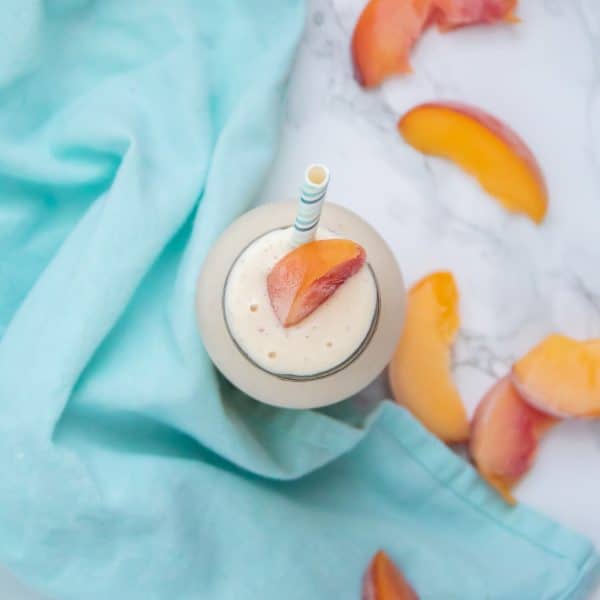 Ingredients
This smoothie packs some ingredients that are delicious and incredibly nourishing!
Peaches: Peaches contain fiber and are rich in vitamin A, vitamin C, and other micronutrients including vitamins E and K, niacin, folate, iron, choline, potassium, magnesium, phosphorus, manganese, zinc, and copper.
Banana: Bananas get a bad reputation for being a "high sugar" fruit, but they're actually quite nourishing with many antioxidants! Micronutrients include vitamin B6, manganese, vitamin C, potassium, magnesium, and folate.
Cottage Cheese: If you've never tried cottage cheese in a smoothie before, it may sound a little odd, but give it a go! It makes your smoothie incredibly creamy and adds significant protein - 14 grams per half cup (may vary slightly based on brand used).
Hemp Seeds: Hemp seeds are a powerful little seed, full of healthy fats, protein, and micronutrients like calcium, iron, magnesium, and phosphorus.
Milk: Alternatives "milks" like almond, cashew, and coconut milks are popular in health and smoothie recipes, but if you can tolerate dairy milk, it actually is loaded with some nutritional benefits! Dairy milk helps boost the natural protein content of this banana peach smoothie, and it's also a source of calcium, potassium, phosphorus, riboflavin, niacin, vitamin A, and vitamin D.
How to Make It:
It couldn't be simpler!
Add milk and cottage cheese to the blender first, then add remaining ingredients.
Blend at least 60 seconds, or until smooth and creamy. And yes - don't skimp on time! Even if it looks blended, blend a little longer to help your homemade smoothies turn out more like smoothie shop smoothies.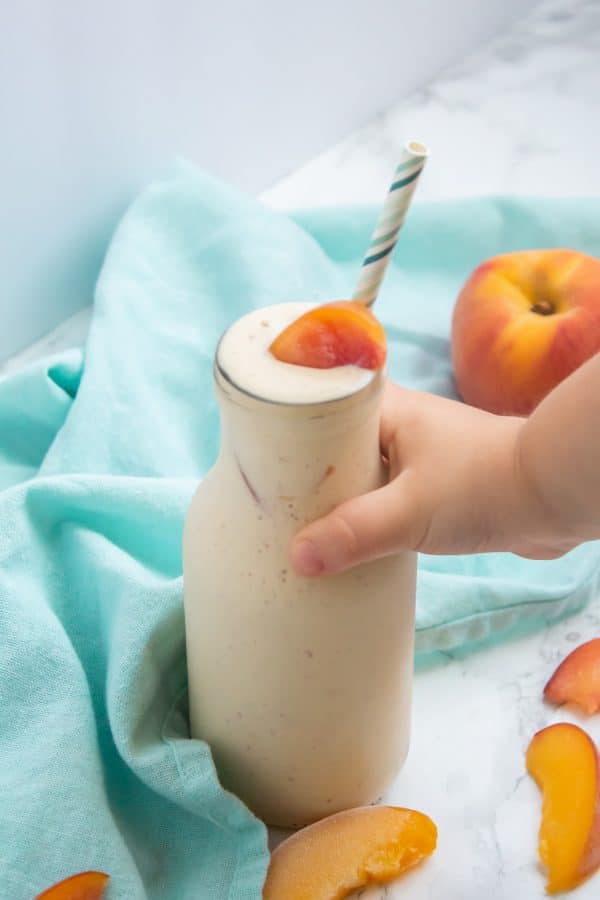 Ingredient Substitutions:
Don't have cottage cheese? You can use Greek yogurt, too, but head's up that it will change the taste, texture, and nutrition stats slightly! I know cottage cheese can sound a little weird in a smoothie, but I promise it doesn't have a noticeable taste. Plus it helps create that delicious smooth and creamy texture!
Out of milk? Use whatever milk you drink or have on hand. But substitutions will change the nutrition. Something like almond milk has significantly less protein than dairy milk.
No hemp seeds? Again, the nutrition profile of the smoothie will change if you omit or substitute them. But you can add a tablespoon of nut or seed butter or other nuts/ seeds, like ground flax seeds or chia seeds.
Bananas and peaches are essential to a banana peach smoothie, but you can use fresh, frozen, or even canned. In fact, I actually prefer frozen fruit in smoothies! Frozen fruit helps give the smoothie an even creamier and more decadent texture!
Frozen Fruit is Just as Healthy as Fresh
Plus, did you know frozen fruit is just as healthy as fresh? And actually, sometimes even more nutritious?
When fruit is frozen, it's first picked at peak ripeness - when the fruit is most nutrient-dense. After harvest, it's typically flash frozen within hours, locking in all those nutrients.
Frozen fruit can also be a more affordable and accessible option. Plus it can help reduce spoilage and food waste, too!
Have Fun with Flavor Infusions:
Want to change up this smoothie and add a bit more flavor? Experiment - have fun with it! Here are a few ideas:
Add cinnamon & vanilla: cinnamon and vanilla both naturally enhance the sweetness of the smoothie, and add a sweet and homey vibe.
Get spicy! If you're a spice lover, try adding spices like turmeric, black pepper, and ginger. Even a pinch of cayenne can play well with the creamy, cool sweetness of the smoothie.
Use citrus zest! Adding the zest of limes, lemons, or oranges is one of my favorite ways to majorly dial up flavor! The citrusy zest adds some lovely bright contrast to this smoothie, too.
How Does This Smoothie Have So Much Protein?
If there's no protein powder, how can it be a high protein smoothie? Right?
Well, there are lots of ways you can add protein! In this peach banana smoothie, ingredients like cottage cheese, hemp seeds, and milk all add up to 22 grams of protein in one nutrient-dense serving.
That said, there's nothing wrong with protein powder if you like it. (Just be sure it's a quality source, as protein powder falls under the dietary supplement category, which aren't regulated by the FDA.)
As a registered dietitian, I'm a big advocate of "you do you" when it comes to diet and lifestyles. For some people, protein powder can be a beneficial addition. Others may want a high protein smoothie, but don't want to spend the money on protein powders or enjoy the taste. So you do you - there are always options to ensure adequate protein in your diet, including high protein smoothies if that's your preference.
More Healthy Smoothie Recipes You'll Love:
Like bananas or have overripe bananas lying around? You've got to check out my healthy chocolate chip banana bread or my kids' favorite spinach banana muffins!
And if you loved this banana peach smoothie, don't forget to check out my go-to guide for creating a nutrient-packed smoothie: the Nutrition to Fit 5-a-Day Green Smoothie Guide!
Did you make this recipe? Give it a 5★ rating below! For more balanced nutrition and simple, healthy-ish recipes, be sure to follow me on Instagram!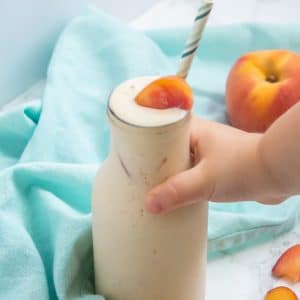 Banana Peach Smoothie
This banana peach smoothie recipe is a nourishing, healthy smoothie recipe with no added sugar and over twenty grams protein - and no protein powder!
free from: wheat/ gluten, soy, egg, fish, shellfish, tree nuts, peanuts
Print
Pin
Rate
Ingredients
½

cup

frozen peaches

½

banana

½

cup

1% milk

½

cup

1% cottage cheese

1

tablespoon

hemp seeds
Instructions
Add milk and cottage cheese to the blender first, then remaining ingredients. Blend for 30-60 seconds, or until smooth and creamy.
Notes
Nutrition information calculated using the Cronometer app. Exact information may vary based on specific ingredients/ brands used.
Nutrition
Calories:
270
kcal
|
Carbohydrates:
31
g
|
Protein:
23
g
|
Fat:
8
g
|
Saturated Fat:
2
g
|
Polyunsaturated Fat:
4
g
|
Monounsaturated Fat:
1.3
g
|
Cholesterol:
10
mg
|
Sodium:
517
mg
|
Potassium:
735
mg
|
Fiber:
4
g
|
Sugar:
23
g
|
Vitamin A:
989
IU
|
Vitamin C:
123
mg
|
Calcium:
234
mg
|
Iron:
2
mg
This post was originally published August 6, 2019, but has been updated and republished on February 25, 2022.