Disclosure: By posting this recipe I am entering a recipe contest sponsored by the Wild Blueberry Association of North America and I am eligible to receive prizes associated with the contest. I was not compensated for my time. ***UPDATE: I'm happy to say this smoothie was a top 10 finalist in the contest!***
On Tuesday I shared with you guys that I had one more smoothie I wanted to enter into the Wild Blueberry Association of North America's Wild Your Smoothie Contest, and this is it! My Wild Blueberry Lemon Ricotta Smoothie. It's simple but anything but boring. Namely because it's using those dynamic little wild blueberries! Here's a run down on why they're so amazing:
One cup of wild blueberries has just 80 calories,
Provides 25% of your daily fiber needs (double what cultivated (regular) blueberries provide)
Contains 200% of your daily value for manganese (important for bone health)
They have LOTS of antioxidants (two times that in cultivated blueberries!)
Most harvested wild blueberries are picked and the frozen right away, which preserves all those nutrients in their state of peak freshness.
They can be found year-round in the freezer aisle of your local grocery store.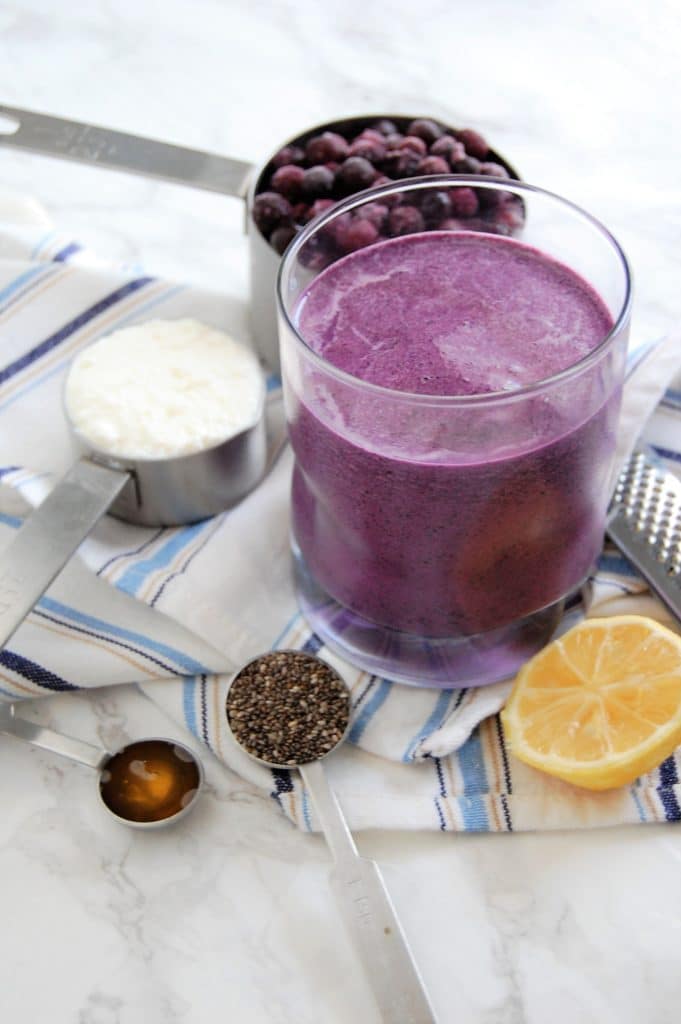 In this recipe I wanted to pair them with lemon, because I just adore the way lemon brightens the natural flavors of wild blueberries. I also wanted to use another ingredient that I love and felt would pair excellently with wild blueberries: part-skim ricotta cheese. I've been hearing a lot of people talking about using cottage cheese in smoothie recipes to help boost protein, and that's an awesome idea! Ricotta cheese can do the same thing! I'd recommend using either a fat-free, low-fat, or part-skim variety. Just ¼ cup like in the recipe here adds 6 grams of protein. Between the delicious taste, creamy texture, and great nutrition, this is a smoothie that can take you from breakfast to dessert!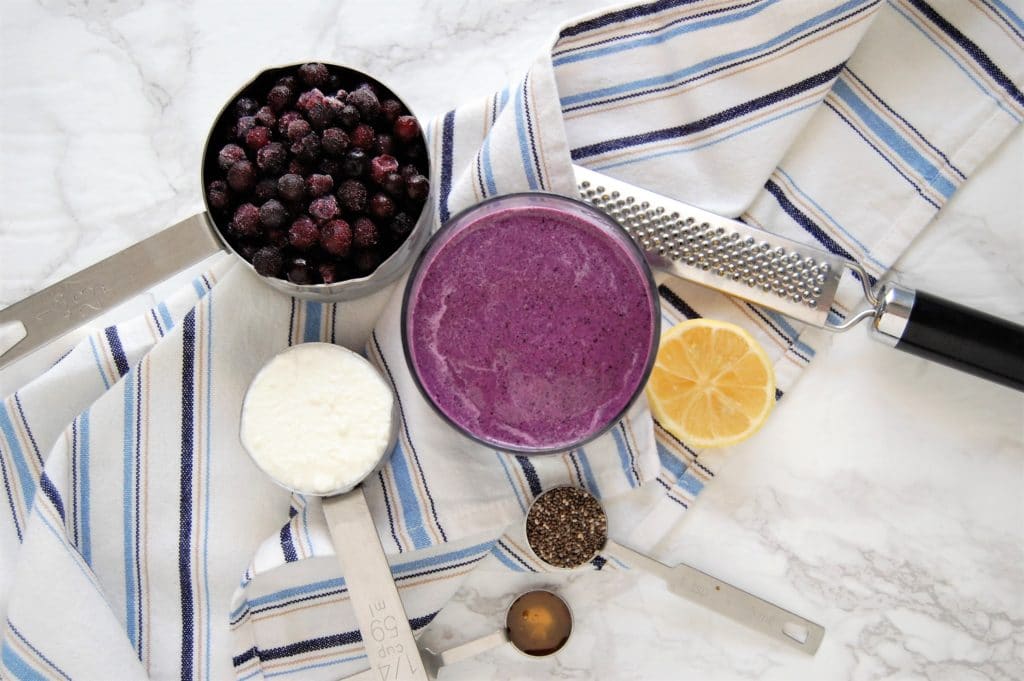 Leave me a note in the comments when ya try it!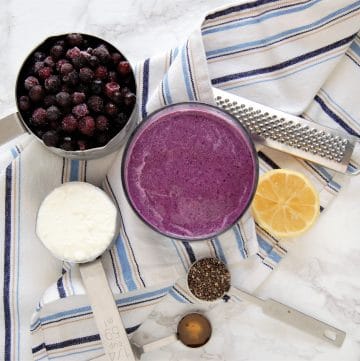 Ingredients
1

cup

frozen wild blueberries

¼

cup

part-skim ricotta cheese

¼

cup

skim milk

1

teaspoon

chia seeds

½

teaspoon

honey

½

teaspoon

lemon juice

⅛

teaspoon

lemon zest
Instructions
Combine all ingredients in a blender and blend until completely smooth (about a minute).

Pour into a glass and serve immediately.
Are you on Facebook? Be sure to follow Nutrition to Fit on Facebook to stay up with all of the latest and greatest!