This prosciutto wrapped asparagus recipe is a super easy appetizer recipe that's perfect for Thanksgiving and holiday parties. It's an easy prep-ahead recipe that's very food allergy-friendly!
Y'all asked for more holiday appetizer recipes, so what better time to share one of my family's standby, favorite appetizers? Now this is easy - almost too easy! But I hope you'll find this prosciutto wrapped asparagus recipe a simple addition to your appetizer rotation!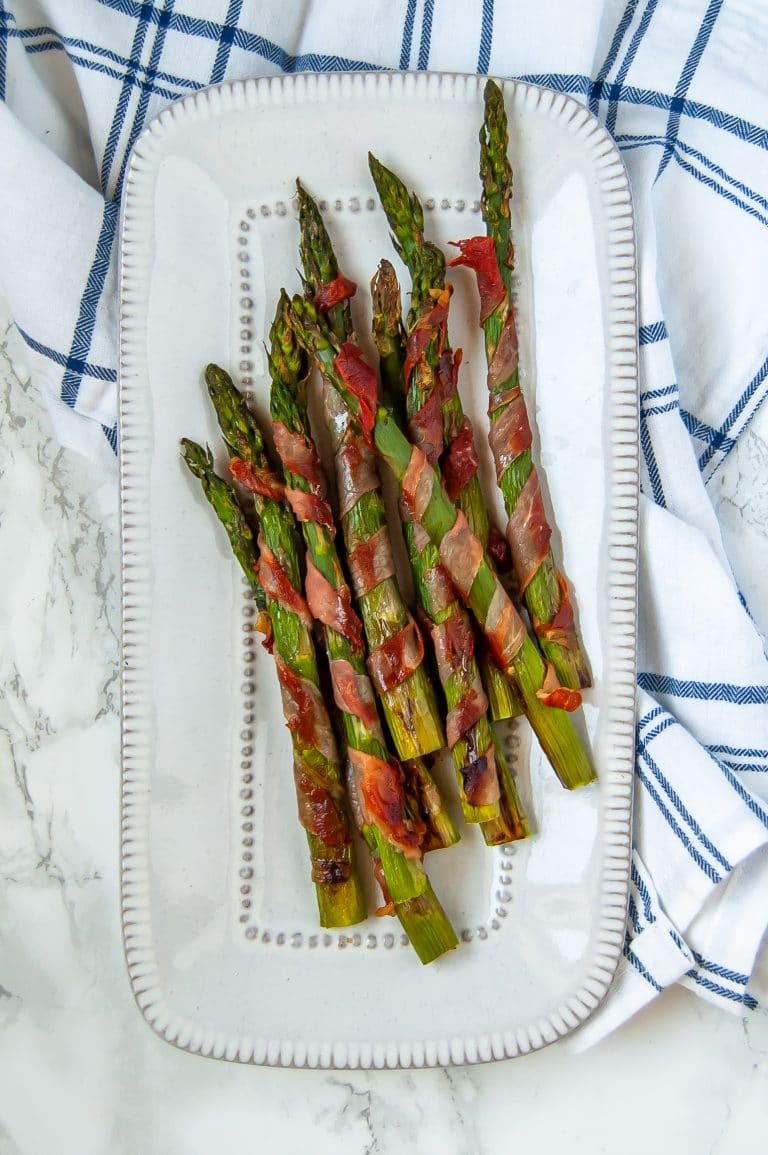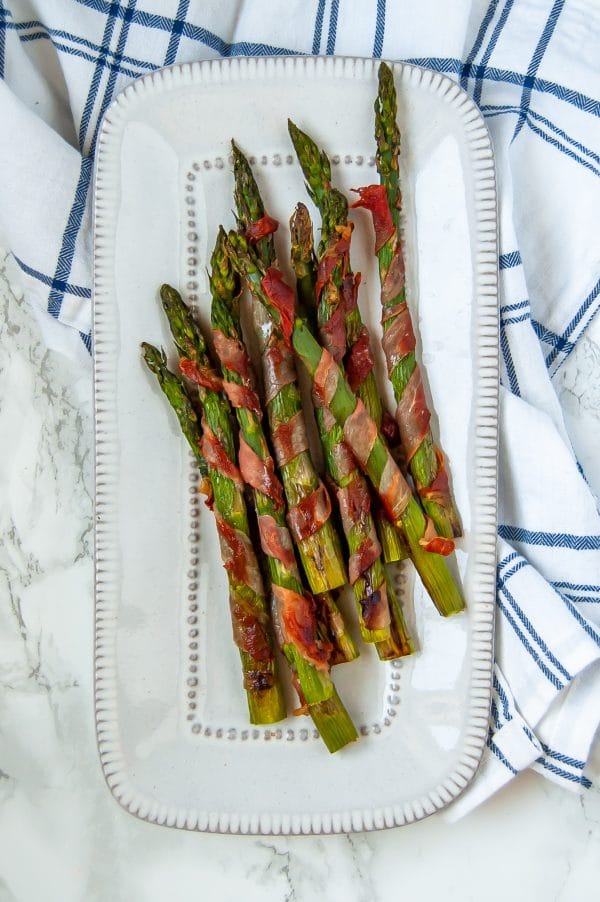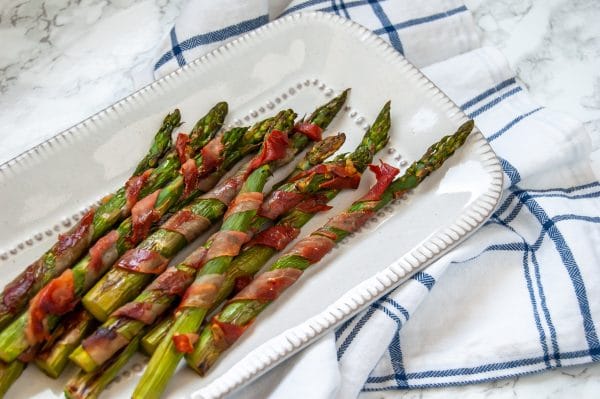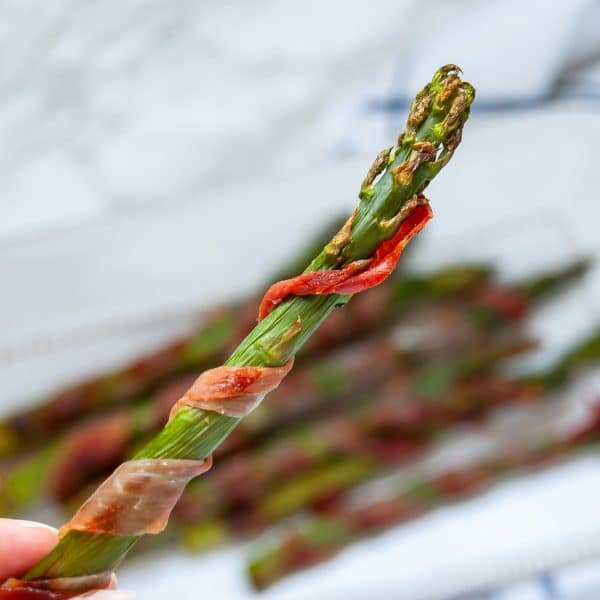 Ingredients You Need:
Okay, wait for it, this is a little complicated so you may want to write this down. Are you ready? Okay....the ingredients you need for this prosciutto wrapped asparagus recipe are...
prosciutto...and asparagus.
That's it!
You can totally drizzle the asparagus with a little olive oil if you'd like (I usually don't and just use a nonstick baking sheet or parchment paper instead). You also can sprinkle with extra seasonings, like black pepper or granulated garlic.
When choosing your asparagus, try to choose a medium-sized stalk. Too thick can be too woody and take longer to cook. Too thin will cook too quickly (although when there have only been really thin asparagus spears, sometimes I'll bundle 3-4 spears together - totally works!).
With prosciutto, you can use whatever is most readily available to you. In the spirit of simplicity, I do look for prosciutto that only has pork and salt - no added nitrates or nitrites. (I usually get ALDI's prosciutto as it's a great price and just pork and salt).
How to Make This Prosciutto Wrapped Asparagus Recipe
To prep your asparagus, just clean it and then cut off the woody ends.
I find with the salty intensity of prosciutto that a little goes a long way. Some recipes call for a slice of prosciutto cut in half lengthwise per asparagus spear. I use just a quarter of a lengthwise piece of prosciutto per asparagus spear. Sometimes prosciutto can be a little tough to cut and handle when you're cutting it that thin, so I actually leave it on the plastic slice separator and use kitchen shears to cut each piece of prosciutto in four long pieces (of course removing the plastic backing before wrapping around the asparagus).
Then all you need to do is wrap each strip of asparagus in a spiral motion around each asparagus spear. This is a perfect task for kids and can also be done one or two days in advance, no problem.
More Healthy, Easy Appetizer Recipes
Looking for more appetizer recipe ideas? Try these:
If you make this prosciutto wrapped asparagus recipe, be sure to rate it below and let me know how you like it! And of course, take a pic and share it to social media (tag me @nutritiontofit and #nutritiontofit).
Prosciutto Wrapped Asparagus Recipe
This prosciutto wrapped asparagus is a two-ingredient appetizer that is perfect for busy holidays! Simple, savory, and fun to make!
free from: wheat/ gluten, dairy, soy, egg, shellfish, fish, tree nuts, peanuts
Ingredients
1

pound

asparagus

4

slices

prosciutto
Instructions
Preheat oven to 400 degrees. Set out a nonstick baking sheet or line a baking sheet with parchment paper.

Clean asparagus and cut off the woody ends.

Using kitchen shears, cut each slice of prosciutto into 4 long strips. Wrap each piece of prosciutto around 1 asparagus spear (3 if they're really thin) and place on the baking sheet.

Bake for 12-15 minutes until asparagus is tender and prosciutto is crisp.

Remove from oven, allow to cool slightly, and serve.
Notes
Serving information is based on approximately 2 asparagus spears per serving, but serving size will vary based on size of asparagus spears.
You can prep the prosciutto wrapped asparagus in advance by wrapping with the prosciutto then refrigerating in an airtight container until party time and bake prior to serving.
Nutrition
Calories:
28
kcal
|
Carbohydrates:
2
g
|
Protein:
1
g
|
Fat:
1
g
|
Cholesterol:
2
mg
|
Sodium:
27
mg
|
Potassium:
122
mg
|
Fiber:
1
g
|
Sugar:
1
g
|
Vitamin A:
430
IU
|
Vitamin C:
3.1
mg
|
Calcium:
14
mg
|
Iron:
1.2
mg