This savory pumpkin recipe pairs pumpkin with hints of garlic and thyme for a delicious pumpkin pasta sauce. Enjoy it with pasta or veggie noodles for a healthy comfort food dinner.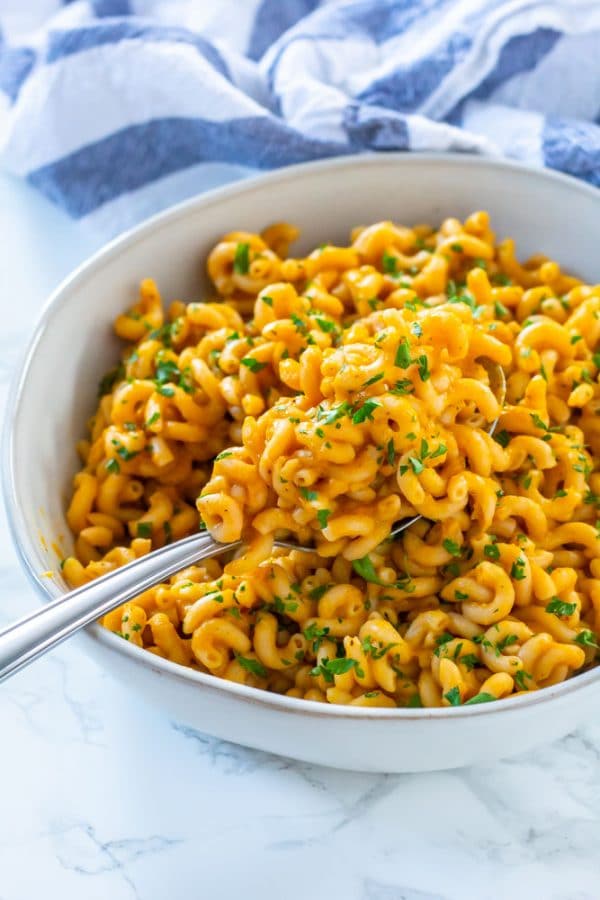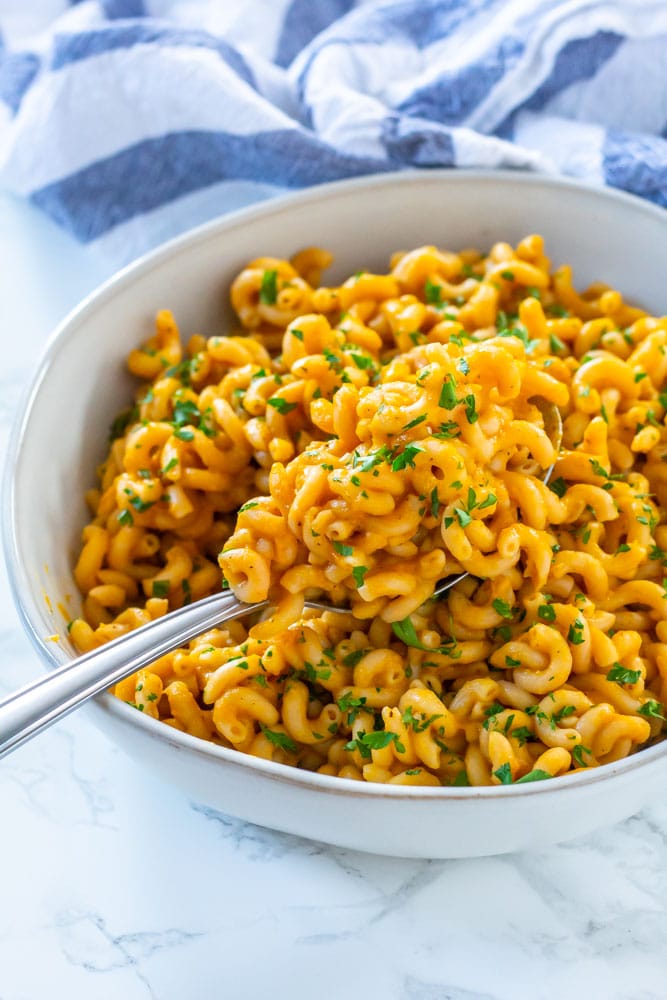 This post may contain affiliate links.
If y'all recall, it's pumpkin palooza week here on NTF! A couple of days ago I shared a simple pumpkin chia pudding recipe that my family has been loving for yummy, easy snacking! Yesterday we did a deep dive into the nutrition and health information on all things pumpkin. Today? We're switching gears and going in a more savory direction with this pumpkin pasta sauce.
How to Make Pumpkin Pasta Sauce
To make these pumpkin pasta sauce, you need the following ingredients:
100% pumpkin puree
Yellow or sweet onion
Extra virgin olive oil
Garlic
Dried thyme
Broth
Salt and pepper to taste
Dice the onion and then saute in extra virgin olive oil over medium heat until onions are starting to caramelize and turning a light golden brown (you can certainly caramelize them much longer for even greater depth of flavor!). Add minced onion and thyme and saute briefly.
Combine caramelized onions and pumpkin puree in a blender with the broth. Puree briefly until a smooth sauce forms.
Then just season the pumpkin sauce to taste. I typically add a generous pinch of black pepper and a small pinch of salt if I'm using an unsalted broth. Salt can totally elevate flavors in our meals, but we want to be cautious of using too much from a nutrition standpoint.
That's it! From there you can combine your sauce with your favorite noodle or veggie noodle of choice! Or you can even make an autumn lasagna using this instead of tomato sauce, or even use it as a sauce for autumnal enchiladas with black beans, kale, sweet potato, mushrooms, etc.
Nutritional Highlights of Pumpkin
Pumpkin is a pretty awesome little fruit - yup, that's right! Pumpkins have seeds, so technically they're botanically a fruit, although nutritionally they're more like a vegetable. They're packed with vitamins A, E, C, K, folate, iron, and fiber which can provide health benefits like improved immunity, lessened risk of certain cancers, better eye health, improved skin health, protect heart health, and more.
Check out this pumpkin nutrition post to get a deep dive in all things pumpkin nutrition, health benefits, side effects, how to cook it, and how to freeze pumpkin.
Part of Easy, Balanced Meal Solutions
I find some of my nutrition coaching clients can get a little apprehensive about pasta, wondering how it (as one of their favorite foods!) can fit into a balanced diet. If you're unfamiliar with my nutrition philosophy, I believe in lots of micronutrient-rich, nourishing foods, including more produce (like the pumpkin in my pasta sauce!). But I also believe in sustainable lifestyle habits, and if you love pasta, it can absolutely be a part of your life.
We often like a legume-based pasta, as they typically provide a decent amount of fiber and protein for a pasta. If you eat gluten (there's nothing wrong with it if your body tolerates it!), you can also use whole wheat pastas. You can also use veggie noodles (like zoodles, or zucchini noodles), or a mix a both of both zoodles and regular pasta.
Here we tried Modern Table pasta and actually REALLY enjoyed it! Plus the spiral shapes were a big hit with even the baby. 😉
You can also just focus on pairing your pasta as part of a balanced meal, like in the meal prepped lunch I showed above with leftover pumpkin pasta, leftover grilled chicken tenderloins, and some steamed spinach with a little squeeze of lemon.
More Pumpkin Recipes
For more pumpkin fun, check out these additional pumpkin recipes:
Healthier Pumpkin Muffins (coming later this week!)
If you like this recipe be sure to comment and rate it below and share on Pinterest, Instagram, and Facebook. Live well!
Pumpkin Pasta Sauce
This simple pasta sauce requires just five ingredients for a plant-based, flavorful fall sauce with notes of thyme, garlic, and caramelized onion.
free from: gluten/ wheat, soy, egg, dairy, fish/ shellfish, tree nuts, peanuts
Ingredients
1

tablespoon

extra virgin olive oil

1

yellow or sweet onion, diced

1

cup

pumpkin puree

1

teaspoon

dried thyme

1

tablespoon

minced garlic

¾

cup

unsalted or low sodium vegetable broth

salt and pepper to taste
Instructions
Heat olive oil in a medium-sized skillet over medium heat. Add diced onion and caramelize until lightly golden brown (about 9-10 minutes) stirring occasionally. Add minced garlic and thyme and saute 1-2 minutes.

Combine caramelized onions, pumpkin, and broth in blender. Starting at low speed and increasing to high, blend 30-60 seconds or until smooth. Season to taste with salt and pepper (I always add a pinch of black pepper and typically a pinch of salt when I use unsalted broth).

Enjoy this pasta over your noodles or vegetable "noodles" of choice! I find this to be the perfect amount of sauce for 16 ounces of pasta, but use as much or as little as you prefer. The sauce freezes well, so you can freeze half for another meal later.
Notes
The recipe makes 8 servings. One serving is a heaping quarter cup, and what I find to be a good amount for a two ounce serving of pasta.
Nutrition
Calories:
37
kcal
|
Carbohydrates:
4
g
|
Protein:
1
g
|
Fat:
2
g
|
Saturated Fat:
1
g
|
Sodium:
9
mg
|
Potassium:
102
mg
|
Fiber:
1
g
|
Sugar:
2
g
|
Vitamin A:
4766
IU
|
Vitamin C:
3
mg
|
Calcium:
15
mg
|
Iron:
1
mg