Pumpkin chia pudding is a lightly sweetened, incredibly nourishing, healthy snack with the flavors of pumpkin pie. Full of fiber and nutrients, this healthy snack can even work for breakfast or dessert, too!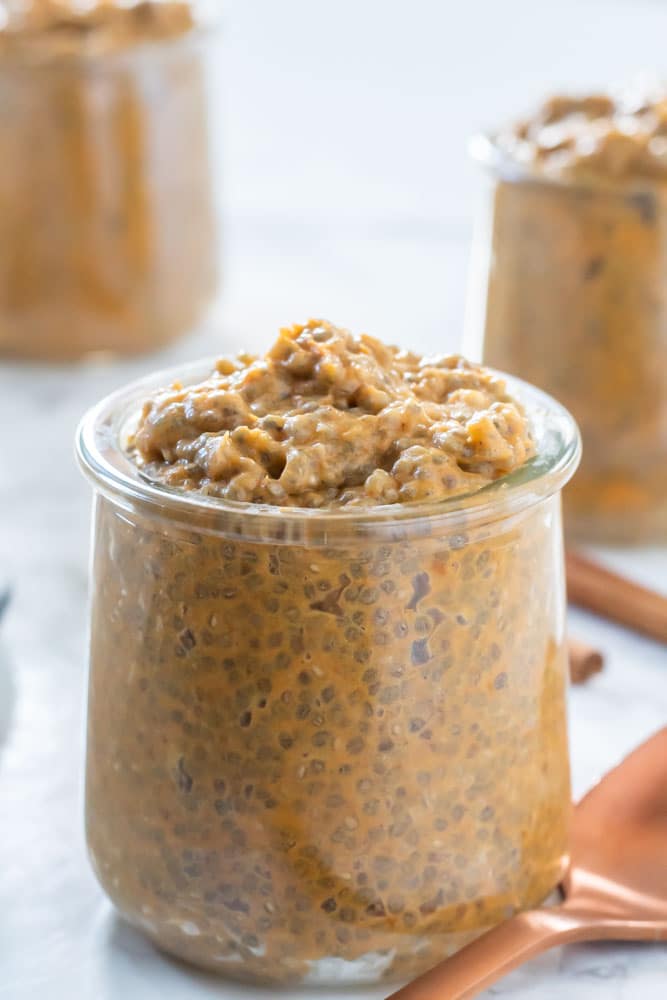 This post may contain affiliate links.
Welcome to pumpkin week here on NTF! Aka pumpkin palooza! While there are a few pumpkin recipes on NTF already (like my favorite pumpkin spice buckwheat granola made with real pumpkin), I'm bringing you three brand new pumpkin recipes this week, along with a deep dive into all things pumpkin nutrition and a fun post on ways to use up that open can of pumpkin. We're kicking things off today with this super simple and nourishing pumpkin chia pudding!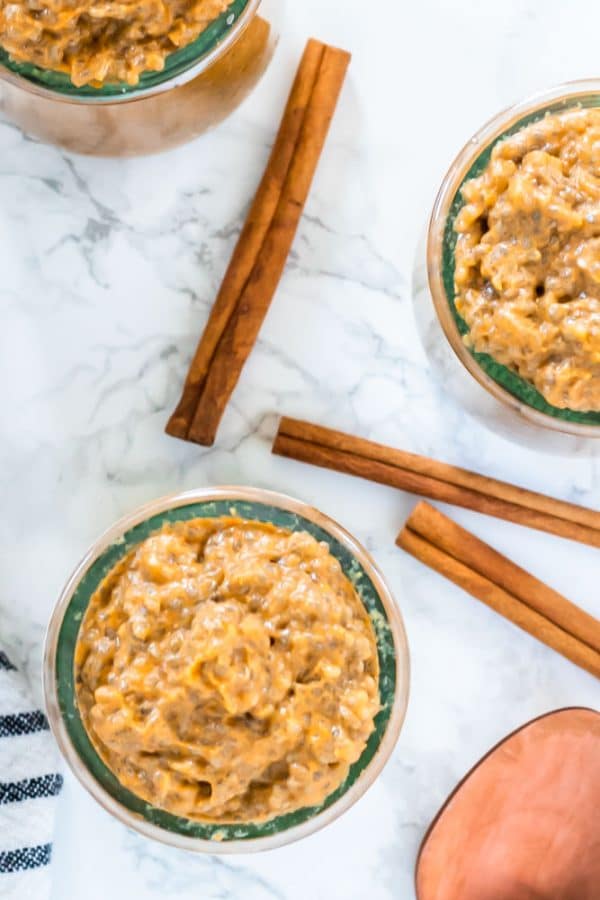 Nutritional Highlights
This pumpkin chia pudding is flavorful but also nourishing enough you could totally enjoy it for breakfast, a snack, or even dessert. It's packed with fiber (6 grams per snack portion!), sure to keep you satisfied for a while! Check out nutrition specifics of the two main ingredients:
Pumpkin: Providing a high amount of vitamins A, K, and pantothenic acid, pumpkin is a high fiber, lower calorie plant. It supports heart health, eye health, bone health, boosts immunity, and can support improved digestion and weight maintenance.
Chia Seeds: Full of fiber, chia seeds are also a great source of omega-3 fatty acids, antioxidants, iron, and calcium. Omega-3 fatty acids are essential because they help raise HDL cholesterol (the "good" cholesterol), which can help promote heart health, including protecting against heart attacks and strokes. Being high in fiber, they also support even blood glucose regulation, improved digestion, and weight maintenance.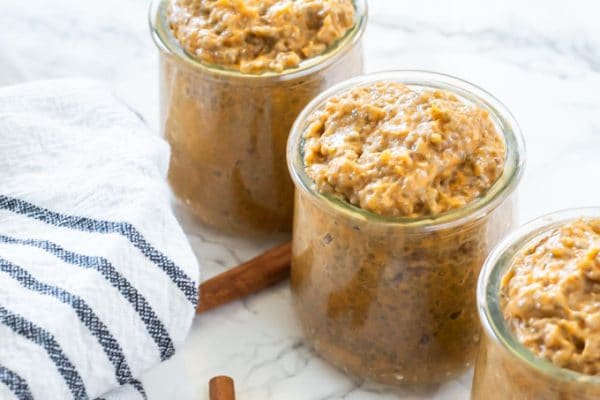 How to Make Pumpkin Chia Pudding
This chia pudding couldn't be simpler to make. The primary ingredients are listed above - just be sure to use 100% pure pumpkin puree and not the canned pumpkin pie filling! Additional ingredients you'll need are a milk of choice, pumpkin pie spice, and maple syrup.
Notes on ingredient substitutions:
Use whichever milk or milk substitute you prefer or need. Cow's milk or soy milk will add more protein, whereas something like coconut milk will affect the flavor and unsweetened almond milk will be a lower calorie option.
You can substitute another sweetener (like honey) or non-nutritive sweetener, like stevia or monk fruit extract. Your preference! I prefer mine more lightly sweetened, but again, you can add more or less to fit your needs and preferences.
If you don't have (or aren't partial to) pumpkin pie spice, you can certainly just use cinnamon as well.
To make any chia pudding, chia seeds are soaked in a liquid. Chia seeds are hydrophilic and will absorb up to ten times their size in liquid, giving a gelatinous, pudding-like texture.
I prefer a thicker chia pudding that resembles the texture of pudding. I know others like a thinner chia pudding though, so feel free to add additional liquid if that's your preference.
To create your liquid base, blend your milk of choice with the pumpkin puree, maple syrup, and pumpkin pie spice. Pour it into a container that has an airtight lid, then stir the chia seeds in. Cover and refrigerate, allowing the chia seeds to gelatinize and absorb liquid for a couple hours to overnight.
Store in an airtight container in the refrigerator up to a few days.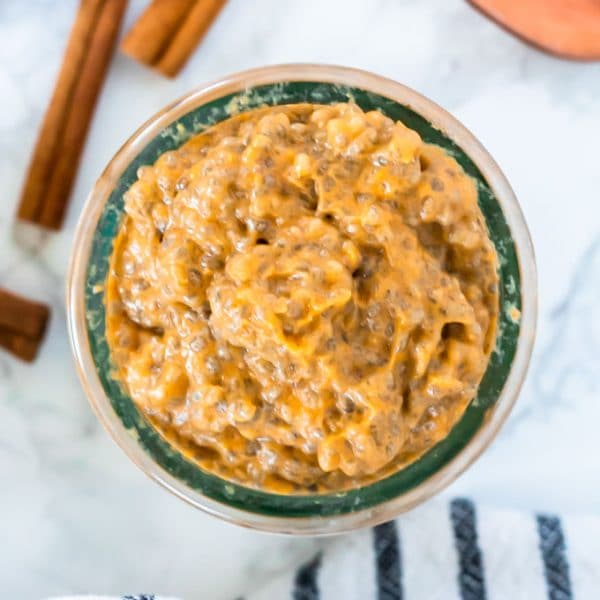 Turn it From a Snack into a Full Meal
To turn your pumpkin chia pudding into a full meal, I would recommend doubling it and adding some toppings, like banana slices, hemp seeds, toasted coconut, nuts or nut butter, etc. You also could mix it with Greek yogurt for a protein boost. Alternatively, you could blend your favorite protein powder or collagen peptides into the liquid before adding chia seeds (this may require slightly more liquid - add to your preferred thickness).
More Pumpkin Recipes
For more pumpkin fun, check out these additional pumpkin recipes:
Healthier Pumpkin Muffins (coming later this week!)
Pumpkin Pasta Sauce (coming later this week!)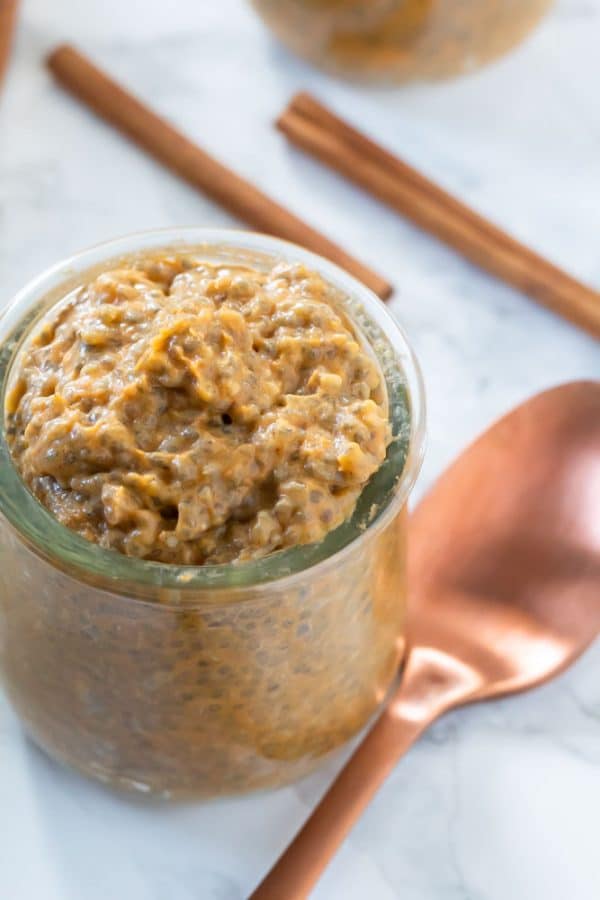 If you like this recipe be sure to comment and rate it below and share on Pinterest, Instagram, and Facebook. Live well!
Pumpkin Chia Pudding
Pumpkin chia pudding is a lightly sweetened, incredibly nourishing, healthy snack with the flavors of pumpkin pie. Full of fiber and nutrients, this healthy snack can even work for breakfast or dessert, too!

free from: wheat/ gluten, soy, egg, fish, shellfish, peanuts, tree nuts, dairy*
Ingredients
1

cup

pumpkin puree

1.5

cups

milk of choice

½

cup

chia seeds

1

teaspoon

pumpkin pie spice

1

tablespoon

maple syrup
Instructions
Add pumpkin puree, milk of choice, pumpkin pie spice, and maple syrup to a blender. Blend for 30-60 seconds, or until you have a smooth, uniform liquid.

Pour liquid into a bowl or container that has an airtight lid. Add chia seeds and stir together until chia seeds are evenly distributed.

Cover and refrigerated 2-3 hours or longer until chia seeds have gelatinized into a chia pudding-like texture. Stir before serving and enjoy.
Notes
Each serving is approximately a half cup each. If enjoying stand alone for breakfast, I would recommend at least a whole cup, and possibly adding other foods for a more balanced breakfast.
Exact nutrition information will vary based on exact ingredients used (i.e. amount of maple syrup or other sweetener used or type of milk). I calculated using unsweetened original almond milk.
*Use whatever milk for your personal preferences/ allergy needs to make dairy-free, soy-free, nut-free, etc.
Nutrition
Calories:
100
kcal
|
Carbohydrates:
12
g
|
Protein:
3
g
|
Fat:
5
g
|
Saturated Fat:
1
g
|
Polyunsaturated Fat:
1
g
|
Monounsaturated Fat:
1
g
|
Trans Fat:
1
g
|
Cholesterol:
1
mg
|
Sodium:
5
mg
|
Potassium:
149
mg
|
Fiber:
6
g
|
Sugar:
3
g
|
Vitamin A:
6355
IU
|
Vitamin C:
2
mg
|
Calcium:
106
mg
|
Iron:
2
mg