Soft, chewy, and golden crisp on the outside, these gluten-free chocolate chip cookies are the BEST! And oh yeah - they don't skimp on the chocolate chips!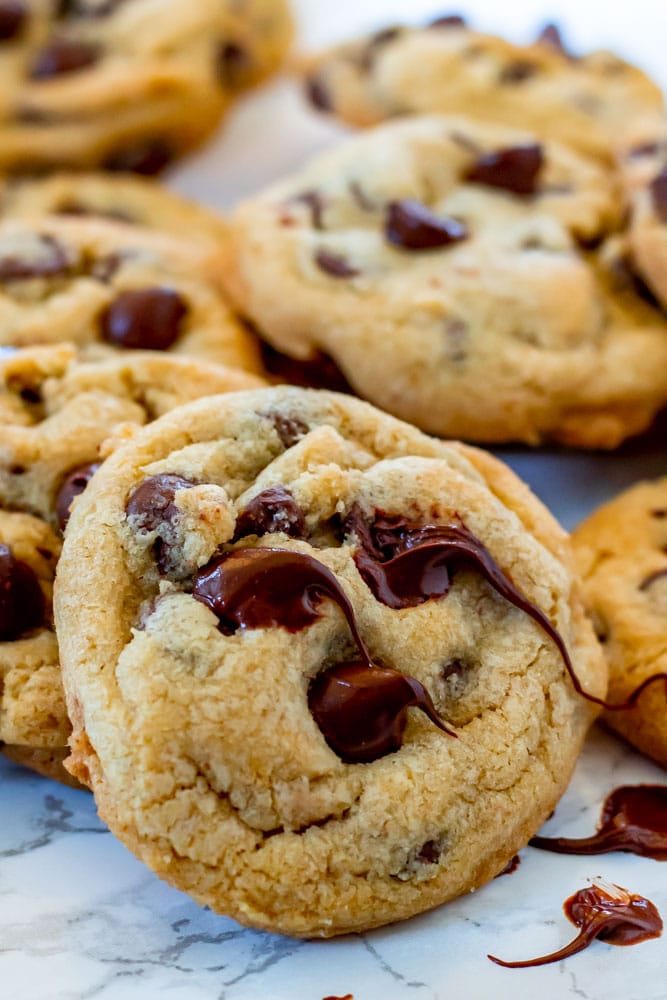 This post contains affiliate links.
Okay, first thing's first: yes, I'm a dietitian. Yes, this blog is about nutrition and a healthy lifestyle. So what's a chocolate chip cookie recipe with butter and sugar doing here?
First - it's not because these chocolate chip cookies being gluten-free makes them inherently a more nutritious choice. It doesn't.
It's because a healthy lifestyle is one that lets you live your life. And while different things work for different folks, there is certainly room for you to enjoy your favorite treats in any lifestyle! Health isn't black and white - you can eat salads, roasted vegetables, crunchy chickpeas, and quinoa pilafs to your heart's content AND you can enjoy occasional cookies, french fries, adult beverages (21+ please!), and other treats, too.
Okay, now that that's settled. 😉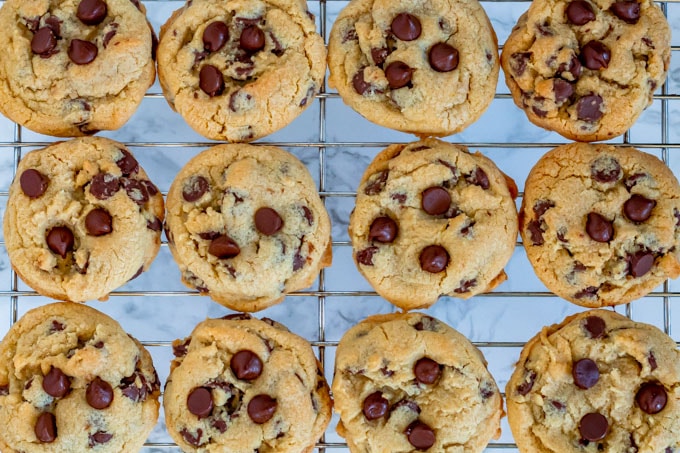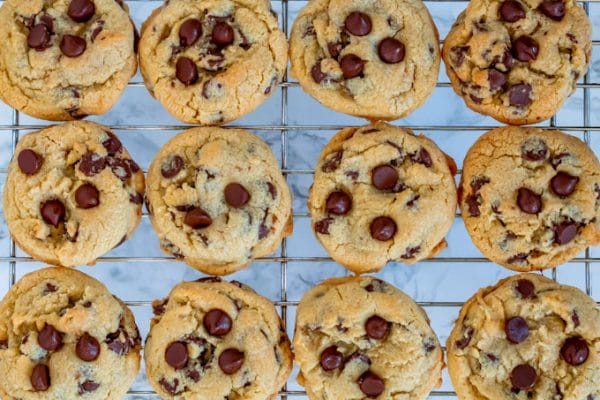 Why are these the best gluten-free chocolate chip cookies ever?
I've tried a LOT of gluten-free chocolate chip cookie recipes in the five years I've been eating gluten-free. And y'all...there are a lot of not-so-great ones. Here's why I love this recipe and think it's the best:
They're soft and chewy, and get slightly crisp on the outside.
If crisper cookies are your thing, just leave them in the oven a couple minutes longer.
It's full of chocolate chips.
You don't need to buy fifty different flours and gums and starches. Just get one bag of gluten-free cup-for-cup/ measure-for-measure flour. I use King Arthur Gluten Free Measure for Measure Flour.
It uses regular sugar and brown sugar - no expensive coconut sugars or other fancy "healthy" sugars (that really aren't "healthy" and still are treated as sugar by your body).
There are no gritty textures.
No weird flavors or aftertastes from specialty flours.
They're freaking delicious!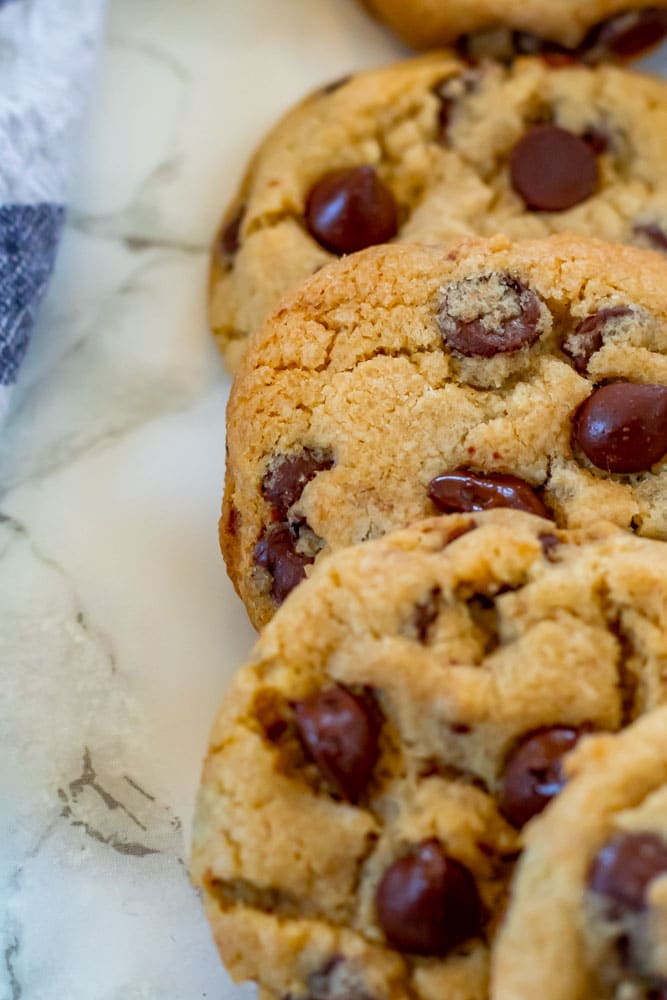 How to Make the BEST Gluten-Free Chocolate Chip Cookies
For ingredients, you need:
baking soda
butter
cane sugar
light brown sugar
vanilla extract
egg
chocolate chips or chunks
While you could just use a whisk to cream together your butter and sugars, I really prefer a mixer. I always use my Kitchen Aid stand mixer (mine's in cobalt blue, I love it!), but an inexpensive hand mixer works well, too.
Then you follow the same process you do for most any cookie recipe!
Cream together softened butter with the sugars for a few minutes until soft, smooth, and creamy. Add in a room temperature egg and vanilla extract and beat until smooth. Add the dry ingredients and briefly mix until just combined. Then stir in the chocolate chips.
When it comes to baking, you can use any baking sheet - I love using half sheet baking sheets lined with these silicone baking mats.
To portion out the cookie dough, I use a small cookie scoop. It helps create a uniform cookie, which is great for even baking. Plus it's really quick to scoop out and on to the pan!
Then bake your cookies, let cool a few minutes, and they're ready to be enjoyed!
Know Your Oven
One of my biggest tips when it comes to baking of any kind is to know your oven. If you feel like you have a hard time baking or often overcook or burn things in the oven, check what temperature your oven actually runs at compared to what you're setting it at. Just get an oven thermometer to check!
The Biggest Mistake People Make When Baking
If you feel like your cookies (or muffins, cakes, etc.) never turn out like the pictures do or taste too dry, usually it's because you aren't measuring flour correctly. 
Do you do any of these things?
Use your measuring cup to scoop into the flour?
Pat the flour down, pack the measuring cup, or scoop into packed flour?
Not use a flat spatula or knife to level off the top?
If you do any of the above, your baked goods likely are ending up with more flour than called for by the recipe.
The most accurate way to measure flour is per grams. But honestly, I didn't even list gram measurements here because I know the majority of my United States-based readers (where most of y'all reside!) don't have or use a kitchen scale.
So to try to measure as accurate as possible, try the following:
Make sure your flour isn't packed.
Carefully spoon flour into your measuring cup (again - don't pack it or use packed flour!).
Use a flat edge, like the flat side of a knife or a spatula to gently scrape across the top of the measuring cup to remove excess flour (without accidentally pressing more flour in, like you may if you use a finger or spoon).
Also for best accuracy in measuring dry ingredients like flour, be sure to use measuring cups, not glass liquid measuring cups.
Does it matter what type of chocolate is used?
Nope, as long as you use what you like! I've tested this recipe dozens of times over the past few months, and have had multiple taste testers and recipe testers! Ultimately when it comes to the chocolate - use what you like! My husband loves these cookies with mini chocolate chips whereas I enjoy them most with either just semi-sweet chocolate chips or a blend of semi-sweet chocolate chips and bittersweet or dark chocolate chunks. I've also just chopped a chocolate bar, before, too - chocolate is chocolate, still works great!
What type of gluten-free flour is best?
I use and love King Arthur Gluten Free Measure for Measure Flour. I know one recipe tester used Bob's Red Mill measure for measure gluten-free flour with success. Some different brands of gluten-free flour can have slight variations, but the most important thing is to be careful with accuracy of measuring like I detailed above (you don't want hockey puck cookies!).
If you test with another brand of gluten-free flour (or even whole wheat or regular all purpose flour), leave a comment with how your cookies turned out!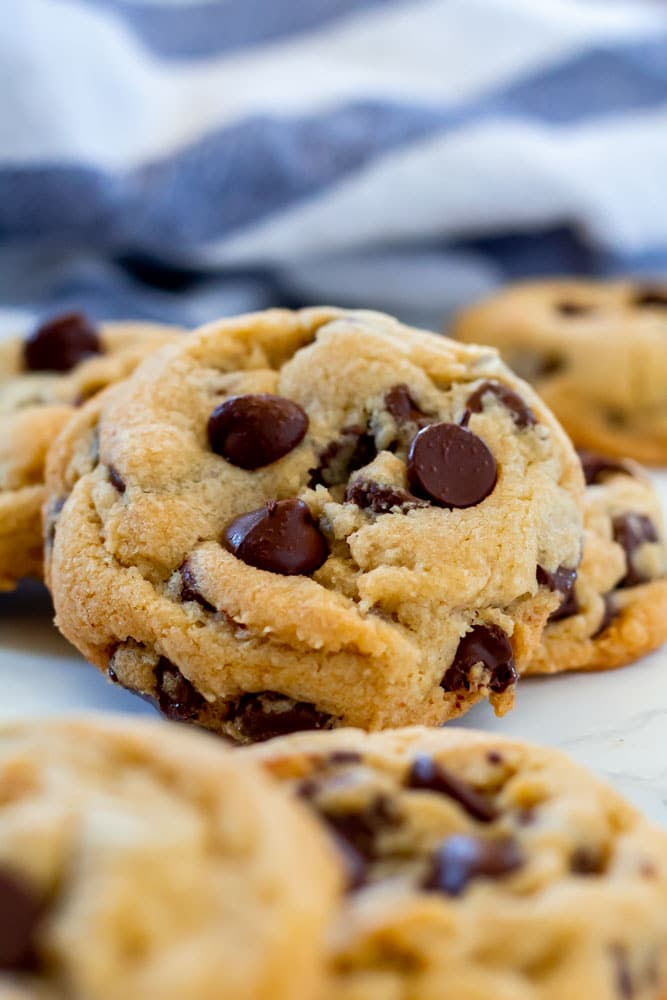 Do you need to chill the dough?
No. I found chilling the dough beforehand made the cookies slightly puffier, but in a comparison, my husband and I both actually preferred the cookies where the dough went straight from being mixed to the oven. Which is great! A no chilling cookie dough recipe is the perfect low maintenance chocolate chip cookie recipe I want!
Freezing Instructions
You can freeze these cookies two ways. The first, is by freezing the baked cookies once they're cool. A little secret of mine is that I actually love cold cookies just a few minutes out of the freezer. 🙂
The second method of freezing is my personal favorite. Scoop the cookie dough onto a silicone mat or parchment paper-lined cookie sheet (or cutting board, or whatever flat surface will fit in your freezer). Make sure the cookie dough balls are not touching. Freeze in the open air for a couple hours. Once cookie dough balls are frozen solid, transfer to a ziplock bag or airtight container. These can be frozen up to three months.
When you're ready to bake your frozen cookie dough balls, just place them on a silicone mat or parchment-paper lined baking sheet as you're waiting for your oven to preheat. Bake as normal (350 degrees, 10-12 minutes), possibly adding just one extra minute if your oven preheats quickly.
And there you have it - fresh baked gluten-free cookies basically on demand. 😉 Because truly, what is better than a fresh baked cookie?
All in all, these are the best gluten-free chocolate chip cookies I ever wanted. And for the record, my taste testers were primarily folks who don't eat gluten-free, so it's a cookie recipe to be loved by all - not just gluten-free folk!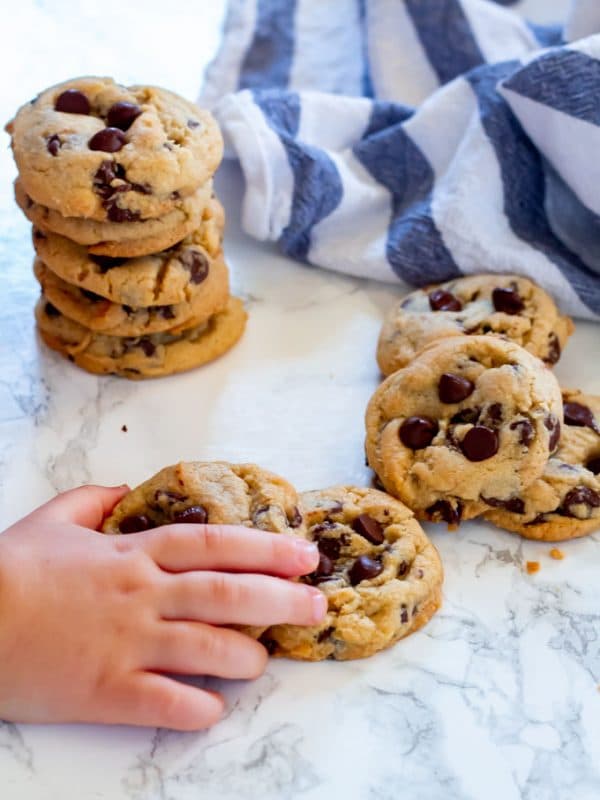 More Gluten-Free Dessert Recipes
If you want to try more of my favorite gluten-free dessert recipes, try these!
If you love this recipe, I'd love if you shared on Facebook, Instagram, or Pinterest! Thank you!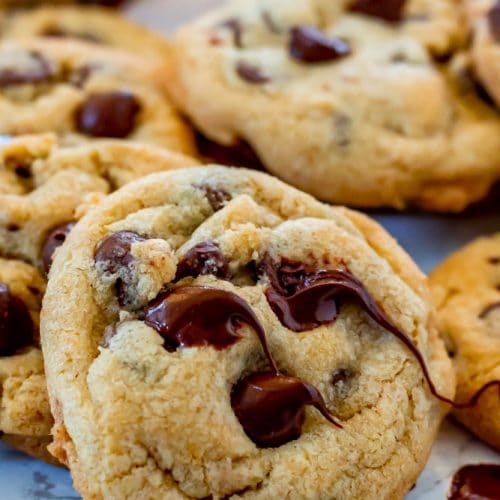 The Best Gluten-Free Chocolate Chip Cookies
Soft, chewy, and slightly crisp on the outside, these gluten-free chocolate chip cookies are the BEST! And oh yeah - they don't skimp on the chocolate chips!
Print
Pin
Rate
Ingredients
½

cup

butter

softened

⅓

cup

white cane sugar

⅔

cup

light brown sugar

packed

1

egg

room temperature

1

teaspoon

vanilla extract

1¾

cups

gluten-free measure-for-measure flour

(217 grams)

1

teaspoon

baking soda

¼

teaspoon

salt

1½

cups

chocolate chips

(one 12 oz bag)
Instructions
Preheat oven to 350F degrees. Line baking sheets with silicone baking mats or parchment paper.

Using a stand mixer (or a hand mixer with a large bowl), cream softened butter, white sugar, and packed light brown sugar for 3-4 minutes on medium speed, or until soft, smooth, creamy, and evenly incorporated.

Add the room temperature egg and vanilla extract. Turn the mixer back on to medium speed and cream together another minute.

Add the carefully measured dry ingredients (flour, salt, baking soda) and mix on low speed until just combined.

Using a small cookie scoop, scoop cookie dough onto silicone baking mat lined baking sheets. (If you don't have a cookie scoop, each cookie dough ball contains about 2 tablespoons cookie dough and has a diameter of about 1.6 inches.) Don't overcrowd cookie sheet as cookies will spread. Place cookies a couple inches apart, 12 cookies per baking sheet.

Bake for 10-12 minutes, or until desired crispness.

Remove from oven and let cool on the baking sheet a few minutes before transferring to a wire rack.
Notes
See blog post for freezing instructions.
Nutrition
Calories:
117
kcal
|
Carbohydrates:
17
g
|
Protein:
1
g
|
Fat:
5
g
|
Saturated Fat:
3
g
|
Cholesterol:
14
mg
|
Sodium:
87
mg
|
Potassium:
8
mg
|
Fiber:
1
g
|
Sugar:
12
g
|
Vitamin A:
115
IU
|
Vitamin C:
1
mg
|
Calcium:
20
mg
|
Iron:
1
mg