Lemon garlic turnip greens are a quick and easy way to make leafy greens taste good. They make a delicious side dish or convenient meal prep component – check out four ways you can use them in your meal prep below!
This post is brought to you by our friends at Nature's Greens. Thank you for your support of Nutrition to Fit and the select brands we love.
When I'm working with nutrition coaching clients, there are two topics that often come up:
Eating more vegetables.
Meal prep.
Whether client goals are centered around treatment or prevention (i.e. reducing cholesterol or trying to prevent heart disease) or creation of new habits and lifestyle (i.e. more energy, weight loss/ maintenance, increased brain function), at some point the topic of eating more vegetables always comes up.
From my experience, the majority of us can reap major benefits by adding more vegetables to our days. It's not just my opinion, either. Did you know the CDC has found only 10% of American adults eat the minimum recommended intake of fruits and veggies each day? We can totally do better!
That's one reason I'm loving WPRawl Nature's Greens bagged turnip greens (and all their other convenient leafy greens, like kale, mustard greens, and collard greens). They're pre-washed, pre-chopped, and ready to go in an affordable and convenient bag.
Oh yeah, and if you're new to turnip greens – they're CRAZY nutritious! Turnip greens are so nutrient-dense they're actually one of few foods achieving a perfect 1,000 point score on the Aggregate Nutrient Density Index (or ANDI, for short). The ANDI index was created by Dr. Joel Fuhrman as a way to identify foods highest in micronutrients and phytonutrients per calorie. The higher the score (on a scale of 1 to 1,000), the higher the nutrient density and the closer the association with reduced risk of chronic disease.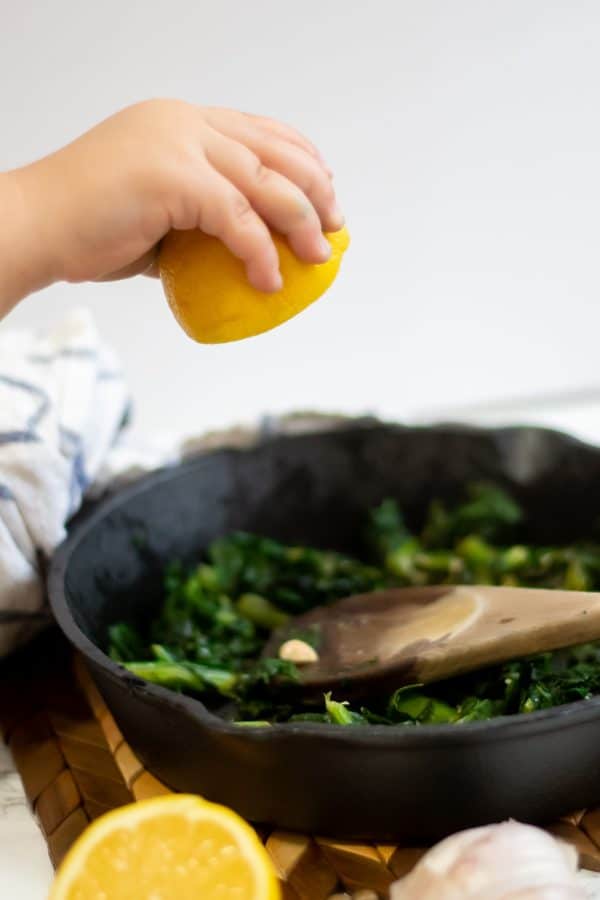 How to Make Lemon Garlic Turnip Greens
I like my greens chopped a little smaller for more versatility in meal options, so I start by running my knife through the chopped turnip greens. Just grab a handful of turnip greens, hold them tightly, and run you chef's knife through the greens (as you move your hand down/ out of the way of the knife!) creating ribbon-like thin pieces of turnip greens.
Grab a large, brimmed, heavy skillet like a stainless steel skillet or (my personal preference) a cast iron skillet. Get your skillet hot over medium-high heat, add the oil, then add your turnip greens once the oil is hot.
Stir occasionally (every 30-60 seconds) for a couple minutes. Add minced garlic and a pinch of salt, and stir another minute. Don't add the garlic before this point, or it may burn over the high heat for too long!
Then all you've got to do is add lemon! Pro tip: you can add your lemon at the end of cooking, but it will cause the turnip greens to get slightly discolored (a more "army green" hue). You can also just wait and squeeze some lemon wedges over your turnip greens just prior to serving and eating.
Using Turnip Greens in Meal Prep
The great thing about this recipe is it takes one convenient bag of Nature's Greens pre-washed and chopped turnip greens and in less than fifteen minutes you've got four generous servings of lemon garlic turnip greens to use in your weekly meal prep.
One of the biggest complaints I hear about meal prep is clients not wanting to eat the same thing over and over again – which is totally understandable! And that's why I love simple meal prep recipes like this that are fast to prepare and versatile enough to be used different ways. Check out the four ways I used one batch of lemon garlic turnip greens:
Leafy Greens Breakfast: pair a serving of lemon garlic turnip greens with some hard-boiled eggs and fruit of choice. This is a little on the lighter side for a meal, so if you're still hungry, add a high fiber whole grain English muffin or some nut butter on the side.
Vegetarian Wraps: set aside a portion of lemon garlic turnip greens and add some halved grape tomatoes and rinsed and drained black beans. Package with a couple tortillas (go for a higher fiber whole wheat option or look for a gluten-free option if need be, like the grain-free cashew flour tortillas I used here). You can quickly assemble a couple wraps for an on-the-go lunch that can be eaten hot or cold.
Pasta & Greens: use one serving of lemon garlic turnip greens and combine with a serving of your favorite pasta. I personally love using legume-based pastas, like a chickpea or lentil pasta, for added fiber and protein. Add a sprinkle of parmesan cheese or nutritional yeast for a little extra cheesy flavor!
Classic Dinner: pair a serving of lemon garlic turnip greens with a lean protein, like chicken or turkey breast, and a starchy carbohydrate, like baked sweet potato fries or my greek yogurt mashed potatoes (seen here).
You can totally use these meal prepped leafy greens however you choose, but hopefully this provides some inspiration for new ways to use a simple recipe in some meal prep.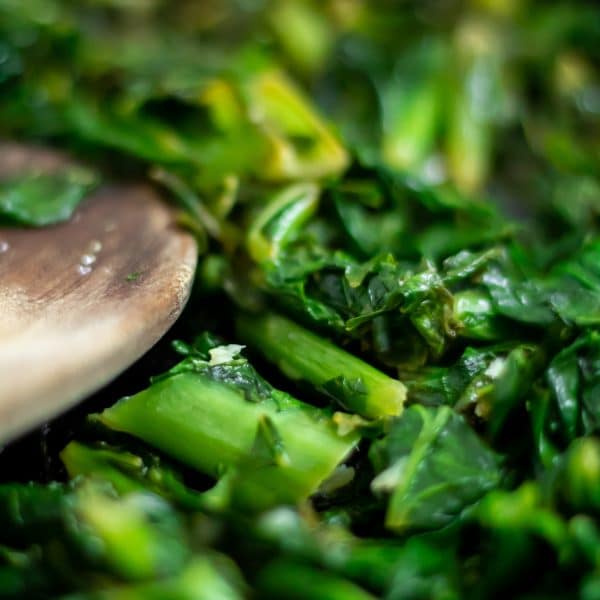 Looking for more leafy green recipes that make for easy meal prep? Try these:
Don't forget to pin this recipe on Pinterest, or share with a friend on social media – be sure to use the hashtags #nutritiontofit, #naturesgreens, and #farmfreshgreens so we can see your creations! Live well!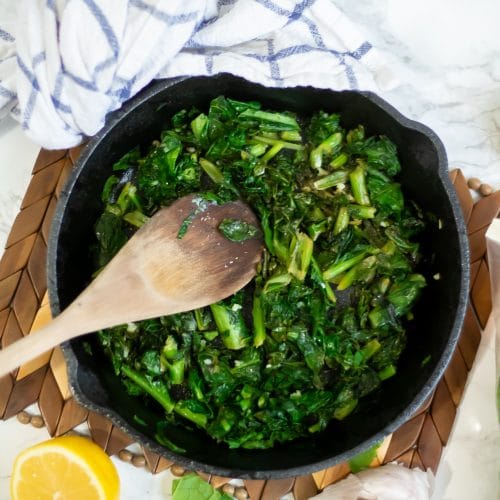 Lemon Garlic Turnip Greens
Lemon garlic turnip greens are a quick and easy way to make leafy greens taste good. They make a delicious side dish or convenient meal prep component.
free from: wheat/ gluten, dairy, soy, egg, fish, shellfish, tree nuts, peanuts

Print
Pin
Rate
Ingredients
16

oz

Nature's Green chopped turnip greens

1

tbsp

avocado oil

2

cloves

garlic

2

tbsp

lemon juice

(or more to taste)

salt to taste
Instructions
Preheat a large cast iron skillet (or other heavy skillet) over medium-high heat.

While the skillet is getting hot, quickly chop the turnip greens into smaller pieces if desired. I like to take a handful of greens at a time and run a knife through like I'm creating ribbons of turnip greens. Mince garlic and set aside.

Once the skillet is hot, add oil and let oil get hot (takes about 30 seconds).

Add turnip greens to hot skillet and oil and cook quickly, stirring every 30-60 seconds. After 3-4 minutes as turnip greens have quickly been cooking down, add minced garlic and cook another minute or two, stirring occasionally.

Add lemon juice at the end of cooking. If you're meal prepping the turnip greens and want them to retain a brighter, prettier green color, wait to add lemon juice just prior to serving and eating. (You can add some lemon wedges to your meal prep containers and squeeze over fresh in the moment).
Nutrition
Calories:
71
kcal
|
Carbohydrates:
9
g
|
Protein:
2
g
|
Fat:
4
g
|
Saturated Fat:
1
g
|
Sodium:
46
mg
|
Potassium:
336
mg
|
Fiber:
4
g
|
Sugar:
1
g
|
Vitamin A:
13139
IU
|
Vitamin C:
71
mg
|
Calcium:
218
mg
|
Iron:
1
mg