Blueberry avocado nice cream is a creamy, cool dessert with just four ingredients and no added sugar! It's a healthy dessert that can be enjoyed any time.
Recently I've been planning upcoming content for Nutrition to Fit. I polled on Instagram asking y'all what kind of recipes you'd like to see more of. There were a few requests for healthy dessert recipes, which reminded me - I've been sitting on a few recipes that I haven't shared yet. Including this gem of a recipe for blueberry avocado nice cream!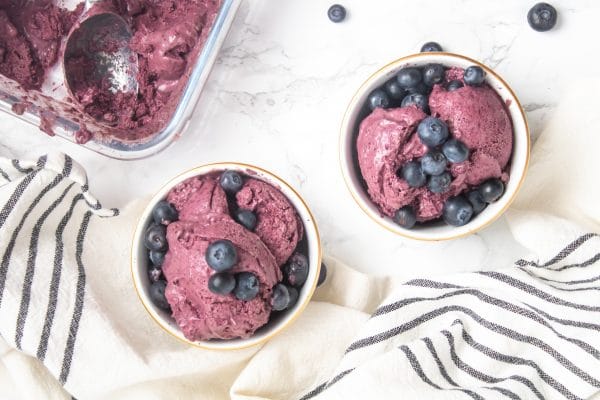 But before we get to the recipe, I just want to chat a minute about desserts and healthy lifestyles. To be clear:
Desserts can be part of a healthy lifestyle (and you can still achieve health and weight-related goals when eating dessert).
Desserts don't have to be "healthy" to be part of a healthy lifestyle.
The key is to listen to your body. Sometimes you're just wanting a little something sweet and something like fresh fruit or this blueberry avocado nice cream will do the trick. On other occasions, you may be craving and really wanting something specific. Maybe it's that perfectly gooey brownie from the bake shop down the street or maybe it's your grandma's blue ribbon banana pudding.
Know what's worth it to you and when. There's a difference between having a "healthier" dessert because you enjoy it versus forcing yourself to eat a healthified version you don't even really enjoy. There's also a difference between eating that banana pudding because you really love it and want it and eating it just because it's there, or even out of perceived obligation.
Personally, I adore a really good homemade chocolate chip cookie fresh from the oven. I also truly enjoy some "healthier" desserts, like this blueberry avocado nice cream. I love, too, that with ingredients like blueberries, avocado, and banana, it's an incredibly nutrient-dense dessert full of healthy fats, fiber, and quite a variety of micronutrients.
Bonus? My two-year-old loves this "nice cream" recipe, too, and I have zero qualms about giving it her. Gosh - with no added sugar, I can even give this to the baby once he's a little older and eating more!
Let me know if you give this blueberry avocado nice cream a try and what you think! Share it with your friends and family on social media (NTF is on Facebook and Instagram) or save this recipe to try later on Pinterest!
And friends? If you're struggling with figuring out how to incorporate desserts in a healthy lifestyle, if you're needing a little support and accountability as you're creating your version of a healthy lifestyle to meet your goals - there's no shame in that! Check out our nutrition coaching services, we'd love to help you reach your goals in a healthy lifestyle that works (and is enjoyable!) for you!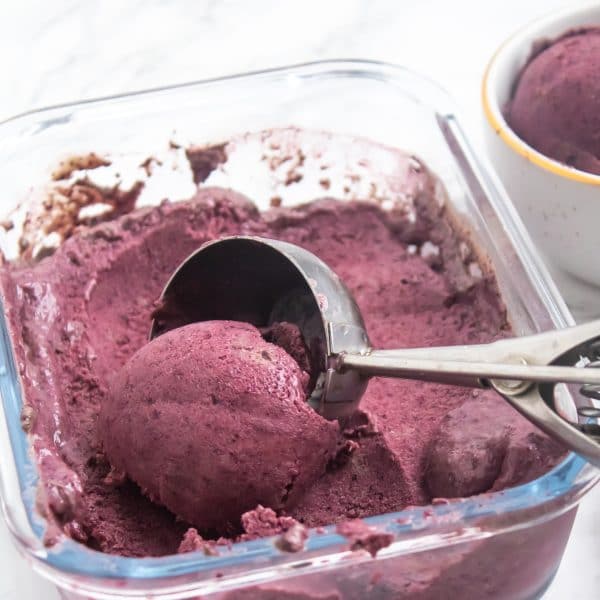 Blueberry Avocado Nice Cream
Blueberry avocado nice cream is a creamy, cool dessert with just four ingredients and no added sugar! It's a healthy dessert that can be enjoyed any time!

free from: wheat/ gluten, soy, dairy, egg, shellfish, fish, peanuts, tree nuts
Print
Pin
Rate
Ingredients
2

haas avocados

2

cups

frozen blueberries

1

frozen banana

½

cup

milk of choice

(I used unsweetened almond milk)
Instructions
Add ingredients to your blender. Blend, starting on low and slowly increasing speed, until the mixture is evenly combined. It will be very thick and you may need to add a small amount of additional milk if your blender is struggling to blend.

Serve immediately for a soft serve texture or freeze for four hours. Nice cream can stay frozen up to one month. If frozen solid, you may need to set it on the counter for a few minutes or thaw 15-30 seconds in the microwave to make it softer to scoop.
Notes
Nutrition information will vary based on milk used.
Nutrition
Calories:
116
kcal
|
Carbohydrates:
13
g
|
Protein:
2
g
|
Fat:
8
g
|
Saturated Fat:
1
g
|
Polyunsaturated Fat:
1
g
|
Monounsaturated Fat:
1
g
|
Trans Fat:
1
g
|
Cholesterol:
1
mg
|
Sodium:
4
mg
|
Potassium:
325
mg
|
Fiber:
5
g
|
Sugar:
6
g
|
Vitamin A:
103
IU
|
Vitamin C:
10
mg
|
Calcium:
8
mg
|
Iron:
1
mg