Korean ground turkey is inspired by the flavors of traditional Korean bulgogi, but made with ground turkey for a flavorful, 15 minute, easy weeknight dinner. Use it in a Korean turkey bowl paired with fluffy white rice and cucumber carrot salad, and the whole family will love it!
This post may contain affiliate links. As an Amazon Associate, I may earn from qualifying purchases. Click here to learn more.
This Korean ground turkey is my family's current favorite dinner in our weekly rotation. It's SO good, inspired by all the flavors of Korean bulgogi, but made with ground turkey. Why?
Well as delicious as steak and ground beef are, lately they've been quite a bit more expensive at the grocery store! So for an easy weeknight meal, using ground meat helps make it cook faster, and turkey simply for a more affordable option.
But as I'll share below, you can easily adapt the same recipe to your personal protein preferences! And no matter what, you've GOT to make my Asian-inspired carrot and cucumber salad to pair with this dinner!
Ingredients
Ground Turkey: I use a 93% lean ground turkey (the label will likely say 93/7), but feel free to use whichever type of ground turkey you prefer or have access to.
Brown Sugar: I love how brown sugar tastes in this sauce, and the sweetness is necessary to help create the traditional Korean bulgogi flavors.
Soy Sauce: If using soy sauce, I always recommend a reduced or low sodium option. Coconut aminos work beautifully, too, if you need a gluten-free and soy-free option.
Sesame Oil: If you're new to Asian-inspired cooking, this ingredient may not be in your pantry, but it should be! Sesame oil is a delicious oil that packs a ton of toasty, nutty flavor -- a little goes a long way!
Seasonings: fresh garlic, crushed red pepper flakes, sesame seeds, and ground ginger round out the seasonings to create this beautiful dish.
Garnish: I love using sliced green onions as a garnish that happens to add some lovely complementary flavors! Don't have green onions? Chopped fresh cilantro is another lovely choice.
How to Make Korean Ground Turkey, Step-by-Step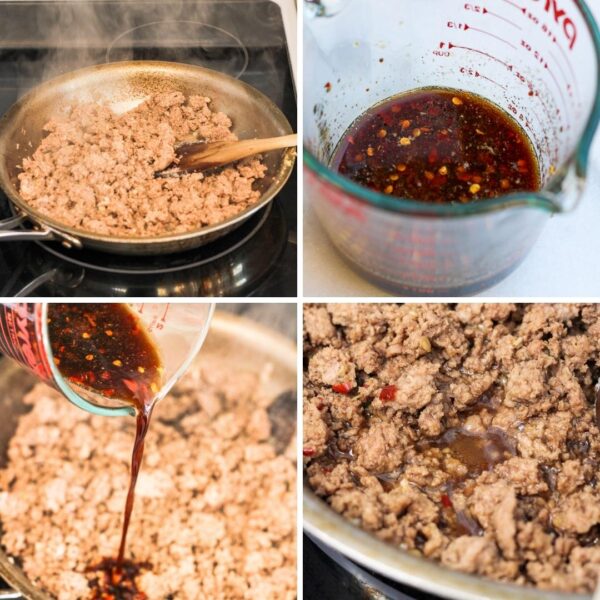 Brown turkey and garlic in a large skillet.
Whisk remaining ingredients for the sauce.
Pour sauce over turkey.
Stir and simmer turkey with sauce.
Substitutions
While it's impossible to test all substitutions, here are some substitutions that I know work:
Ground turkey - you can substitute any ground protein you have on hand or prefer, like ground chicken, pork, beef, or venison.
Ginger - if you have it you can use grated fresh ginger instead of ground ginger. Use 1 tablespoon grated fresh ginger root for every ¼ teaspoon ground ginger.
Soy sauce - I always use a reduced or low sodium soy sauce, but you can substitute coconut aminos for a gluten-free option.
Brown sugar - I prefer the flavor of brown sugar in this recipe. You can decrease the amount if you prefer, or use cane sugar, coconut sugar, honey, or a non-nutritive brown sugar alternative, like Swerve's Brown Sugar Replacement or Truvia Sweet Complete Brown Sweetener with Stevia.
Variations
This is a pretty straightforward recipe, but you can always change up the spice level:
Less Spicy - add chili pepper flakes and even a little buffalo sauce to make spicy turkey meatballs
More Spicy - double the chili pepper flakes and top with sriracha.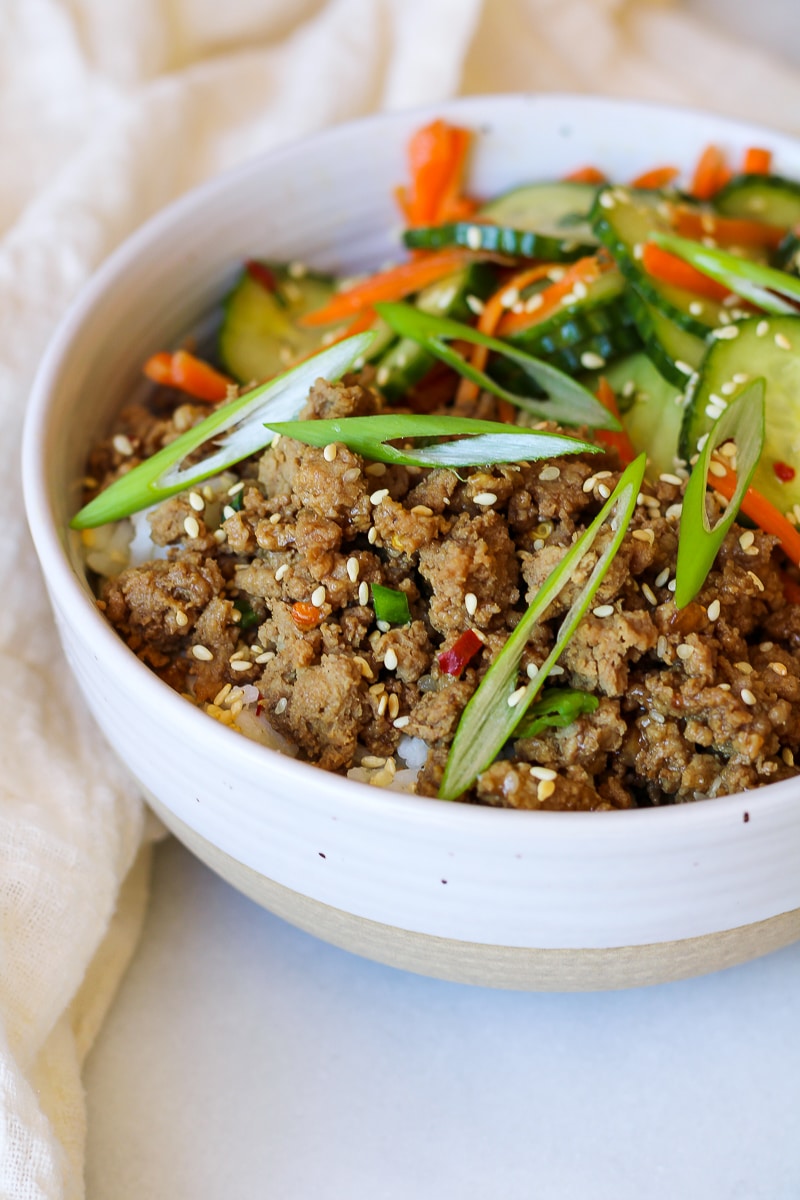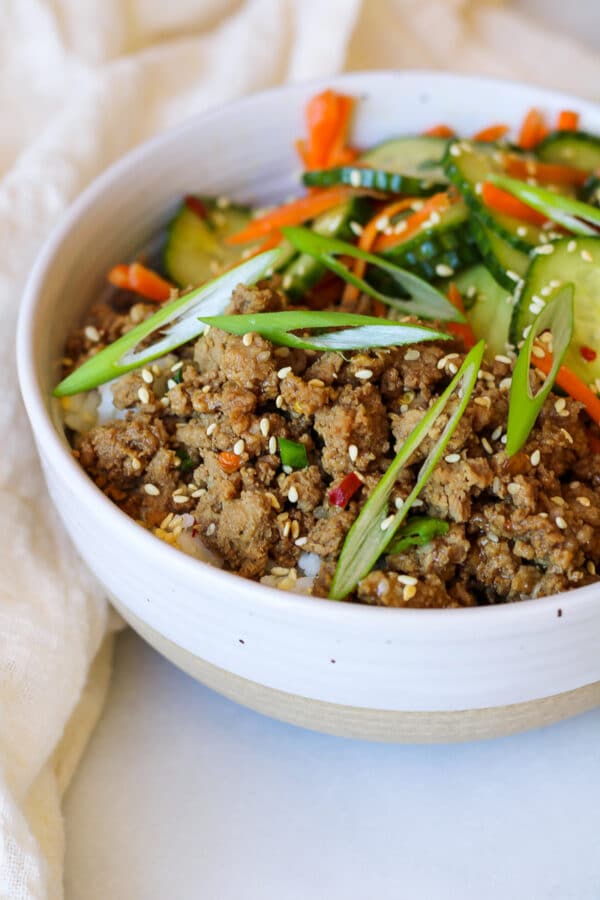 How to Make Korean Turkey Bowls
Hands down, if you're going to make this recipe, you need to make the full Korean turkey bowl.
To make Korean turkey bowls, serve Korean ground turkey over a bed of fluffy white rice, and alongside cucumber carrot salad. Garnish with more sesame seeds and sliced green onion.
Ways to Serve Korean Turkey
Again 10/10 recommend pairing with my carrot and cucumber salad and serving over rice. So delicious!
Alternatively, try serving the following ways:
As tacos (serve in a tortilla with cucumber carrot salad and garnish with cilantro)
On a salad for your protein
Over any type of grain (wild or brown rice, quinoa)
As a veggie bowl on top of cauliflower rice
Have fun with it!
Meal Prep, Storage, & Reheating
If you like to meal prep, Korean turkey is a perfect meal. Follow the recipe as is and you have an easy protein for a few days!
Store in an airtight container and refrigerate for up to three days. It can also be frozen up to three months.
To thaw, defrost in the microwave, or in a skillet on the stove top -- you may need to add a little water to keep the turkey juicy.
You can reheat the turkey in a skillet on the stove or in the microwave for one minute, or until desired temperature is reached. With either option, if you find your ground turkey looking a little dry, try adding a couple teaspoons to tablespoon of water to help retain mositure.
Korean Turkey Nutrition
One serving (a quarter of this recipe) of Korean ground turkey has 235 calories, 22 grams protein, 12 grams fat, 11 grams carbohydrates, 1 gram fiber, 9 grams sugar, 614 mg sodium, 2mg iron.
So is this Korean ground turkey healthy? It absolutely can fit into a balanced diet!
"Healthy" is Subjective - You Do You
Know, too, that "healthy" is subjective. The foods that help one maintain their health may or may not work for you - and that's okay! Honor the body you have. As a registered dietitian nutritionist, I suggest eating a variety of nourishing foods that help you feel good and achieve or maintain your health, balanced with the foods you love. Remember - an election isn't won with every vote, but the majority. Your health is the same way - the overall dietary pattern is what matters most.
Food Safety
Cook to a minimum temperature of 165 °F (74 °C).
Do not use the same utensils on cooked food, that previously touched raw meat.
Wash hands after touching raw meat.
Don't leave food sitting out at room temperature for extended periods.
Never leave cooking food unattended (especially if you have young children!).
More Recipes You'll Love
If you're a fan of ground turkey and looking for more recipes, I highly recommend my gluten-free turkey chili and taco stuffed peppers.
Did you make this recipe? Give it a 5★ rating below! For more healthy recipes and tips to create your own balanced relationship with food and health, be sure to follow Nutrition to Fit on Instagram!
Korean Ground Turkey
Korean ground turkey is inspired by the flavors of traditional Korean bulgogi, but made with ground turkey for a flavorful, easy weeknight dinner. Use it in a Korean turkey bowl paired with fluffy white rice and cucumber carrot salad, and the whole family will love it!
Ingredients
1

pound

93% lean ground turkey

3

garlic cloves, minced

¼

cup

low sodium soy sauce

3

tablespoon

packed light brown sugar

2

teaspoon

sesame oil

¼

teaspoon

ground ginger

¼

teaspoon

crushed red pepper flakes
Instructions
Heat a large skillet over medium high heat. Add ground turkey and minced garlic and cook 5-6 minutes, until turkey has browned and is no longer pink. Be sure to crumble the turkey as it cooks.

While turkey is cooking, whisk together the soy sauce, brown sugar, sesame oil, ground ginger, and crushed red pepper flakes.

Pour sauce over turkey into the pan and stir. Let simmer for 2-3 minutes, stirring occasionally.

When done, serve and garnish with sesame seeds and thinly sliced green onion.
Nutrition
Calories:
235
kcal
|
Carbohydrates:
11
g
|
Protein:
22
g
|
Fat:
12
g
|
Saturated Fat:
3
g
|
Polyunsaturated Fat:
4
g
|
Monounsaturated Fat:
4
g
|
Trans Fat:
1
g
|
Cholesterol:
84
mg
|
Sodium:
614
mg
|
Potassium:
295
mg
|
Fiber:
1
g
|
Sugar:
9
g
|
Vitamin A:
120
IU
|
Vitamin C:
1
mg
|
Calcium:
39
mg
|
Iron:
2
mg