This carrot and cucumber salad is a simple and delicious side salad, full of Asian-inspired flavors. It's light and crisp - a great use for fresh summer produce!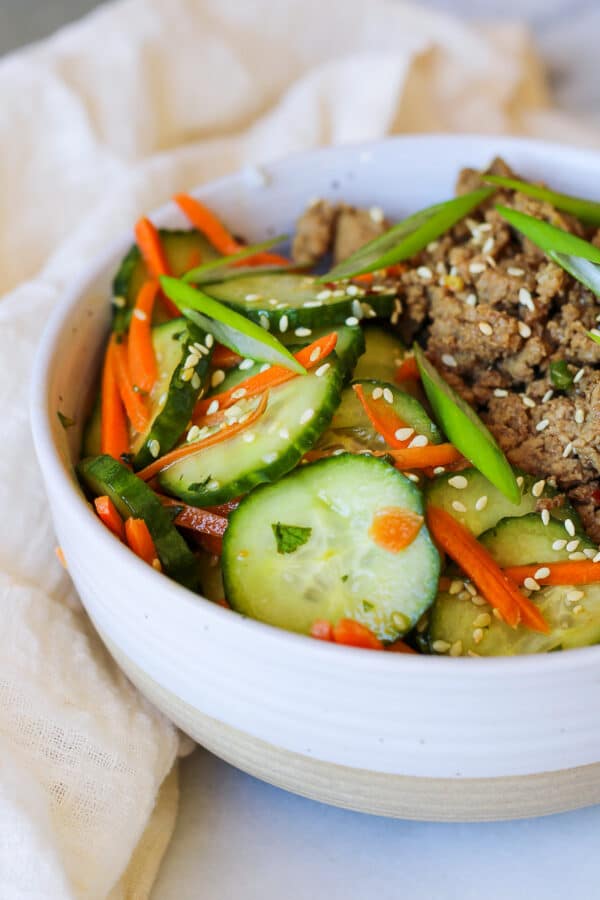 This post may contain affiliate links. As an Amazon Associate, I may earn from qualifying purchases. Click here to learn more.
This Asian-inspired cucumber and carrot salad is one of my favorite simple side dishes. It's packed with flavor and elevates a basic meal to a delicious one. And best part? It's easy to make and tastes even better if you make it ahead! (You've GOT to pair it with Korean ground turkey!)
Ingredients
Cucumbers: obviously an essential ingredient! I love using long seedless cucumbers (that's how the recipe is written), but you can truly use any type of cucumber you have or grow - aim for 2-3 cups of cucumber slices. Slicing is fairly low maintenance, but you can also spiralize or shave into thin ribbons to change the look of the salad.
Carrots: the other essential ingredient! I love julienned carrots, but you can thinly chop carrots, baby carrots, or also spiralize or shave into thin ribbons.
The dressing base: you need a neutral oil (like avocado oil), rice vinegar, sesame oil, and soy sauce (or coconut aminos for a naturally gluten and soy-free option).
Seasonings: fresh cilantro, ginger, toasted sesame seeds, sugar, and crushed chili flakes. It seems like a lot of ingredients but these are all pretty basic and accessible (I can buy all of them at even Walmart and/ or ALDI). And all of these seasonings is what allows this salad to be packed with flavor and so delicious.
How to Make Carrot and Cucumber Salad, Step-by-Step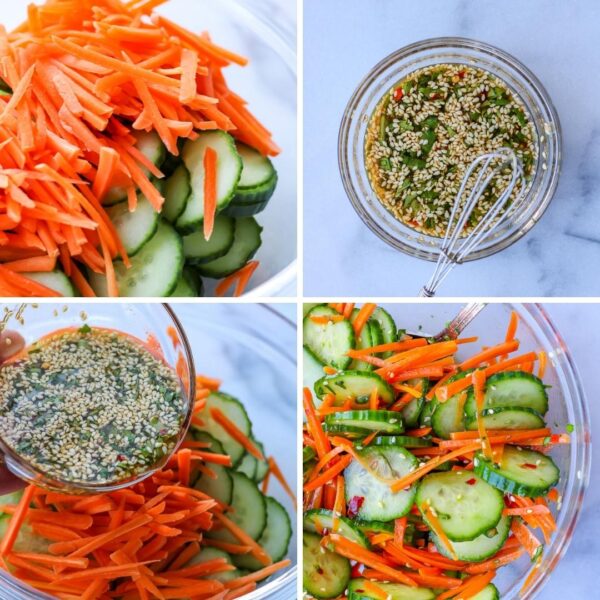 Slice your carrots and cucumber and place in a bowl.
Whisk all remaining ingredients in a small bowl.
Pour dressing over the vegetables.
Toss to combine! You can enjoy it immediately, but for best flavor you really need to let it chill at least 20 minutes (overnight works, too!).
Recipe Tips & Tricks
TIP 1: Make sure to toast your sesame seeds! Toasting really enhances the flavor.
TIP 2: omit the crushed red pepper flakes if spice/ heat isn't your thing.
TIP 3: I prefer sliced cucumbers and julienned carrots, but feel free to use a vegetable peeler to shave vegetables into ribbons, or a spiralizer to make vegetable spirals.
Substitutions
If you substitute too much, this recipe changes quite a bit. Here are a few substitutions that work:
Avocado oil - feel free to use another neutral oil, like grapeseed oil or canola oil.
Rice vinegar - apple cider vinegar also has a similar sweet/ sour profile, so you if you need to you can substitute with apple cider vinegar, or white wine vinegar.
Soy sauce - I generally use a reduced or low sodium soy sauce. If you need the salad to be gluten-free or soy-free you can use coconut aminos, an excellent soy sauce substitute. You can also try substituting tamari, Worcestershire sauce, or fish sauce.
That said, I always want to encourage you to do what works for you. Make this salad, and any recipe, your own!
What to Pair it With:
My absolute favorite thing to pair this with is my Korean Ground Turkey. Enjoy both with some rice and topped with some fresh cilantro, green onion, and sesame seeds? Perfection!
It's also a delicious side for other entrees, like air fryer turkey burgers, BBQ chicken and zucchini skewers, and cast iron skillet steak.
How to Toast Sesame Seeds
Toast sesame seeds by placing them in a small skillet over medium-low heat (no oil!). Shaking the skillet and stirring with a wooden spoon continuously, your sesame seeds are toasted when they turn a golden brown color and smell fragrant (about 3 minutes).
Don't go anywhere during this process! Stay at the stove. They can go from toasted to burned very quickly!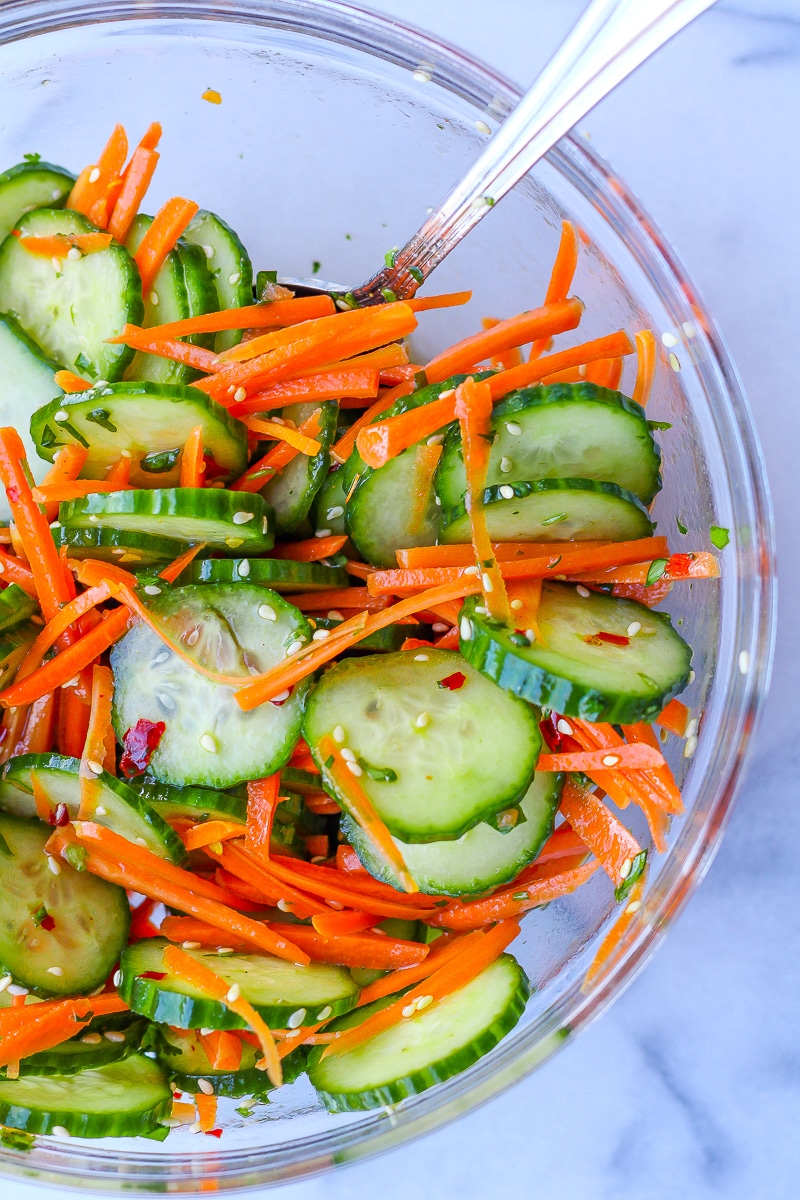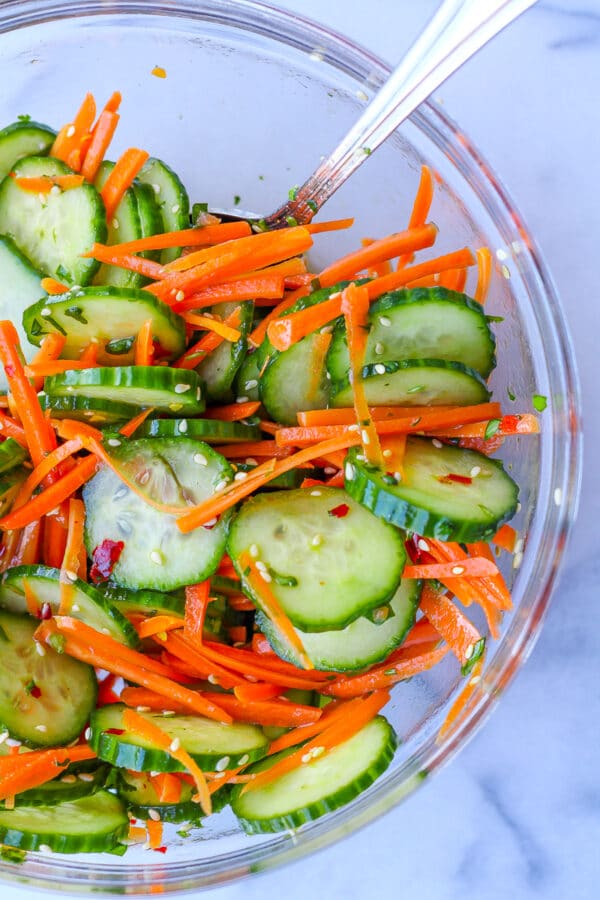 Cucumber Carrot Salad Nutrition
With a serving of ¼ of the recipe, each serving contains 79 calories, 8 grams carbohydrates, 1 g protein, 5 g fat, 2 g fiber, 5g sugar, and 112 mg sodium.
This cucumber carrot salad is absolutely a nutrient-dense, easy, healthy side dish. It can totally fit into a balanced diet if you choose!
"Healthy" is Subjective - You Do You
Know, too, that "healthy" is subjective. The foods that help one maintain their health may or may not work for you - and that's okay! Honor the body you have. As a registered dietitian nutritionist, I suggest eating a variety of nourishing foods that help you feel good and achieve or maintain your health, balanced with the foods you love. Remember - an election isn't won with every vote, but the majority. Your health is the same way - the overall dietary pattern is what matters most.
More Recipes You'll Love
If you're a fan of salad side dishes, I highly recommend my cucumber chickpea salad, fresh beetroot salad, and Greek lentil salad.
Did you make this recipe? Give it a 5★ rating below! For more balanced nutrition and simple, healthy-ish recipes, be sure to follow me on Instagram!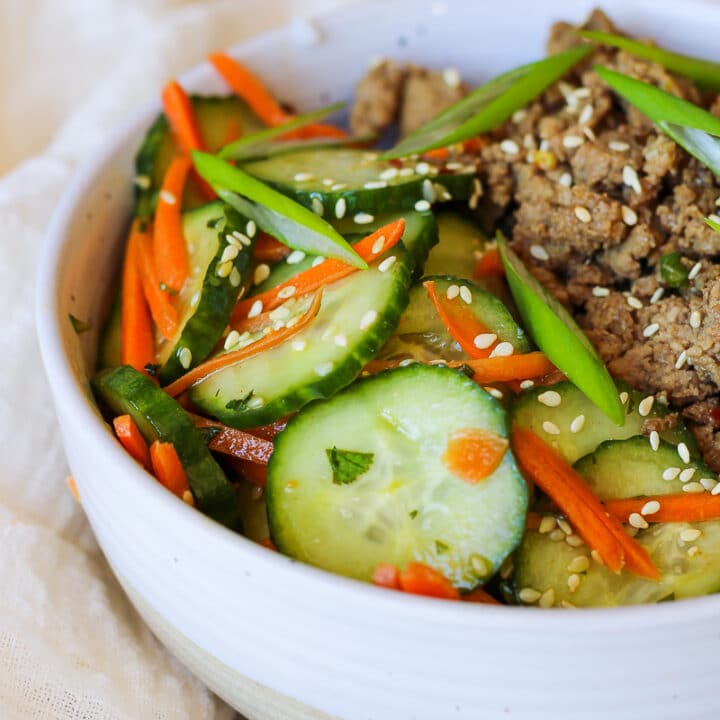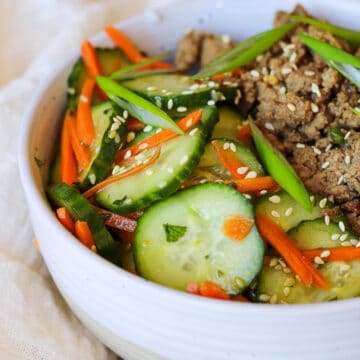 Carrot and Cucumber Salad
This carrot and cucumber salad is a simple and delicious side salad, full of Asian-inspired flavors. It's light and crisp - a great use for fresh summer produce!
Print
Pin
Rate
Ingredients
1

large seedless cucumber

1

cup

julienned carrot slices

1

tablespoon

avocado oil

2

tbsp

rice vinegar

1

teaspoon

sesame oil

2

teaspoon

sugar

2

teaspoon

low sodium soy sauce

2

tablespoon

minced fresh cilantro

2

teaspoon

toasted sesame seeds

¼

teaspoon

ground ginger

¼

teaspoon

crushed red chili flakes (optional)
Instructions
Wash cucumber and slice into thin slices. Wash and peel carrot and julienne into thin strips.

Whisk all remaining ingredients to form the dressing.

Pour dressing over carrots and cucumbers and toss to combine.

Cover and let chill at least 20 minutes, up until overnight, to maximize flavors. Enjoy!
Nutrition
Calories:
79
kcal
|
Carbohydrates:
8
g
|
Protein:
1
g
|
Fat:
5
g
|
Saturated Fat:
1
g
|
Polyunsaturated Fat:
1
g
|
Monounsaturated Fat:
3
g
|
Sodium:
112
mg
|
Potassium:
201
mg
|
Fiber:
2
g
|
Sugar:
5
g
|
Vitamin A:
4542
IU
|
Vitamin C:
3
mg
|
Calcium:
34
mg
|
Iron:
1
mg