One of the best ways to cook a steak at home is in a cast iron skillet. This simple cast iron skillet steak recipe uses a combination of cooking the steak in a cast iron skillet and oven for perfect results every time.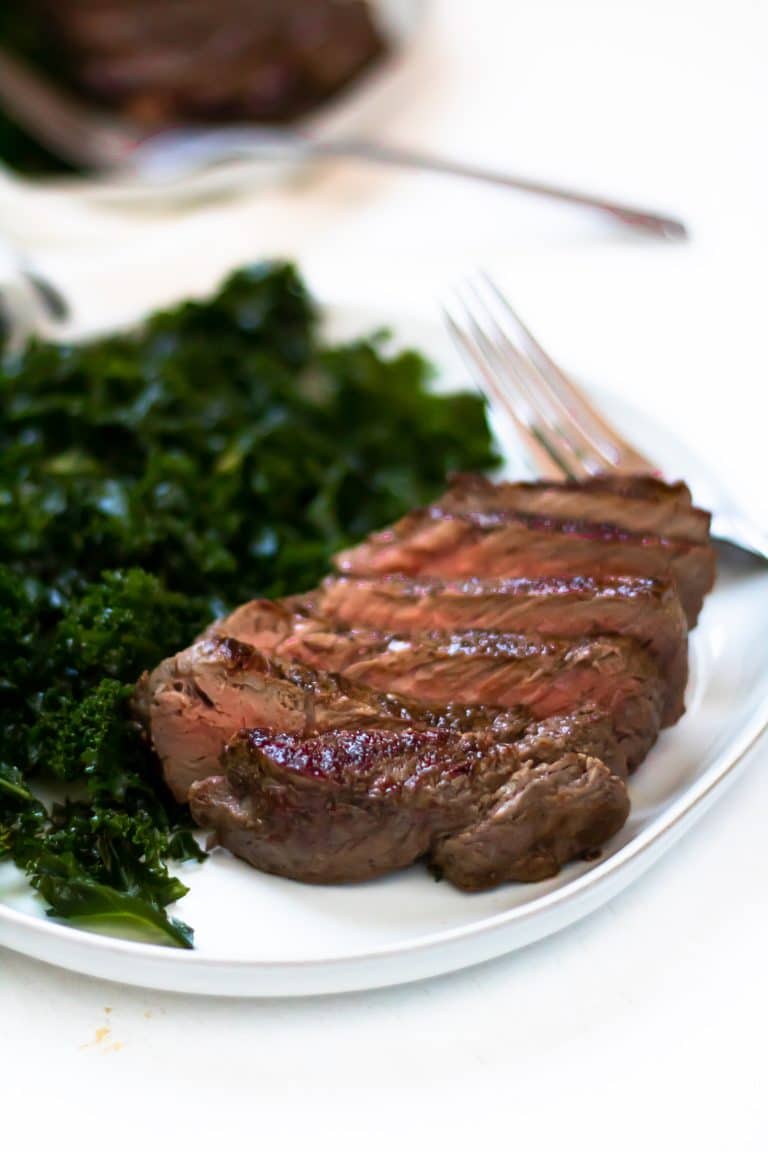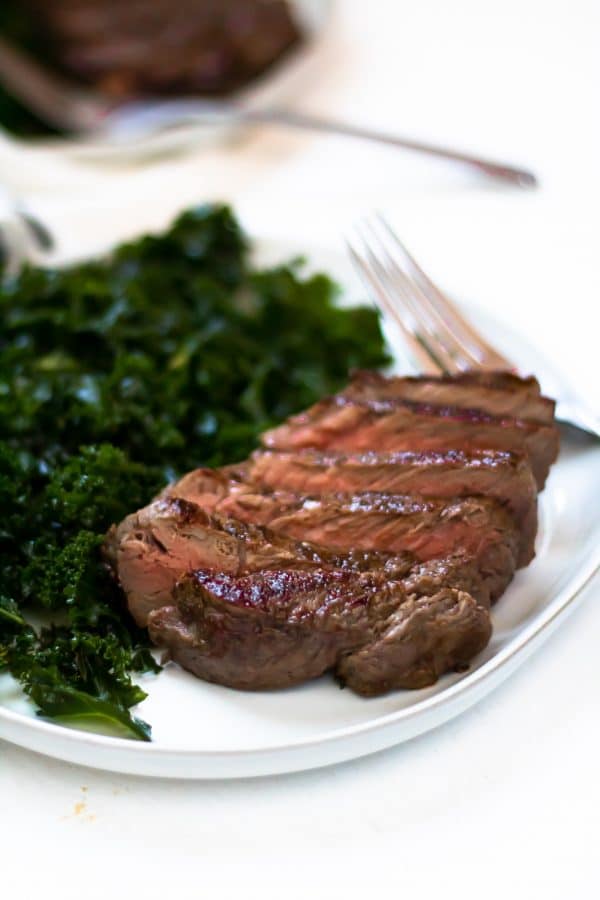 Cast Iron Skillet Steak
I'm a huge fan of cooking my steaks in a cast iron skillet and finishing in the oven. The cast iron gives the perfect sear that makes any good steak while finishing the steak in the oven allows the steak to finish to your desired temperature.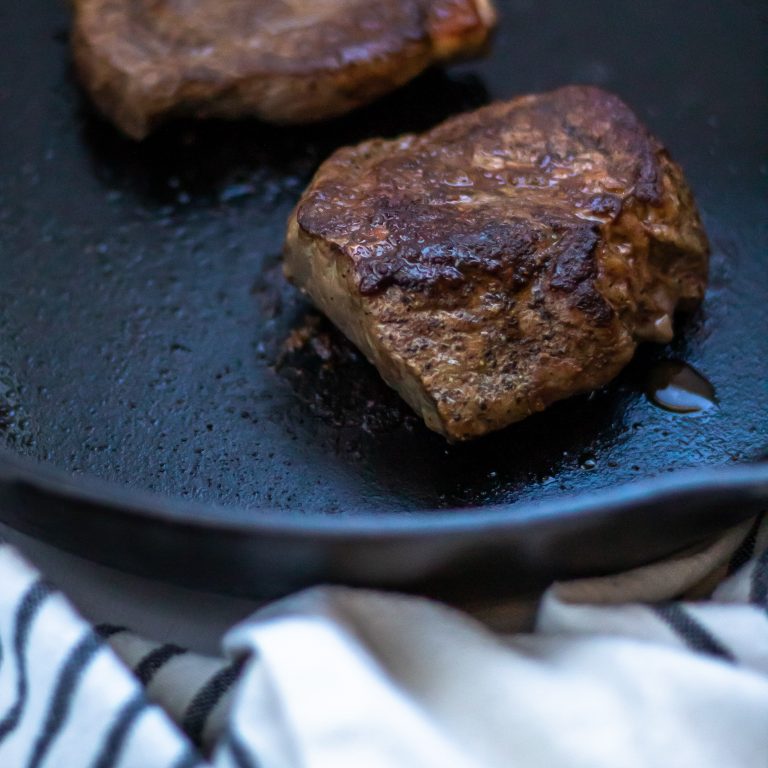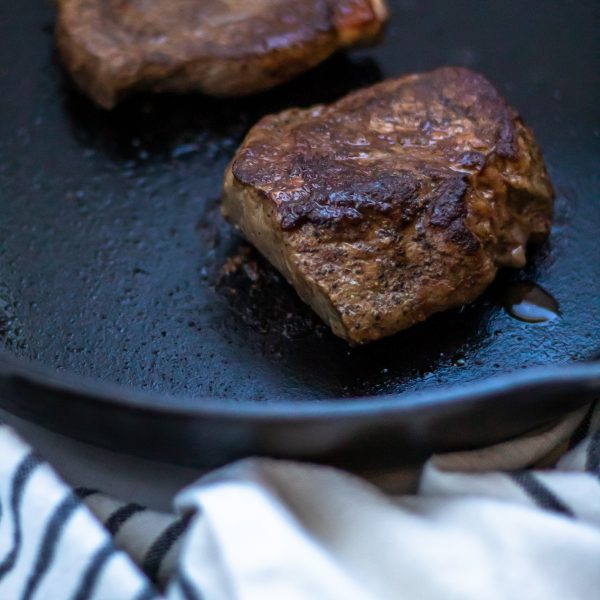 What Kind of Steak to Use
I'm partial to sirloin steaks or filet mignons. They're typically leaner cuts compared to cuts like ribeye or strip steaks, although this method will work for any!
I used one of my favorite healthy, convenient brands for my steaks: ButcherBox. I've talked about them before, but ButcherBox is a subscription meat service that delivers the highest quality cuts of meat straight to your door. They arrive frozen solid and are ready to go in your freezer! I used their grass-fed, grass-finished sirloin steaks in this recipe and they turned out absolutely delicious! If you're interested, check out my affiliate link for their special offer for Nutrition to Fit fans: $15 off, free shipping, and free bacon!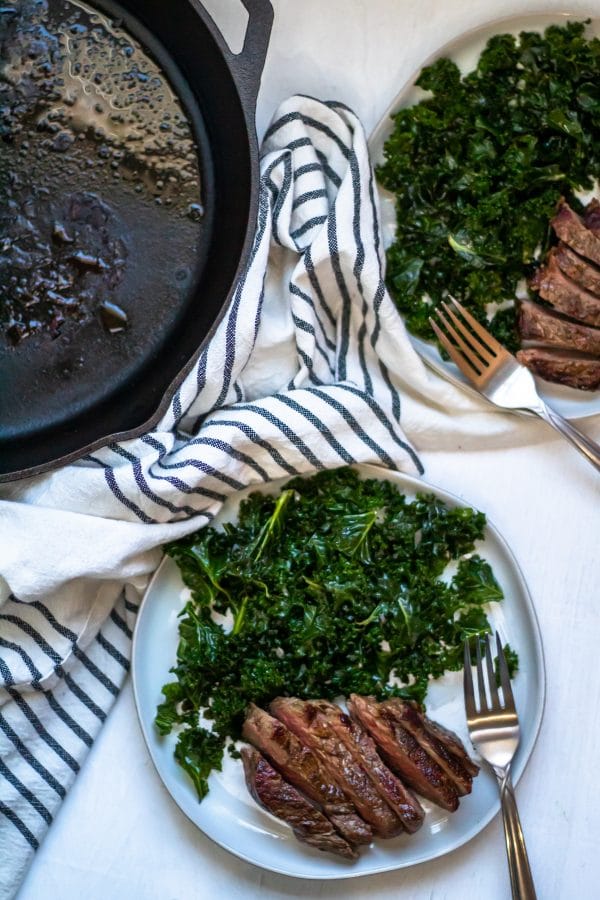 How to Make Cast Iron Skillet Steaks
If you've never cooked a steak at home before, it may feel a little intimidating but it's actually not that time-consuming or complicated.
First thing's first - let your steaks come to room temperature for 30 minutes or so. If you've ever cooked a steak at home and found it perfect or even super crisp on the outside but nearly raw inside - it's probably because your steak was too cold.
Next, preheat your oven and get your skillet hot.
I then like to season both sides of my steak with a little salt and pepper. Drizzle a little high heat oil (like avocado oil) in your skillet and use a pair of tongs to set your steaks in the skillet.
Now don't touch them! A common problem people have when searing a steak at home is that they move the steak around too much and the steak isn't able to get a good sear or it sticks a bit to the pan. Once you set your steak down, leave it for a few minutes. Then once there's a good sear on it, it should pop right up when you go to pick it up and turn to the other side.
Sear the opposite side a couple more minutes, then turn your burner off and carefully transfer the whole skillet to your preheated oven.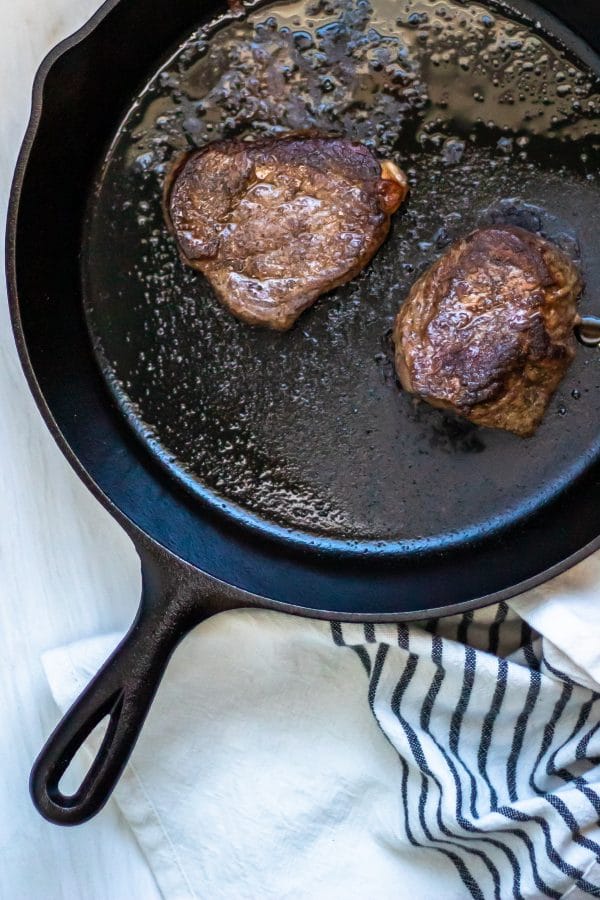 Why You Should Finish Your Steaks in the Oven
I like to finish cooking my steak in the oven to have more control over the temperature and doneness of my steak.
I also really like to use an oven-safe meat thermometer to keep an eye on the temperature of the steak.
See, it'd be really simple for me to tell you to place the steak in the oven fo xyz minutes for xyz doneness. But it only kind of gets you close. You're going to get a steak much closer to what you want if you use a meat thermometer. That way any other variables, like the thickness, width, and size of your steak can be accounted for.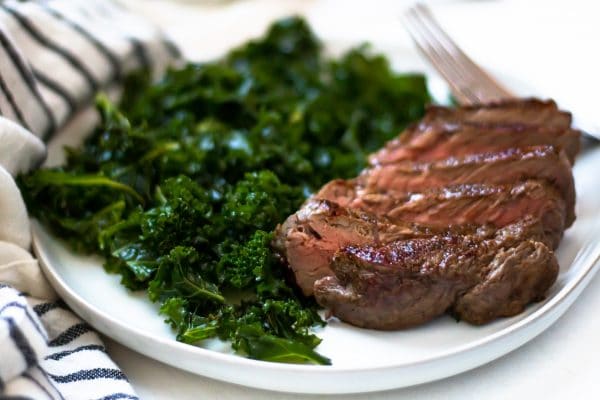 Temperature Guide for Meat Doneness
Use the below guide to figure out what temperature you should set your meat thermometer (affiliate link) for.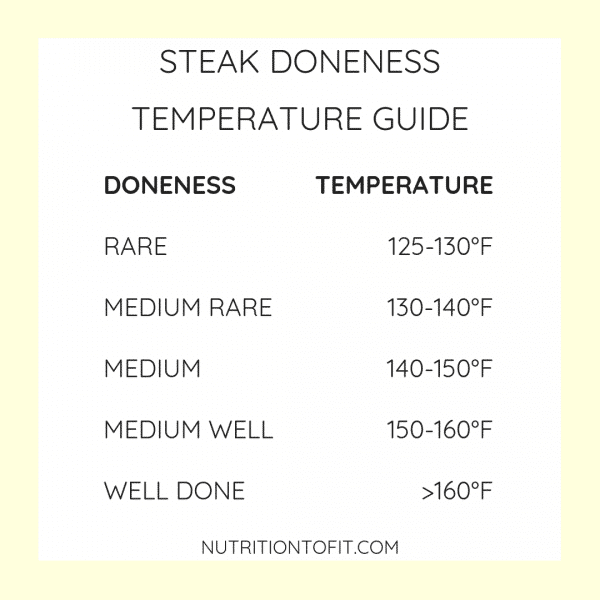 What to Serve with Your Steak
Now that you've got your deceptively simple steak entree planned, be sure to have some stellar sides to pair with it! Here are some of my favorite Nutrition to Fit side dish recipes (and a dessert!) to serve with a steak dinner:
Whenever you make an NTF recipe, I LOVE when you leave a comment and rate the recipe, to help out both me and anyone else looking to make a recipe! It also totally makes my day whenever you share a picture of your NTF creations to social media . Always be sure to tag me (@nutritiontofit, #nutritiontofit) so I can see! Live well!
Cast Iron Skillet Steak
One of the best ways to cook a steak at home is in a cast iron skillet. This simple cast iron skillet steak recipe uses a combination of cooking the steak in a cast iron skillet and oven for perfect results every time.
free from: wheat/ gluten, dairy, soy, egg, fish, shellfish, tree nuts, peanuts
Ingredients
2

sirloin steaks

(4-6 oz each)

2

teaspoon

avocado oil

coarsely ground salt and pepper
Instructions
Allow steaks to come to room temperature for at least 30 minutes (larger and thicker cuts of meat may require more time to come to room temperature). Pat dry and liberally season both sides of the steak with salt and pepper.

Preheat the oven to 450 degrees.

Heat your oil in your cast iron pan over high heat. You want your pan to be REALLY hot, but not hot enough that the oil starts smoking. If the oil starts smoking, remove the pan from the heat, turn it down slightly, and wait to proceed until the oil has stopped smoking.

Using tongs, carefully place each steak in your skillet (if you're making many steaks, you won't want to do more than 2-3 at a time). If your skillet is hot enough, it shouldn't take more than 2 minutes per each side to get a good sear.

If using, carefully insert your oven-safe thermometer probe into the center of a steak. Turn off your burner and (using hot mitts!) carefully transfer skillet to the oven.

Monitor the temperature carefully and pull the steaks when they reach your desired doneness temperature. This should take approximately 2-5 minutes, depending on desired doneness and size/ thickness of steaks.

Allow steaks to rest 5-10 minutes. Please be VERY careful with handling the skillet. I strongly recommend leaving an oven mitt or wrapping a towel around the handle so you don't accidentally grab it with your bare hand and burn yourself.
Notes
Nutrition information is based on a 4 ounce sirloin steak. 
Nutrition
Calories:
192
kcal
|
Protein:
24
g
|
Fat:
9
g
|
Saturated Fat:
2
g
|
Cholesterol:
69
mg
|
Sodium:
64
mg
|
Potassium:
387
mg
|
Calcium:
32
mg
|
Iron:
1.9
mg