This recipe for easy sauteed mushrooms leaves you with a healthy mushroom side dish that pairs deliciously with anything from steak to chicken to salmon!
Healthy, Easy Sauteed Mushrooms
I'm not sure why I've never shared this recipe before because I adore mushrooms and this is one of my favorite easy side dish recipes! Mushrooms pack a ton of nutrients, and by making sauteed mushrooms at home you can more easily control the amount of oil/ fat you're using. (As opposed to restaurants where they could easily add a TON more fat for flavor and cooking ease.)
We make these healthier sauteed mushrooms quite often and serve them at any meal of the day. Here are some of our favorite uses:
Sauteed mushrooms served with cheesy scrambled eggs
Using leftover sauteed mushrooms in an omelette with spinach.
Tossed on a salad with other vegetables and your protein of choice.
Adding to tacos and fajitas.
As a side dish for salmon, chicken, and steak. Be sure to come back on Thursday for my simple cast iron sirloin steak tutorial - these mushrooms taste great with it!
Health Benefits of Mushrooms
Why are mushrooms so awesome? Well, personally, I truly love the flavor of mushrooms! As a kid I always thought they were gross but I believe it was in high school that I tried some sauteed mushrooms like these and it was love at first bite!
There are a ton of different types of mushrooms, like shiitake, portobello, button/ white, oyster, enoki, and cremini, but they all offer a variety of nutritional benefits:
Fat-free
Low-sodium
Low-calorie
Cholesterol-free
Fiber
Vitamins
Minerals
Antioxidants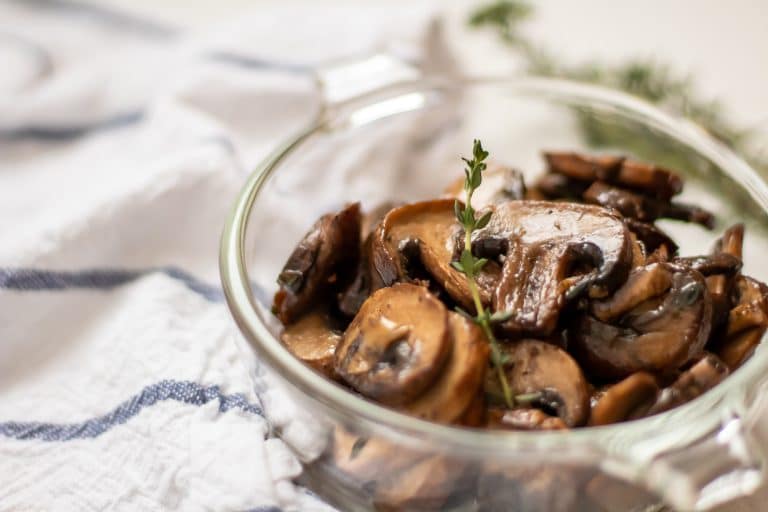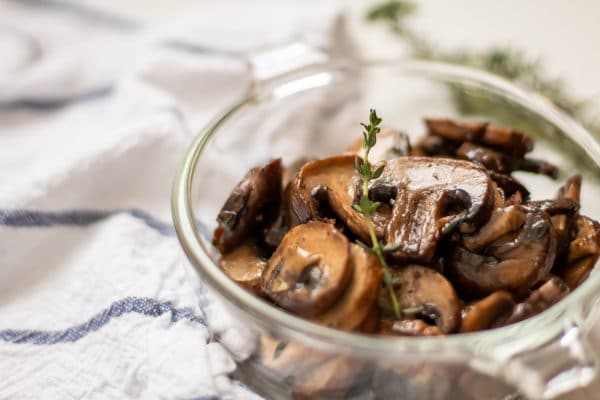 How to Easily Make Healthier Sauteed Mushrooms
You'll want to start by using a quality skillet that is nonstick. I prefer a well-seasoned cast iron skillet, or like I used here, my ceramic GreenPan - nonstick without all the toxins of traditional nonstick pans (Amazon affiliate link).
Then you'll use a small amount of olive oil. If you're looking to reduce the fat content further, you could also use a low-sodium vegetable broth instead of oil (or half and half).
Gently clean your mushrooms and slice. Add your mushrooms to your skillet with your olive oil over medium heat, along with your flavor enhancers: white wine (or vegetable broth) and fresh herbs, like thyme. Gently saute, stirring occasionally, for a few minutes until mushrooms are tender.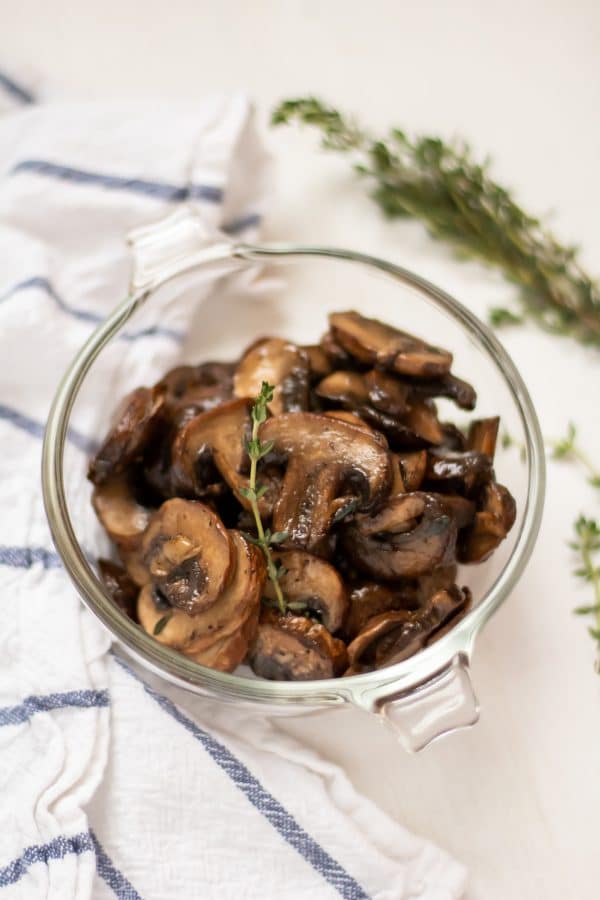 More Healthy, Easy Side Dish Recipes
Looking for more simple, healthy vegetable side dish recipes? Try these NTF favorites:
Whenever you make an NTF recipe, I LOVE when you leave a comment and rate the recipe, to help out both me and anyone else looking to make a recipe! It also totally makes my day whenever you share a picture of your NTF creations to social media . Always be sure to tag me (@nutritiontofit, #nutritiontofit) so I can see! Live well!
Healthy, Easy Sauteed Mushrooms
This recipe for easy sauteed mushrooms leaves you with a healthy mushroom side dish that pairs deliciously with anything from steak to chicken to salmon!
free from: wheat/ gluten, soy, dairy, egg, fish, shellfish, peanuts, tree nuts
Ingredients
8

oz

baby bella or crimini mushrooms

2

teaspoon

extra virgin olive oil

1

tbsp

white wine

½

teaspoon

fresh thyme

dash of salt and pepper to taste
Instructions
Heat olive oil in a nonstick ceramic skillet over medium heat. Add all ingredients and stir with a nonmetal utensil (i.e. silicone spatula, wooden or bamboo spoon), so as to not scratch the pan's surface.

Saute for 8-10 minutes, or until mushrooms are tender and liquid has evaporated. Stir occasionally. Serve immediately and enjoy.

Nutrition
Calories:
35
kcal
|
Carbohydrates:
2
g
|
Protein:
1
g
|
Fat:
2
g
|
Sodium:
3
mg
|
Potassium:
254
mg
|
Sugar:
1
g
|
Calcium:
10
mg
|
Iron:
0.2
mg