Chocolate blackberries are an easy, healthy dessert. Deliciously sweet and simple, they're perfect for spring and summer. Bonus? These high fiber berries make chocolate covered blackberries better for your blood sugar!
This post may contain affiliate links. As an Amazon Associate, I may earn from qualifying purchases. Click here to learn more.
Waiiiit, wait, wait a minute. Chocolate and blackberries? Do chocolate and blackberries even go together?
They sure do! Chocolate pairs well with pretty much all berries, although strawberries are the first chocolate covered berry that comes to most folks' minds.
But ripe blackberries are juicy and sweet, with a slight tartness that complements the sweetness and depth of flavor of chocolate, too.
And for even more fun, play with the type of chocolate you use - milk chocolate, dark chocolate, and even white chocolate all highlight different notes of blackberry flavor!
Ingredients
This sweet treat has only three ingredients:
Blackberries - the star of the show! Select blackberries that feel firm and full and that are a very deep purplish black color. Blackberries that are red or purple aren't yet ripe enough.
Coconut oil - a little goes a long way here, but I don't recommend skipping it, as the coconut oil helps thin the chocolate to give a perfect dipping consistency.
Chocolate - feel free to use whatever type of chocolate you prefer! I used a classic semi-sweet chocolate chip for the photos here, but we've also made with white chocolate, bittersweet or dark chocolate bars, milk chocolate, and even stevia-sweetened chocolate for a no added sugar treat (I love Lily's no sugar added chocolate chips!)
How to Make Chocolate Covered Blackberries, Step-by-Step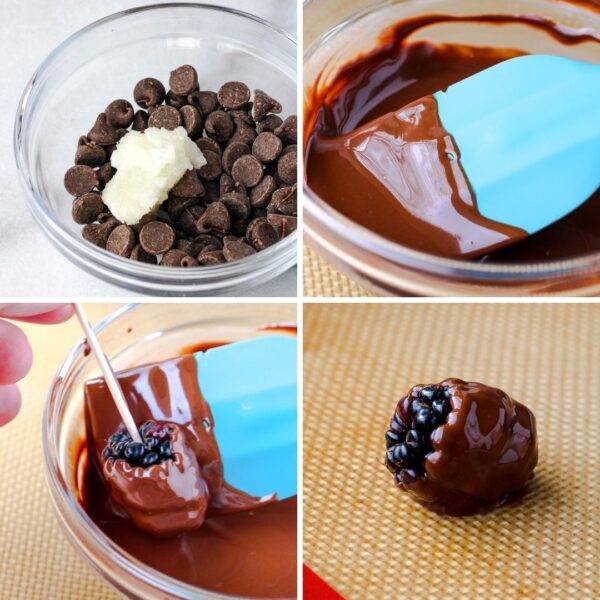 Melt chocolate and coconut oil together until it's an even, smooth consistency.
Insert a toothpick into the base of the blackberry (the side that was attached to the stem), and then carefully dip it into the melted chocolate.
Carefully slide the chocolate covered blackberry on to a baking sheet lined with a silicone baking mat or parchment paper.
Refrigerate for 30 minutes, or until chocolate has set.
Chocolate Blackberries Recipe Tips & Tricks
Feel like the chocolate is too thick and clumpy?
TIP 1: I know I said it in the ingredients section, but it bears repeating: don't skip the coconut oil! Coconut oil helps thin the chocolate for easy, smooth dipping.
Find your berries are sitting in a pool of chocolate and want them to look neater?
TIP 2: Gently shake the excess chocolate off over the chocolate bowl for a few seconds. Sometimes it can be helpful to tap the toothpick gently against the side of the bowl.
Struggling to get the blackberries off the toothpick?
TIP 3: Use a second toothpick, positioned against the first, to help slide the blackberry off onto a cookie sheet lined with parchment paper or a silicone baking mat.
Did your chocolate get too thick and almost chalky/ dry in parts and you can't get it to melt smoothly?
TIP 4: Don't burn your chocolate! I prefer using a microwave for ease, but it's imperative to start slow and add more time slowly. Typically I start at 30 seconds, then give it a stir, then keep adding another 10-15 seconds at a time, stirring after each time.
How do you melt chocolate?
There are two main ways you can melt your chocolate for this recipe:
1. Melting Chocolate in the Microwave
Melting chocolate in the microwave is my preference for this recipe. It's a small amount of chocolate and using the microwave is convenient and faster than a double boiler.
To melt chocolate in the microwave, place the chocolate and coconut in a microwave-safe container (I like to use a small glass bowl) and start melting for 30 seconds. After 30 seconds, give it a stir with a small silicone spatula, then return to the microwave for another 10-15 seconds. Stir again.
Repeat this process a couple times until chocolate is smooth and melted.
Make sure you stir for a good 10-20 seconds though, and don't overheat it/ put it on for too long, or the chocolate will burn.
2. Melting Chocolate in a Double Boiler
If you're unfamiliar with a double boiler, it's essentially a small heat-safe bowl set inside a small pot on the stove top.
You place your chocolate and coconut oil in the top bowl, and water inside the bottom pot. Turn the burner on, and as the water heats and comes to a simmer, it gradually heats and melts the chocolate as you stir it occasionally.
As there is no direct heat applied to the chocolate, this may be a safer method for you if you have a tendency to burn chocolate in the microwave.
You can find a double boiler that comes with the pot, bowl, and even a small spatula, or you can find just an insert bowl, too.
Substitutions
With such a simple recipe, there are minimal substitutions here.
If you're allergic to coconut or all out of coconut oil, try using an oil like avocado or canola oil to help thin the chocolate out.
Feel free to get creative with the type of chocolate you use. Some of my favorites are:
Dark Chocolate - I love dark chocolate regardless, but the depth of flavor really highlights the flavors of the blackberries.
Milk Chocolate - while I will say the milk chocolate is not my personal favorite (I'm a dark lover!), it definitely doesn't taste bad, and you may even prefer it if milk chocolate is your preference! It does add extra creamy notes.
Semi-Sweet Chocolate - right in between milk and dark, this is a classic choice for a reason. Plus, most chocolate chips are semi-sweet, so if you have any chocolate chips in your pantry, you're set!
White Chocolate - there's something special about the flavors of white chocolate and blackberries together! If you like white chocolate, I highly recommend trying this combo out.
Variations
There isn't much room to play with a single blackberry, but you could get more creative with variations if you cluster 2 or 3 blackberries together to make one bigger chocolate blackberry cluster.
Then you can also sprinkle some toppings before the chocolate sets. Some ideas:
Crushed pistachios
Toasted shredded coconut
Toasted sesame seeds
Crushed freeze-dried strawberries
A drizzle of alternating chocolate (i.e. drizzle white chocolate on top of a semi-sweet or dark chocolate covered blackberry cluster)
Hemp or chia seeds for some added crunch (and nutrition!)
The other neat thing about getting creative with variations, is not only does it allow for more creativity, fun, and satisfaction, but it's actually another way to boost the nutrition of this little treat!
Blackberries are already high in fiber, which can help prevent dramatic blood sugar swings that leave you feeling yuck. But pairing with something with a little extra fat and protein, like nuts and seeds, can be an additional step in promoting better balanced blood sugar.
Equipment
While this is a fairly simple recipe, there are a few pieces of equipment that would be helpful to have:
How to Store
If you have leftovers of these, once they're chilled and the chocolate has set, transfer them to a container with an airtight lid. Store in the refrigerator for up to a few days, but warning - they may create a little condensation after the first day or two!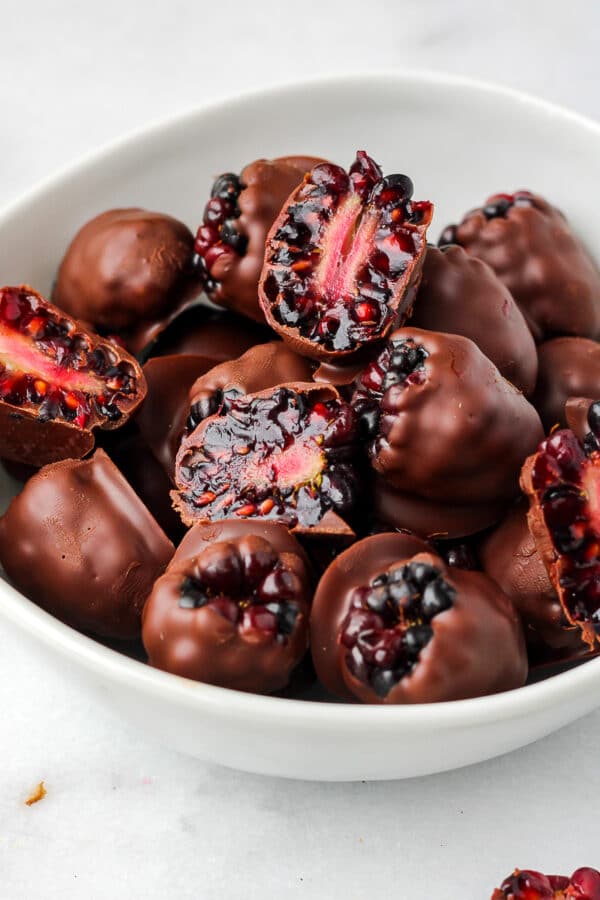 Are These Healthy?
Based on a yield of 24 chocolate covered blackberries, each berry has 14 calories, 2.0g carbs, 0.8g fat, and 0.2g protein, and 0.4g fiber.
So are they healthy? They certainly are a lighter sweet treat, and can even be made without added sugar if you use a no sugar added chocolate, like Lily's Chocolate (stevia sweetened - they're even available in white chocolate, too!)
"Healthy" is Subjective - You Do You
Know, too, that "healthy" is subjective. The foods that help one maintain their health may or may not work for you - and that's okay! Honor the body you have. As a registered dietitian nutritionist, I suggest eating a variety of nourishing foods that help you feel good and achieve or maintain your health, balanced with the foods you love. Remember - an election isn't won with every vote, but the majority. Your health is the same way - the overall dietary pattern is what matters most.
More Healthy Dessert Recipes You'll Love
If you love desserts with fruit, check out my banana bread cookies and blueberry avocado "nice" cream.
And if chocolate is more your jam, you'll love my amazingly fudgy chocolate avocado brownies, healthy chocolate chip banana bread, chocolate yogurt, and my almond flour oatmeal chocolate chunk cookies.
Did you make this recipe? Give it a 5★ rating below! For more healthy recipes and tips to create your own balanced relationship with food and health, be sure to follow Nutrition to Fit on Instagram!
Chocolate Blackberries
Chocolate blackberries are an easy, healthy dessert. Deliciously sweet and simple, they're perfect for spring and summer. Bonus? These high fiber berries make chocolate covered blackberries better for your blood sugar!
Ingredients
24

blackberries

¼

cup

chocolate chips

(use no sugar added or dairy-free/ vegan if you'd like!)

1

teaspoon

coconut oil
Instructions
Combine chocolate chips and coconut oil in a small glass bowl and microwave for 30 seconds. Stir. Continue to microwave for 10-15 seconds at a time, then stirring, until chocolate is melted and smooth.

Line a baking sheet with silicon baking mats or parchment paper.

To dip the blackberries, insert a toothpick into the end of a blackberry. Gently dip the blackberry into the melted chocolate - use a small spatula to help coat the sides of the blackberry if needed. Allow excess chocolate to drip off into the chocolate bowl.

Slide the chocolate covered blackberry onto the silicon mat lined baking sheet. If it needs a little extra help, you can use a second toothpick against the first toothpick to help slide the berry off.

Once all berries are dipped, transfer baking sheet to the refrigerator and let set at least 30 minutes.

Carefully peel berries off the silicon mat and enjoy immediately! Extras can be stored in an airtight container in the fridge.
Notes
Each serving has 6 blackberries and uses traditional chocolate.
If making with Lily's sugar free semi-sweet chocolate chips instead, a serving of 6 blackberries contains: 48 calories, 6.9g carbs, 3.6g fiber, 0.9g protein, 3.5g fat, 1.7g sugar, 0.0g added sugars.
Nutrition
Serving:
6
berries
|
Calories:
83
kcal
|
Carbohydrates:
11.9
g
|
Protein:
1.4
g
|
Fat:
4.8
g
|
Saturated Fat:
2.9
g
|
Polyunsaturated Fat:
0.1
g
|
Monounsaturated Fat:
0.1
g
|
Sodium:
0.3
mg
|
Potassium:
91.6
mg
|
Fiber:
2.6
g
|
Sugar:
9.5
g
|
Vitamin A:
65.5
IU
|
Vitamin C:
6.4
mg
|
Calcium:
13.9
mg
|
Iron:
1.2
mg