This one bowl healthy chocolate chip banana bread is moist, delicious, and a total-crowd pleaser. With ingredients like whole wheat flour, Greek yogurt, and less added sugar, this healthy banana bread is satisfying and tastes just as indulgent as traditional banana bread, but made much lighter. It's my family's go-to banana bread recipe!
This post may contain affiliate links. As an Amazon Associate, I may earn from qualifying purchases. Click here to learn more.
There are a lot of ways we love to use overripe bananas in my house (like my kids' favorite spinach banana muffins and banana bread cookies) but this healthy chocolate chip banana bread takes the cake!
Reasons You'll Love This Recipe:
It's EASY! It's a simple one bowl banana bread recipe with simple ingredients you probably already have on hand. And one bowl = easier clean up!🙌
The ingredients are semi-flexible. Of course if you go crazy, it'll change the recipe quite a bit, but I often sub out a 1:1 gluten free flour or regular all purpose flour and it works fine. We use other sweeteners sometimes, too (check the substitutions section below to see everything we've tested).
This banana bread is not overly sweet. There's plenty of natural sweetness from the bananas, and the added sugar has been cut back significantly from many more traditional recipes.
It's delicious. Everyone in my family loves it, and everywhere I've brought it I return with an empty platter and loads of compliments!
Ingredients
The ingredients are pretty straightforward, and likely already in your kitchen!
Bananas: You need three very ripe to overripe bananas for this recipe.
Light brown sugar: my preferred sweetener as it helps add a little extra moisture. Plus the flavor pairs beautifully with bananas!
Greek yogurt: I use nonfat, plain Greek yogurt, but you can use whatever fat percentage you prefer. This ingredient is my favorite oil swap, and adds a little more protein to the recipe, too.
Extra virgin olive oil: while I love a good oil swap, like Greek yogurt, I've made this recipe so many times and have tested it so many ways that I beg you not to omit oil altogether. It's a small amount in the recipe, but a little goes a long way in terms of the texture of the finished loaf of bread! Don't skip this!
An egg: any ol' large egg will do (and yes, eggs can absolutely be part of a healthy diet!)
Whole wheat flour: while you can use other flours (see the substitutions list below) whole wheat flour is personal favorite in this recipe. It adds a little more depth of flavor, the denser flour holds up well with all the moisture-adding ingredients like bananas, olive oil, and Greek yogurt, and nutritionally it adds more fiber and protein.
Chocolate chips: if you ask my kids, chocolate chips are a necessary ingredient in any banana bread or muffin recipe (and I get why - this bread is delicious with chocolate chips!)
Baking soda: it may seem like a small amount, but after testing this recipe dozens of times, a little goes a long way. Don't skip it!
Flavor enhancers: good ol' vanilla and cinnamon. Measure with your heart! (Okay, don't use like a half cup of vanilla, but my daughter poured a verrrrrry generous "teaspoon" of vanilla once and the banana bread still turned out fine!)
How to Make Healthy Chocolate Chip Banana Bread, Step-by-Step
It's a very simple, one bowl recipe. Perfectly low maintenance enough that small kids can help and you won't spend a ton of time cleaning up afterwards.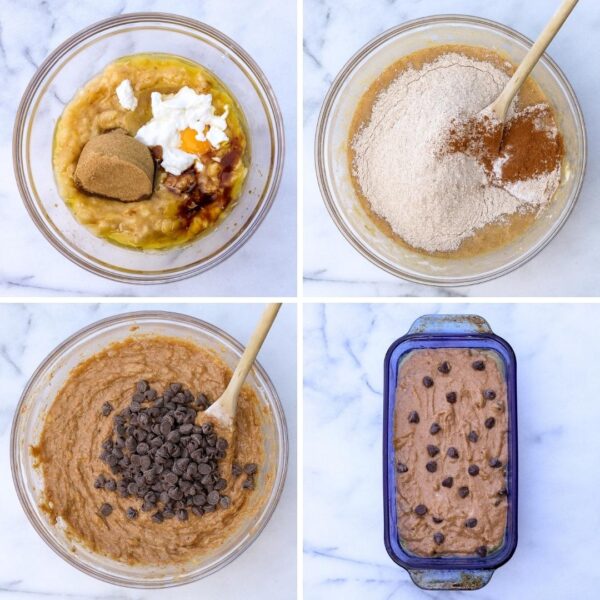 Combine all of the wet ingredients.
Add the dry ingredients.
Gently stir in the chocolate chips.
Pour into a prepared loaf pan, add a few reserved chocolate chips on top, and cook until an inserted toothpick comes out clean!
One Bowl Chocolate Chip Banana Bread Recipe Tips & Tricks
TIP 1: Don't overmix your batter to help keep it nice and tender.
TIP 2: Did your banana bread come out excessively browned on the sides? Try using a glass or lighter colored metal pan. Darker metal pans can sometimes lead to uneven and darker browning. (I like using a Pyrex glass loaf pan, a white stoneware pan, or this aluminized steel loaf pan.)
TIP 3: You'll know your banana bread is done when you insert a toothpick or butter knife into the center, thickest part of the banana bread and it comes out clean (as opposed to having sticky, wet batter remnants on it).
Substitutions
While it's impossible to test all substitutions, here are some substitutions that I know work:
Flour- I've made this countless times with regular all purpose flour and with gluten free 1:1 measure for measure flour, both with great results. I have not tested with other types of flours, like almond flour, oat flour, coconut flour, etc. and cannot recommend them with the recipe as written, as the measurements would have to be different with these other alternative flours.
Flax egg - you can absolutely use a flax egg instead of a regular egg in this recipe. Combine 1 tablespoon ground flax seed with 3 tablespoons warm water and let it sit 5 minutes. It'll thicken up and become an excellent egg substitute.
Different oils - again, don't skip on the oil. 2 tablespoons isn't much, but there's a distinct difference in the texture of the finished loaf of bread if you try to use all Greek yogurt instead of keeping this small amount of oil present. That said, you can use other oils or fats - melted butter or avocado oil work fine, too.
Sweetener - while I do personally prefer light brown sugar in this recipe, you can also use regular sugar, dark brown sugar, coconut sugar, or granulated allulose or other non-nutritive sweetener. I do not recommend using honey or maple syrup, as the added liquid will throw off the texture of the recipe.
Chocolate Chips - want less added sugar? Opt for one of the variations listed below, or try Lily's Chocolates stevia-sweetened chocolate chips (they're so good!).
Variations
Take a basic recipe like this and add some variety with different add-ins!
Fruity - add raisins or other dried fruit in lieu of chocolate chips.
Nutty - add some chopped nuts of choice in addition to or instead of chocolate chips.
Seedy - mix in some of your favorite seeds! I love pumpkin seeds, sunflower seeds, and even adding some hemp hearts for some extra nutrition.
Let me know in the comments if you try any delicious flavor variations!
Equipment
Like I mentioned above, darker metal pans can sometimes lead to uneven and darker browning. My preferred loaf pans are:
If you're making this banana bread recipe into muffins, the same applies - just avoid very dark metal pans. Speaking of...
How long to cook banana bread muffins?
I prefer to bake these as muffins at 350 degrees Fahrenheit for 20-25 minutes.
Storage
Banana bread can remain in an airtight container or bag at room temperature for 3 days. You can also freeze banana bread, too!
How to Freeze Banana Bread
Once your loaf of banana bread has finished baking and completely cooled, slice it. Place slices of banana bread untouching on a baking sheet covered in freezer paper, parchment paper, or a silicon baking mat, and then freeze for 1-2 hours. Transfer the frozen slices of banana bread into a bag and store in the freezer up to three months.
Freezing the banana bread into separate slices is important because then you can only thaw what you need in the moment. If you were to freeze fresh/ un-frozen banana bread slices without freezing them separately first, they would all stick together.
Alternatively, if you know you'll need a whole loaf thawed at once, you can wrap your loaf of bread tightly in saran wrap to preserve freshness, then place in an airtight bag and freeze for up to 3 months.
Banana Bread Nutrition
Banana bread nutrition and banana bread calories will vary based on the exact recipe you use, and how thick you cut your slices.
For this recipe, I've calculated nutrition information based on a yield of 12 slices from one loaf.
Each banana bread slice has 143 calories, 27 grams carbohydrates, 3.4 grams protein, 3 grams fat, 2.5 grams fiber, 12.8 grams sugar, and 62.7 mg sodium.
"Healthy" is Subjective - You Do You
Know, too, that "healthy" is subjective. The foods that help one maintain their health may or may not work for you - and that's okay! Honor the body you have. As a registered dietitian nutritionist, I suggest eating a variety of nourishing foods that help you feel good and achieve or maintain your health, balanced with the foods you love. Remember - an election isn't won with every vote, but the majority. Your health is the same way - the overall dietary pattern is what matters most.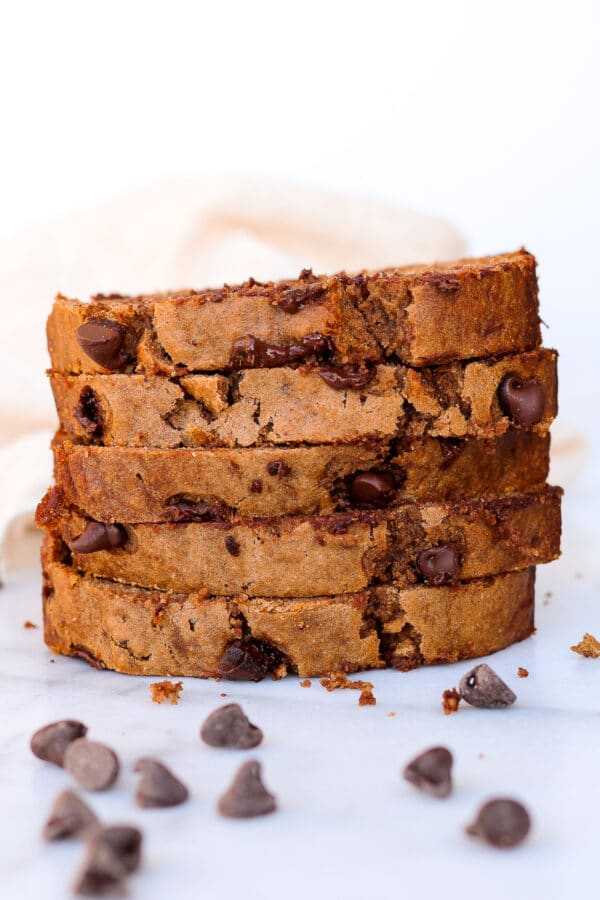 More Recipes You'll Love
If you frequently find yourself with overripe bananas, I also highly recommend my kids' favorite spinach banana muffins, chocolate chip banana bread cookies, and double chocolate banana muffins. More banana treats we love are this healthy, high protein banana peach smoothie and yummy frozen banana bites.
Did you make this recipe? Give it a 5★ rating below! For more healthy recipes and tips to create your own balanced relationship with food and health, be sure to follow Nutrition to Fit on Instagram!
Healthy Chocolate Chip Banana Bread
This no-fail healthy chocolate chip banana bread is moist, delicious, and a total-crowd pleaser. With ingredients like whole wheat flour, Greek yogurt, and less added sugar, this healthy banana bread is satisfying and tastes just as indulgent as traditional banana bread, but made much lighter.
Ingredients
3

medium, very ripe bananas

½

cup

packed light brown sugar

¼

cup

nonfat, plain Greek yogurt

2

tablespoon

extra virgin olive oil

1

large egg

1

teaspoon

vanilla extract

1.5

cups

whole wheat flour

1

teaspoon

cinnamon

½

teaspoon

baking soda

½

cup

chocolate chips
Instructions
Preheat oven to 350°F. Prepare a 7x11" loaf pan with nonstick spray (or gently wipe sides with softened butter or olive oil).

In a large bowl, mash bananas well. Add brown sugar, Greek yogurt, olive oil, a large egg, and vanilla extract and stir until smooth.

Add dry ingredients (whole wheat flour, baking soda, and cinnamon) and gently, briefly stir until just combined. Gently stir in chocolate chips (reserve a few to garnish the top of the loaf, if desired).

Pour banana bread into the prepared loaf pan and top with reserved chocolate chips.

Bake for one hour, or until a toothpick or butter knife inserted in the center comes out clean.

Cool in the loaf pan for 5-10 minutes, or until it can easily be handled, then transfer to a wire rack to finish cooling. Enjoy!
Nutrition
Calories:
177
kcal
|
Carbohydrates:
31
g
|
Protein:
4
g
|
Fat:
5
g
|
Saturated Fat:
2
g
|
Polyunsaturated Fat:
0.6
g
|
Monounsaturated Fat:
2.6
g
|
Cholesterol:
15.8
mg
|
Sodium:
64
mg
|
Potassium:
212
mg
|
Fiber:
3
g
|
Sugar:
17
g
|
Vitamin A:
43
IU
|
Vitamin C:
3
mg
|
Calcium:
26
mg
|
Iron:
1
mg