This easy two-ingredient flaxseed chicken tenders recipe is free of the top 8 food allergens, family-friendly, and is great for easy meal prep or freezer meals. Check out the tips to make different flavor variations, too!
This post contains affiliate links.
You guys know by now that I'm all about making easy, delicious food that everyone can enjoy – including those of us with food allergies, intolerances, and sensitivities! While it wasn't devastating to have to avoid traditional fried chicken tenders when I went gluten-free (seriously, eliminating these massive life-altering side effects and being able to live a normally life again was worth anything!), I did occasionally miss a good chicken tender.
(Specifically the Publix chicken tenders, for any of my friends in the South – gosh there was something so magically delicious about their chicken tenders!)
So, while I won't pretend these are anything like a copycat of those favorite chicken tenders, these flaxseed chicken tenders do make an easy, tasty option when you're getting tired of plain baked or grilled chicken.
Why flaxseed?
Well, I'm a little obsessed with flaxseeds. While they do contain important nutrients like vitamin B1, vitamin B6, folate, calcium, iron, magnesium, phosphorus, and potassium, most of the health benefits associated with flaxseed stem from their Omega-3 fatty acids, lignans, and fiber content.
I also wanted to use a ground flaxseed to coat these chicken tenders because it provides a "breading" that's naturally free of the top 8 most common food allergens. Many gluten-free chicken tender recipes involve a nut meal or flour as the coating. This can be delicious (I actually have an old Almond Chicken Nuggets recipe here on NTF – sorry about the old, ugly pics, ha!), but isn't a suitable option for those who are allergic, sensitive, or just don't digest nuts well.
How to Make Flaxseed Chicken Tenders
These easy baked chicken tenders are incredibly simple. All you need is chicken, flaxseed, and a pinch of salt. That's it! Combine the ground flaxseed and salt, then dip the chicken tenderloins into the flax coating. Layer on a baking sheet (I like to use silicone baking mats), bake, and done!
Flavor Variations
If you're looking for more ways to literally spice it up and get some more varieties in your dinners, you can try the following variations to the basic recipe:
Use half flaxseed and have grated Parmesan cheese for a Parmesan Flax Chicken Tender
Add 1 Tablespoon Italian Spice seasoning to the flaxseed mixture. Bonus variation? Do half flaxseed, half Parmesan, and Italian seasoning, then serve with marinara sauce on the side for dipping – Pizza Flaxseed Chicken Tenders!
Make Spicy Flaxseed Chicken Tenders by adding chili powder and cayenne powder (just a couple pinches) to the flaxseed mixture. If you really like it zesty, you can brush the chicken tenders with hot sauce or sriracha before coating in flax.
Brush chicken with buffalo sauce or hot sauce before coating with flaxseeds, then serve with blue cheese dressing for Buffalo Flaxseed Chicken Tenders.
Add 1-2 tsp curry powder to the flaxseed mixture to make Curried Flaxseed Chicken Tenders.
As you can see, there are plenty of different options that give you plenty of flavor and variety, yet still keep this dish simple!
We enjoy our Flaxseed Chicken Tenders on a big leafy green salad, with a base of any kind of leafy greens you have on hand, any vegetables you have and want to chop and add, and a sprinkling of hemp seeds for another boost of protein and healthy fats. We also enjoyed them with a side of veggies and my favorite homemade sweet potato wedges.
How to Meal Prep and Freeze This Recipe
The best way to meal prep this recipe is to make it ahead and freeze it. Pro tip: if you're making it for dinner one night, make a double batch and store the second in the freezer for an easy dinner another night!
Place the already baked and cooked chicken tenders on a cutting board or baking sheet in a single layer and freeze. Once frozen solid, transfer them to an airtight container or storage bag and freeze up to three months. (Freezing in a single layer will ensure they don't freeze and stick together in one big mass, allowing you to just take out tenders as you need them.)
To thaw, you can totally thaw in the microwave for 60-90 seconds, but the coating won't be as crisp. To crisp from the freezer, place the chicken tenders on a lined baking sheet and cook in a 400F oven for 12-15 minutes, until reheated and crispy.
More Allergy-Friendly, Easy Dinner Recipes
Looking for more easy, healthy dinner recipes that allergy-friendly and free of the top 8 most common food allergens? Try these!
Enjoy these recipes! Be sure to share your results on the NTF Facebook Page or on Instagram (tag me @nutritiontofit and use the hashtag #nutritiontofit so everyone can follow along!). Be well!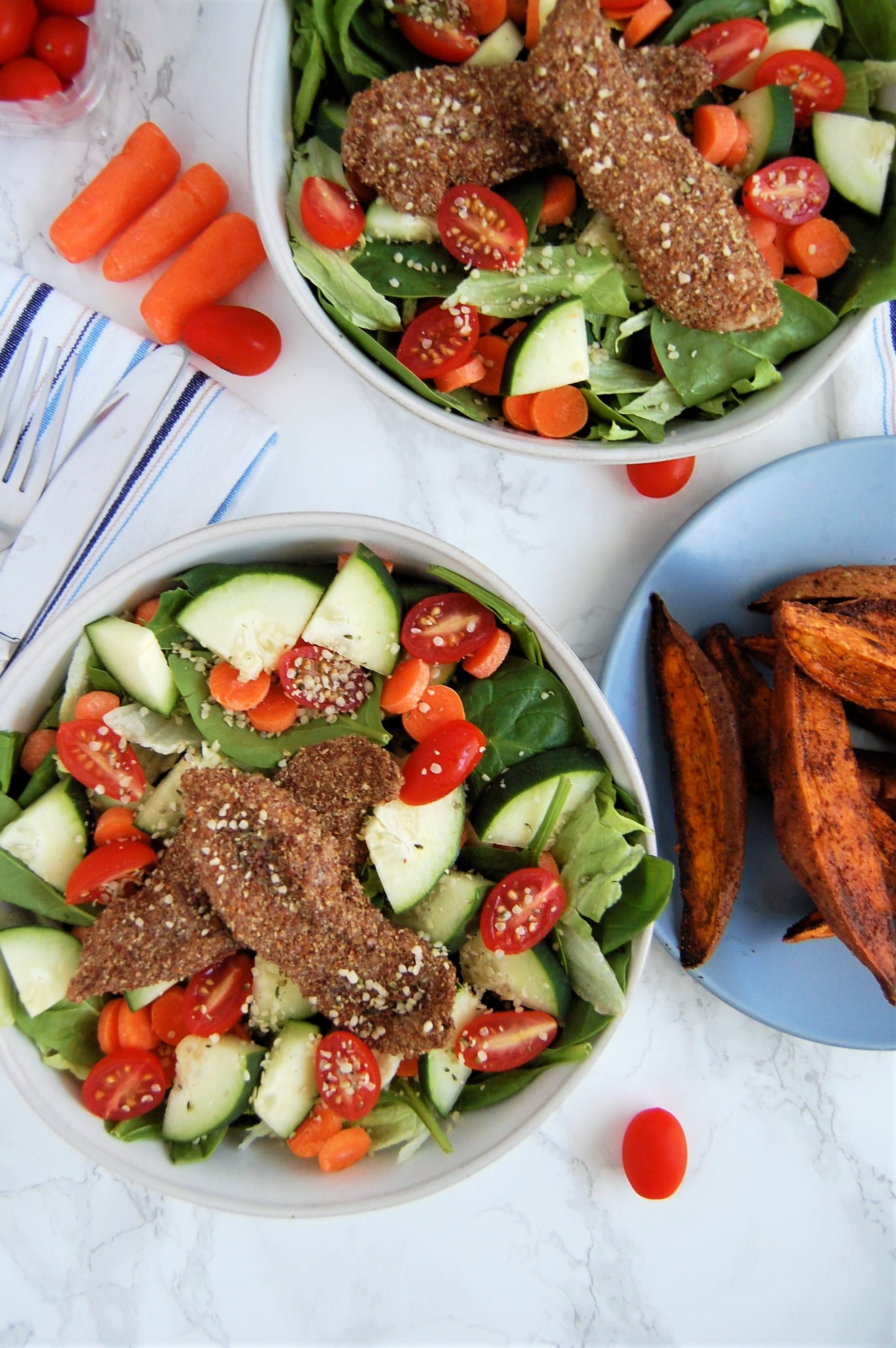 Flaxseed Chicken Tenders
This easy two-ingredient Flaxseed Chicken Tenders recipe is free of the top 8 food allergens, family-friendly, and is great for meal prep! Bonus tips for how to make different flavor variations!
free from: gluten, dairy, egg, soy, fish, shellfish, tree nuts, peanuts
Print
Pin
Rate
Ingredients
2

lbs

chicken tenderloins

(can also used boneless, skinless chicken breast sliced into strips or nuggets)

1

cup

flaxseed

ground

½

tsp

salt
Instructions
Preheat oven to 425F degrees. Lay parchment paper or a silicone baking mat on a baking sheet.

Combine salt and flaxseed, then dip the chicken tenders into the flaxseed until the chicken is evenly coated.

Place prepared tenders on the baking sheet. Bake for 15-18 minutes, or until the internal temperature of the chicken reaches 165 degrees.
Notes
Bake smaller-cut chicken "nuggets" for 8-10 minutes, depending on size. Internal temperature of chicken should always be 165 degrees when done.
See above blog post for additional flavor variations, and bake each different variation according to the same recipe directions.
Leftovers can be kept refrigerated in an airtight container 2-3 days, or can be frozen in an airtight container 1-2 months.
Nutrition
Calories:
241
kcal
|
Carbohydrates:
6
g
|
Protein:
28
g
|
Fat:
12
g
|
Saturated Fat:
1
g
|
Cholesterol:
73
mg
|
Sodium:
283
mg
|
Potassium:
590
mg
|
Fiber:
6
g
|
Sugar:
1
g
|
Vitamin A:
34
IU
|
Vitamin C:
1
mg
|
Calcium:
59
mg
|
Iron:
2
mg