Instant Pot salsa chicken is a quick dinner and meal prep essential! In less than 30 minutes, even if starting with frozen chicken breasts, you'll have a delicious and versatile protein for many meals.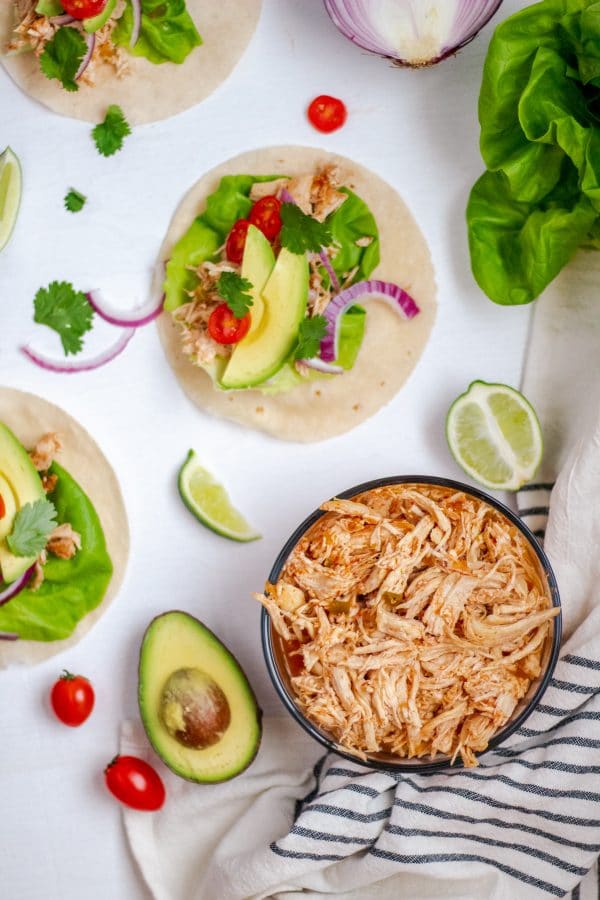 Instant Pot Salsa Chicken (from fresh or frozen)
Want to know one of the healthy lifestyle tips I share with my paying clients? (Don't tell them I'm telling you this, shh!) Here goes...
Be prepared.
I know - mind blowingly original! But seriously, sarcasm aside, being prepared is one of the best ways you can set yourself up for success in creating and maintaining sustainable healthy habits. And being prepared can look different depending on your needs:
Stocking your work desk with healthy, balanced snack options, like seeds, nuts, teas, and high fiber crackers.
Meal prep - anywhere from meals already portioned out in containers for you to grab and go to a few meal component staples that you can mix and match throughout the week (like this salsa chicken).
Stocking your fridge and freezer with healthy staples for easy meals and snacks. Think like a bagged salad kit and rotisserie chicken.
Scheduling a walk or run date or workout class to catch with a friend.
Packing your gym bag and setting out your clothes so there's one less barrier in the morning.
One of my personal favorites is to just have staple meal components on hand, like this instant pot salsa chicken. Even if I forget to thaw chicken, in about 30 minutes (with less than 5 minutes hands on time) I can have a flavorful protein ready for the week, or even ready to freeze in individual bags in the freezer.
How to Make Instant Pot Salsa Chicken
It's really quite simple. Add a couple pounds of chicken breasts (fresh or frozen) and a jar of salsa to your Instant Pot. Set it to high pressure for 15 minutes if frozen or 10 minutes if fresh. Go do something else until the Instant Pot sings to you that it's ready and then do a quick pressure release.
And yes, I know there is some debate about whether you should do a quick release or natural release with chicken breast in the Instant Pot. But here's the deal:
I want things as simple and easy as possible.
If I'm making this to eat right away for a meal, usually the fam is getting restless and no one wants to wait around an extra 5-10 minutes for pressure to release naturally.
I find the chicken doesn't get dry at all because it gets shredded and tossed back in all the salsa liquid at the bottom of the pot.
The Best Hack for Shredding Chicken
Now to shred the chicken, you could remove the chicken breasts from the instant pot to a cutting board and use forks to shred it by hand. Or you can do one of the quickest kitchen hacks ever.
If you have a stand mixer, just place the chicken in the bowl of the stand mixer with the paddle attachment, turn it on and within 30 seconds you'll have shredded chicken.
Then just add the shredded chicken back to the Instant Pot and toss with all the salsa liquid.
Pro tip: I've found some salsas seem to create a more watery end result than others. If you feel like your salsa chicken is a little too watery once the shredded chicken is tossed back with the salsa juice, turn the saute function of your Instant Pot on for a few minutes. Stir occasionally and watch the liquid reduce. This can also result in a more flavorful salsa chicken, too!
How to Store Salsa Chicken
You have several options:
Store salsa chicken in an airtight container in the refrigerator up to 4-5 days.
Portion in individual bags or containers in the freezer up to 3 months (longer if a deep freezer). Then you can grab and go a single portion or enough for a single night's dinner whenever you need it.
Prepare meals using the instant pot salsa chicken for the next few days and store in the fridge until you need a meal.
Ideas for How to Use Instant Pot Salsa Chicken
There are plenty of ways you can use this instant pot salsa chicken. Truly, you're only limited by your imagination! Here are a few of my favorite go-to options:
On salads (stay tuned next month to see this Instant Pot Salsa Chicken featured in a Southwestern Salad!)
In any variation of tacos, fajitas, burrito bowls, etc. You can up the vegetable factor, too, by using lettuce cups or a bed of cauliflower rice.
Inside quesadillas or as a panini.
Toss with spaghetti squash, salsa, black beans, and a little plain fat free Greek yogurt for a creamy southwestern spaghetti squash bake.
And if you like variety, don't forget you can use any type of salsa. You can make an Instant Pot spicy salsa chicken, Instant Pot salsa verde chicken, or even go a little sweeter with an Instant Pot peach or mango salsa chicken. If you're someone who really likes a lot of variety like this, I would recommend making a different batch each week and freezing the leftovers in individual bags. That way you can grab whatever salsa flavor you're craving that day.
More Nutrition to Fit Meal Prep Component Ideas:
Whenever you make an NTF recipe, I LOVE when you leave a comment and rate the recipe, to help out both me and anyone else looking to make a recipe! It also totally makes my day whenever you share a picture of your NTF creations to social media . Always be sure to tag me (@nutritiontofit, #nutritiontofit) so I can see! Live well!
Instant Pot Salsa Chicken
Instant Pot salsa chicken is a quick dinner and meal prep essential ready in less than 30 minutes - even from frozen chicken breasts!
free from: wheat/ gluten, soy, dairy, egg, fish, shellfish, tree nuts, peanuts
Ingredients
2

lbs

boneless, skinless chicken breasts

16

oz

salsa
Instructions
Place chicken breasts in the Instant Pot with salsa and water.

For frozen chicken breasts, set to high pressure for 15 minutes.


For fresh chicken breasts, set to high pressure for 10 minutes.


When the Instant Pot is done, carefully do a quick pressure release.

Remove the chicken and either shred by hand with forks or quickly shred the chicken using a stand mixer. Add the chicken back to the salsa liquid in the Instant Pot and stir to combine.


Serve immediately or store in airtight containers in the fridge or freezer. Enjoy!

Notes
Nutrition information may vary based on type of salsa used.
Feel like your salsa is a little watery? Toss the shredded chicken back in the juices in the Instant Pot, then turn on the saute function for a few minutes (stirring occasionally) to reduce the liquid.
Don't have an Instant Pot but still want salsa chicken? I don't blame you! Use the same ingredients but place in a slow cooker on low for 3-4 hours for fresh chicken or 5-6 hours for frozen chicken.
Nutrition
Calories:
146
kcal
|
Carbohydrates:
4
g
|
Protein:
25
g
|
Fat:
3
g
|
Saturated Fat:
1
g
|
Cholesterol:
73
mg
|
Sodium:
531
mg
|
Potassium:
581
mg
|
Fiber:
1
g
|
Sugar:
2
g
|
Vitamin A:
306
IU
|
Vitamin C:
2
mg
|
Calcium:
23
mg
|
Iron:
1
mg