Simplify busy weeknights with this delicious, healthy balsamic lentil stew with turnip greens. A splash of balsamic vinegar at the end totally amplifies the flavor!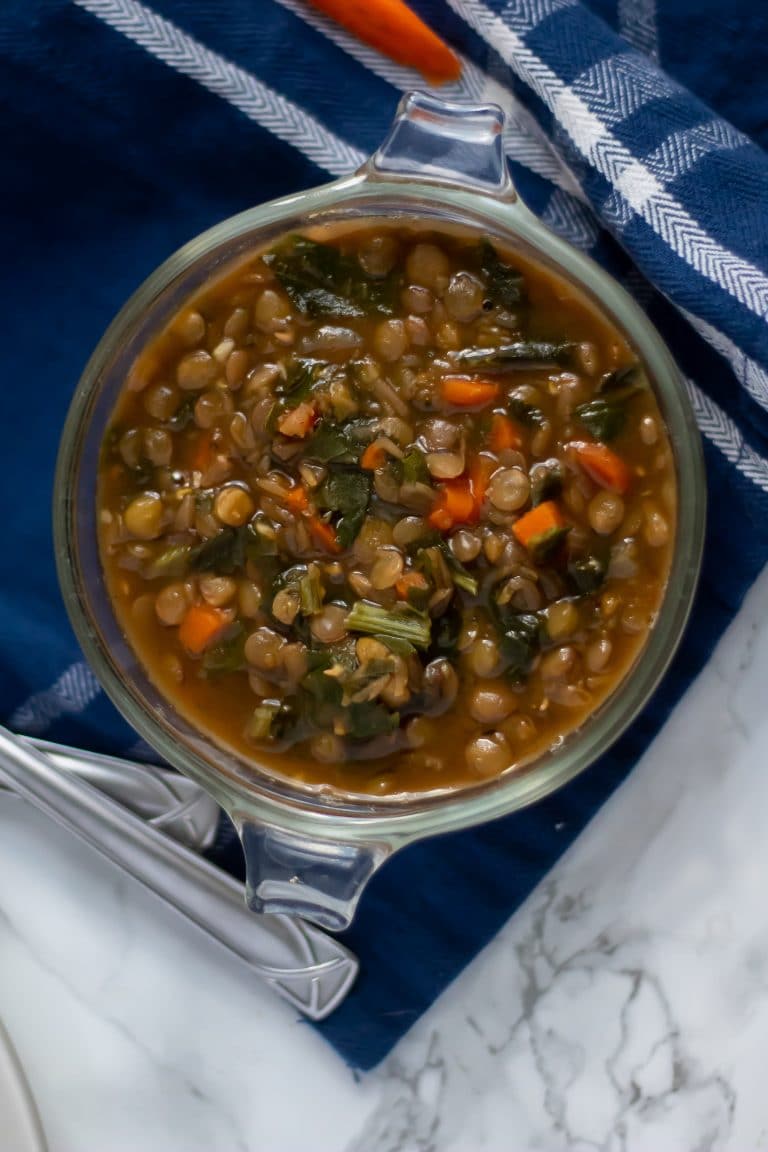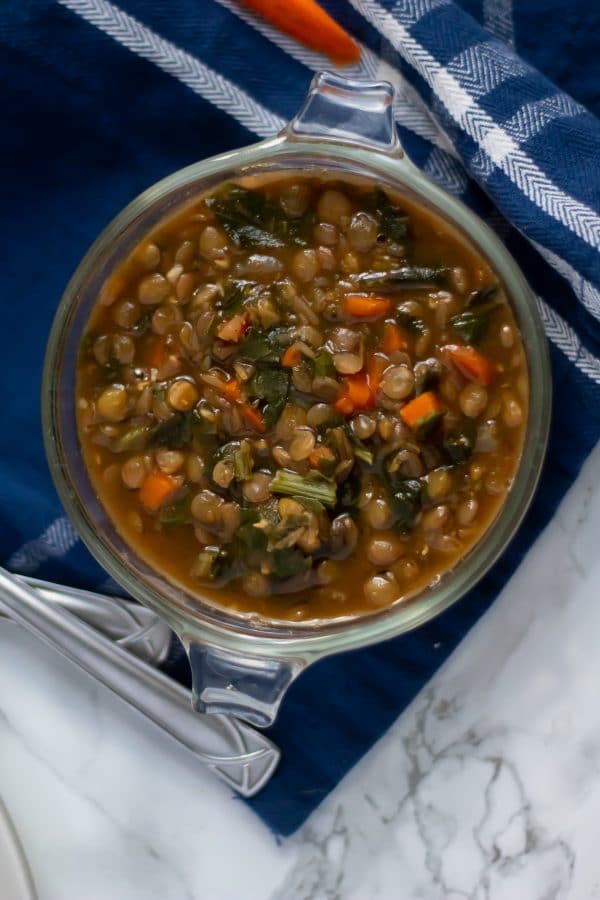 This post is brought to you by our friends at Nature's Greens. Thank you for your support of Nutrition to Fit and the select brands we love.
Back to school season brings a lot with it: new schedules, getting back into school routines, and busier weeknights. Creating simple meal prep habits is something that can save you a ton of stress and time in the slightly more chaotic moments. You know - the "crunchtime" moments of needing to get sleepyheads ready, fed, and out the door to make it to the bus/ school on time, or when everyone is finally walking through the door after school, work, and extracurriculars and is ready for dinner NOW.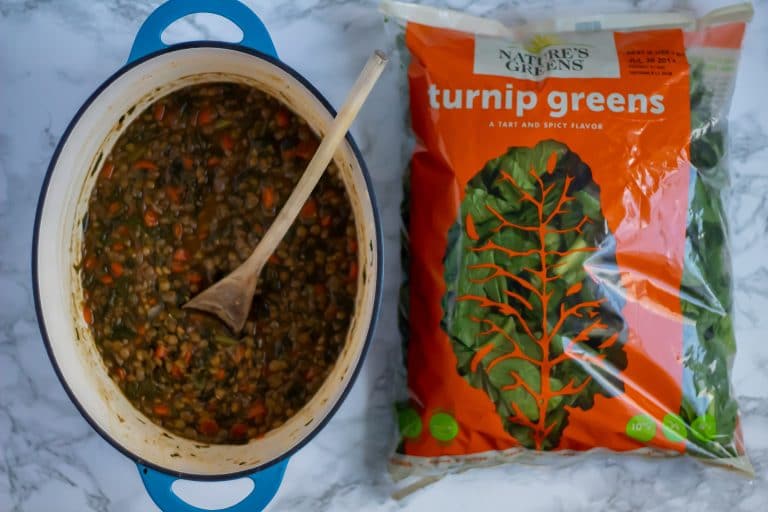 Back-to-School Simplified Routines
Adding or maintaining some simple routines can really help a lot when it comes to mealtimes and back-to-school. Some of my favorite tips include:
Have breakfast ready. You can either totally make it ahead (i.e. overnight oats) or have it packed to eat at school. You can also streamline breakfast by having bowls, plates, utensils and cups already set out on the table, along with anything nonperishable, like a bowl of fruit, nut butter that can be put on toast or toasted frozen waffles, etc.
Make lunch the night before. Have lunch for the whole family made the night ahead so lunchboxes can just be grabbed from the fridge before heading out the door. Mornings can be chaotic and the less work you leave yourself, the better!
Simplify weeknight dinners. There are so many ways you can meal prep to help make chaotic weeknights a little smoother. Have a couple recipes planned for the week where you get all of the chopping and measuring done the weekend or night before - this can often cut the time to get dinner on the table in half! You can also make sure you're stocked up on simple foods that can create a meal quickly, like eggs, frozen vegetables, canned beans, and convenient, healthy staples like Nature's Greens pre-washed and pre-chopped bagged leafy greens. And of course, you can totally pre-make a meal in its entirety beforehand.
Soups and Stews for the Weeknight Win
One of my favorite meals to make on weeknights that can serve for a super simple dinner or lunch? You've got it: soups and stews. Most of the cooking time is hands-off time as it's simmering on a stove (or in an Instant Pot or slow cooker), leaving you the perfect opportunity to help the kids with homework, get bath time out of the way, prep lunches for the next day, or even sneak in a quick workout for yourself.
Soups and stews are great, too, because they can be made ahead for a weeknight dinner you just need to reheat. Plus, usually if you make them ahead, the flavors just develop more and it tastes even better the next day or two.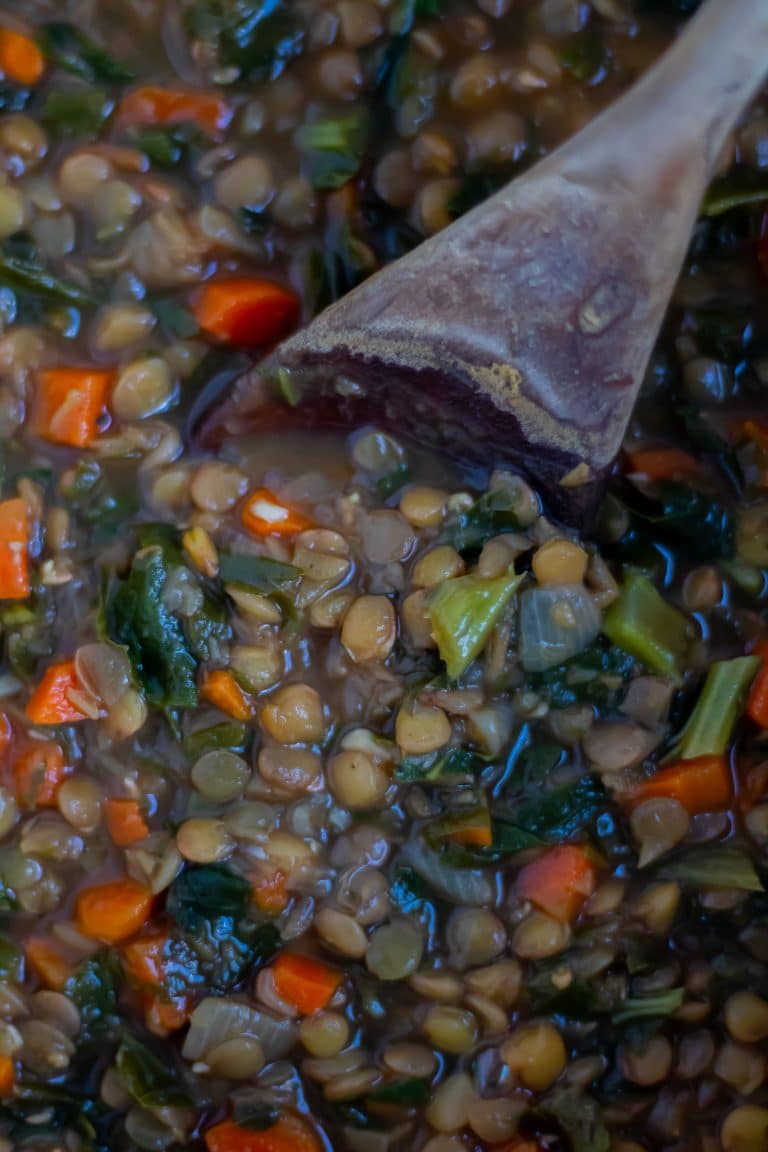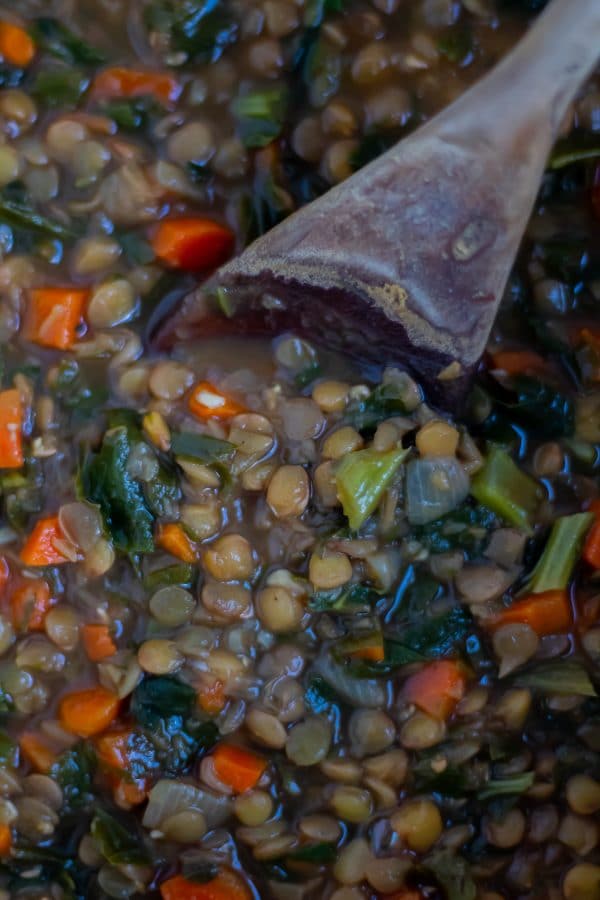 Why You Should Make Lentil Stew with Turnip Greens
This lentil stew with turnip greens is no exception. It's an incredibly nourishing soup, full of protein, fiber, vitamins, minerals, and antioxidants. Nature's Greens pre-chopped and pre-washed turnip greens not only help simplify the prep for this lentil stew, but they're a flavorful green that adds a lot of nutrition to this dish. Plus turnip greens are tender, but still sturdy enough that they work incredibly well in a soup or stew.
I also have to call attention to one small ingredient that is used at the end of this recipe that totally transforms it: balsamic vinegar. If you've never added a little acidity (like a vinegar or lemon juice) to your soups and stews before, I highly recommend trying it! This lentil stew tastes good without it, but when you add that tablespoon of balsamic vinegar, it totally elevates the whole stew with a brighter, deeper flavor! And it meshes so well with the other flavors of thyme, carrots, and onion, too.
How to Meal Prep This Lentil Stew
This lentil stew recipe in particular can be streamlined several ways:
Make the soup in its entirety on Sunday to enjoy for dinner Monday or Tuesday.
Make the soup, let it cool, then portion it into individual servings in freezer and microwave-safe containers. This makes a great "frozen meal" component that you can grab from the freezer on your way to work and then reheat it in the work microwave for lunch.
Pre-chop your carrots and onions and run a knife through your already washed and chopped Nature's Greens turnip greens (I like my greens in smaller pieces in soups and stews). Then measure out your lentils and seasonings and you have significantly reduced your dinner prep time the night of!
Simple Sides to Pair with Lentil Stew
I'm a big fan of a variety of foods, flavors, and textures at a meal to increase both nutrition and satisfaction. This stew is incredible on its own, but I love pairing it with the following:
Another vegetable. Make a quick side with the rest of your turnip greens with these quick and tasty lemon garlic turnip greens. You can also quickly steam a bag of frozen vegetables or throw together a quick salad.
Whole grains. Grab a loaf of crusty whole grain baguette to turn into garlic bread (or even just use slices of your favorite whole grain bread) or make some sandwiches to go with the lentil stew. My family's current favorite? Grilled cheese with some extra veggies added (like tomato slices, sauteed mushrooms, and grated zucchini or broccoli).
Fresh fruit. My toddler loves fruit and I love serving it with meals! Plus, if your kiddos are selective with veggies, offering a favorite fruit with a meal can be a way to help them consume more nutrients (the same vitamins and minerals found in vegetables are in fruits, too!)
More Easy Weeknight Dinners
I hope you love this flavorful lentil stew with turnip greens as much as my family does! For more easy weeknight dinners, try this honey mustard chicken salad or my chicken and kale white bean chili (made with Nature's Greens pre-chopped kale!).
More Turnip Green Recipes
You've got to try my delicious quinoa chickpea salad with turnip greens for an easy make ahead dish! And don't forget to make my easy, 15-minute lemon garlic turnip greens and get more meal prep strategies! Check out that post to see how I took one simple recipe and turned it into four different meal prepped meals.
Don't forget to pin this recipe on Pinterest, or share with a friend on social media – be sure to use the hashtags #nutritiontofit, #naturesgreens, and #farmfreshgreens so we can see your creations! Live well!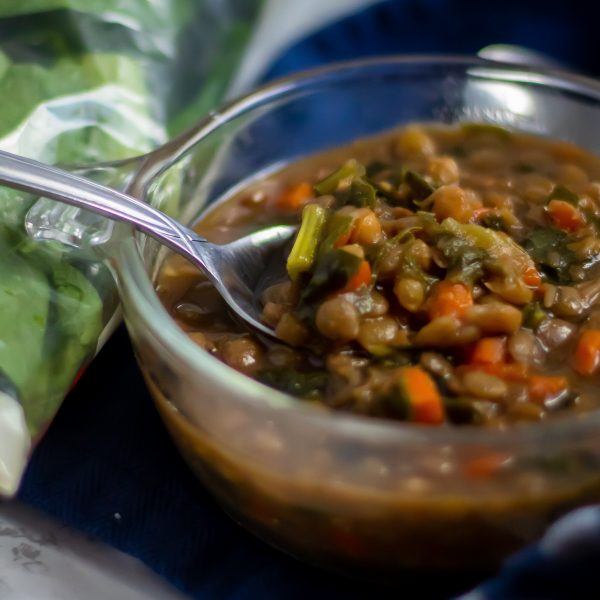 Lentil Stew with Turnip Greens
Simplify busy weeknights with this delicious, healthy lentil stew with turnip greens. A splash of balsamic vinegar at the end totally amplifies the flavor!

free from: wheat/ gluten, dairy, soy, egg, fish, shellfish, tree nuts, peanuts
Ingredients
1

tablespoon

extra virgin olive oil

1

cup

diced onion

(about 1 small onion)

1

cup

diced carrot

(about 3 carrots)

1

cup

dried lentils

2

cloves

garlic, minced

1

teaspoon

dried thyme

½

teaspoon

salt

¼

teaspoon

black pepper

5

cups

no added salt broth

(can use any type of broth, or even broth + water)

4

oz

Nature's Greens chopped turnip greens

1

tablespoon

balsamic vinegar
Instructions
Heat the olive oil in a large pot over medium heat until oil is shiny and fragrant.

Add the onion and saute, stirring occasionally, for 10 minutes. Onion should be translucent and lightly golden brown.

Add lentils, carrots, minced garlic, and seasonings and stir. Pour in broth and/ or water, cover, and simmer for 20 minutes.

While the soup is simmering, chop the turnip greens into smaller, finer pieces.

Add the turnip greens and balsamic vinegar to the soup. Stir, cover, and simmer an additional 10 minutes.

Serve immediately. Leftovers can be refrigerated for 3-4 days or frozen up to 3 months.
Nutrition
Calories:
195
kcal
|
Carbohydrates:
28
g
|
Protein:
13
g
|
Fat:
4
g
|
Saturated Fat:
1
g
|
Sodium:
279
mg
|
Potassium:
638
mg
|
Fiber:
11
g
|
Sugar:
4
g
|
Vitamin A:
5766
IU
|
Vitamin C:
16
mg
|
Calcium:
80
mg
|
Iron:
3
mg