Chia jam so easy you need just ten minutes and two ingredients. It makes a nutrient-dense, flavorful addition to parfaits, oatmeal, toast, and more!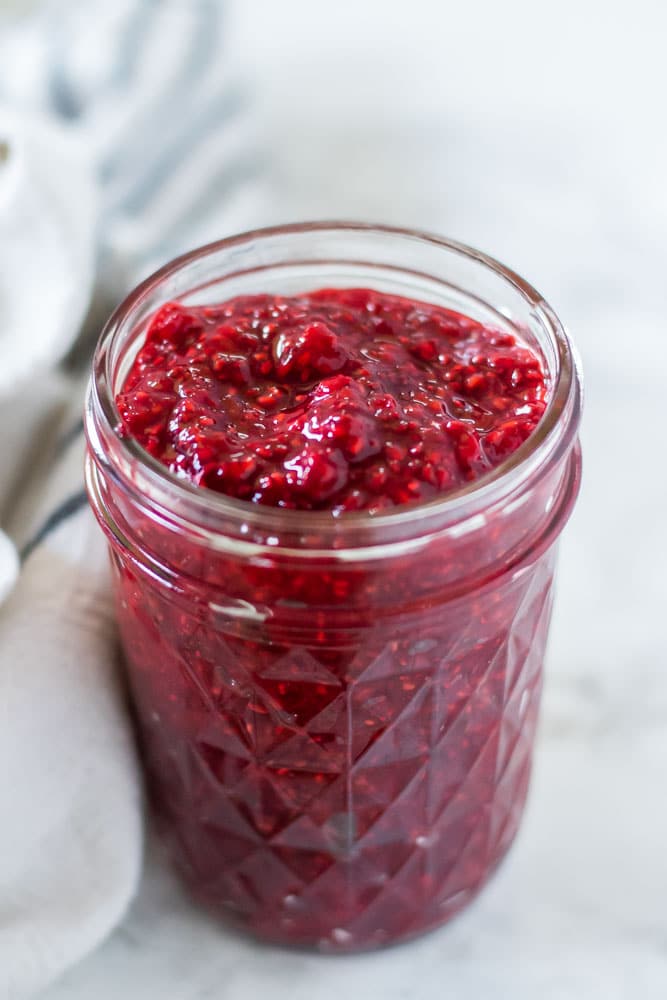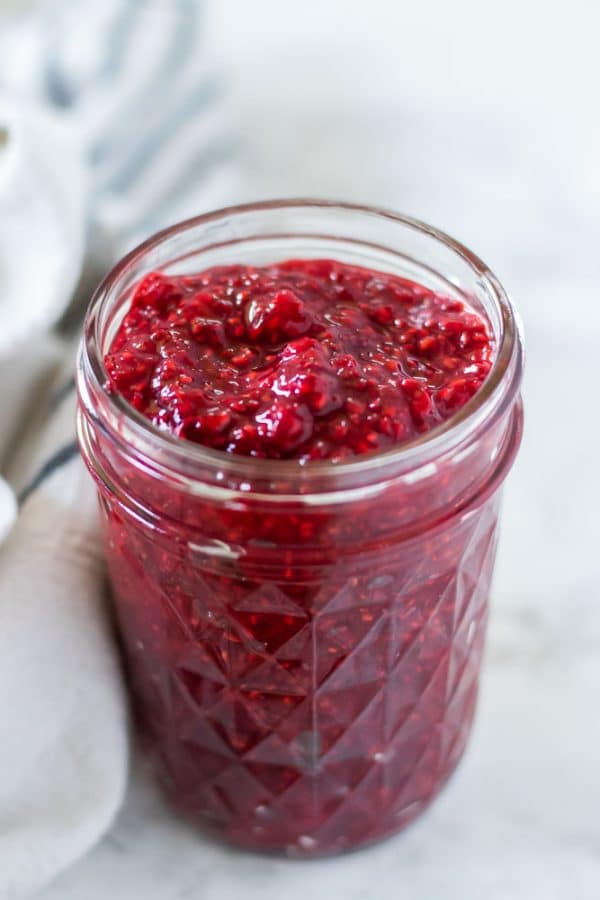 Homemade jam sounds kinda daunting, and chia jam just sounds...weird. And still daunting. But it absolutely is such a low-maintenance recipe - even your kids can help! In fact, I'd recommend you do involve your kids! Let them explore different fruit pairings to see how different fruits taste together (we liked grape and blueberry together a lot!). Show them a real life science experiment of chia seeds absorbing liquid from juicy smashed fruit and creating a thicker jam! And have fun with it - you never know, having fun with a simple recipe like this may make them more inclined to have fun trying their chia jam creations in different ways!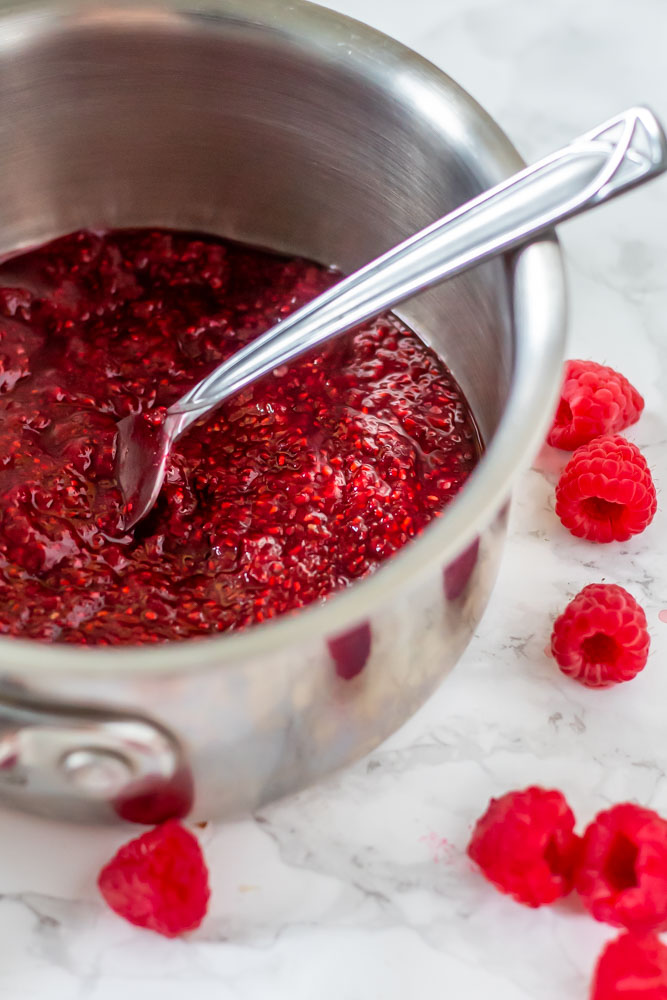 What is it?
Chia jam is a jam where fruit is thickened through chia seeds instead of lots of sugar or pectin. Chia seeds "gel" and can absorb over 10x their body weight in liquid. This is because of the high soluble fiber content of chia seeds and because chia seeds' outer shell is hydrophilic, so water can be drawn in and absorbed.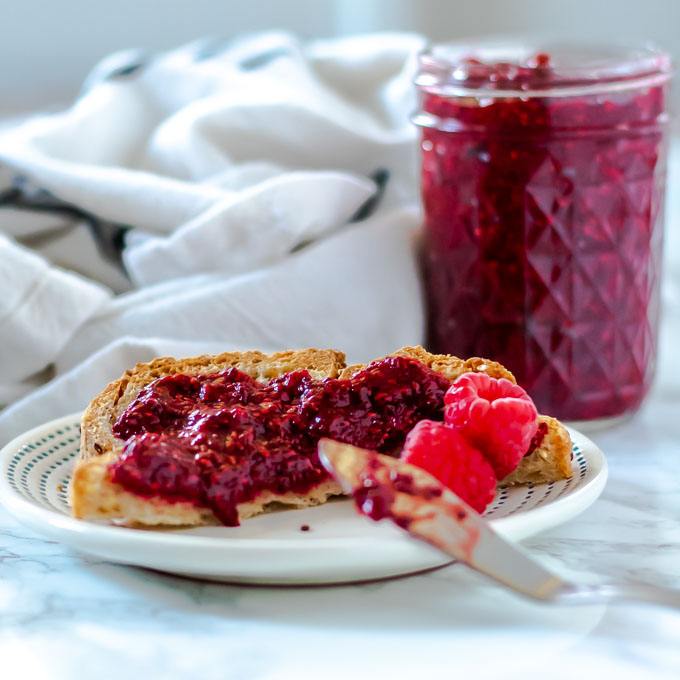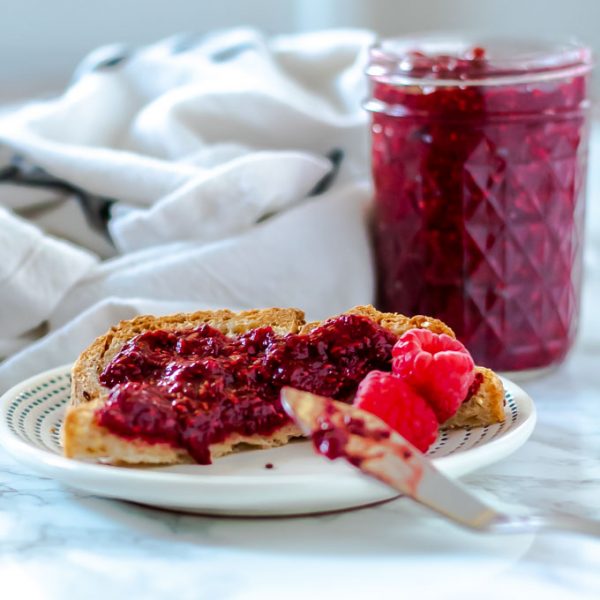 How do you make chia jam?
The essential ingredients you need are chia seeds and fruit. Fresh or frozen fruit both work fine.
Heat your fruit until it's kind of juicy and bubbling a little, take it off the heat, stir in chia seeds, and let sit for five minutes to cool and thicken.
Depending on the fruit used, you may find that it doesn't need any added sweetener (like a ripe mango or sweet strawberries), or you may want to add a little drizzle of honey (or other sweetener of your choice). We added a little honey to our raspberry chia jam since raspberries are a little more tart, and it was definitely the favorite of the family! Don't stress too much about the added sugar though - it is still SIGNIFICANTLY less added sugar per serving that traditional jams and jellies.
You also can add other flavoring agents. Think like a little lemon with strawberries, powdered ginger with pineapple, or vanilla extract with blueberries. Some chia jam recipes call for an automatic addition of lemon juice, but I just personally don't find it's often needed and my family usually prefers it without. Just play around with it to see what works for you!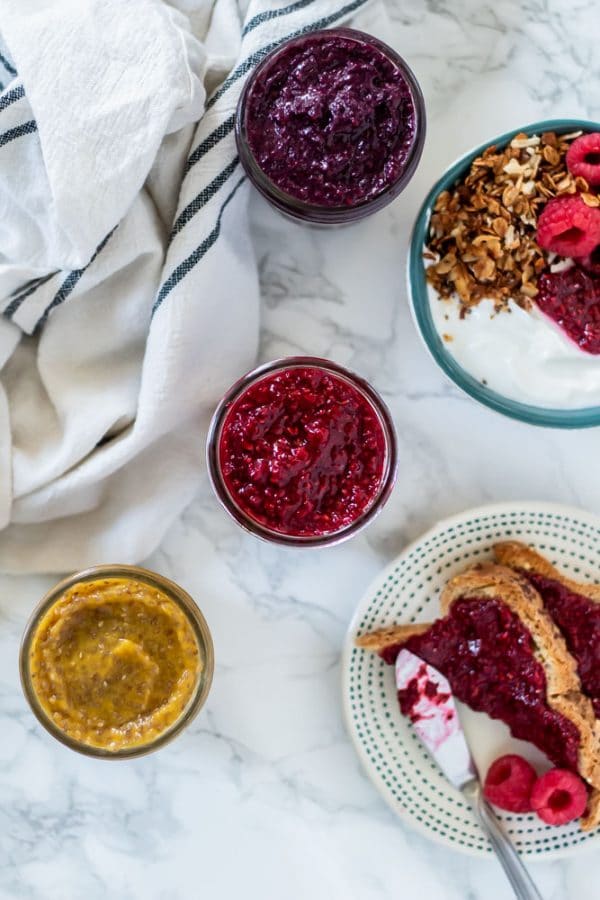 How long does it take to make?
Ten to fifteen minutes. Seriously - that's it! Just heat your fruit a few minutes until it's starting to get a little bubbly (starting with frozen fruit will take a few extra minutes). Once you stir in the chia seeds, you just need to wait another few minutes as it cools and thickens to a beautiful jam-like consistency.
What fruits can I use?
Chia jam can be made with absolutely any fruits you want! I'd imagine even fruit and veggie combos, too (i.e. an orange carrot chia jam with orange segments and carrot juice).
Some of our favorites:
Peach Mango: 1 cup sliced peaches, 1 cup cubed mango, 2 tablespoon chia seeds
Strawberry: 2 cups strawberries, 2 tablespoon chia seeds, ½ teaspoon lemon juice
Raspberry: 2 cups raspberries, 2 tablespoon chia seeds, 1-2 tablespoon honey
Blueberry: 2 cups blueberries, 2 tablespoon chia seeds, 1 teaspoon lemon juice
Note: you can either mash soft fruits with a fork or potato masher, or you can even blend and puree the fruits first.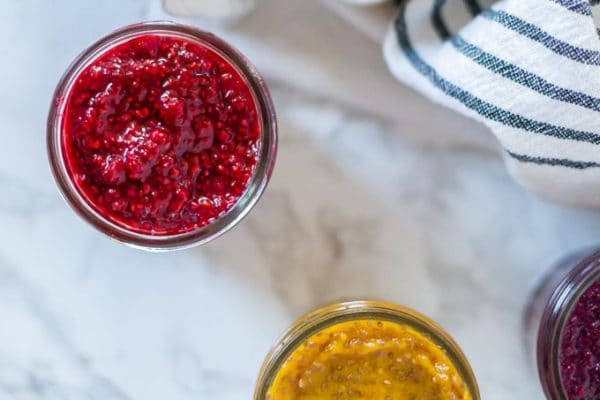 Ways to Use
Chia jam is pretty versatile! Try it:
On toast
On yogurt parfaits
In sandwiches
In homemade oatmeal jam bars
Over oatmeal
As a sweet "glaze" baked over fish or chicken
One batch only makes about a cup and lasts around a week in the refrigerator. If you're not going to use it all before it spoils, try freezing it in an ice cube tray. Then you can just thaw and use one serving at a time (plus this is a great way to cool down too-hot-oatmeal even faster!).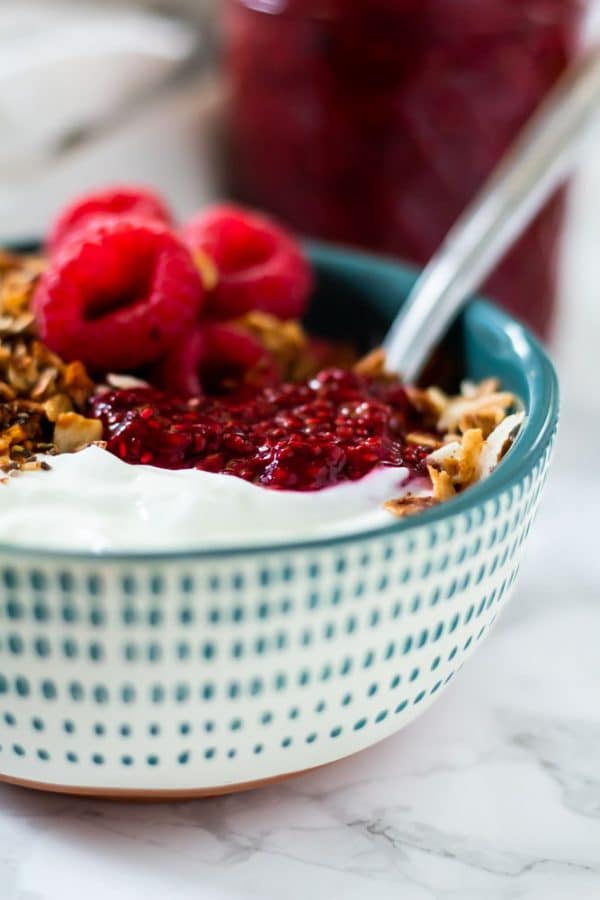 More Easy Sauce & Condiment Recipes:
Check out these other easy and delicious ways to add flavor and nutrients to your meals:
Don't forget to save and share this recipe on Facebook, Instagram, and Pinterest!
Easy Chia Jam
Chia jam so easy you need just ten minutes and two ingredients. It makes a nutrient-dense, flavorful addition to parfaits, oatmeal, toast, and more!

free from: wheat/ gluten, soy, dairy, egg, fish, shellfish, tree nuts, peanuts
Ingredients
2

cups

fresh or frozen fruit

2

tablespoon

chia seeds

1

teaspoon

lemon juice

(optional)

1-2

tablespoon

honey or other sweetener

(optional)
Instructions
Heat fruit in a small saucepan over medium-high heat until juices have been released and fruit can be easily mashed with a fork or masher. This will take about five minutes.

Mash fruit to desired consistency. If you prefer a smoother consistency, you can even puree.

Stir in chia seeds and any additional optional ingredients (lemon juice, honey, or even other flavors like spices or extracts).

Let the chia seeds gel and a jam-like consistency to form as the chia jam cools. This will take about 5 minutes.
Notes
Nutrition information is for an approximate 2 tablespoon serving of chia jam made with raspberries and 1 tablespoon honey. Nutrition information will vary based on fruits and sweeteners used.
See blog post text for information on freezing leftovers and specific fruit combination ideas.
Nutrition
Calories:
38
kcal
|
Carbohydrates:
7
g
|
Protein:
1
g
|
Fat:
1
g
|
Saturated Fat:
1
g
|
Sodium:
1
mg
|
Potassium:
58
mg
|
Fiber:
3
g
|
Sugar:
3
g
|
Vitamin A:
10
IU
|
Vitamin C:
8
mg
|
Calcium:
26
mg
|
Iron:
1
mg