I'm so excited about this recipe I actually had to go back and delete the exclamation point I inadvertently entered at the end of the title! I think the reason this recipe, and the making of this recipe, means so much to me is because it just encompasses everything I love! Fun family memories, money-saving, super simple, nutritious, delicious, and now I have pounds of tomato sauce in my freezer ready to go, making my life just a little bit easier!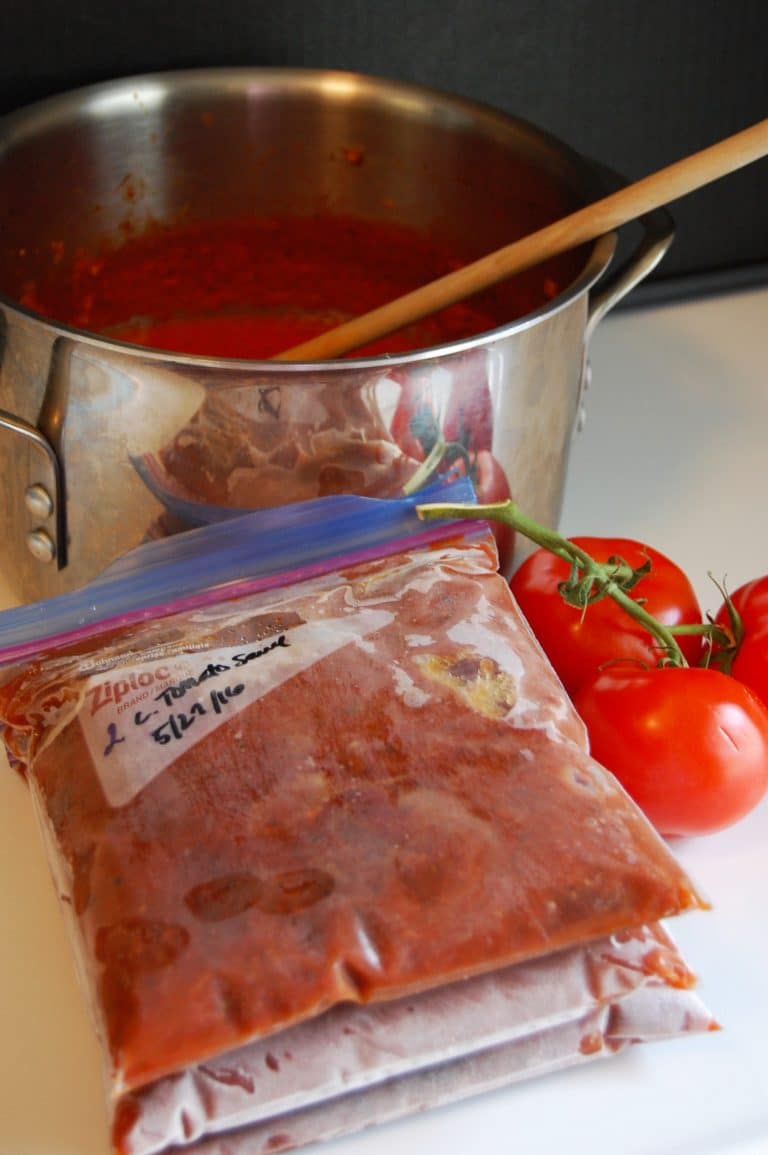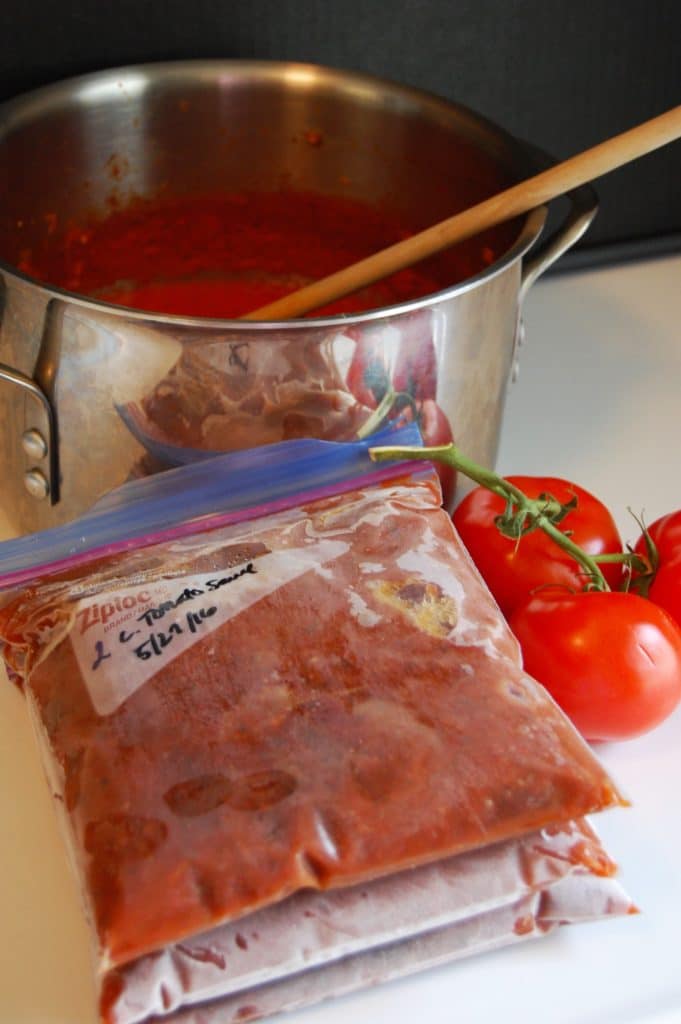 A few weeks ago my parents, husband, and I went tomato picking in Ruskin, Florida. It was so fun! And cheap - you filled (er, overfilled? haha) a large bucket with tomatoes you picked for $15. Of course, always trying to get the best deal that I can, I had to come home and weigh our tomatoes. We picked 31 pounds! That's $0.48 a pound! I definitely can't find tomatoes as beautiful as this in stores, let alone at that price! I think the only down side to the tomato picking experience is that because the tomatoes were so plentiful, it went by entirely too fast!
Now what do you do with 31 pounds of tomatoes? I decided there was only one answer - sauce! My mom and my sister are awesome at canning, and while I've canned with them before, I was looking for something a little easier. I didn't have all the proper canning supplies, I didn't want to worry about the pH/ acidity of the recipe for proper canning, and I just needed something I could do while short on time. So freezer sauce it was!
And let me tell you, this is the most low-maintenance sauce, ever. Just make sure to start it when you're going to be home for a few hours, as I found it works best on the stove top with the lid off, so more of the liquid can evaporate out, resulting in a thicker, richer sauce. You can see here by the sauce on the sides, just how much simmering you're doing!
To make this sauce you just begin to caramelize some sweet onion in a little olive oil, add some garlic, chopped tomatoes, cook down, puree with an immersion blender and add your spices, then cook down some more. Easy! Now, I did try this recipe in a crock pot, but I wouldn't recommend it. When I let the sauce go all day in a crock pot, it was still tasty but just resulted in a thinner sauce since the covered crock pot didn't allow the excessive moisture from the tomatoes to evaporate. So just pick a rainy afternoon and let the sauce work it's magic while you do other things around the house!
We've already used this sauce in so many capacities - mixed with ground chicken, with turkey meatballs, meatball subs, pizza, and of course served simply over gluten-free pasta or zoodles (zucchini noodles, like in this Zucchini Noodle Caprese Salad). Just wait until Wednesday and you'll see the easy turkey meatballs we paired them with. I'll be sharing the recipe, and man my mouth is watering just thinking about the meatball subs we used them in!
Let me know if you try this recipe, and how you and your family like it!
Bonus Budget Tip: If there's a you-pick tomato farm by you, ask if you can get tomatoes by the pound! If we didn't want the full bucket, the same place we went to offered by-the-pound pricing of $0.90/ lb, which is still much better than in store!
Freezer Tomato Sauce
Ingredients
1

tablespoon

olive oil

1

medium sweet onion

diced

4

cloves

garlic

minced

10

lbs

tomatoes

stem removed and quartered

1

tablespoon

dried oregano

1

tablespoon

dried basil

1

teaspoon

salt

1

teaspoon

pepper
Instructions
Heat olive oil in a large pot over medium heat. Saute onions until they are translucent and starting to turn golden brown. Add minced garlic and cook another 60 seconds.

Turn heat down to medium-low and add tomatoes to the onions and garlic, giving it a good stir. (Tip: if your pot isn't going to be large enough, chop the tomatoes into even smaller pieces and your tomatoes will fit much better!)

Giving the occasional stir, allow tomatoes to simmer and cook down for two hours.

Take an immersion blender to the sauce and puree it to your desired consistency. Add spices.

Continue to allow sauce to simmer for another 2-3 hours.

At this point sauce should be greatly reduced, thick, rich, and delicious!

Allow to cool completely before portioning sauce into freezer-safe bags or containers (we did two-cup bags). For easier storage, freeze the bags flat.

Sauce can remain in the freezer about 6 months, or longer if a deep freezer.
What are your favorite uses for tomato sauce?
As always, enjoy!