A nutritionist's guide on how to spring clean your kitchen to optimize your health to feel your best, improve organization, help your budget, and have less daily stress!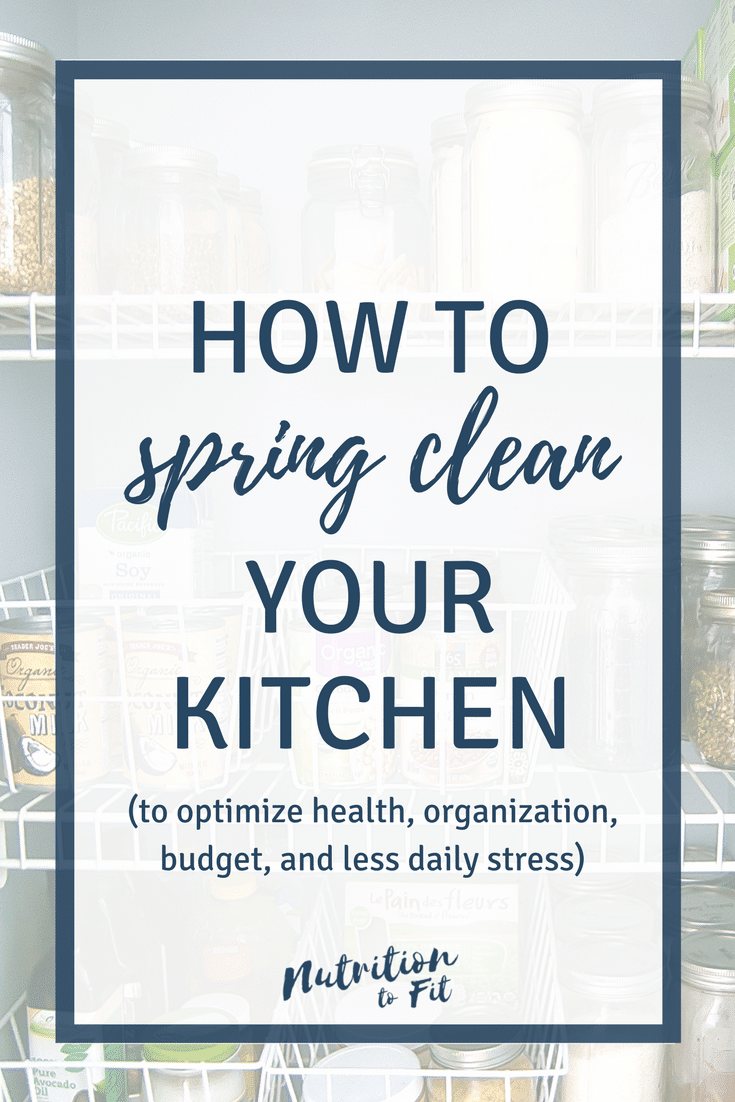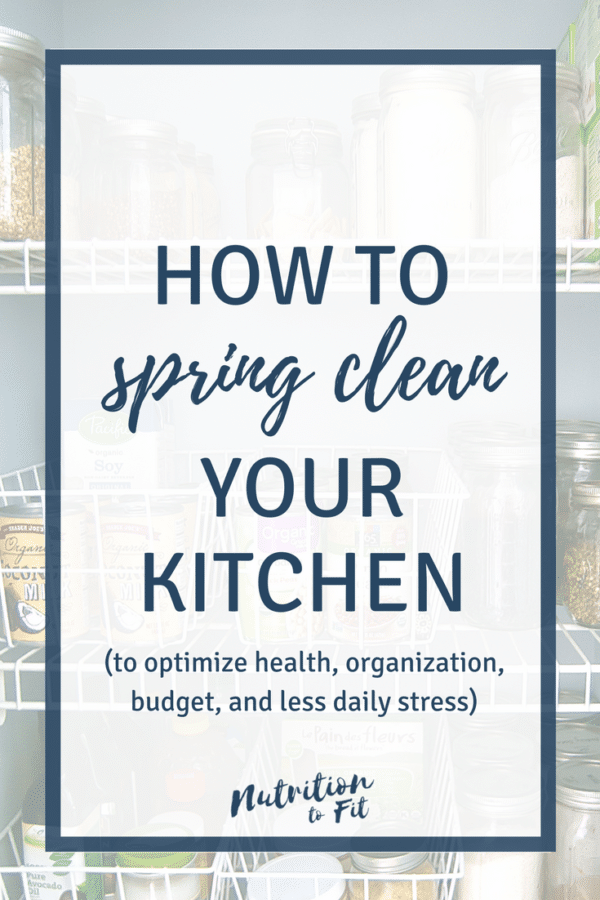 Spring is finally in the air and it's the perfect time for a refresh and to spring clean your kitchen. Why spring clean your kitchen and why now? A clean, organized kitchen plays a big role when trying to reach different goals, like:
Trying to feel your best and optimize your health
Being more organized and efficient
Better sticking to a budget
Reducing food waste
Setting yourself up for less daily stress
A clean, organized, updated kitchen can help streamline all the daily decisions that revolve around food. This translates to less food being forgotten and tossed, less take out (aka more money stays in your wallet), a simpler mealtime routine, and a kitchen equipped to help you meet your health goals.
And as for why now, well - why not now? Many people tend to intuitively change up habits as the seasons change, like spending more time in the sunshine and craving cooler eats, like smoothies and salads. Giving your kitchen a refresh with a little spring cleaning is a great way to capitalize on that energy!
I recently took the time to spring clean my own kitchen, so I took notes (and some pics!) of the steps I took to share with you today.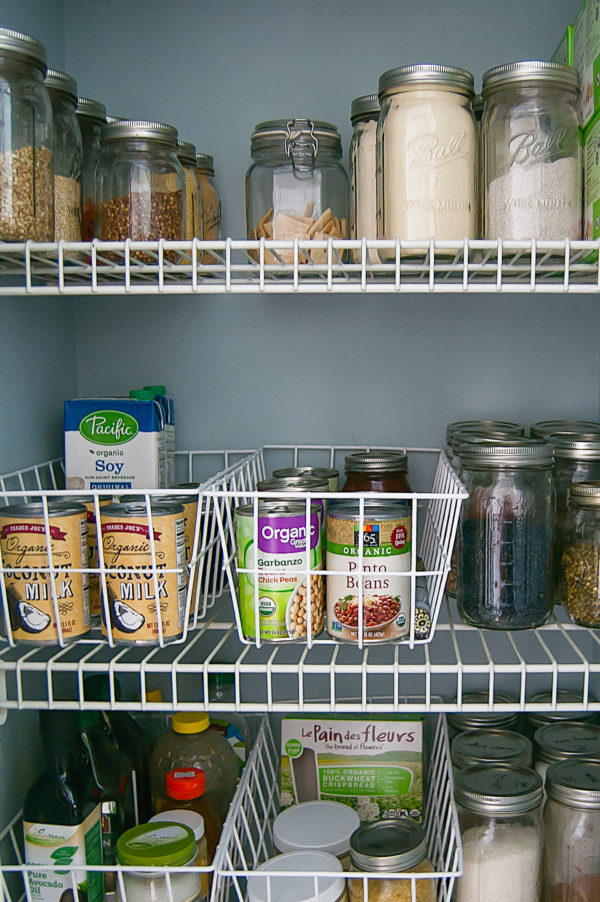 1. Empty Everything!
Yes, literally everything. Empty out your pantry, your fridge, freezer, deep freezer, cabinets, and anywhere else you store kitchen-related goods. Physically touching everything as you empty your cabinets and shelves lets you see exactly what you're working with...and if you've accidentally been hoarding.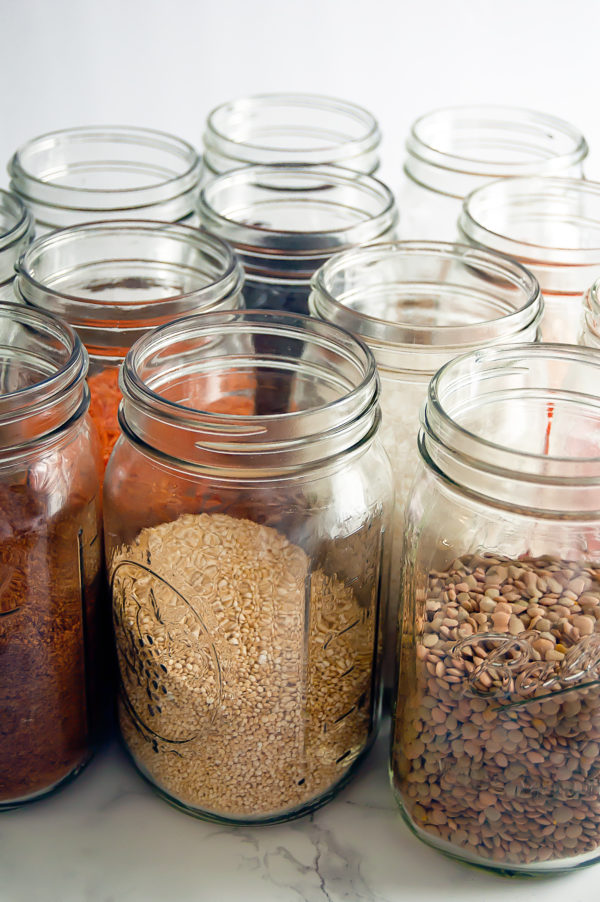 2. Use Some Elbow Grease
Put some elbow grease behind your spring cleaning and clean those empty shelves! All those deep shelves and hard to reach corners in cabinets and fridge drawers can accumulate dust, spills, and crumbs, even if you clean regularly. Infrequent tasks, like defrosting a deep freezer, can be done at this time.
3. Check Expiration Dates
With food, spices, supplements, and anything possibly perishable: check the expiration dates. If it's way past its prime, toss it. If it's close to becoming perishable, make it a priority to use it ASAP - if you're actually going to use it. It's okay if you bought a new type of cracker to try but didn't love them. If there's anything unopened and not expired, make a donation to your local food bank. If it's open but still fresh, see if a friend, family member, or coworker may want it. After all, we all have different tastes!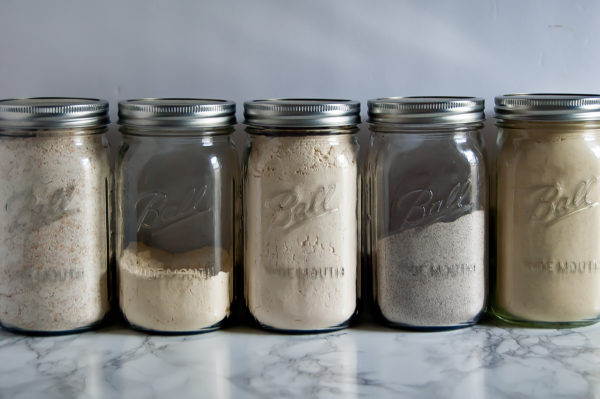 4. Streamline Appliances and Dishes
What's working for you and what's just taking up valuable space? It's time to streamline! See if you have any rarely used uni-purpose tools, like an avocado slicer or cherry pitter, that can be replaced with a more universal, multi-purpose tool, like a quality (yet affordable) chef's knife
. And for the love of matcha, does anyone really need 53 coffee mugs?
5. Condense Multiples
If during your emptying stage you found a couple open packages of quinoa, it's time to condense. Put all the same odds and ends of the same food in one container (I'm a big fan of wide-mouth quart mason jars for storing my pantry staples).
Condensing also applies to appliances and utensils. When I was doing my own spring cleaning I found three different wine openers. I can't even tell you the last time we had wine! If there are any duplicates you truly will never need to use both at the same time, add it to a donation pile to drop off to a local thrift store.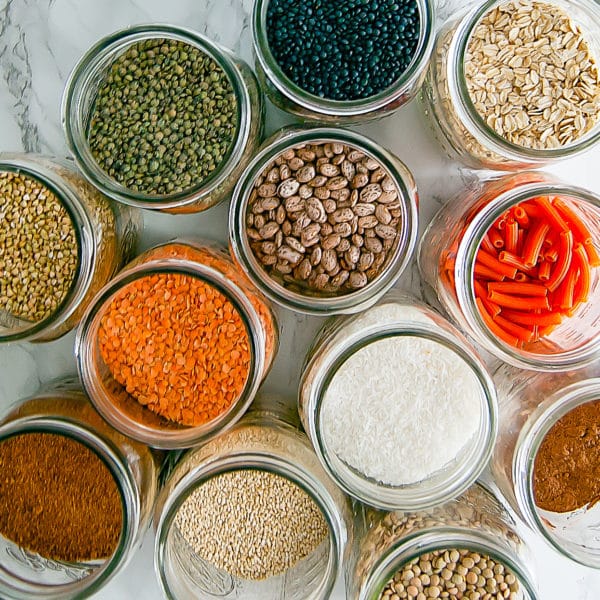 6. Align Your Kitchen With Your Goals
Do you have a goal to cook more at home instead of relying on take out or delivery? Make sure you have the basic tools you need, like a quality (yet affordable) chef's knife
or some pots and pans
. Want to make more smoothies for easy meals and snacks in warmer weather? Make sure you have a blender that's in good working condition and easily accessible. (This Vitamix 5200
 is the blender that I have had for almost nine years and still use nearly every day!) Interested in incorporating more real foods with fewer ingredients (like 100% pure maple syrup
instead of "breakfast syrup" with 50 ingredients)? Now is a great time to make those swaps!
7. Replenish Your Staples
When you're spring cleaning your kitchen it's a great time to replenish your pantry and kitchen staples. Stock your kitchen with what you use regularly. Some of my pantry staples include quinoa
, buckwheat
, red lentil pasta
, lentils
, gluten-free rolled oats
, canned beans with no additives
, coconut milk with no additives
, and avocado oil
.
8. Create an Organizational System That Works for You
Feel like you have tons of different bags and storage containers and they all end up just thrown into your pantry or fridge wherever there's an open space? Create an organizational system that works for you.
Keep all like-goods in the same area. It doesn't have to be ultra-specific, it just has to be something that will work for you and your family (like a snack basket or bin where all applesauce pouches, crackers, and bars go). When everything has a home it lessens stress in the moment when you're looking for something, and it also makes it easier and more efficient to put away groceries.
Pro tip: stash one or two bigger bins or baskets at the bottom or top of your pantry. This is a great place to "hide" bulkier items, like protein powder, bags of chips, and overflow from goods bought in bulk. Honestly, on a personal note my overflow bin itself it still messy and kind of a "catch all" but it helps make my entire pantry feel more organized and clean. Plus I still know exactly where to find everything.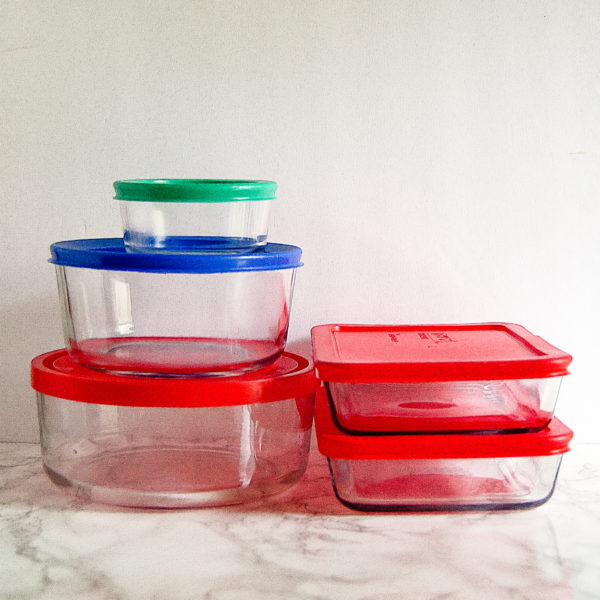 9. Upgrade Your Storage
Have a lot of plastic containers that you use for meal prep, lunch packing, and storage? Upgrade your storage containers. I'm a big fan of using glass over plastic because of increasing research how plastics aren't the best for our health or our environment. If you have a lot of plastic storage containers that are stained from spaghetti sauce leftovers and are warped from the microwave, use this kitchen spring cleaning to recycle those and give your storage (and health) an upgrade. Some of my favorite types of non-plastic containers?
Wide Mouth Quart Mason Jars (I use for storing pantry staples, holding big smoothies, or meal prepping big salads to send with my husband to work)
Glass Meal Prep Containers
Glass Storage Containers with Lids for meal prep, leftovers, and lunches (I currently have this Pyrex Storage Set, but have noticed the lids cracking with use, so I'm planning on switching to ones with locking lids, like these)
10. Put Everything Back
Put everything back in a way that feels intuitive to you. A general rule of thumb is to keep like things together. You can store your pots and pans in a cabinet next to the oven, your coffee mugs in the cabinet above your coffee maker, and any breakfast pantry staples all on the same shelf. I also really love to have a bowl or two of freshly washed produce or chopped veggies at eye-level in the fridge for snacking.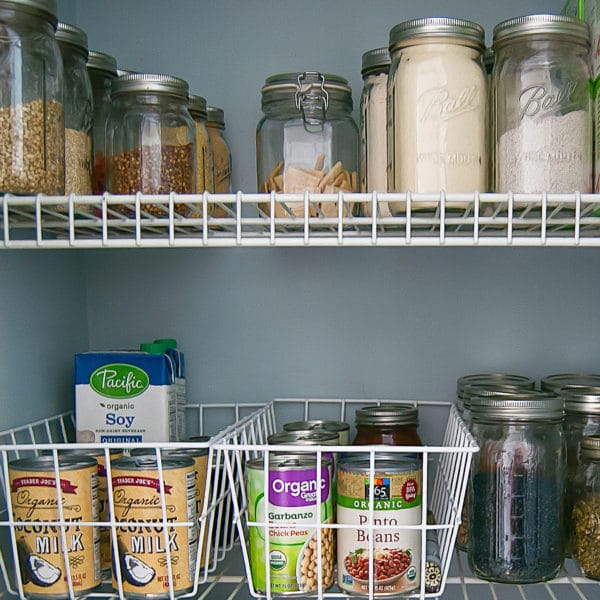 BONUS: Try Something New and Fun!
Whether this is re-stocking your fridge with seasonal springtime produce, a new supplement you're excited to try in your smoothies (I've been on the collagen
train lately!), or a new water bottle to keep you hydrated, it's okay to try something new! Variety is key to our health, and I find it important in happiness, too.  Personally, I like eating different meals, different produce, and trying new things. Once you've purged and are all done spring cleaning your kitchen, don't be afraid to use this fresh and clean inspiration to try something new!
Just don't go crazy and use up all your newfound space and create more items that will expire. Maybe just one or two new things at a time. 😉
Do you have any other tricks and tips for spring cleaning your kitchen? Share in the comments below! And if you implement any of these kitchen spring cleaning tips yourself, be sure to share on social tagging #nutritiontofit and @nutritiontofit! Live well!
Some of the links contained in this post are affiliate links, meaning I may earn a very small commission at no added cost to you. Thank you for your continued support of Nutrition to Fit!