Toast is great, but the toppings for toast is the real fun! Not only are toast toppings a great way to add more flavors and textures, but it's a great way to add some nutrition to make your toast part of a more nutritionally balanced, healthy snack or meal.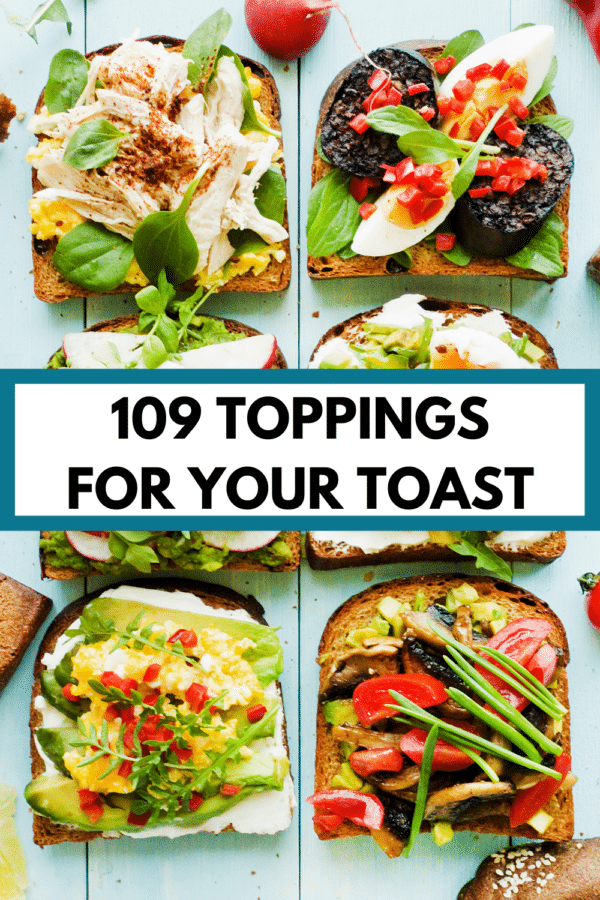 Toppings for Toast
There are so many potential toppings for toast! This list, while quite comprehensive, isn't even all encompassing, so I'd highly recommend getting creative and having fun with it!
Spreads
Avocado
Guacamole
Cream cheese (or whipped or Neufchatel)
Peanut butter
Almond butter
Seed butter (like pumpkin seed butter)
Nutella
Hummus
Baba ganoush
Tomato sauce
Pesto
Jam
Proteins
Smoked salmon
Egg (fried, poached, scrambled)

Salmon spread

Tuna salad
Chicken salad
Smashed beans
Refried beans
Chickpea salad
Crispy tofu
Chicken
Deli meat
Bacon
Prosciutto (try crispy prosciutto!)
Dairy
Ricotta
Cottage cheese
Greek yogurt
Cheddar cheese
Colby Jack cheese
Pepper Jack cheese
Shredded mozzarella
Fresh mozzarella
Pimento cheese
Blue cheese
Goat cheese
Feta cheese (try whipped feta!)
Fruits
Banana (mashed or slices)
Strawberries
Blueberries (like my blueberry toast!)
Blackberries
Raspberries
Gooseberries
Mulberries
Peaches
Fresh pear
Mango
Diced pineapple
Apple slices
Stewed apples
Dried cranberries
Freeze dried fruits
Raisins
Dried apricots
Figs
Chopped dates
Vegetables
Cucumber slices
Carrot ribbons
Thinly sliced red bell pepper
Pico de gallo
Sundried tomatoes
Roasted bell peppers
Sautéed mushrooms
Asparagus
Radish slices
Caramelized onions
Pickles
Finely chopped celery
Arugula
Kale chips
Spinach
Lettuce
Sliced tomatoes
Crunchy Texture
Crunchy nut butter
Chia seeds
Flax seeds
Hemp hearts
Chopped walnuts
Chopped pecans
Slivered almonds
Crushed peanuts
Chili crunch seasoning
Granola
Flavor Additions
Everything but the bagel seasoning
Lemon zest
Orange zest
Honey (or hot honey)
Maple syrup
Mini chocolate chips
Cinnamon sugar
Balsamic reduction or glaze
Basil
Cilantro
Parsley
Green onion
Chives
Rosemary
Oregano
Lavender
Squeeze of fresh citrus juice
Hot sauce
Siracha
Best Types of Bread for Toast
The best type of bread for toast is the type of bread you like to eat! Different types of bread lend better for different types of toasts and toppings, so some tips for choosing a quality bread toast are:
Choose a bread that is sturdy enough to hold up to the toppings you want to use.
Longer slices of toast make a great base for lots of toppings, but you may need to find other ways to toast it if it won't fit in your toaster (see below).
Don't go for thin-sliced bread, unless you're not going crazy with toppings. Some simple butter, peanut butter, or jam may work better for thin sliced!
In general, some popular breads to toast include:
Sourdough
Whole wheat
Whole grain
Homemade bread
No knead bread
Ciabatta bread
French bread
Italian bread
Rye bread
Pumpernickle bread
Gluten-free bread
English muffins
Bagels
Ways to Make Toast
Of course toasting bread in the toaster is the classic way to go. But if your toaster is on the fritz or your bread doesn't fit in the toaster, try these alternative methods:
Toasting Bread in the Oven (the best option if you need to make a lot of toast at once!)
Pan Toast (just heat a little butter or oil in a pan over medium-high heat and toast bread on each side until crisp!)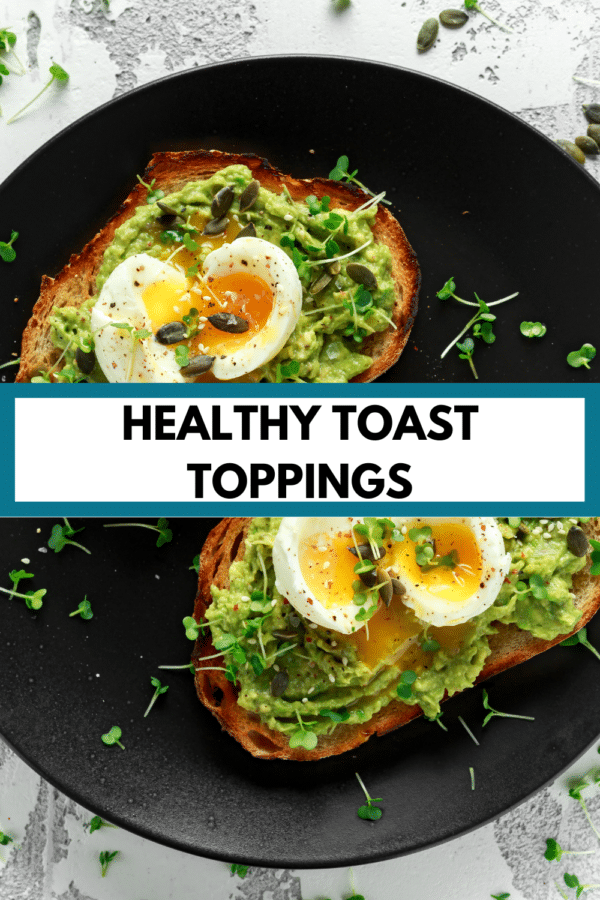 Healthy Toast Toppings
As a registered dietitian, I'm obviously a huge fan and proponent of nutrition and the science of food and what nourishes our bodies.
So since I've gotten this question a few times, I've actually written an article that looks into the actual science and research - Is Toast Healthy?
But *spoiler alert* the short of it is, YES, toast itself can be healthy. And beyond that, I'm a huge proponent of balance. Absolutely any food you enjoy can be part of an overall healthy diet!
When it comes to toast, most folks are better off if they learn to incorporate toast as part of a balanced meal or snack - and toppings can be a great way to help with that.
I teach my clients that this means eating enough food period, making sure the food is satisfying for you, and to include a variety of protein, fat, and fiber-rich carbs and plants. Here are some of my favorite healthy toast topping combinations:
Classic Avocado Toast with Egg
Sourdough toast (carb) topped with avocado (fat) mashed with salt and lemon (flavor), poached eggs (protein), green onion and everything but the bagel seasoning (flavor)
Whole grain toast (fiber-rich carb) topped with greek yogurt (protein), blueberries (fiber-rich carb/ plants), hemp hearts (fat, protein), lemon zest and honey (flavor).
Almond Butter & Jelly Toast
Whole wheat toast (fiber-rich carb) topped with almond butter (fat), raspberry chia jam (fiber-rich carbs/ plants, fat), cinnamon (flavor) with greek yogurt (protein) on the side.
Southwestern Toast
Whole grain toast (fiber-rich carb) topped with black beans (fiber-rich carb, protein) mashed with lime juice, sliced chicken (protein), melted pepper jack cheese (fat, protein), hot sauce (flavor) and pico de gallo (flavor, little veg).
Raspberry Chocolate Chip Toast
Sourdough toast (carb) topped with whipped cream cheese (fat), fresh raspberries (fiber-rich carb), mini chocolate chips and honey (flavor and fun). Serve with something like a chocolate protein shake on the side to take it more from a snack to a meal.
Still reading? Well go make some toast! Then come find me on Instagram and let me know how you got creative and enjoyed some of these 109 toppings for toast!