Homemade pumpkin seed butter is a simple, affordable, and delicious nut-free spread. Process pumpkin seeds until they're smooth and creamy for an allergy-friendly "no nut butter" to be used on sandwiches and apple slices or in sauces, smoothies, and baking.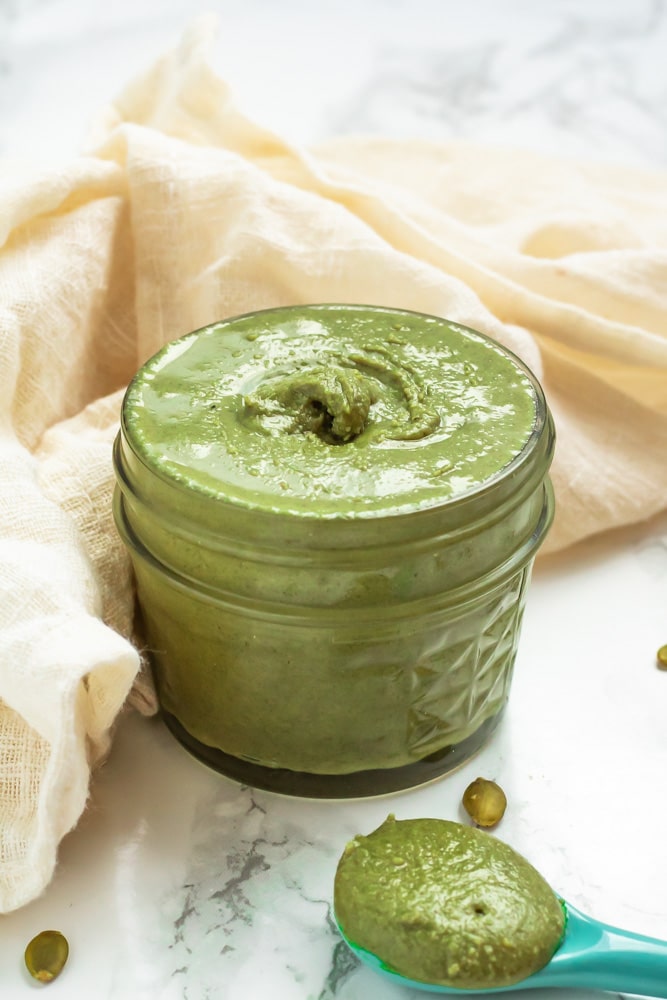 This page may contain affiliate links. Read my full disclosure here.
What is pumpkin seed butter?
It is a creamy blend of pumpkin seeds. It's made by smoothly processing pumpkin seeds, just as you would with any other nut or seed (like peanut butter).
This is a great allergy-friendly option, too, if there are any nut allergies in your family like there are in mine. While it is still possible to be allergic to pumpkin seeds, it's rare. Seed butters are typically more accepted at places like nut-free schools.
How do you make it?
With a food processor and lot of patience. 😉
Homemade seed and nut butters are really simple since you just need minimal ingredients and equipment. All you truly need to make this recipe are pumpkin seeds and a food processor (even a mini food chopper works, I tried it!). Pop the pumpkin seeds in the food processor and let it get to work! You'll want to process a few minutes, then scrape down the sides and process several minutes longer.
If you don't have a food processor you can also use a high-speed blender. I have and love both my Vitamix and a Kitchen Aid K400 blenders.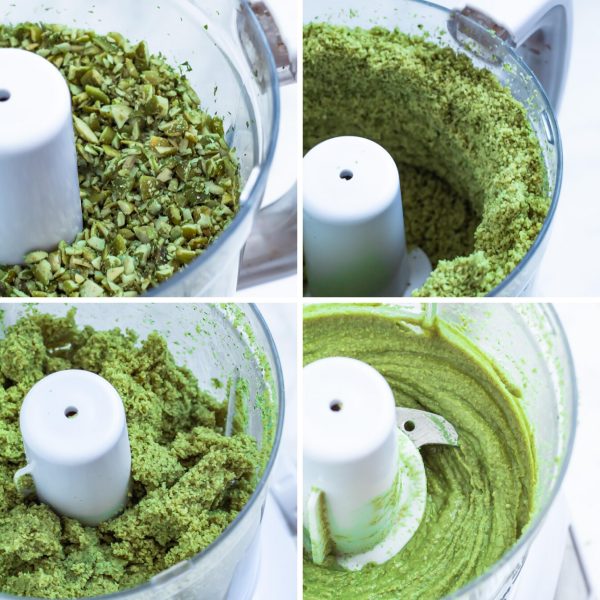 Remember though - the most important thing you need is a little patience. When your seeds first start processing you'll feel like they're going to stay like crumbly seed pieces forever. You're going to wonder how in the WORLD it's ever going to turn into a buttery consistency. But just be patient. I promise it'll come together!
Do I need to toast the seeds?
You don't have to, but you can. I usually don't because my family still likes it without toasting, and it's a step that I can skip to make it a little faster.
Some say they prefer toasting the seeds for a slightly different, nuttier flavor. Use the following steps if you want to give it a try.
How to toast pumpkin seeds:
Add the pumpkin seeds to a skillet over medium-low heat and toast for a few minutes until they are aromatic and are getting a slightly deeper, brown tint to their color.
Two keys: be sure to stir frequently and do not walk away! Watch super carefully because they can very quickly go from toasted to burned (which always tends to happen the exact moment you turn your back to do something else real quick).
Alternatively, you can toast them in a 350 degree oven for 5-7 minutes.
Do I need to add oil?
You can, but I don't. Adding a teaspoon or two of a neutral-tasting oil (like avocado oil) can it get smoother faster, but I personally prefer to just keep processing an extra minute or two without having to add any oil.
What does it taste like?
Pumpkin seed butter tastes like, well, pumpkin seeds! It has a fairly mellow, slightly earthy flavor.
You can adjust the taste further to your preferences by adding other ingredients, like a pinch of salt, vanilla extract, cinnamon, or even a teaspoon or two of sweetener (like maple syrup or honey).
Is it healthy?
While "healthy" is subjective, pumpkin seed butter can be a part of a balanced diet, however that works for you. This recipe can fit many different dietary lifestyles: Whole30, paleo, vegan, keto, low-fodmap, sugar free, and more.
Health Benefits and Nutrition
Nutritionally, one ounce of pumpkin seeds contain (1):
151 calories
12.8 grams fat

2.4 grams saturated fat
4.0 grams monounsaturated fat
5.9 grams polyunsaturated fat
50.7 mg total omega-3 fatty acids
5797 mg total omega-6 fatty acids

6.9 grams protein
5.0 grams carbohydrate
Vitamin K 14.4 mcg (18% Daily Value)
Iron 4.2 mg (23% Daily Value)
Magnesium 150 mg (37% Daily Value)
Phosphorus 329 mg (33% Daily Value)
Zinc 2.1 mg (14% Daily Value)
Copper 0.4 mg (19% Daily Value)
Manganese 0.8 mg (42% Daily Value)
Some of these high levels of antioxidants (like carotenoids and Vitamin E) may help reduce inflammation and protect against diseases, including certain types of cancer (2, 3, 4, 5).
One ounce of pumpkin seeds provides 37% of the recommended daily intake of magnesium, which can be helpful since many may be deficient in magnesium (6). Healthy magnesium levels can help support healthy blood sugar levels, blood pressure, and heart and bone health.
In addition to being high in magnesium, pumpkin seeds are high in zinc and tryptophan, which may contribute to a better night's sleep (7).
What about the phytic acid in raw pumpkin seeds?
Phytic acid can impair the absorption of certain minerals like calcium, iron, and zinc. But don't be afraid! Foods that contain phytic acid (like grains, seeds, nuts, legumes) are still a fantastic addition to a healthy diet and the phytic acid makes a nearly inconsequential impact to an overall balanced diet.
Plus, research is suggesting that regular consumption of phytate-containing foods may reduce the impact of phytic acid impairment on absorption (8, 9).
Additional research is suggesting phytic acid may actually contribute to why whole grain consumption has been linked to lower risk of colon cancer (10).
Still concerned? Roast or toast your seeds like I shared how to above, as this can help reduce some phytate content.
Ways to Use Pumpkin Seed Butter
Pumpkin seed butter can be used just as you would use any other nut or seed butter. Ways to use it include:
On toast (opt for whole grain toast, even if it's gluten free)
On sandwiches (try with my easy chia jam for a healthier nut-free PB&J)
In sauces (like a substitute for peanut butter in a peanut sauce)
In smoothies (add a tablespoon to my 5-a-day green smoothie for extra healthy fat, protein, fiber, and nutrients on top of the five servings of fruits and veggies that smoothie already gives you!)
To dip apples or other fruit for a blood sugar balancing snack
Make pumpkin seed butter chocolate cups, like with my double chocolate fudge cups
Use in cookies and muffins in place of peanut butter (like my healthy buckeyes, although the color will be altered!) - you can use it as a "frosting" topping on muffins too, for added healthy fat and protein for greater satiety.
Make energy balls (while they will alter the color, they are great in my no bake peanut butter energy balls and my PB&J bites)
Is pumpkin seed butter the same thing as pumpkin butter?
Nope! Pumpkin butter utilizes the flesh of the pumpkin to cook into a sweet spread, like an apple butter. You'll see it more commonly in the fall months. Pumpkin seed butter isn't cooked and doesn't use the pumpkin flesh at all - just the pumpkin seeds.
They also look totally different! Pumpkin butter has a dark orange huge whereas pumpkin seed butter has a green hue.
Are pepitas and pumpkin seeds the same thing?
Yes! Pepitas and pumpkin seeds both refer to the hulled seeds from a pumpkin. What are hulled seeds? Well, if you've ever carved a pumpkin or seen inside a pumpkin, you know there are tons of white seeds. This white layer is actually just an outside layer which is removed to reveal pumpkin seeds how we're used to seeing them like in this recipe and others.
How long does it last?
I recommend storing homemade seed and nut butters in a closed, glass jar in the fridge up to 3-4 weeks.
They can be stored in the freezer up to six months, as well, just be sure to thaw thoroughly.
Flavor Variations
Looking to spice things up (literally)? Try some of these flavor additions for fun variations:
Cardamom Vanilla: ¼ teaspoon cardamom + 1 teaspoon vanilla extract + 1-2 teaspoon honey or maple syrup (optional)
Pumpkin Spice: ½ teaspoon pumpkin pie spice + 1-2 teaspoon maple syrup (optional)
Cinnamon Vanilla: 1 teaspoon vanilla extract + ¼ teaspoon cinnamon + 1-2 teaspoon honey or maple syrup (optional)
Vanilla Maple: 2 teaspoon maple syrup + 1 teaspoon vanilla extract
Honey Ginger: 2 teaspoon honey + ¼ teaspoon ground ginger
Dark Chocolate: ¼ cup dark or semi-sweet chocolate (if you melt it first it will make the processing even easier)
With all of these flavor variations, I recommend adding them at the end of the processing, once the pulverized pumpkin seeds have formed a smooth butter.
Like this recipe, or want to save it to try it later? Pin it to Pinterest or share to Facebook! And as always, let me know what you think when you try it! Leave a comment and rate the recipe below. I'd love to hear how you use your pumpkin seed butter or if you used any fun flavorings.
Live well!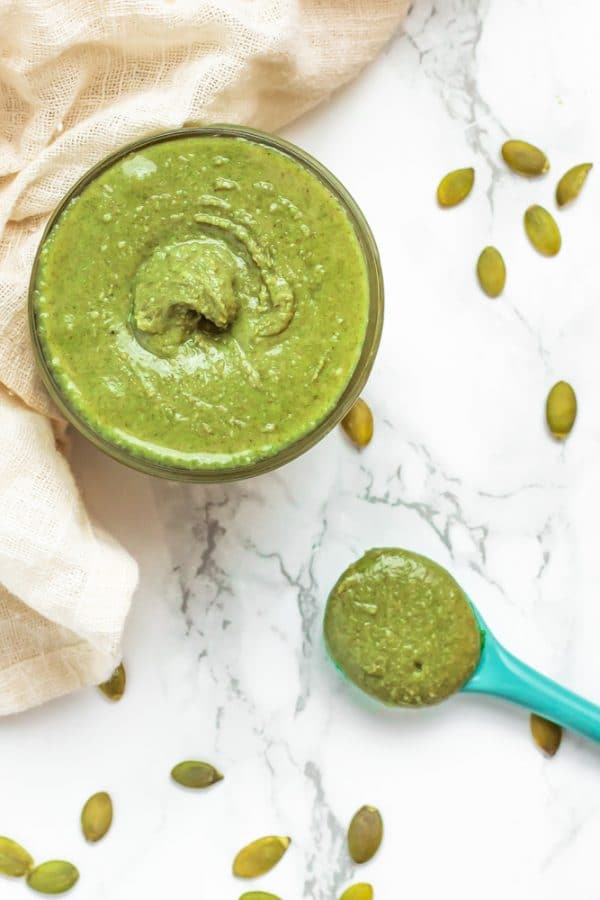 Pumpkin Seed Butter
Simple and affordable, homemade pumpkin seed butter is a tasty nut-free spread that can be used in sandwiches or in sauces, smoothies, and baking.
Free from: wheat/ gluten, soy, dairy, egg, fish, shellfish, peanuts, tree nuts
Print
Pin
Rate
Instructions
Add the pumpkin seeds to a food processor or high speed blender. Process until creamy, occasionally stopping to scrape down the sides. Be patient! This will feel like it is taking forever and will never get a buttery texture. Just keep going! The pumpkin seeds will get coarse, crumbly, start to clump together more and more, and then turn into a smooth, buttery texture.

If you choose to add salt or any of the optional flavor additions listed in the body of the blog post, add those once the texture is smooth, then process an additional minute. Note that some additions, like honey or maple syrup or melted dark chocolate, will make the seed butter thicker.

Transfer to a glass jar and close the lid. Store in the refrigerator 3-4 weeks.
Notes
Nutrition information is for a heaping tablespoon.
See body of blog post for optional flavoring additions.
Nutrition
Calories:
89
kcal
|
Carbohydrates:
2
g
|
Protein:
5
g
|
Fat:
8
g
|
Saturated Fat:
1
g
|
Sodium:
1
mg
|
Potassium:
129
mg
|
Fiber:
1
g
|
Sugar:
1
g
|
Vitamin C:
1
mg
|
Calcium:
7
mg
|
Iron:
1
mg