This turkey avocado sandwich is a delicious healthy lunch, packed with vegetables and balanced with lean protein, healthy fats, and whole grains.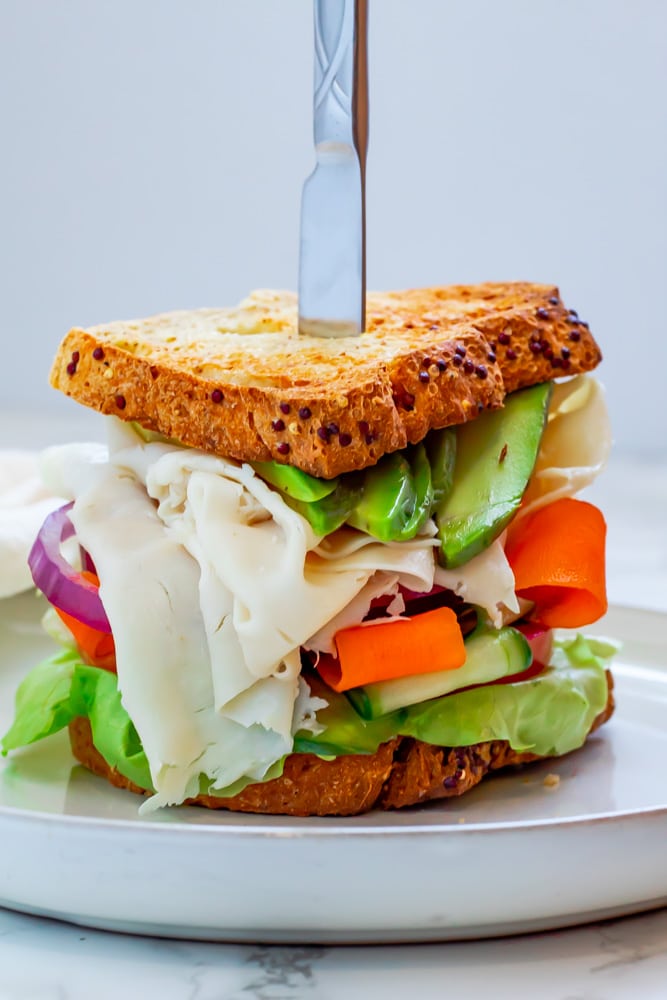 Sandwiches tend to have a bad reputation in our low carb-crazed society, which makes me so sad!
I'm not a fan of extremism in any form, but as a dietitian nutritionist, I'm 100% not a fan of extreme, all-or-nothing mindsets when it comes to our individual nutrition and lifestyles.
What does this mean? Well, in this case, it means that if you like sandwiches, they can absolutely be a part of a healthy lifestyle!
Healthy Sandwich Upgrades
Small changes, additions, and swaps can make a dramatic impact to both the nutrition of a meal and to an overall healthy lifestyle. And sandwiches are a meal where this definitely applies. Check out some of my sandwich upgrades that up the nutritional value:
Whole Grain Bread: choosing a 100% whole grain based bread adds micronutrients and fiber. It can be as simple as as finding a bread labeled 100% whole wheat! If you need a gluten-free bread, like myself, you can still opt for a whole grain option.
Lean Protein: adding protein to a sandwich can help make the sandwich more satisfying and a more balanced meal.
Healthy Fats: healthy fats, like avocado, can help make a meal and sandwich more satisfying from a fullness and a taste perspective, as often they add different tastes and textures.
Vegetables: while I'm always a fan of adding more veggies on the side, you can totally sneak in a serving (at least!) of vegetables on the sandwich itself! This will add fiber, textures, tastes, volume, and a greater variety of micronutrients.
Some of my favorite vegetables for sandwiches include leafy greens (I used a butter lettuce here, but spinach is another favorite), tomatoes, red onion, cucumbers, and even carrots! I love using a vegetable peeler to slice cucumbers and carrots to create long vegetable ribbons that stay on the sandwich easier.
I also love adding a spread for more flavor, but instead of something like mayo (which I personally just don't really enjoy the mouthfeel of), I prefer something that can add different textures, tastes, and even nutrition.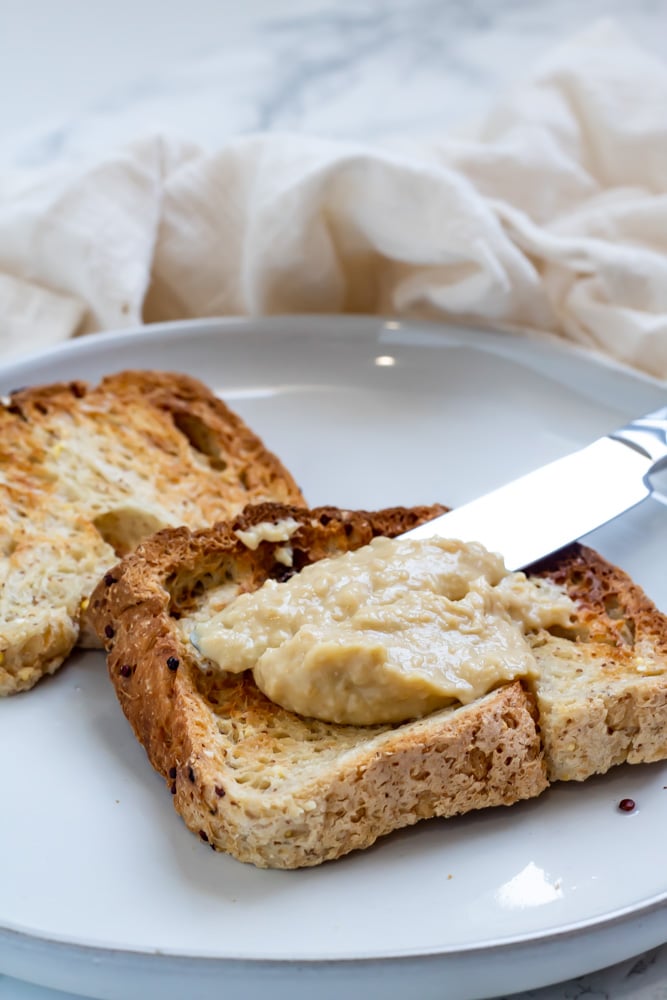 Here I used one of my favorite swaps, and used hummus instead of mayo. This little swap saves on saturated fat, calories, and adds a little more fiber and protein and a LOT more flavor (especially with all the flavored hummus options!). Some of my other favorite sauces and spreads include romesco sauce, healthy honey mustard sauce, cranberry sauce, and the spinach basil pesto from my free "Eat Your Veggies" ebook.
How to Make a Turkey Avocado Sandwich
To make the sandwich itself, it's pretty simple!
Toast your bread of choice.
Spread hummus (or other spread of choice) on one side of toast.
Layer on turkey, vegetable ribbons or slices, and avocado slices.
Top with remaining piece of bread and enjoy!
Now for a few potential questions I anticipate (and often am asked by clients):
What kind of turkey should I use?
Your choice! You can use a deli turkey, like pictured here, or even leftover turkey (like from Thanksgiving!). If you're choosing a deli turkey, look for one lower in sodium.
How do I choose a healthy bread?
Healthy is subjective, so what may be healthy for one (i.e. gluten free) may not be healthy for another. In general, I usually recommend looking for a bread that is lower in added sugar and higher in fiber.
How do I choose a good avocado?
When choosing a ripe avocado, consider color and feel. The avocado should slightly give way when firm but gentle pressure is applied (don't use your fingertips - you don't want to use too much pressure and bruise the avocado!). The color at this point is usually darker, but there can be some variability.
If you have a couple almost ripe or ripe avocados and you don't need to use them all at once, try storing them in the refrigerator to slow ripening by a day or two.
More Sandwich & Wrap Recipes
Like this avocado turkey sandwich with all the veggies? Pin it for later and share to Facebook and Instagram!
Turkey Avocado Sandwich with Veggies
This turkey avocado sandwich is a delicious healthy lunch, packed with vegetables and balanced with lean protein, healthy fats, and whole grains.

free from: dairy, soy, egg, fish, shellfish, peanuts, tree nuts, gluten/ wheat optional
Print
Pin
Rate
Ingredients
2

slices

whole grain bread, toasted

(gluten free if necessary)

3

oz

low sodium turkey breast

¼

hass avocado

sliced

1

tablespoon

hummus

2

slices

tomato

3

leaves

butter lettuce

¼

carrot

¼

cucumber

2

slices

red onion
Instructions
Spread hummus on the inside of one piece of toasted bread. Layer on vegetables, turkey, and avocado, then top with remaining piece of toasted bread. Serve and enjoy.
Notes
Nutrition information will vary based on exact brand of bread, hummus, and types/ amounts of vegetables used.
Nutrition
Calories:
395
kcal
|
Carbohydrates:
38
g
|
Protein:
37
g
|
Fat:
12
g
|
Saturated Fat:
2
g
|
Cholesterol:
71
mg
|
Sodium:
344
mg
|
Potassium:
809
mg
|
Fiber:
11
g
|
Sugar:
8
g
|
Vitamin A:
4615
IU
|
Vitamin C:
19
mg
|
Calcium:
106
mg
|
Iron:
4
mg