This Instant Pot cranberry sauce has just a few ingredients and is much lower in sugar than traditional cranberry sauces. All because of another fruit - unsweetened applesauce!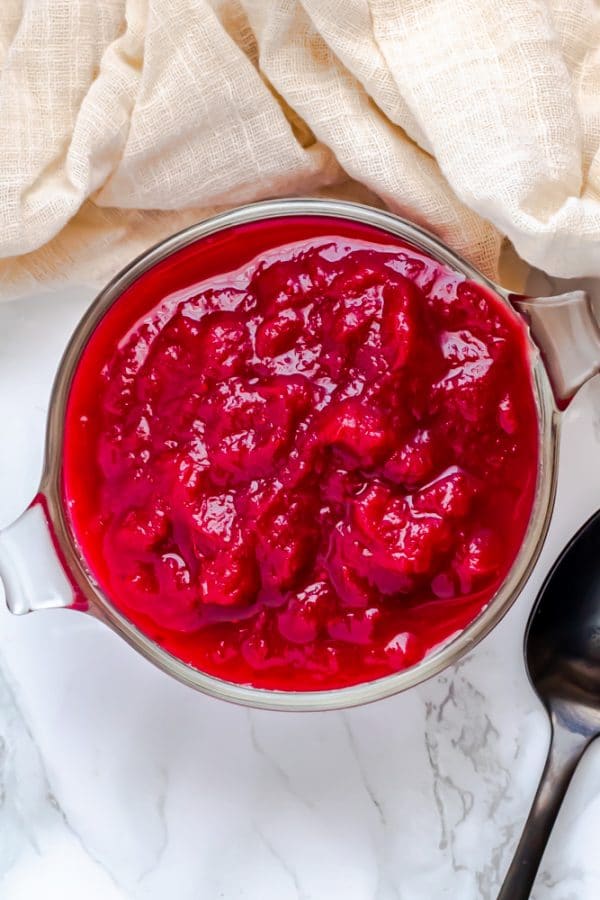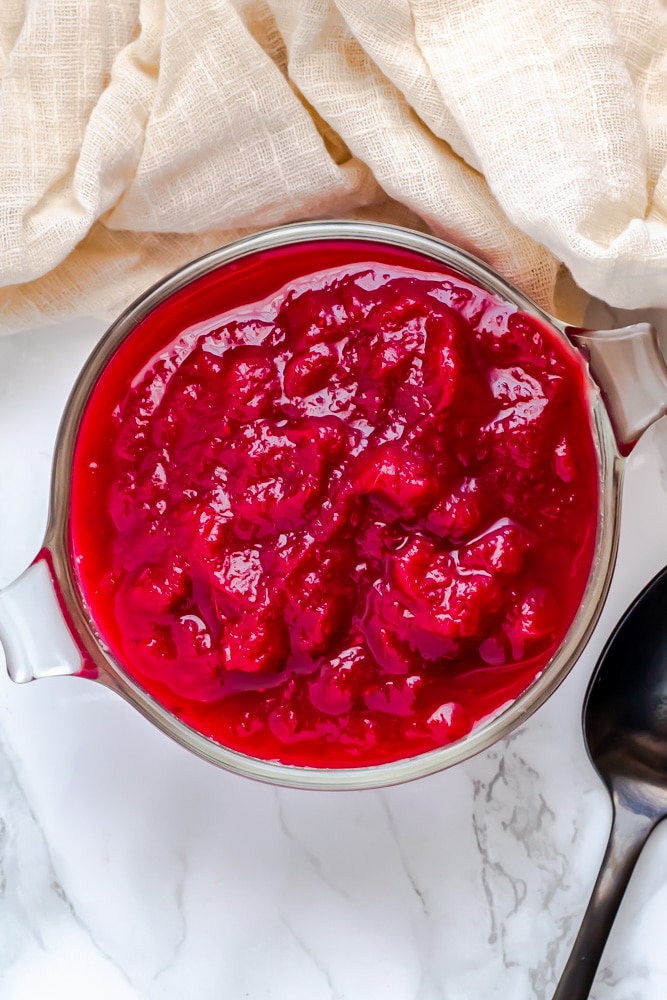 This post may contain affiliate links and as an Amazon associate I earn a small commission from qualifying positions at no additional cost to you.
Thanksgiving is next week (!!) - can you believe it? I've long made my apple cranberry sauce for Thanksgiving, and while I love the combination of apples and cranberries, I wanted to make a couple tweaks to both ingredients and methods compared to my OG cran sauce:
This cranberry sauce involves just simmering the cranberries in water. With my original recipe, the cranberries were simmered in apple juice or apple cider, which added more sweetness when the juice was reduced.
This uses the Instant Pot!
Why the Instant Pot?
Cranberry sauce is kind of perfect for the Instant Pot. It allows the cranberries to get super tender pretty quickly, but most importantly? Especially on a busy cooking day like Thanksgiving where the stove top is prime real estate? This frees up the stove top for other dishes if you're making it the day of.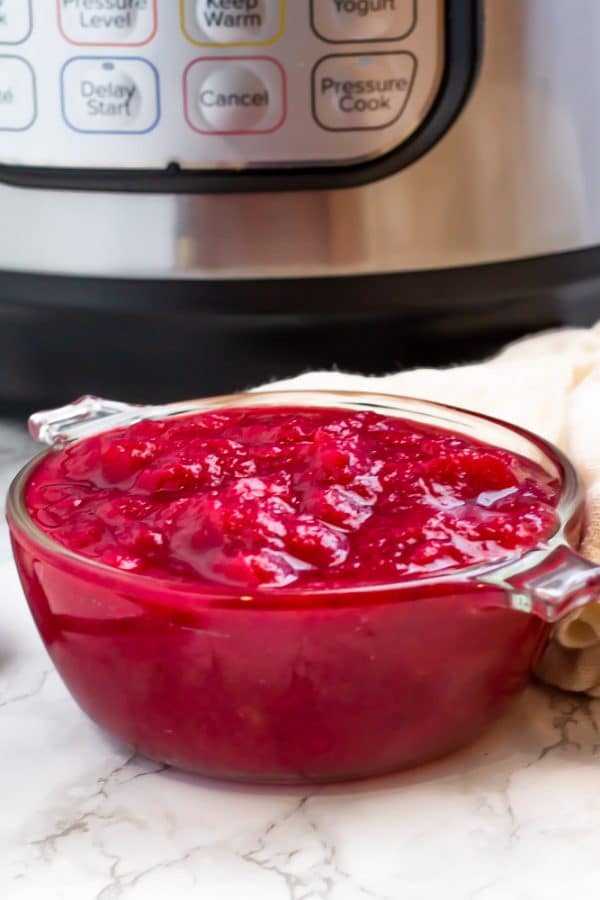 How to make cranberry sauce in the Instant Pot
First things first: obviously you need an Instant Pot! I have an 8 quart Instant Pot that I love (the bigger size makes even things like a chicken or turkey breast or huge head of cabbage no problem!). For this recipe, a 6 quart Instant Pot would also work.
Then the only ingredients you need are fresh cranberries, water, applesauce, and brown sugar.
Add washed cranberries and water to the Instant Pot, close it and seal it, and then set it on a manual high pressure cycle for five minutes.
When the cycle is complete let it naturally release for 10-15 minutes. Vent the seal to ensure all pressure is out. When safe (when the red button pops down), open the Instant Pot.
Use a potato masher or fork to mash all of the softened cranberries. Pour in the applesauce and brown sugar and stir until all of the brown sugar is dissolved. Let cool prior to serving.
Why not just add all the ingredients at the beginning before cooking?
I never tested it that way, and here is why:
If there is not enough thin liquid or the liquid/ sauce is too thick (like a tomato sauce), it can trigger a burn message. The applesauce is a thicker consistency, and along with the brown sugar, help thicken the cranberry sauce.
My concern is that mixing the applesauce and brown sugar with the water will make the overall amount of liquid too thick and you wouldn't have a successful cranberry sauce.
Ingredient substitutions/ sugar swaps
With such minimal ingredients, there really isn't any need for substitutions. That said, I know different people prefer to use different types of sugar. Generally, any sweetener will work. I find liquid sweeteners (like honey and maple syrup) make the final cranberry sauce texture ever so slightly thinner. Cane sugar or light or dark brown sugar will work.
I find coconut sugar to not lend the same level of sweetness as cane or brown sugar, but if you prefer a more tart cranberry sauce, go that route.
Just remember - when it comes to sugar, ultimately it's not the type that matters most, but the amount.
Now what about stevia? Personally, I'm not usually the biggest fan of stevia-sweetened products (with the exception of Lily's Chocolate!), but if that's your thing, give it a try and let me know how it turns out!
Will cranberry sauce thicken as it cools?
Yes! Don't be alarmed if your cranberry sauce seems a little on the thin side after stirring in all your ingredients. As it cools it will thicken.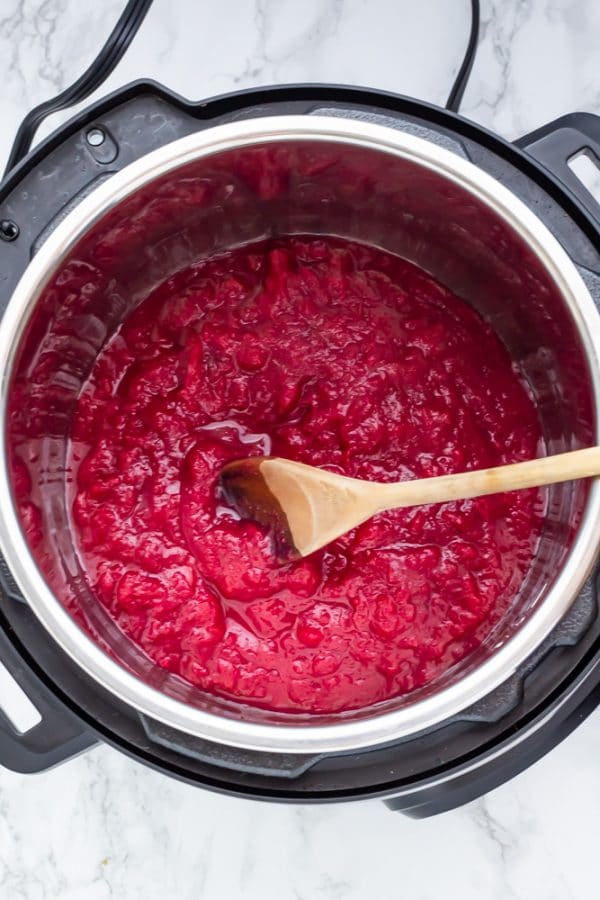 Can I make this on the stove if I don't have an Instant Pot?
Yes. Bring the water and cranberries to a boil in a medium-large pot over medium-high heat. Once boiling, reduce the heat and simmer about 15 minutes, or until cranberries are bursting. From there, you can mash any more intact pieces of cranberries if you desire, then stir in the applesauce and brown sugar. Remove from heat and let cool before serving or storing.
Can it be made in advance?
Totally! In fact, I find cranberry sauce to be one of the easiest things to make in advance for Thanksgiving. It helps, too, that you can keep it in the refrigerator or the freezer.
How long does cranberry sauce last?
REFRIGERATOR: homemade cranberry sauce will keep in the refrigerator up to one week.
FREEZER: homemade cranberry sauce can be frozen in an airtight container up to one month for best results.
How much cranberry sauce do you need per person on Thanksgiving?
While there will be some variability if your crowd is very pro-cranberry sauce or not, I find that planning a quarter cup of cranberry sauce per person is a good average. Some folks won't like cranberry sauce, and others will use a heavy hand with the cranberry sauce spoon, but stick with a quarter cup per person and you'll likely make out just fine!
How should I serve it?
While you may see some pretty presentations with cranberry sauce poured over sliced turkey on beautiful platters, I prefer to simply serve the cranberry sauce in a small serving bowl with a serving spoon or a small ladle. This way each guest can choose if they want any, and how much.
What goes well with cranberry sauce?
Cranberry sauce is delicious on its own, but a few other ideas include:
With protein (i.e. with turkey on Thanksgiving day, or as a glaze on baked chicken or salmon)
As a "jam" on a roll or biscuit
Stirred into oatmeal or yogurt
On toast
Be sure to check back later this week for a post on ways to utilize leftover cranberry sauce!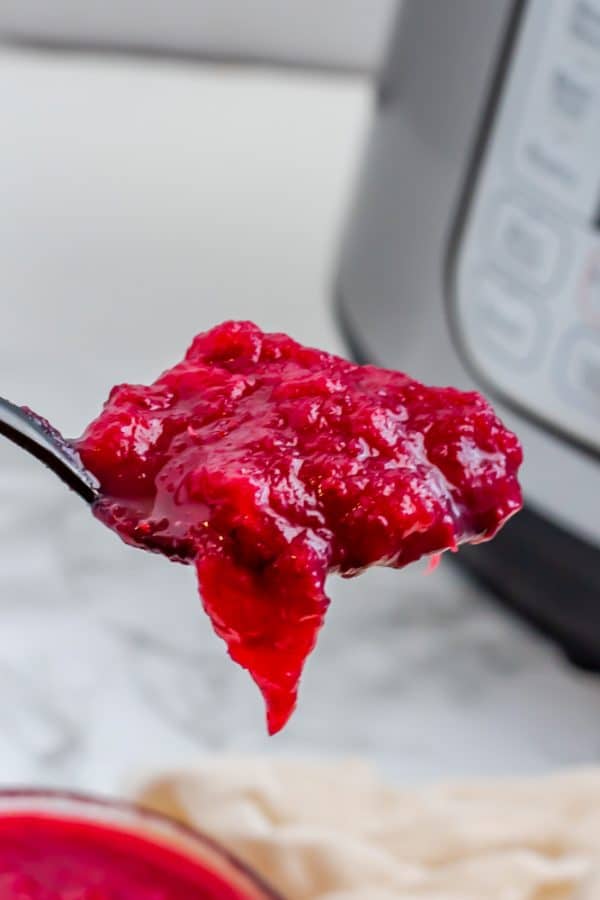 Can this Instant Pot cranberry sauce be canned?
I would advise against it. Canning requires precision with pH balance for food safety and I do not know if this recipe is appropriate for safe canning.
Is this cranberry sauce healthy?
Healthy is incredibly subjective, but generally while I wouldn't necessarily say this is "clean" and "healthy", I think my Instant Pot cranberry sauce is a healthier option than more traditional cranberry sauces. While it still contains sugar, overall it has more fruit, more micronutrients, and less added sugar. It's definitely my top pick for a bit healthier cranberry sauce that doesn't sacrifice taste!
Get more healthier, classic Thanksgiving recipes:
Like this recipe? Be sure to pin it to Pinterest and share with your friends and fam on Facebook and Instagram! Live well!
Instant Pot Cranberry Sauce
Easy with just four ingredients, this Instant Pot cranberry sauce has much less added sugar compared to traditional cranberry sauce with the addition of unsweetened applesauce!
free from: wheat/ gluten, dairy, soy, egg, fish, shellfish, tree nuts, peanuts
Cost:
$2.00 per recipe/ $0.17 per serving
Ingredients
12

oz

fresh cranberries

1

cup

water

1

cup

unsweetened applesauce

½

cup

brown sugar
Instructions
Wash cranberries and remove any stems or bad berries. Place cranberries and water in the Instant Pot. Lock and set the Instant Pot lid.

Set the Instant Pot to manual high pressure for 5 minutes. Once cycle is complete, allow for a 10-15 minute natural release of pressure.

Remove lid. Stir in applesauce and brown sugar until sugar is dissolved.

Transfer to a serving dish or storage container and let cool before serving. The cranberry sauce will continue to thicken as it cools.
Notes
One serving is a ¼ cup.
See blog post for stove top method and information on refrigerator and freezer storage and how long it will last.
Nutrition
Calories:
56
kcal
|
Carbohydrates:
15
g
|
Protein:
1
g
|
Fat:
1
g
|
Saturated Fat:
1
g
|
Sodium:
5
mg
|
Potassium:
51
mg
|
Fiber:
2
g
|
Sugar:
12
g
|
Vitamin A:
23
IU
|
Vitamin C:
4
mg
|
Calcium:
10
mg
|
Iron:
1
mg