This apple cranberry sauce has no refined sugar and is low-maintenance to make, making it perfect for holiday gatherings!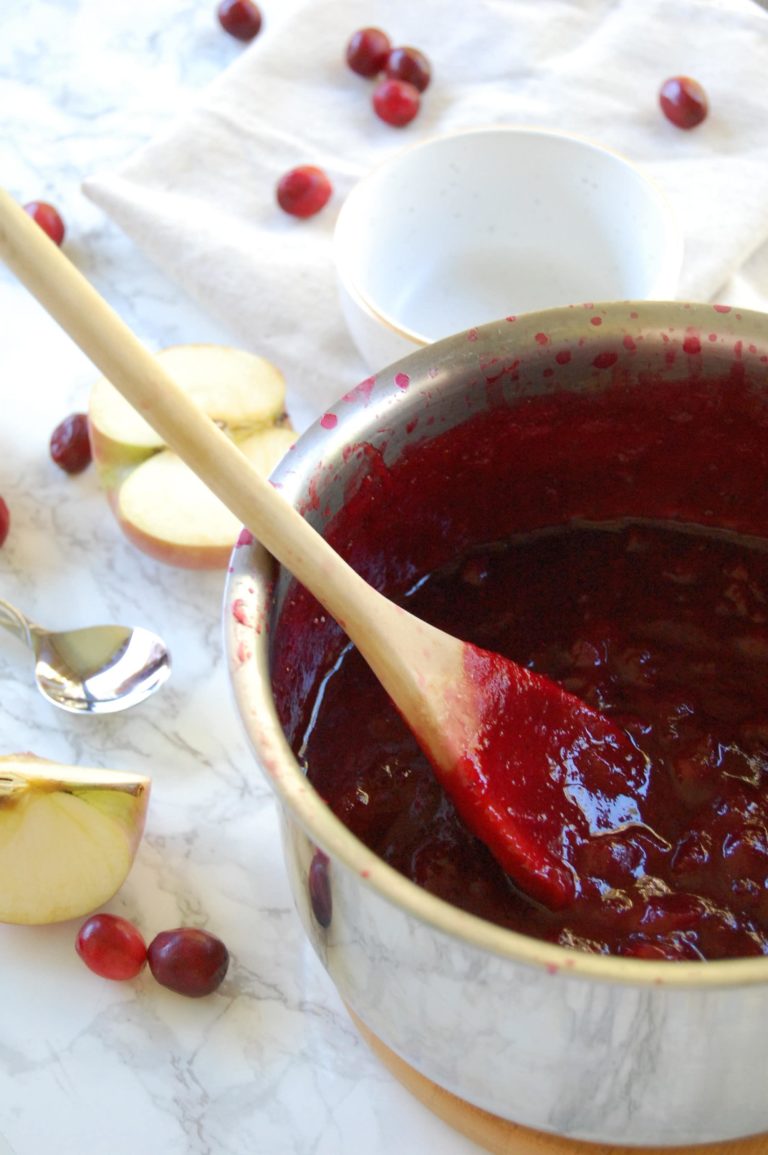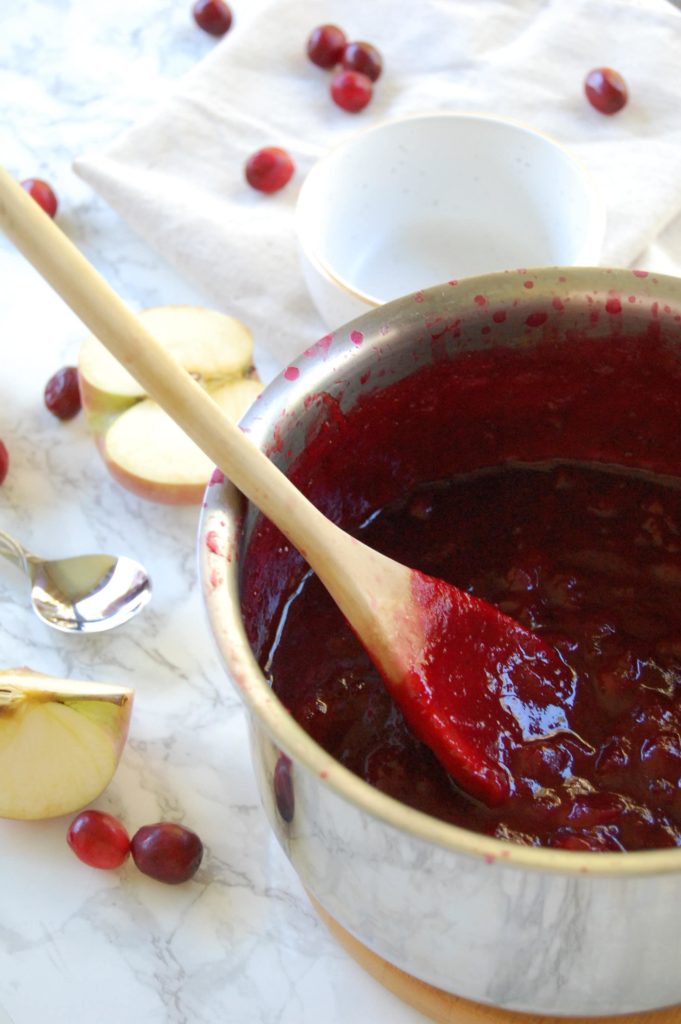 At some point in the first couple years we were married I made a homemade cranberry sauce and my husband quickly became obsessed. Well...I mean...duh. It had over a cup of sugar in the recipe, of course it tasted good!
Every year since my husband requests homemade cranberry sauce. After a few years of experimenting with the recipe, our whole family is now sold on this tried and true lower-sugar (no refined sugar!) apple cranberry sauce.
It's a super simple cranberry sauce. The only ingredients are apple juice or apple cider, applesauce, and cranberries! If you like a tart cranberry sauce, leave it here! If you like a sweeter cranberry sauce, feel free to add a little maple syrup or honey to taste.
Another thing that's great about this recipe is that you can make it in advance. Plus it's crazy low-maintenance. Literally, you just need to throw the three main ingredients in a pot, let it simmer (you'll hear the cranberries start pop-pop-popping!) until the berries have burst and the apple cranberry sauce has thickened - just be sure to stir occasionally! Aside from that, you just have to add a little sweetener at the end, if you so choose, then refrigerate in an airtight container once cool.
And if you're blessed with leftovers, that's almost better than the real thing! Try using leftover cranberry sauce on top of toast, like a jam (seen here with cashew butter, hemp seeds, and pumpkin seeds on ancient grains gluten-free bread).
You can scoop some on top of oatmeal (this is a super seedy oatmeal blend with ⅓ cup oats, ⅓ cup egg whites, ⅔ cup water, ⅓ cup soymilk, 1 tablespoon chia seeds, 1 tablespoon flaxseeds, and a pinch of cinnamon whisked while cooking then blended with an immersion blender).
Or even in a smoothie! Pair some cranberry sauce with Greek yogurt, banana, chia seeds, and even some (steamed + cooled) cauliflower for a veggie that won't affect the pretty hue. 😉
I hope you love it as much as my family does! Be sure to share your thoughts and a pic with us on the NTF Facebook page or tag us @nutritiontofit on instagram!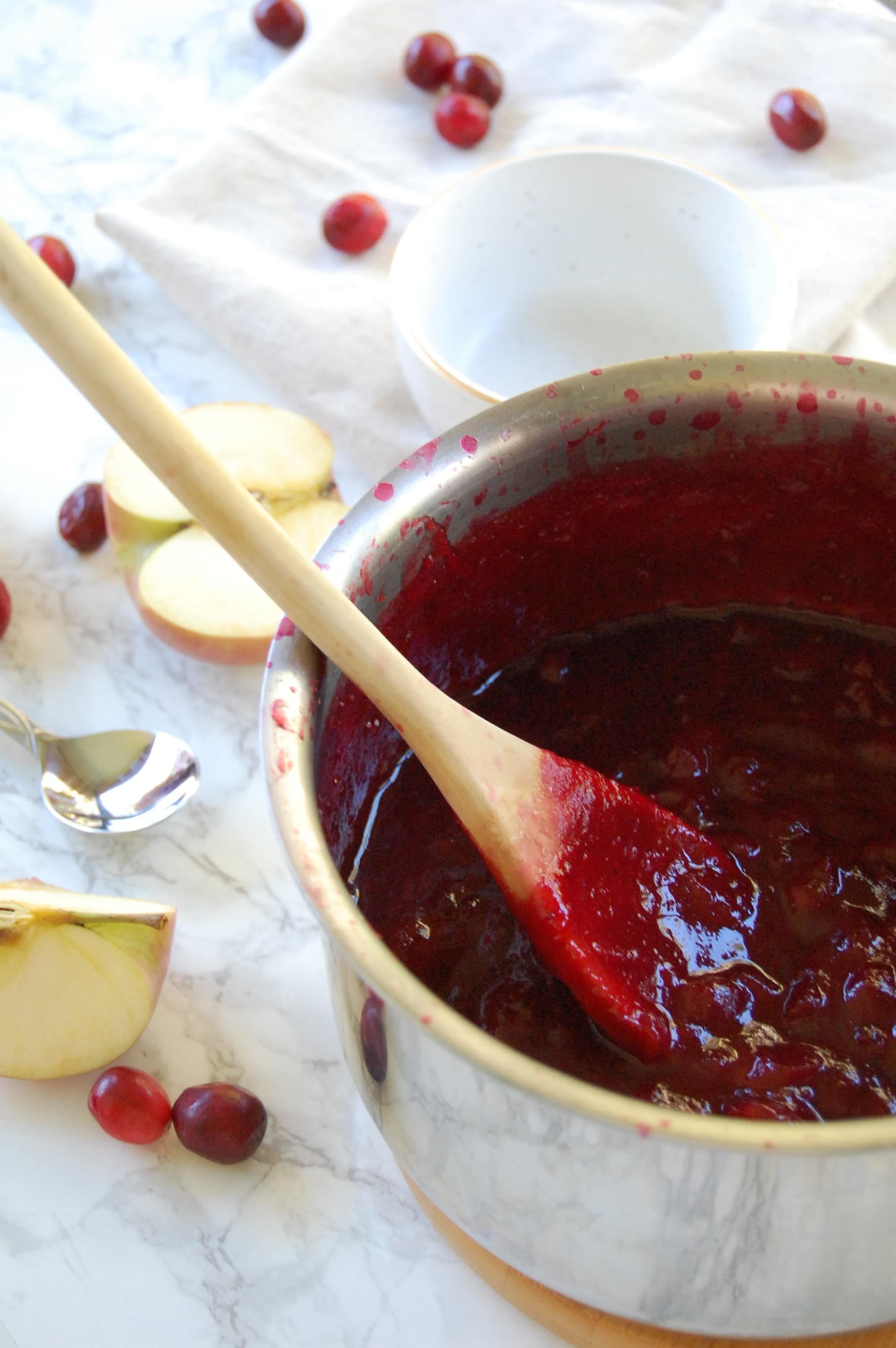 Ingredients
12

ounces

fresh cranberries

½

c.

applesauce

unsweetened

2

c.

100% apple juice or apple cider

optional 2-4 tablespoon sweetener (maple syrup, honey, etc.)
Instructions
Place cranberries, applesauce, and apple juice in a medium sauce pan over medium-high heat and bring to a boil.

Reduce heat to medium and simmer for 30 minutes, stirring occasionally, while allowing much of the liquid to be reduced down.

Taste to check for desired sweetness, and add sweetener if needed. Remove from heat and cool completely.

Transfer to a covered storage container and refrigerate at least 4 hours before serving. Transfer to a serving dish and serve.

Make ahead tip: This is a perfect make ahead recipe! It needs to be refrigerated 4 hours before serving, but you can make it up to 48 hours in advance. No re-heating is necessary, just transfer straight to a serving dish and enjoy.