Ch-ch-ch-chia! This chia pudding is creamy and delicious but a little lightened up with lite coconut milk and naturally sweetened from the addition of pureed mango!

Raise your hand if you love chia pudding! I do - to me, it's reminiscent of the tapioca pudding of my youth. The little chia seeds just swell and plump up with all the absorbed liquid resulting in a creamy pudding-like texture, with a touch of chew from the seeds.
If you're new to chia seeds, they're pretty cool little things! Very absorbent, they plump up to quadruple their size in liquid! They also boast a bunch of nutritional powerhouse benefits. They're a great source of protein and fiber, and also pack some heart-healthy fats. What's not to love?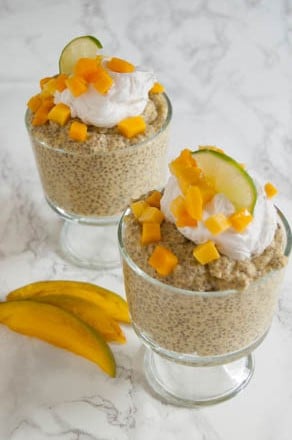 There are so many ways you can make chia pudding - pretty much at least a million recipes on the Internet! But what I love about this one is that it's so basic and simplistic. Plus there's no added sweetener! Most of the recipes I've seen use honey, agave, or maple syrup to sweeten. Which there's nothing wrong with that, but I'd like to sweeten a little more naturally for something I may be enjoying for breakfast. Enter: a nice, creamy fruit. Mangoes are perfect. They're packed with a natural creamy sweetness and their tropical flavor pairs perfectly with the coconut milk in this setting. Plus you get the added vitamins, minerals, and fiber from using fresh fruit!
Please try this recipe, enjoy, and have a great day! Be well!
Mango Coconut Chia Pudding
Ingredients
1

can

13.66 oz lite coconut milk

1

cup

chopped

packed mango (if using frozen mango, make sure it's thawed first)

½

cup

chia seeds

optional: ½ teaspoon lime juice
Instructions
In a blender, combine mango and coconut milk, plus the lime juice if you're using.

Once fully pureed, pour into a container with the chia seeds and carefully stir.

Cover and refrigerate for at least four hours or overnight.

Optional: top with whatever fun garnishes you want! I used whipped coconut cream, fresh mango, lime juice. You can top with more seeds, nuts, any kind of fruit or whatever you want!