This dish packs the creamy comfort of the classic Broccoli Chicken Alfredo, but is naturally gluten free, lighter, and packed with more produce!
Happy Friday! I was hoping I could tell you my baby girl had made her debut by now, since we're past the due date and all, but she seems to be pretty content and cozy so she's allowed to keep cooking...for now! Speaking of cooking, since I've now officially started my maternity leave and have cleaned my house beyond what any sane past-due preggo would do, I've been cooking up a storm! And that's where today's recipe comes in.
I'll be honest...I was totally craving something just super comforting and decadent, like a mac and cheese. And trust me, there is nothing wrong with mac and cheese now and then, but I wanted something with a little more balanced macronutrients and packed with more produce. I remembered I had a pre-roasted spaghetti squash in my fridge and inspiration struck.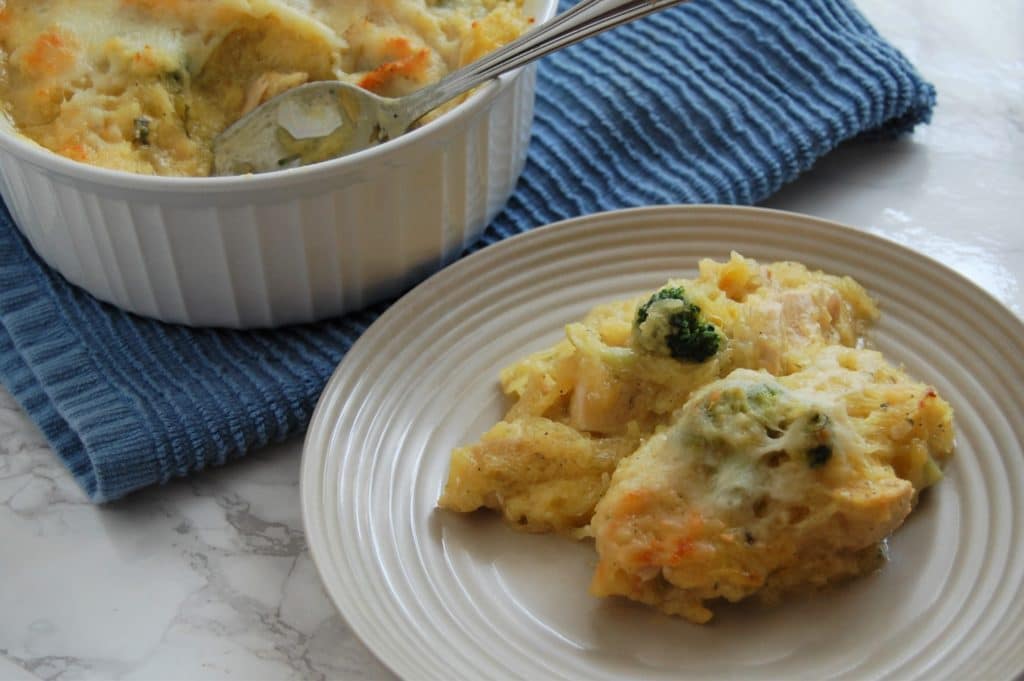 There are a couple ways you can prep this recipe in advance in order to get it on the table faster for family dinner.
Over the weekend or a few days in advance, slice your spaghetti squash in half, place it cut side down on a baking dish, roast at 400 degrees for 45 minutes or until tender, and allow to cool. Place cooled spaghetti squash halves (or go ahead and shred the squash) into a gallon-size bag and it'll be ready to go when you start preparing the rest of the ingredients.
Prep the entire recipe and store in its baking dish, covered, for up to a couple days in advance. When you're ready for dinner, pop it in the oven for 30 minutes.
Bottom line, there are ways to make this dish get to the dinner table a little faster. You can eat it on its own or pair it with some crusty bread and a side salad. Hopefully you'll enjoy it as much as my husband did - he couldn't stop sneaking forkfuls after I photographed this batch. 😉
Spaghetti Squash Broccoli Chicken Alfredo Bake
Ingredients
1 small spaghetti squash (should yield about 4 cups packed shredded spaghetti squash after cooking)
1 boneless, skinless chicken breast, cut into cubes
1-½ cups broccoli florets (frozen is fine, just thaw first!)
1 cup finely shredded mozzarella cheese
⅓ cup finely shredded mozzarella cheese
Instructions
Roast spaghetti squash: cut in half and place cut-side down on baking sheet. Roast at 400 degrees Fahrenheit for 45 minutes, or until squash is fork-tender. Once squash is cool enough to handle, use a fork to shred the squash (it'll be really easy and will reveal spaghetti-like strands!).

In a nonstick skillet over medium-high heat, heat a teaspoon of olive oil. Cook chicken for 5-7 minutes, add main dish seasonings and broccoli, and cook an additional 1-2 minutes, or until chicken is cooked all the way through.

In a large bowl combine shredded spaghetti squash and cooked chicken and broccoli, scraping the skillet clean with a rubber spatula.

Turn heat to medium-low and add a teaspoon of olive oil.

Whisk together milk and corn starch and add to heated olive oil, while whisking. Continue to whisk milk mixture for 3-4 minutes as milk begins to thicken. Add cheese, salt, and garlic powder to thickened milk and continue to whisk until cheese is evenly incorporated.

Pour sauce over squash, broccoli, and chicken mixture and stir to combine.

Prepare a 1-½ quart baking dish by spraying with a nonstick cooking spray. Pour spaghetti squash mixture into the baking dish and top with ⅓ cup finely shredded cheese.

Bake at 350 degrees Fahrenheit for 30 minutes.