This citrus kale salad is a massaged with a simple grapefruit vinaigrette for a satisfying salad packed with delicious flavors and textures. Perfect for winter citrus season!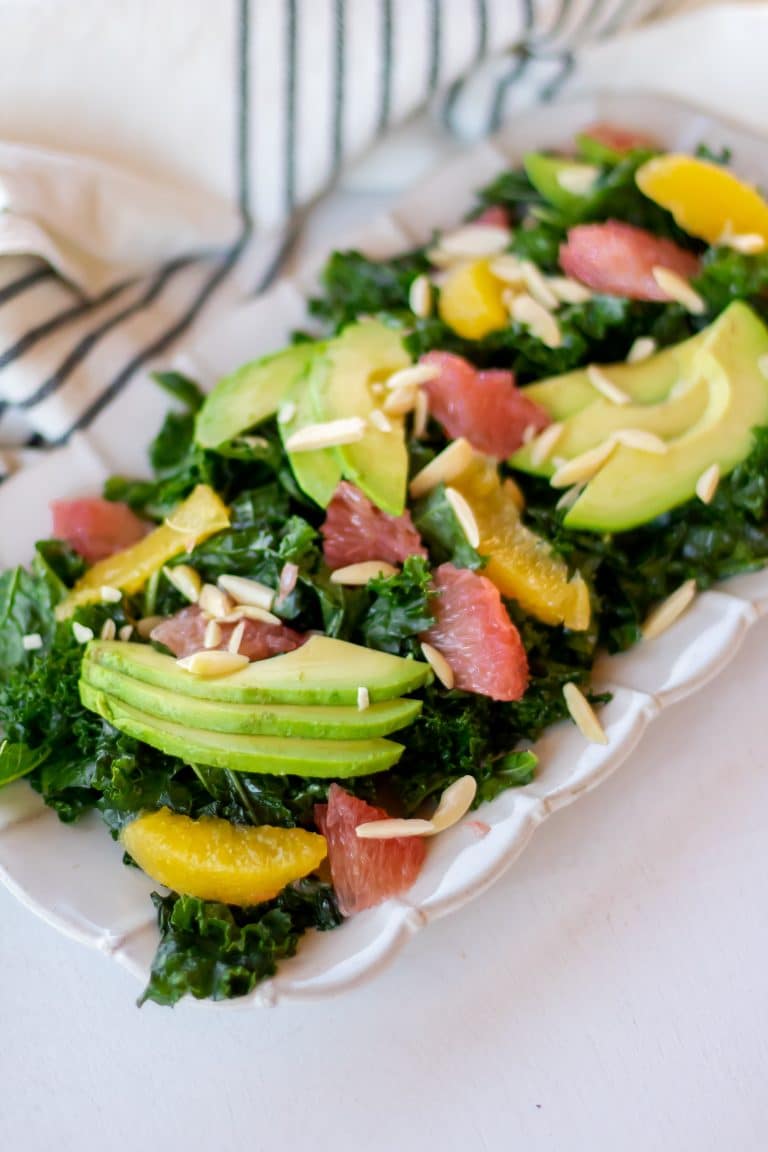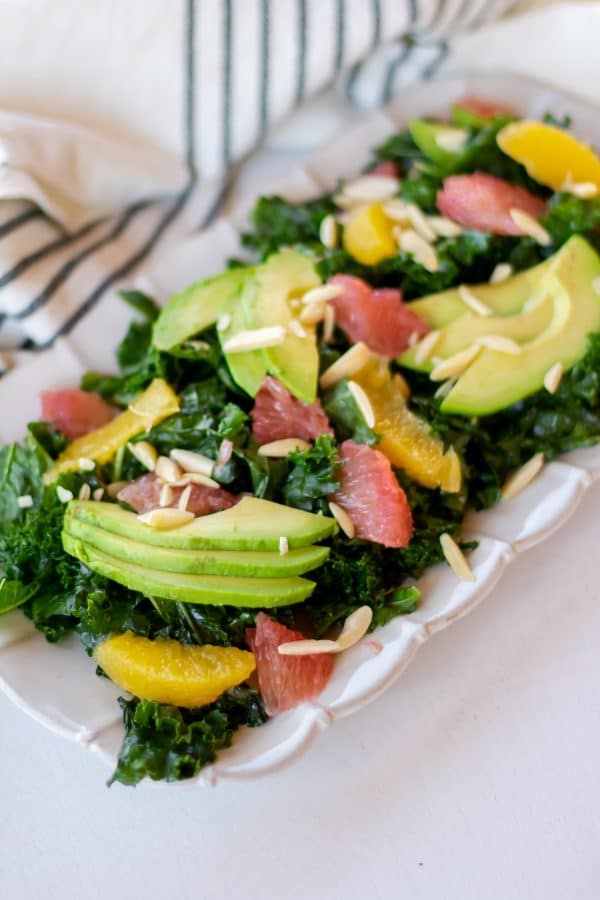 Citrus Kale Salad
This citrus kale salad was totally inspired by my super delicious and popular winter kale salad recipe.  While that version boasts dried cranberries, goat cheese, and a cranberry vinaigrette, this citrus kale salad takes a few different flavors, while still combining all the textures and nutrients for one satisfying salad.
The kale is massaged with a delightful grapefruit vinaigrette. I used the juice from half a fresh grapefruit, but you could totally use bottled 100% grapefruit juice if that's what you have on hand or prefer. Gosh - even if you're not a big grapefruit fan but still want to try this salad, you could even use orange juice instead!
Then of course - the toppings. Y'all know that when it comes to salads, I'm in it for the toppings. Leafy greens are great and all, but I love using toppings as a way to add flavors, textures, and other nutrients for a more balanced meal.
Here we've got segments of grapefruit and oranges for bright pops of citrus flavor. Creaminess and healthy fats are added with sliced avocado. Almond slivers (use sunflower seeds if allergic) add great texture and more fiber and healthy fats. Finally, just a little bit finely chopped fresh mint throughout the massaged kale salad adds just another dimension of flavor that makes it even more satisfying to your taste buds!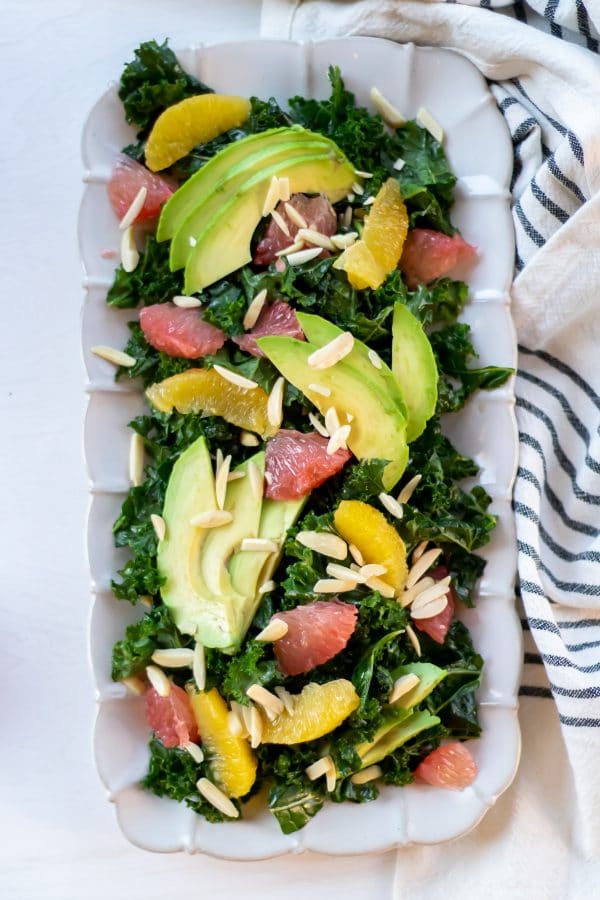 How to Make Citrus Kale Salad
Like the original winter kale salad, this citrus kale salad with grapefruit vinaigrette really is pretty simple!
Toss your grapefruit vinaigrette ingredients into a small mason jar. Seal, shake until combined, then pour over your kale. (No jars? You can totally use a small bowl and whisk or fork, too.)
Next it's time to massage your kale. Yup - massage. Every time I talk about a massaged kale salad there are always questions! I'll try to make a video soon, but basically quite literally massage (or rub or knead) the vinaigrette into the kale leaves. This will help the kale tenderize (making it less chewy and more tolerable to many compared to raw, untouched kale), and many say they feel massaged kale is less bitter tasting.
I usually let my massaged kale salad then sit for 30 or so minutes in the fridge (or even up to a day, if I'm making it in advance). When I'm ready to eat, I add my toppings (grapefruit and orange segments, sliced avocado, and almond slivers) and dig in!
Now, let's chat about the mint. I have mint listed as an optional ingredient here, primarily because I know how annoying it can be to buy a large package of a fresh herbs when you only need a small amount, and I don't want that to stop you from making this salad. Truthfully this salad still tastes great without it. But, if you're looking for another little pop of flavor, just chop some mint and add it to your kale before you add the grapefruit vinaigrette. Especially when you let the flavors sit and mingle for a while, the mint really gets drawn out!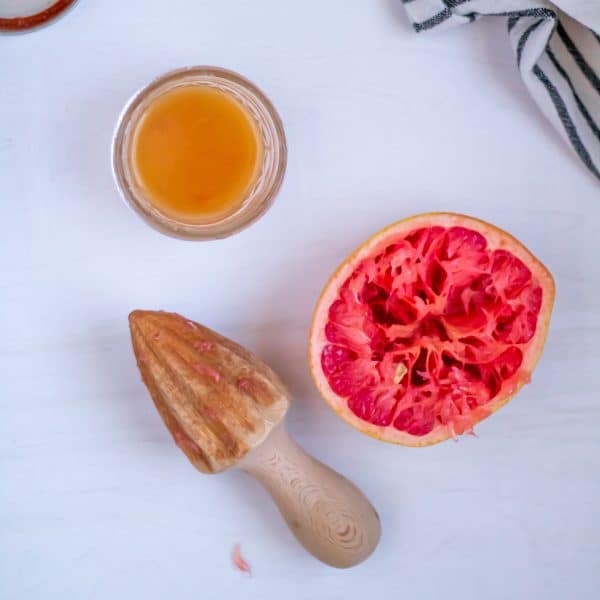 How to Turn a Salad Into a Balanced Meal
Now I will say - I wrote this recipe to act as more of a side dish to accompany the rest of a meal. So if you're looking to make a full meal out of this salad, be sure to do a couple things:
Portion enough salad for a meal versus a side portion . You need enough energy to sustain you for a few hours so you can go about focusing on and enjoying your day.
Add some protein. Most individuals will need a little more protein from a meal than this salad provides. Pair it with leftover shrimp or salmon from last night's dinner, or add some grilled chicken, chickpeas, or lentils on top. Try pairing it with my foolproof instant pot salmon or crunchy roasted chickpeas!
Consider your needs and possibly adding some complex carbs. Some people will feel super nourished and satisfied from eating this salad with some protein and be done there. Others may need a little extra carbs, like baked sweet potato fries, whole grain toast, or even some quinoa added to the salad. Check in with yourself and your current hunger levels, how long you need this meal to sustain you, and again - add away! Try pairing it with my spiced baked sweet potato fries, sweet potato carrot soup, or an oatmeal banana muffin.
Looking for More Easy, Healthy Salads Loaded with Toppings?
Try some of the most popular Nutrition to Fit salad recipes:
As always, when you try a NTF recipe, be sure to comment and rate the recipe below so others may see! And of course, take a picture of your finished creations and tag me on social media - @nutritiontofit and #nutritiontofit. I love seeing my recipes being enjoyed by you, and love to reshare your pictures on my social media accounts, too! Live well!
Citrus Kale Salad with Grapefruit Vinaigrette
This citrus kale salad is a massaged with a simple grapefruit vinaigrette for a satisfying salad packed with delicious flavors and textures. Perfect for winter citrus season!
free from: wheat/ gluten, dairy, soy, fish, shellfish, eggs, peanuts, *tree nuts optional (sub sunflower seeds for almonds)
Print
Pin
Rate
Ingredients
Grapefruit Vinaigrette
¼

cup

grapefruit juice

(about half a grapefruit)

2

tablespoon

avocado or olive oil

1

teaspoon

honey

⅛

teaspoon

salt
Citrus Kale Salad
8

cups

chopped kale

(remove stems)

1

tablespoon

chopped mint

(optional)

½

grapefruit

segmented

1

naval orange

segmented

½

avocado

sliced

2

tablespoon

slivered almonds
Instructions
Combine the grapefruit vinaigrette ingredients in a small mason jar, seal, and shake until thoroughly incorporated. Alternatively, you can whisk ingredients together in a small bowl.

In a large bowl, add chopped kale, optional chopped mint, and the grapefruit vinaigrette. Massage the vinaigrette into the kale by kneading and rubbing it into the kale leaves, tenderizing the kale.

While the salad can be enjoyed right away, you can also allow the flavors to really develop and kale to become extra tender by setting the massaged kale in an airtight container in the fridge for 30 minutes or up to one day.

When ready to serve, top with remaining salad ingredients and enjoy.
Nutrition
Calories:
237
kcal
|
Carbohydrates:
25
g
|
Protein:
7
g
|
Fat:
14
g
|
Saturated Fat:
1
g
|
Sodium:
126
mg
|
Potassium:
939
mg
|
Fiber:
3
g
|
Sugar:
8
g
|
Vitamin A:
13870
IU
|
Vitamin C:
194.3
mg
|
Calcium:
237
mg
|
Iron:
2.4
mg