This mango chicken salad with cilantro lime dressing is a fresh and flavorful salad perfect to keep you energized in warmer months. Naturally gluten-free and dairy-free, this mango chicken salad is full of protein, fiber, vitamin A, vitamin C, and antioxidants. Save this recipe for later with Pinterest.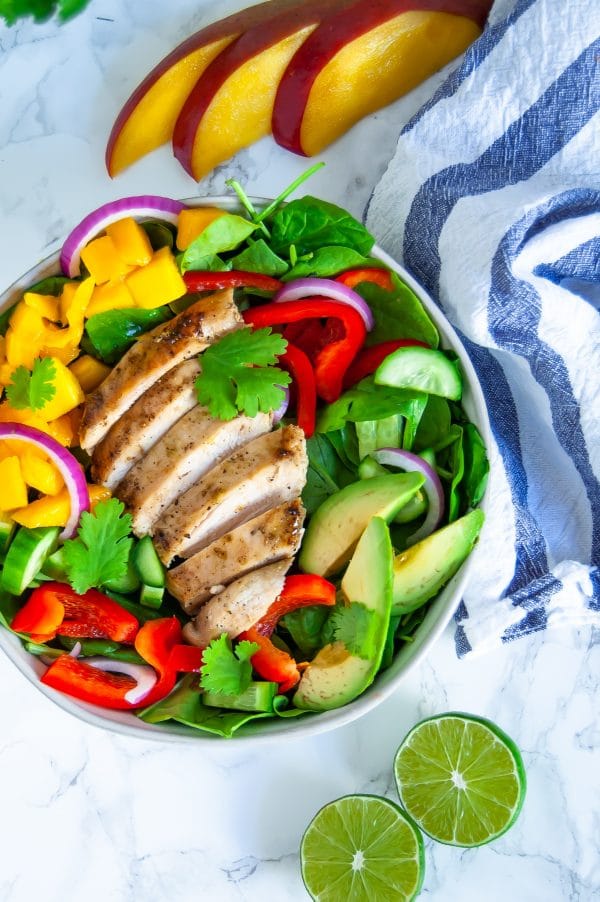 When it comes to salads, I'm all about the toppings - and this mango chicken salad with cilantro lime dressing is no exception. Sure, it contains a bed of spinach that's packed with nutrition, but the real goodness is on top. A salad with a good toppings game can add so much textural variety, flavor, and nutrition, too! And that's exactly what my mango chicken salad achieves!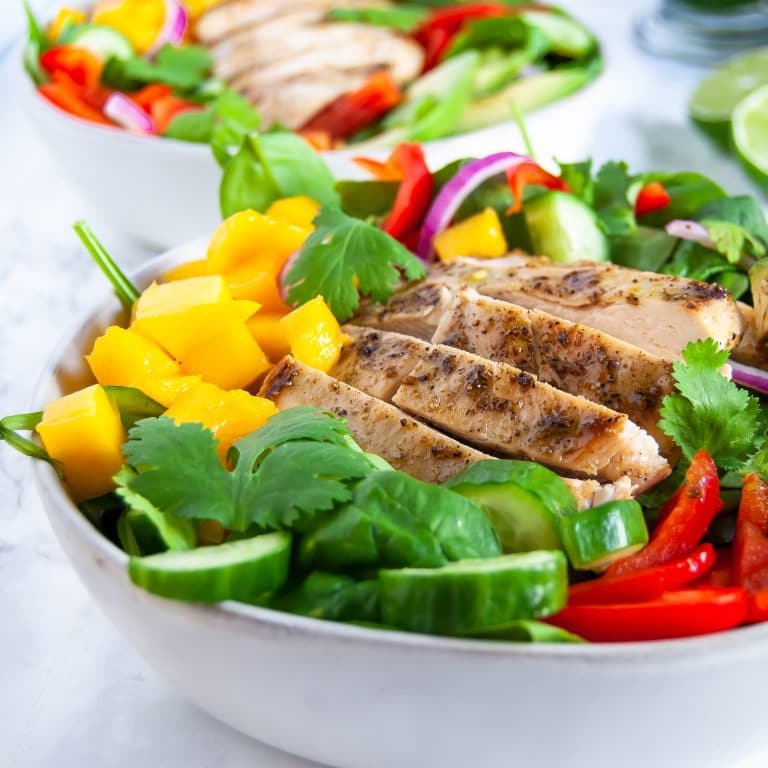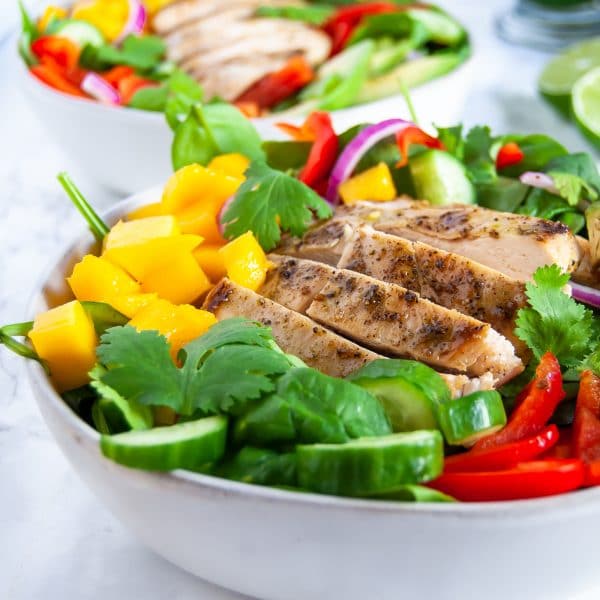 How to Make Mango Chicken Salad with Cilantro Lime Dressing
Making this mango chicken salad with cilantro lime dressing is pretty easy. The recipe in its entirety can be found below, but here are a few additional notes on substitutions and steps you can take along the way to make things even easier for the busiest of days.
I love cooking in my cast iron skillet, but you can totally cook the chicken in any skillet. Want to prep ahead? Feel free to grill or bake some chicken breasts ahead of time, or even grab a plain rotisserie chicken. The chicken can be sliced or even shredded and tossed with the cilantro lime dressing.
I used fresh mango here, but frozen mango holds up pretty well. You can certainly prep this salad ahead of time with already-chopped frozen mango and they'll be thawed perfectly by the time you're ready to eat.
If you're like me and usually have a batch of easy guacamole in the fridge, you can totally swap a spoonful of guac instead of fresh sliced avocado.
Feel free to add in or sub other veggies that work for you. I used red bell peppers, purple onion, and cucumbers, but other vegetables like tomatoes, zucchini, carrots, and celery would work, too.
Now, while I can say this mango chicken salad and my cilantro lime dressing were basically made for each other 😉 if you're in the group of people who can't stand cilantro, you can try using some sort of berry vinaigrette or poppy seed dressing instead.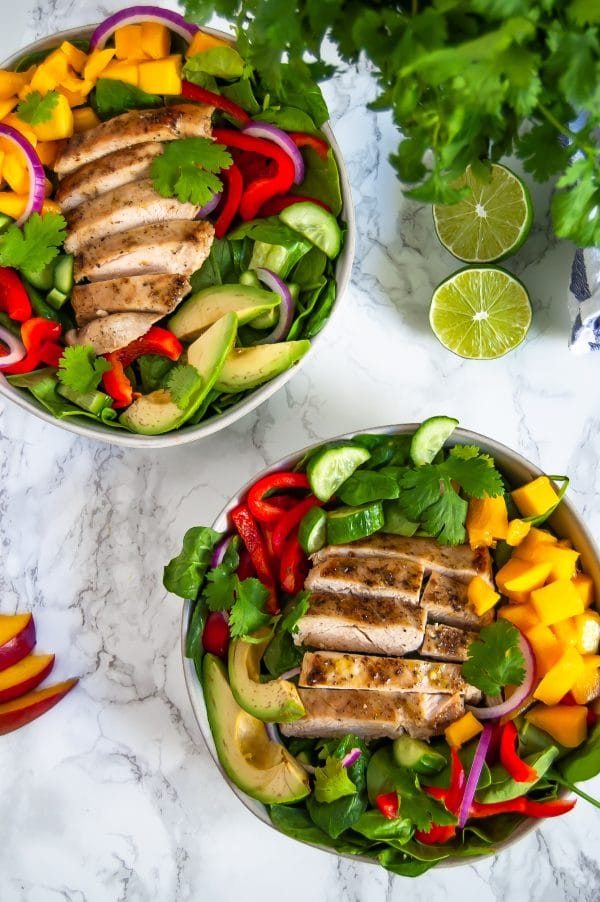 Mango Chicken Salad Health Benefits
This mango chicken salad with cilantro lime dressing has a variety of flavor and texture additions that also happen to add some great nutrition and health benefits.
Chicken packs a protein punch in this mango chicken salad, but contains a variety of other nutrients, like Vitamin B3, selenium, Vitamin B6, phosphorus, choline, pantothenic acid, and Vitamin B12.
Mango is a delicious tropical fruit that adds natural sweetness to this mango chicken salad, but also provides fiber, Vitamin A, Vitamin C, potassium, and Vitamin B6.
Spinach is a dark leafy green that contains protein, calcium, non-heme iron, magnesium, potassium,Vitamin A, and folate.
Red bell peppers are antioxidant-loaded vegetables rich in Vitamin C, Vitamin B6, folate, fiber, manganese, magnesium, potassium, phosphorus, protein, and selenium.
Cucumber is an incredibly hydrating fruit (yes, it's technically a fruit even though many think of it as a vegetable) that is full of fiber, Vitamin C, Vitamin K, magnesium, potassium, and manganese.
Avocado is popularly known for being a healthy fat, as it's full of monounsaturated and polyunsaturated fats. It's also a sugar-free fruit full of fiber and vitamins and minerals including Vitamin K, Vitamin E, folate, pantothenic acid, copper, Vitamin C, thiamin, niacin, riboflavin, and Vitamin B6.
Red onion contains biotin, copper, Vitamin B6, Vitamin C, manganese, phosphorus, fiber, folate, and Vitamin B1.
Cilantro is basically the first stage of a coriander plant's life cycle, as it's the leaves of the coriander plant and seeds. Cilantro leaves are full of Vitamin K, Vitamin C, and Vitamin A.
Lime is a refreshing member of the citrus family that is rich in Vitamin C and folate.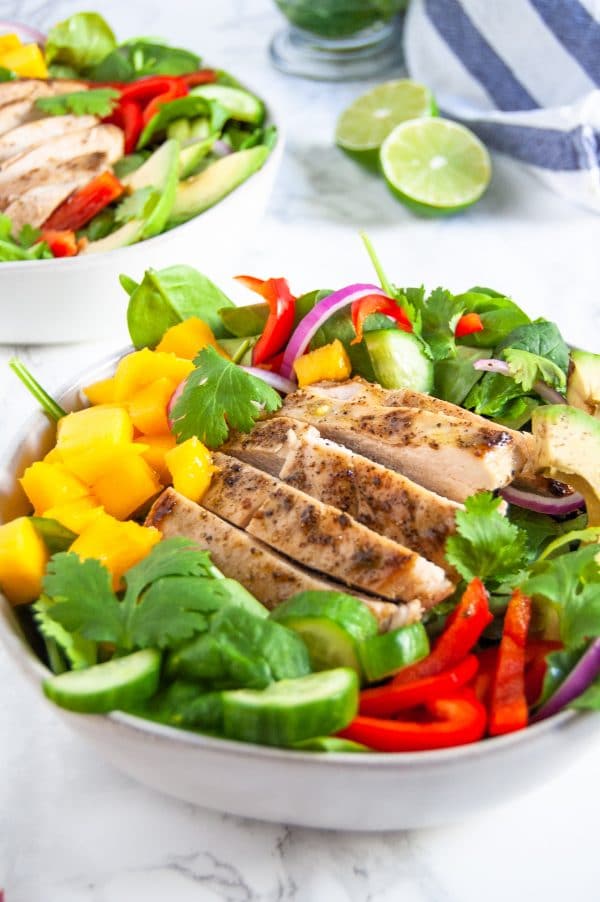 Looking for more easy, healthy salad recipes?
Try these Nutrition to Fit faves:
When you give this mango chicken salad with cilantro lime dressing a try, be sure to rate the recipe below and share a pic to social media (don't forget to tag @nutritiontofit and #nutritiontofit!). And you can always save it to Pinterest to make later! Live well!
Mango Chicken Salad with Cilantro Lime Dressing
Ingredients
For the Chicken:
2

chicken breasts

boneless, skinlesss

salt and pepper

2

teaspoon

coconut oil

or other oil

2

tablespoon

cilantro lime dressing
For the Salad:
¼

cup

cilantro lime dressing

4

cups

spinach

packed

1

cup

mango

diced

½

cup

red bell pepper

sliced

½

cup

cucumber

sliced

½

avocado

sliced

optional garnish: red onion slices, cilantro leaves
Instructions
To prepare the chicken:
Heat a cast iron skillet over medium heat (other skillets can be heated over medium-high heat).

Place chicken breasts in a large plastic bag or between sheets of plastic or parchment paper. Pound until the chicken breasts are an even thickness, no more than one inch thick.

Season both sides of the chicken breasts with salt and pepper.

Once skillet is hot, add coconut oil and allow to melt. Add chicken breasts and cook 5-6 minutes per side. Exact cooking time will vary based on how large your chicken breasts are but you will know they're done when they reach an internal temperature of 165 degrees.

Once the chicken is nearly at proper temperature or there's just one minute left, spoon a tablespoon of cilantro lime dressing over each chicken breasts and allow to cook one more minute.

Remove chicken from skillet and allow it to rest on a cutting board for 10 minutes before slicing and adding to salads.
Notes
Nutrition information calculated using boneless, skinless chicken breasts approximately 4 ounces each. Nutrition information may vary.
Nutrition
Calories:
537
kcal
|
Carbohydrates:
29
g
|
Protein:
28
g
|
Fat:
35
g
|
Saturated Fat:
7
g
|
Polyunsaturated Fat:
0
g
|
Monounsaturated Fat:
0
g
|
Trans Fat:
0
g
|
Cholesterol:
72
mg
|
Sodium:
404
mg
|
Potassium:
1286
mg
|
Fiber:
7
g
|
Sugar:
19
g
|
Vitamin A:
7895
IU
|
Vitamin C:
109.1
mg
|
Calcium:
80
mg
|
Iron:
2.6
mg