This delicious, no-bake fruit pizza recipe is a perfect healthy summer dessert. It's easy to make with simple, fresh ingredients. Save this no-bake fruit pizza recipe for later with Pinterest.
This particular fruit pizza recipe has a few unique things going for it, but it's still relatively easy to make. Especially given that you don't need to turn your oven on at all! See, like I said – perfect for summer!
This is a no bake fruit pizza recipe.
Basically, the less I have to turn my oven on in the summer, the better. Most fruit pizza recipes have a shortbread or other cookie-type crust that is baked prior to assembling the fruit pizza. This fruit pizza recipe has a no-bake crust that combines a few simple ingredients in a food processor. One of the ingredients is dates, so it helps create a slightly sticky, cohesive texture to the no bake fruit pizza recipe crust. Once your crust ingredients are mixed together, all you have to do is pack the mixture into a lined baking tin, using your fingers to spread the mixture all the way to the edges and pat it into one thin layer. And that's it!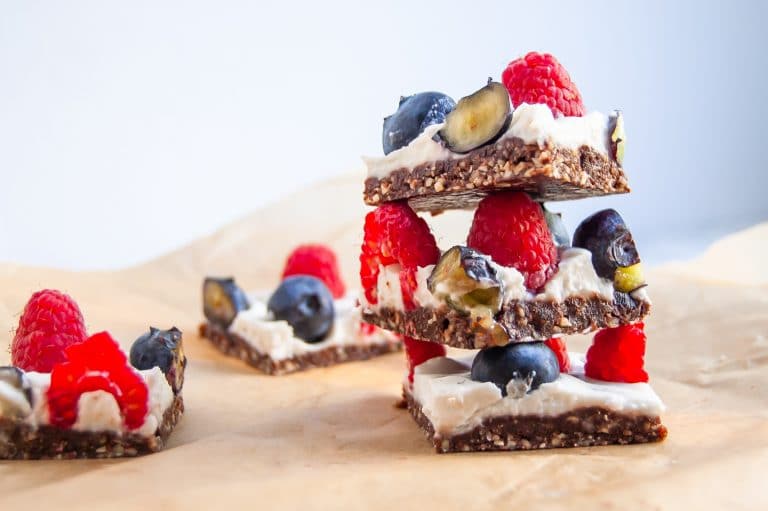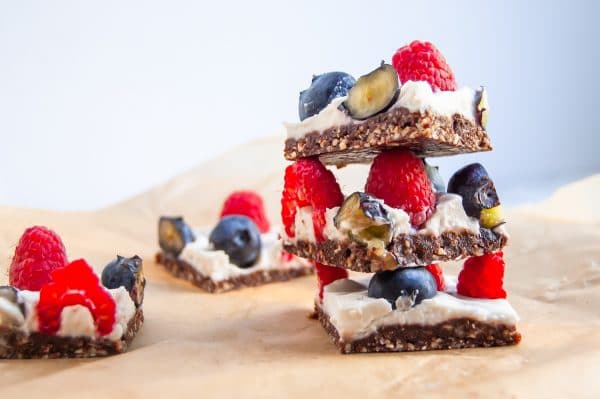 This fruit pizza recipe has no dairy.
Most fruit pizza recipes typically call for a cream cheese-based icing layer, which can certainly taste delicious, but isn't a suitable option for my dairy-free friends. Instead of using cream cheese and powdered sugar, my fruit pizza recipe uses coconut cream that's whipped with just a touch of honey. This coconut cream frosting layer is still insanely creamy, with a slightly sweet coconut flavor. And trust me – the coconut cream gives it quite a decadent taste and texture!
This is a fairly healthy fruit pizza recipe.
Since this fruit pizza recipe doesn't have a baked cookie crust, a cream cheese icing layer, or a glaze over the fruit, it offers several more nutrients than your regular fruit pizza recipe!
Sunflower seeds are the main ingredient in the crust and they're high in Vitamin E, niacin, folate, polyunsaturated fats, protein, and fiber. One serving meets 100% of the daily recommended intake of copper, manganese, and selenium.
Dates are a fruit, so they're naturally very sweet and higher in carbohydrates. They're high in antioxidants, fiber, and vitamins and minerals like potassium, magnesium, copper, manganese, and Vitamin B6. And if you're pregnant there has been some research that suggests consuming six dates daily late in pregnancy may promote dilation, reduce labor time, and decrease the need for induction.
Fresh berries are also naturally sweet and are packed with fiber, antioxidants, and vitamins and minerals like vitamin C, manganese, copper, folate, and vitamin K.
Higher in fiber due to all the fiber-rich ingredients, like the sunflower seeds, dates, and fresh berries mentioned above!
Lower in sugar than traditional fruit pizza recipes, and with the exception of a tablespoon of honey whipped into the coconut cream, this fruit pizza recipe is full of naturally occurring sugar found in fruits like dates and berries, and is less sweet than other cookie and frosting-based fruit pizza recipes.
No-bake fruit pizza recipe notes & substitutions:
Having tested this no-bake fruit pizza recipe several times, I wanted to share a few different tips and tricks to creating a delicious fruit pizza, as well as a few substitution guides to get you started in making this no-bake fruit pizza fit your personal needs.
When you're patting the crust down into a single, thin, packed layer, I find it easier to slightly dampen my hands with water first to prevent the crust from sticking to your hands as you pat it down.
I preferred to whip the coconut cream in a small blender attachment, like on a NutriBullet, or in a smaller food processor.
You can opt to omit the cocoa powder in the crust if you can't do chocolate, but the crust will be a little stickier then.
You can use whichever fruit you prefer instead of fresh berries.
You can substitute any liquid sweeter, like agave nectar or maple syrup, instead of the honey.
Can't do sunflower seeds? Try substituting pumpkin seeds. If you can tolerate nuts, you can try substituting nuts like almonds, cashews, or pecans.
Can't do coconut? Sub another seed in the crust, like ground flax seeds or hemp seeds. And instead of the coconut cream in the icing, you can use plain Greek yogurt or non-dairy Greek yogurt substitute instead.
For more of a traditional fruit pizza appearance, use a round cake pan to form your crust. If you are looking to cut smaller pieces I highly recommend using a square pan so you can cut small squares instead of thin and narrow "pizza" slices.
Looking for more healthy-ish no bake dessert recipes?
Try these other Nutrition to Fit no-bake sweets and treats!
If you enjoyed your no-bake fruit pizza recipe, be sure to leave a comment and rate the recipe below. You can also share a pic of your finished product on social media (tag @nutritiontofit and #nutritiontofit). And don't forget to pin the recipe for later! Be well!
No-Bake Fruit Pizza Recipe
This delicious, no-bake fruit pizza recipe is a perfect healthy summer dessert. It's easy to make with simple, fresh ingredients.
free from: gluten, dairy, egg, soy, shellfish, fish, peanuts, tree nuts (does contain coconut)
Print
Pin
Rate
Ingredients
For the crust:
½

cup

sunflower seeds

raw, unsalted

¼

cup

unsweetened shredded coconut

2

tbsp

cocoa powder

or cacao

6

medjool dates

pitted, about 1/2 cup total
For the "frosting":
½

cup

coconut cream

1

tbsp

honey

or other liquid sweetener, like agave or maple syrup
Fruit topping:
1

cup

blueberries

1

cup

raspberries
Instructions
Line a round or square cake pan with parchment paper and set aside.

Combine crust ingredients in a food processor and process on high for 3-4 minutes. Mixture is ready when you can press a little between your fingers and it sticks together.

Spread the crust into the prepared cake pan. Slightly dampen your fingers with water and firmly press the crust into a thin, solid, even layer. Set aside.

To prepare the "frosting", carefully remove the coconut cream from a can of full fat coconut milk that has been refrigerating at least 12 hours, yielding a 1/2 cup of cold coconut cream.

Combine the coconut cream and honey in the food processor or a small blender and blend on high for 1-2 minutes, or until coconut cream has become slightly whipped and creamy.

Spread the coconut cream in an even layer on the crust. If you're making a traditional "pizza" shape, I recommend leaving a half-inch of visible crust on the edge.

Top the coconut cream layer with fresh fruit - you can use as much or as little as you desire, and you can vary the types of fruit used, too.

To serve, slice into 8 fruit pizza slices for larger servings, or cut into 16 squares for smaller servings. Leftover

This no-bake fruit pizza recipe can be served immediately. If not immediate, it should be refrigerated until serving and immediately refrigerate any leftovers after servings. Leftovers can stay refrigerated in an air-tight container up to four days.
Notes
Nutrition information is based on 8 servings and exact ingredients specified. Cutting into smaller squares will results in decreased nutrition information per square. Using different amounts and types of fruits on your no-bake fruit pizza recipe will vary nutrition information as well.
Nutrition
Calories:
197
kcal
|
Carbohydrates:
24
g
|
Protein:
3
g
|
Fat:
11
g
|
Saturated Fat:
6
g
|
Polyunsaturated Fat:
2
g
|
Monounsaturated Fat:
1
g
|
Sodium:
2
mg
|
Potassium:
247
mg
|
Fiber:
4
g
|
Sugar:
16
g
|
Vitamin A:
35
IU
|
Vitamin C:
6.1
mg
|
Calcium:
29
mg
|
Iron:
1.4
mg