These Raspberry Caramel Chocolate Cups make a simple dessert that have just four ingredients! With a fruit-based center, the only added sugar is in whatever type of chocolate you choose. Gluten-free, nut-free, optional vegan, dairy-free, soy-free. 
Valentines' day is coming up which means CHOCOLATE! Okay, so I'm aware Valentine's Day doesn't revolve around chocolate, and I'm aware not everyone likes chocolate. But I do and these Raspberry Caramel Chocolate Cups are exactly what I want to be noshing on this Valentine's Day!
So, can we talk about chocolate for a sec? We live in a world that is completely and utterly fixated on diets, weight loss, nutrition, and health. And while there is nothing wrong with wanting nutritional adequacy and optimal health, it becomes a problem when research is taken out of context, when marketers are trying to sell quick fixes, when celebrities and influencers try to convince you that the way that they treat their health and diet is THE BEST, etc.
Here's the deal. Unless you have a severe food allergy that can result in anaphylaxis and potentially death, food will not kill you.
And honestly? I think the fact that I DO have a severe food allergy that can result in anaphylaxis and potentially death is why I'm passionate about encouraging you to mindfully manage your own life and find food and nutrition to fit you. And that goes beyond just considering personal food allergies, intolerances, and sensitivities, but also considering foods that you ENJOY!
It's okay to find enjoyment and pleasure in what you eat.
For me, chocolate is one of those foods that I have always enjoyed. No matter what foods you personally enjoy, it's hard to find a single food that doesn't offer ANYTHING of value to your body, yes, even if it's "just" calories. Calories are still a source of energy for your body, and fuel your body can use. But oftentimes, even aside from calories, there are still nutrients that are present. Take chocolate for example: quality dark chocolate is rich in fiber, iron, magnesium, copper, manganese, and a few other minerals.
Now, this doesn't mean that downing a supersized fast food "chocolate flavored" milkshake is necessarily going to be something you want to do all the time, but it does mean that nutrition isn't black and white. It means that in all that grey area of nutrition lies a lot of room for nutrition, flavor, variety, fun, and yes - enjoyment.
That's exactly what I tried to capture in these sweet little Raspberry Caramel Chocolate Cups!
The raspberry caramel filling is actually super simple, has no added sugar, and is made entirely from two fresh fruits: raspberries and dates (did you know dates are a fresh fruit, not dried?). Technically I used frozen raspberries, which I love to keep on hand in my freezer. And I've been obsessed with using dates to naturally sweeten things lately. They literally taste like candy and offer a rich, deep sweetness that has little notes of caramel.
The chocolate cups are made by melting your favorite chocolate with a little coconut oil. Then using lined muffin tins (I used silicone muffin tin liners - THE BEST for these cups, so easy to remove!), you drizzle about a tablespoon of melted chocolate on the bottom, add a teaspoon of raspberry caramel filling and smooth it out in the center, then add a little more melted chocolate until the raspberry caramel is covered. Allow to set in the fridge or the freezer and you've got a DELICIOUS raspberry caramel chocolate cup!
Looking for other Valentine's Day recipes? Try these!
While these are perfect for Valentine's Day, they're definitely not exclusive to the one day. I know my husband and I have made this recipe a few times - it's become a favorite after-dinner something sweet! If you make it, let me know what you think! Share in the comments below, send me a DM or email, tell us about it at the NTF Facebook page, or share a pic on Instagram (be sure to tag @nutritiontofit and #nutritiontofit).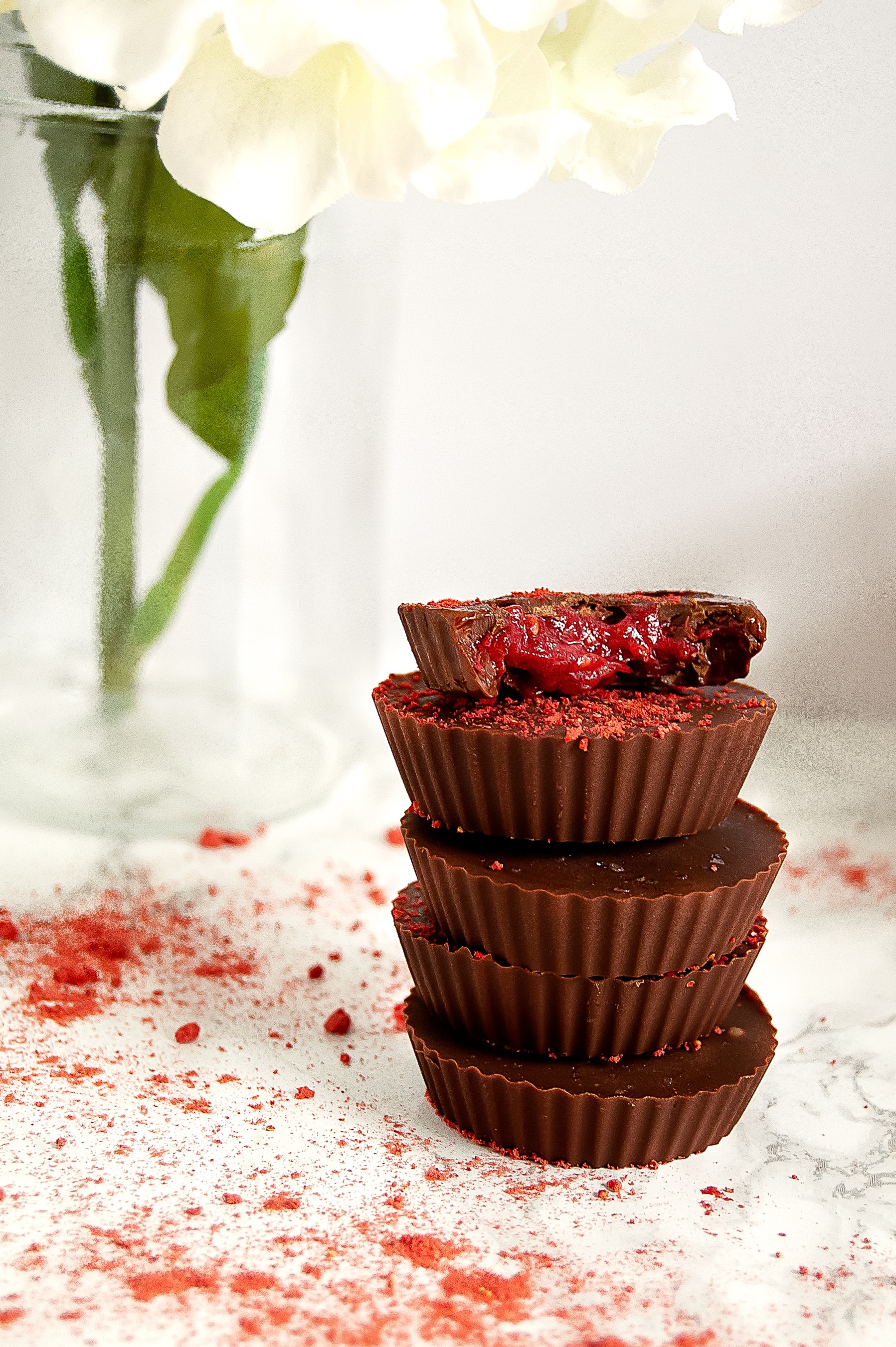 Raspberry Caramel Chocolate Cups
These Raspberry Caramel Chocolate Cups make a simple dessert that have just four ingredients! With a fruit-based center, the only added sugar is in whatever type of chocolate you choose.
free from: gluten, dairy, soy, egg, peanuts, fish, shellfish
Print
Pin
Rate
Ingredients
½

cup

frozen raspberries

thawed

5

Medjool dates

pitted

1

cup

chocolate morsels

i.e. semi-sweet or dark chocolate chips

1

tablespoon

coconut oil

Optional garnish: flaked sea salt, finely ground freeze-dried raspberries or strawberries for a pink powder, edible glitter, heart sprinkles - whatever you like, or just leave plain.
Instructions
Prepare muffin tin with liners, or set out 12 silicone muffin cups (the silicone muffin cup liners result in very clean chocolate cups).

Combine the raspberries and dates in a food processor and process 3-5 minutes on low speed, until they form an even consistency.

Melt chocolate and coconut oil in a microwave-safe bowl, stirring after every 30 seconds, until chocolate is evenly melted.

Place a tablespoon of melted chocolate in the bottom of the silicone cup.

Add a spoonful of raspberry caramel filling on top of the melted chocolate and try to gently smooth it out evenly in the center of the chocolate.

Pour enough melted chocolate in each cup to cover the raspberry caramel filling.

If there are any bubbles, tap the tray a few times to eliminate bubbles and smooth out the chocolate.

If you want, feel free to add a garnish at this point while the chocolate is still wet.

Allow mixture to set in the freezer for 30 minutes, or in the refrigerator 3-4 hours.

Once the chocolate has hardened and set, remove from the silicone liners. They can be stored in a covered, airtight container in the refrigerator up to 5 days.
Notes
You can also use fresh raspberries, but you may need to add 1-2 tablespoons of water to the filling if it's too thick/ not blending well.
To make vegan/ dairy-free/ soy-free, just be sure to use vegan/ dairy-free/ soy-free chocolate.
To be completely tree nut free, you can omit coconut oil (chocolate will be thicker) or sub another neutral-tasting oil.
You may have a little raspberry filling leftover and that's okay - freeze it for 1-2 months to make more cups again soon!
Nutrition
Calories:
115
kcal
|
Carbohydrates:
18
g
|
Fat:
4
g
|
Saturated Fat:
3
g
|
Cholesterol:
2
mg
|
Sodium:
10
mg
|
Potassium:
77
mg
|
Fiber:
1
g
|
Sugar:
16
g
|
Vitamin A:
50
IU
|
Vitamin C:
1.4
mg
|
Calcium:
25
mg
|
Iron:
0.3
mg