Healthy, gluten-free pumpkin muffins are a soft, tender muffin made with healthier swaps, like less oil and less sugar for a light, healthy muffin perfect for fall!
This post may contain affiliate links.
And just like that, the last pumpkin muffin recipe from NTF's pumpkin palooza is here! We started with pumpkin chia pudding, then headed savory with pumpkin pasta sauce. Today? I'm sharing a healthy pumpkin muffin recipe that has been tested many times and is loved by my family!
What makes these healthy pumpkin muffins?
Healthy is subjective - and that's okay. Find nutrition to fit your life! But for these gluten-free muffins I focused on some healthier ingredient swaps:
Decreased the amount of sugar.
Decreased the amount of oil.
Added applesauce for additional subtle sweetness (in place of more sugar) and more moisture (instead of more oil).
A full cup of pumpkin for festive fall flavor, moisture and tenderness, and all the pumpkin nutrition benefits.
Additionally, pumpkin itself is an incredibly nutrient-dense food that offers nutrients like fiber, vitamins A, E, K, C, folate, and iron. These nutrients can help promote health benefits associated with pumpkin, like improved immunity, heart health, eye health, skin health, and may lessen risks of certain cancers (see linked article for references).
How to Make Gluten-Free Pumpkin Muffins
To make these gluten-free pumpkin muffins, you need the following ingredients:
Pumpkin puree
Eggs
Vanilla extract
Brown sugar
Applesauce (unsweetened)
Baking powder
Baking soda
Pumpkin pie spice
Optional add-ins, like chocolate chips, raisins, chopped nuts, pumpkin seeds, dried cranberries, etc.
From there, it's pretty straightforward! Whisk together all the wet ingredients in a large bowl, then stir in the dry ingredients.
Since these muffins are a little lower in fat than many others, I find they can sometimes stick to a parchment muffin liner a little bit, so I actually personally prefer to use a little non-stick spray (olive or avocado) in the muffin tins.
Scoop the batter into the muffin tins. You can leave as is or sprinkle the tops with a little cinnamon (like I did) or garnish with mix-ins you may have used.
Bake for 18-20 minutes, or until an inserted toothpick comes out clean. Let cool in the muffin tin a few minutes, then enjoy!
Ingredient Substitutions
I have not tested it this way, as I have to eat gluten-free, but I've heard from testers that whole wheat flour and whole wheat pastry flour work in this recipe if you tolerate wheat.
For gluten-free flours, I used King Arthur Gluten-Free Measure for Measure Flour - my favorite! I've tried making with oat flour, and while they were acceptable, I found the oat flour muffins to be a little more dense and not quite as fluffy (but it is a whole grain option!).
As far as other substitutions, check out the following:
If you're egg-free (or out of eggs) try a flax egg. Mix 1 tablespoon ground flax seed with 3 tablespoon warm water, stir, and let sit a few minutes. The flax will gelatinize and your flax egg is ready when it is thicker, kind of like egg whites!
You can use most any other preferred oil instead of avocado oil, even olive oil. While you can use coconut oil or butter, I found through recipe testing that they make the finished pumpkin muffin slightly denser.
Cinnamon can be used instead of pumpkin pie spice. It has a slightly less diverse flavor profile, but still tastes great!
And I know this sounds silly, but if you really want these muffins and are out of pumpkin, try using pureed butternut squash or sweet potato!
A note on sugar:
I've had a few questions asking why I used brown sugar in this healthy pumpkin muffin recipe as opposed to something like coconut sugar, maple syrup, or honey.
Honestly? It's three-fold:
At the end of the day, sugar (even more "natural" sources like maple syrup) is used by our body as sugar. I prefer to focus on a lower amount of sugar of any kind as opposed to a higher amount of natural sugars. As a dietitian, I feel overall that the amount of added sugar used has a bigger impact on health than the type of added sugar.
There are already a lot of ingredients that provide moisture to these muffins - pumpkin, applesauce, oil, eggs, etc. While each ingredient serves a different purpose, I was concerned the texture was off when using a liquid sweetener like honey or maple syrup.
Brown sugar is cheaper. I want my recipes to be accessible to more people. Plus, y'all, I'm on a budget, and when I test baking recipes usually at least 4-5 times, it's a lot more economical to use brown sugar than maple syrup or honey!
Versatile Add-Ins
These easy pumpkin muffins are delicious enough on their own, but also make an incredibly versatile gluten-free pumpkin muffin. Try some of our favorite additions! My husband and I love adding pumpkin seeds and dried cranberries, whereas my toddler sous chef always requests the addition of chocolate chips. 😉 Get creative! We find a half cup of any addition to be the perfect amount.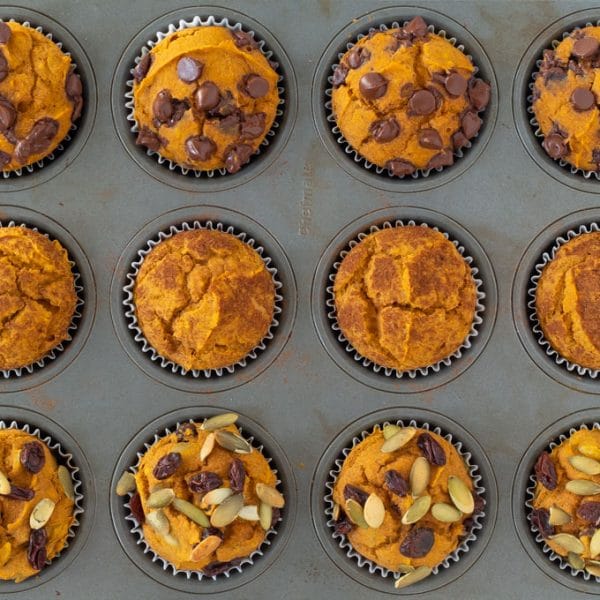 Use in Meal Prep
These easy pumpkin muffins are quite versatile. They can be made for breakfast, snacks, and we've even enjoyed them as a dessert. They're fluffy and delicious enough that I'm planning on making them on Thanksgiving, but also simple enough that we make them as part of a grab-and-go breakfast.
Grab one of these pumpkin muffins and pair it with a couple hard-boiled eggs or some greek yogurt for some protein, and maybe grab a piece of fruit, too. You can also top it with some sunflower seed butter for some more healthy fats!
More Pumpkin Recipes
For more pumpkin fun, check out these additional pumpkin recipes:
If you like this recipe be sure to comment and rate it below and share on Pinterest, Instagram, and Facebook. Live well!
Print Recipe
Healthy, Gluten-Free Pumpkin Muffins
Healthy, gluten-free pumpkin muffins are a soft, tender muffin made with healthier swaps, like less oil and less sugar for a light, healthy muffin perfect for fall!
free from: wheat/ gluten, soy, dairy, fish, shellfish, peanuts, tree nuts
Ingredients
Wet Ingredients
1

cup

pumpkin puree

¼

cup

avocado oil

(or other neutral oil)

¼

cup

unsweetened applesauce

¼

cup

brown sugar

2

eggs

1

teaspoon

vanilla extract
Dry Ingredients
1.5

cups

gluten-free measure-for-measure flour

(I used King Arthur brand)

1

teaspoon

pumpkin pie spice

1

teaspoon

baking powder

½

teaspoon

baking soda

¼

teaspoon

salt
Optional Mix-In Ingredients:
½

cup

chocolate chips

½

cup

dried fruit (like raisins or dried cranberries)

½

cup

seeds or chopped nuts

½

cup

any combination of the above

cinnamon to sprinkle on top
Instructions
Preheat oven to 350F. Prepare a muffin tin by lightly coating each tin with non-stick spray.

Whisk together wet ingredients in a large bowl. Stir in dry ingredients and any optional mix-in ingredients.

Scoop batter into prepared muffin tins. Sprinkle tops with cinnamon, or top with a tablespoon of any toppings (i.e. chocolate chips or pumpkin seeds).

Bake for 18-20 minutes, or until an inserted toothpick comes out clean. Let cool for a few minutes, or until muffins are cool enough to handle, and transfer to a wire baking sheet.
Notes
Muffins keep at room temperature up to 3 days, in the fridge up to 5-6 days, and in the freezer up to 3 months. To thaw, thaw overnight on the counter or in the microwave for 30 seconds.
Nutrition
Calories:
129
kcal
|
Carbohydrates:
18
g
|
Protein:
3
g
|
Fat:
6
g
|
Saturated Fat:
1
g
|
Cholesterol:
27
mg
|
Sodium:
114
mg
|
Potassium:
104
mg
|
Fiber:
2
g
|
Sugar:
6
g
|
Vitamin A:
3217
IU
|
Vitamin C:
1
mg
|
Calcium:
42
mg
|
Iron:
1
mg