This rich Chocolate Veggie Smoothie is packed with nutrients, veggies, healthy fats, and has zero added sugar! It's dairy-free, gluten-free, nut-free, vegan, and is free of all top eight most common food allergens! Toddler and husband-approved healthy smoothie. 😉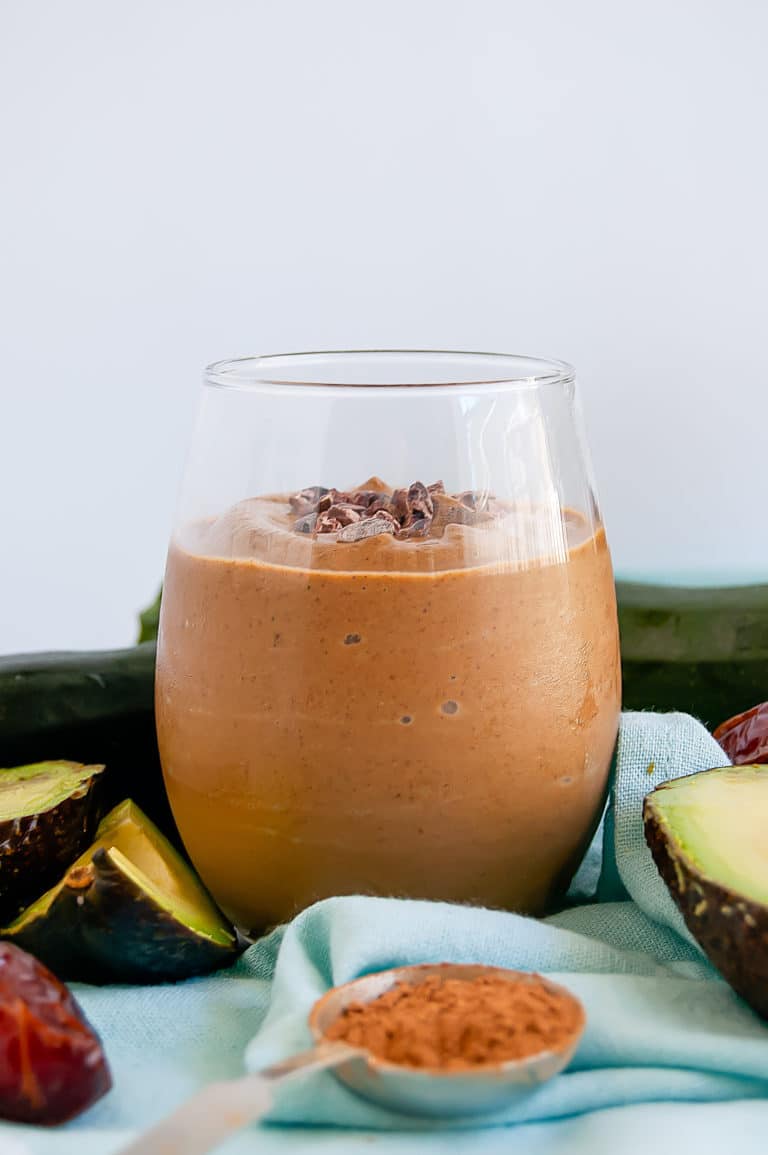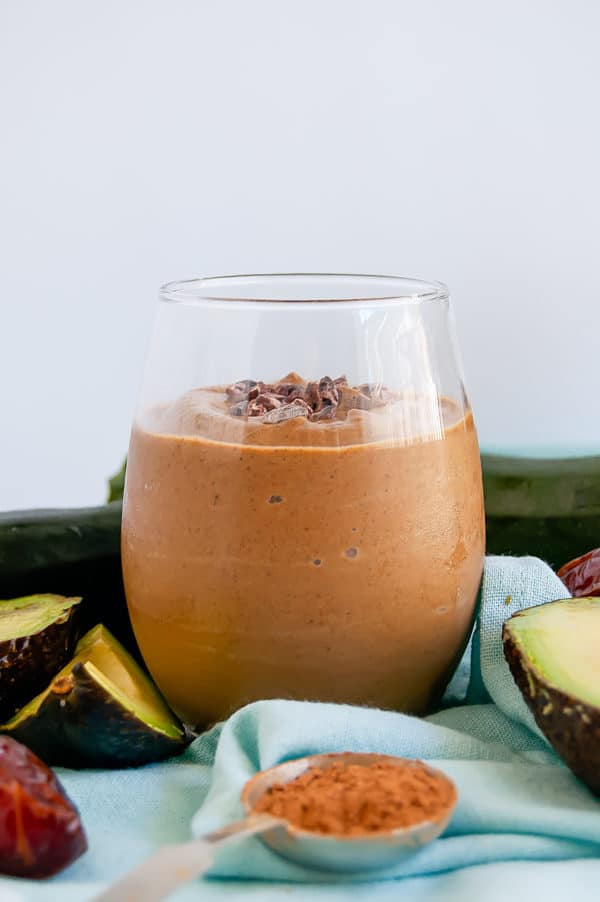 Raise your hand if you like chocolate! (FYI I'm over here with both hands raised.) 😉 I'm pretty much always down with chocolate, no matter the time of day.
I'm all about honoring your cravings and moderation, but the problem is that most types of chocolate foods contain a bunch of sugar, dairy, and things that in large quantities don't typically make me feel my best.
So my mission with this Chocolate Veggie Smoothie was to make a smoothie/ shake that would 100% satisfy those chocolate cravings, but would pack a bunch of nutrient-dense foods so it would end up leaving me feel energized throughout my day.
Mission: Accomplished!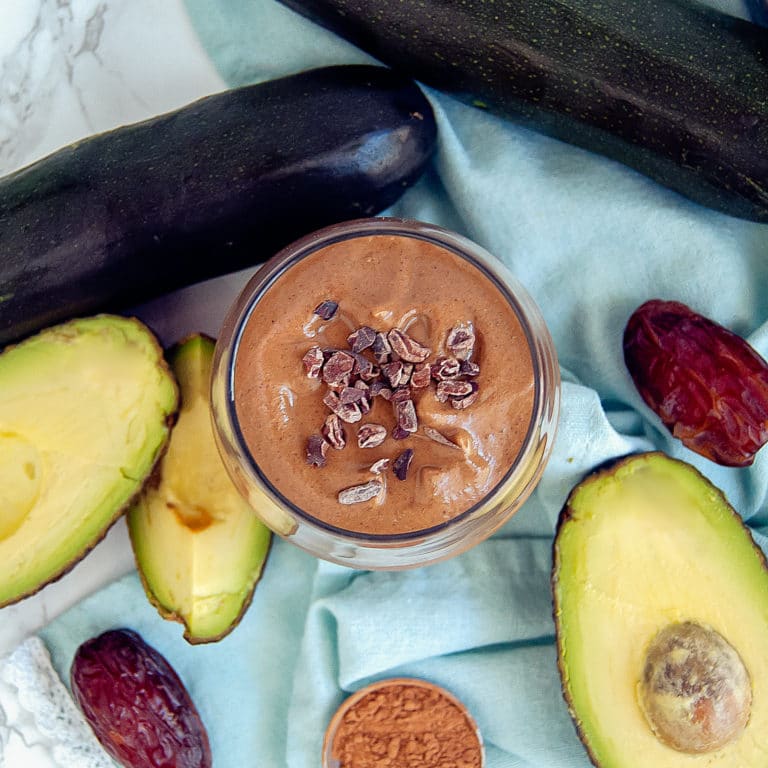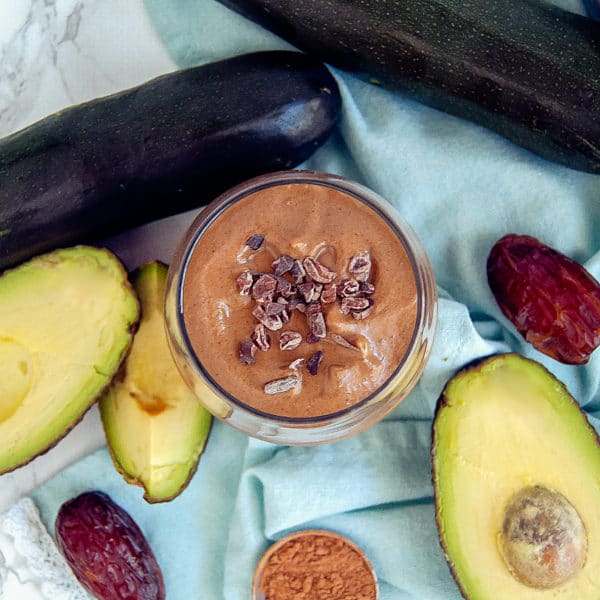 First of all, this Chocolate Veggie Smoothie is dairy-free, gluten-free, soy-free, nut-free, and free of all of the top eight most common food allergens.
Second – there's zero added sugar. No honey, no sugar, no agave, no maple syrup, nope. It's super creamy from using frozen zucchini slices and avocado. It has a nice chocolate flavor (and color) from cacao powder and cacao nibs. The only sweetener comes from the 1-2 Medjool dates, which are actually a fresh fruit.
Now, you can leave it with just the zucchini and avocado, if you prefer. But, I personally prefer to add a couple cups of fresh spinach. It's a great way to get more veggie power and nutrients in this smoothie. Fare warning, though, that it will change the color of the smoothie to be a little less…chocolate milkshake. 😉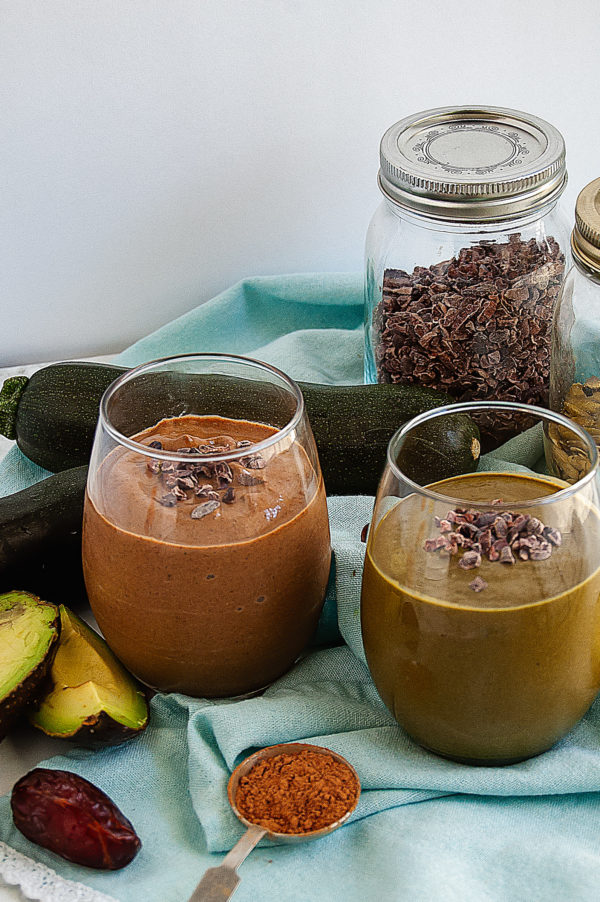 One last note: my family and I loved this smoothie. I barely got any of the first test batch because my one-year-old daughter sucked it down so fast! My husband also highly approved. That said – it's good, but it's good for what it is – a chocolate veggie smoothie. Which means if you're expecting it to taste like a chocolate-flavored milkshake from a fast food drive thru – it won't. But it's still really good. Just wanted to be clear on expectations. 😉
If you or your family gives this chocolate veggie smoothie a shot, let me know your thoughts! Leave a comment below, or you can always share with the community on the NTF Facebook page or on Instagram (be sure to tag @nutritiontofit and #nutritiontofit)!
Looking for more smoothie recipes? Try these other NTF faves!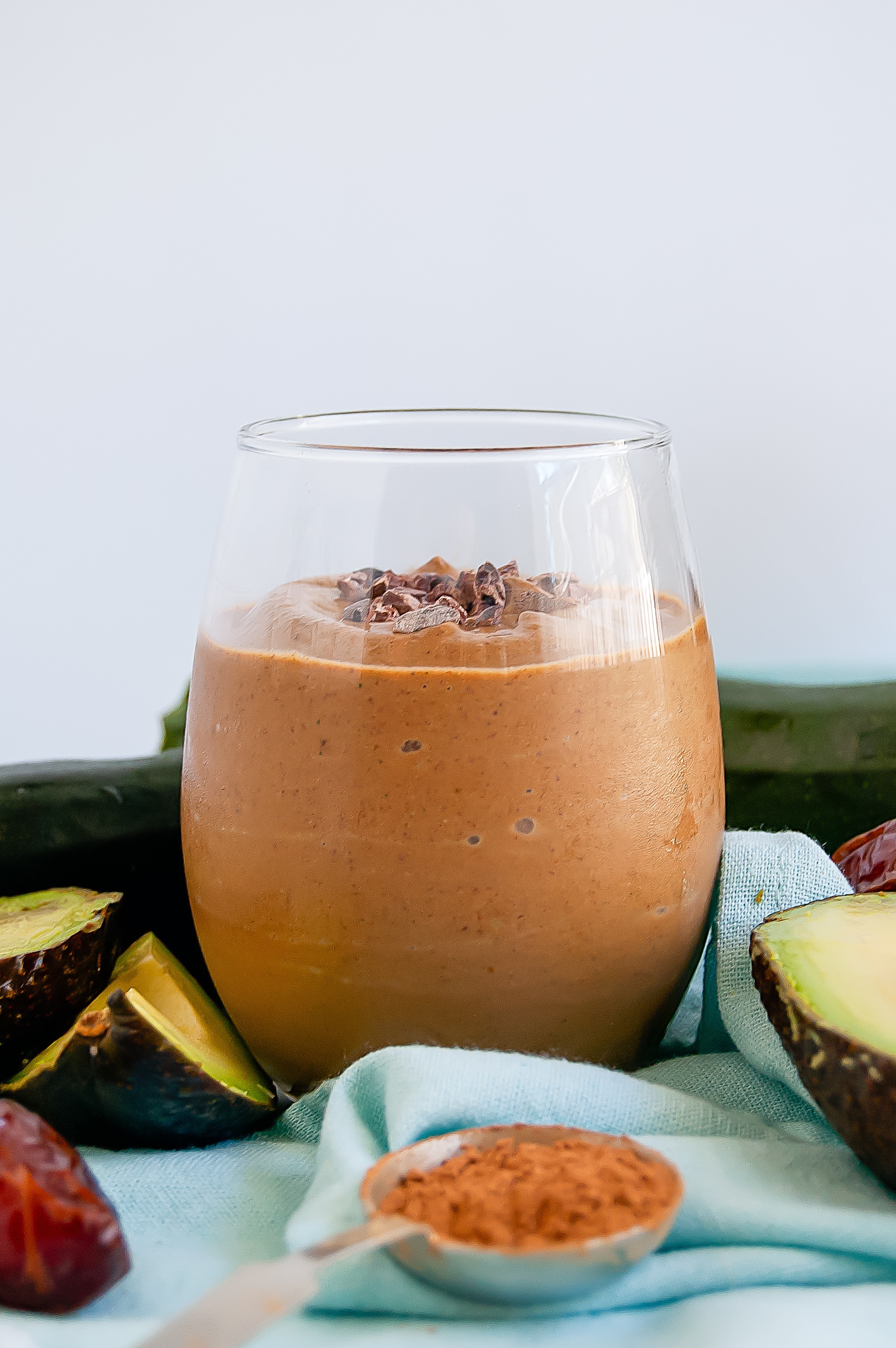 Chocolate Veggie Smoothie
This rich Chocolate Veggie Smoothie is packed with nutrients, veggies, healthy fats, and has zero added sugar!
free from: dairy, gluten, tree nuts, peanuts, shellfish, fish, soy, eggs
Print
Pin
Rate
Ingredients
1

cup

frozen zucchini slices

¼

Haas avocado

1

pitted Medjool date

1

Tbsp

pumpkin seeds

(raw)

1

Tbsp

cacao nibs

2

Tbsp

cacao powder

¾

cup

milk or milk substitute of choice

2

cups

spinach

optional
Instructions
Combine all ingredients in a blender and blend on high for 60 seconds, or until smoothly combined.
Notes
You can use whatever milk or milk substitute meets your needs and preferences. The amount can be slightly adjusted based on your preference for a thicker or thinner smoothie. The nutrition information reflects 3/4 cup unsweetened rice milk.
Can add an additional pitted Medjool date for added sweetness, if desired.
Can omit pumpkin seeds if desired.
Can omit cacao nibs and add a little more cacao or cocoa powder for additional chocolate flavor.
Smoothie recipe has not been tested with fresh zucchini. Typically the frozen zucchini slices make it a little creamier when blended in a smoothie.
Nutrition
Calories:
355
kcal
|
Carbohydrates:
45
g
|
Protein:
10
g
|
Fat:
19
g
|
Saturated Fat:
5
g
|
Monounsaturated Fat:
1
g
|
Sodium:
157
mg
|
Potassium:
1314
mg
|
Fiber:
12
g
|
Sugar:
20
g
|
Vitamin A:
6320
IU
|
Vitamin C:
44.1
mg
|
Calcium:
333
mg
|
Iron:
5
mg