This 5-Minute Broccoli Kale Quinoa Salad is a deliciously light and healthy grain salad. It's packed with nutrients and is naturally gluten-free and free of all of the top 8 most common food allergens.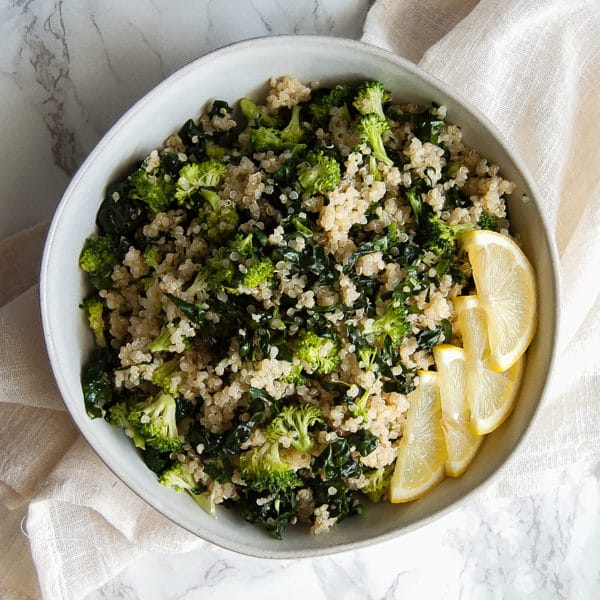 Happy Friday! This Broccoli Kale Quinoa Salad is my new go-to quick and easy dish. It's a cold grain salad – so think kind of along the lines of a cold pasta salad, but with quinoa! (Which is why, by the way, this salad is a perfect use of leftover quinoa or a good reason to make extra quinoa!)
Total honesty here, I'm normally not crazy over raw broccoli. The texture doesn't always do it for me, and with the history of digestive issues I've had, too many raw veggies at one time can sometimes be a bit much for me personally. (But as always, you do you!)
That said, there's something about the way the broccoli florets are cut so tiny in this Broccoli Kale Quinoa Salad that just totally works for me. What you'll want to do is take fresh broccoli florets, and then cut off the tiny tips of the florets. You end up with small little half-inch florets that are light and tender and add the best texture.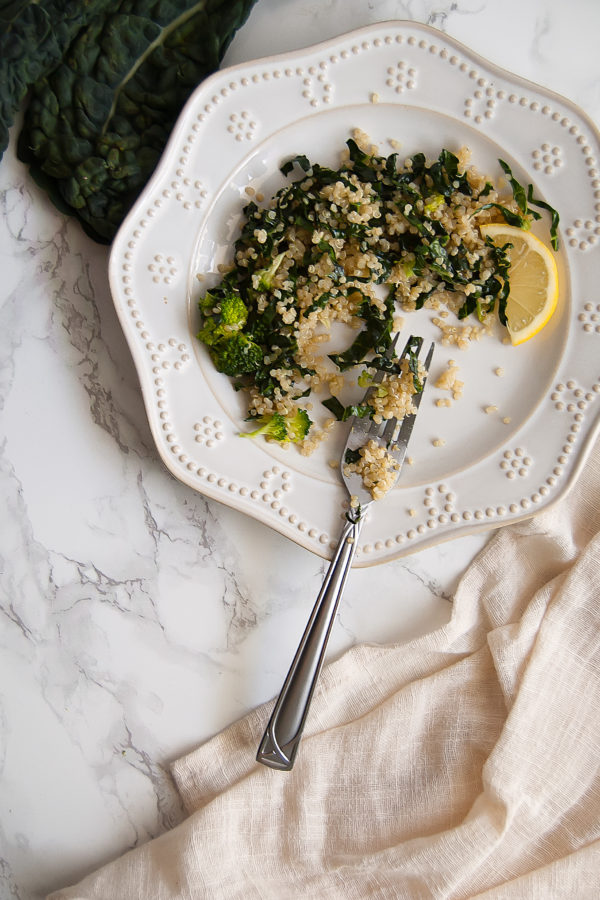 Same deal with the kale. I think raw kale sometimes gets a bad rep for being tough and bitter – not exactly what most of us typically turn to when we're wanting a light salad. One trick I use to tenderize kale for salads is to massage the kale with a little dressing, olive oil, citrus juice, etc. (And yes – I literally mean massage it, like in this Blueberry Kale Salad!)
Another trick that I use is to finely shred the kale – like a chiffonade cut, if you're familiar. Such a fine cut definitely helps tenderize the kale, making it mesh well with this light in texture and taste, yet still satiating salad.
I'm a big fan of using lacinato kale in this Broccoli Kale Quinoa Salad, but you totally can use another variety if that's what you have available.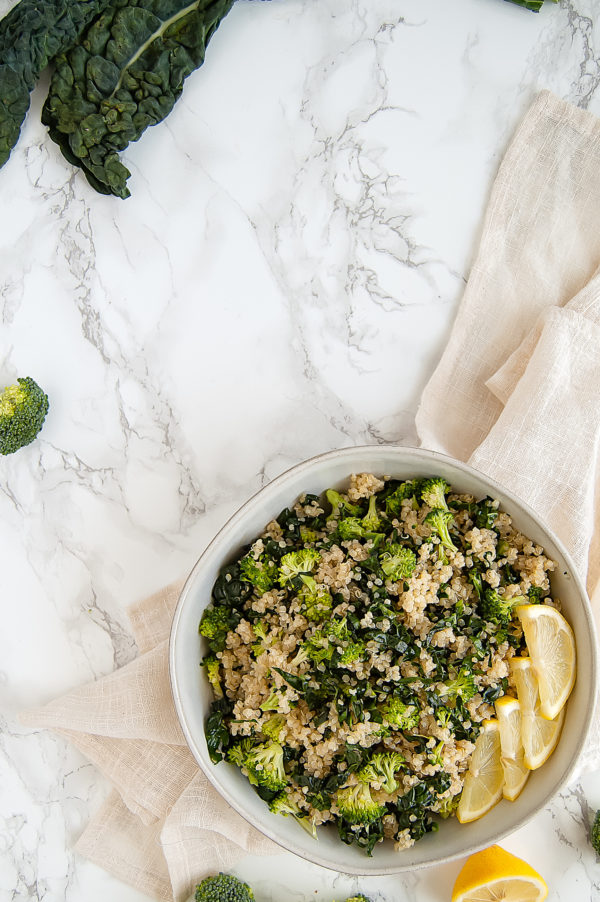 Oh yeah, and one more thing? As long as your quinoa is already cooked, this salad comes together in five minutes! I've been obsessed with it, so I make a quick batch on the weekends and typically pair it with a protein and maybe another veggie/ veggie dish. I can't wait to keep making this light and tasty Broccoli Kale Quinoa Salad all summer!
If you give this 5-Minute Broccoli Kale Quinoa Salad a try, let me know how you like it. Leave a comment, or snap a pic and share your thoughts on the NTF Facebook page or on Instagram (tag @nutritiontofit and #nutritiontofit!)
Be well!
5-Minute Broccoli Kale Quinoa Salad
This 5-Minute Broccoli Kale Quinoa Salad is a deliciously light and healthy grain salad packed with nutrients.
free from: gluten, dairy, soy, egg, fish, shellfish, peanuts, tree nuts
Print
Pin
Rate
Ingredients
2

c.

cooked quinoa

1

c.

kale

(measured after finely slicing into tiny shreds)

1

c.

broccoli florets

(finely chopped - each floret will be small, about a half-inch big)

2

Tbsp

extra virgin olive oil

(or any oil of choice)

1

tsp

lemon juice

salt and pepper

optional to taste
Instructions
Combine all ingredients in a medium-sized bowl and toss gently to evenly distribute ingredients.

Serve immediately, or store in an airtight container in the refrigerator up to 3-5 days.
Nutrition
Calories:
186
kcal
|
Carbohydrates:
22
g
|
Protein:
5
g
|
Fat:
8
g
|
Saturated Fat:
1
g
|
Sodium:
18
mg
|
Potassium:
282
mg
|
Fiber:
3
g
|
Sugar:
1
g
|
Vitamin A:
1190
IU
|
Vitamin C:
33.4
mg
|
Calcium:
42
mg
|
Iron:
1.7
mg