This Gingerbread Chai Latte is an easy, low sugar, holiday drink that will keep you warm and cozy!
There's something so comforting about a warm beverage this time of year, right? Hot chocolate, chai tea, peppermint mochas - there seem to be endless options! So what's one more addition to your cozy hot beverage repertoire? 😉 Enter: Gingerbread Chai Latte!
This Gingerbread Chai Latte is completely cozy and delicious. You've got all your classic chai spice flavors, dialed up a few notches with some extra ginger and cinnamon to really emphasis the gingerbread spices. But the real key to this Gingerbread Chai Latte is the molasses.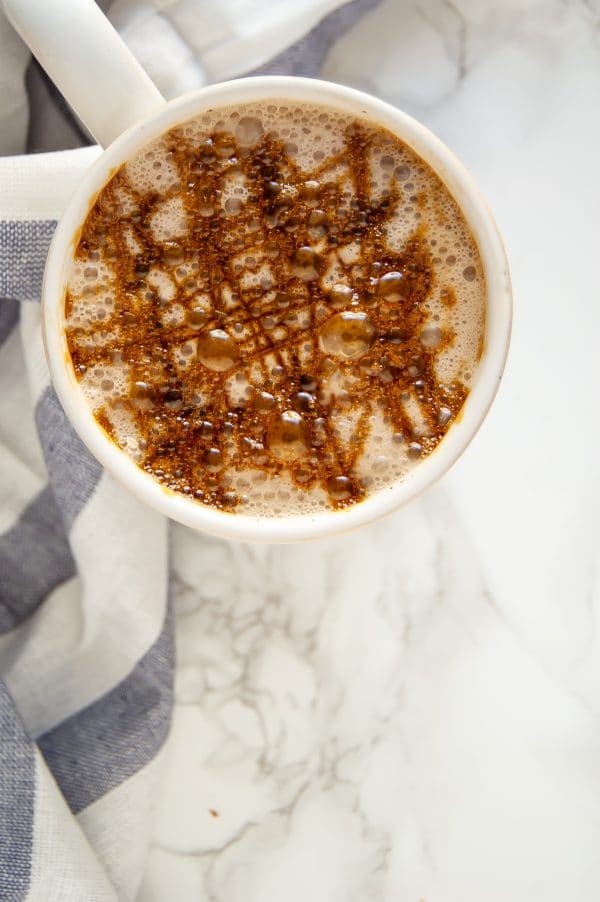 Molasses is a key ingredient in gingerbread cookies, and it may have some more nutritional benefits that you realized.
What is molasses and how is it made?
Molasses is made from sugar cane or sugar beet juice that is boiled into a syrup. Once the sugar crystals are extracted, the dark liquid that remains is molasses.
From there, you have three different types of molasses that can be produced.
Light molasses is the molasses that yields from the first boiling of the sugar cane or sugar beet juice. It's lighter, more amber colored, and is the sweetest and mildest in flavor.
Dark molasses is the molasses from the second boiling. It's darker, less sweet, and has a stronger flavor than light molasses. This is typically what gives the color and flavor to holiday gingerbread cookies.
Blackstrap molasses is the molasses from the third boiling. Blackstrap molasses is very dark in color, the thickest of all molasses varieties, is less sweet, and has a bitter flavor. Blackstrap molasses is often thought to be the "healthiest" molasses, because it has the most concentrated nutrients. For example, while it's a large amount, 5 tablespoons of blackstrap molasses provides 95% of your daily allowance of iron.
I used dark molasses in this recipe because I was looking to replicate that traditional gingerbread flavor...and it's what I had in my pantry (real life! lol). If anyone has blackstrap molasses, I'd love to hear how this tastes with blackstrap! My guess would be the amounts are so minute that it may not make a significant different in terms of bitterness, but it also would make an already lightly sweetened beverage even less sweet.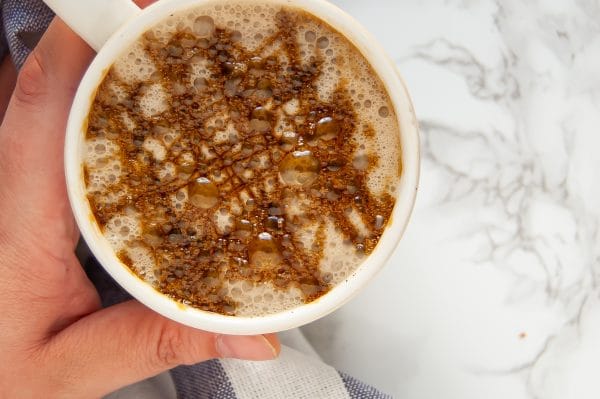 Gingerbread Chai Latte Recipe Notes
Also, you can use any type of milk or milk substitute that you desire. The lovely folks at Pacific Foods recently kindly sent me some samples to try and I used their Cashew Milk in this Gingerbread Chai Latte and it was AMAZING! (Totally was not paid to say that, I just genuinely really loved their cashew milk and it may become my new go-to milk substitute!)
Looking for more cozy, healthy warm beverages?
Try these!
Let me know if you try this festive Gingerbread Chai Latte this season, and how you like it! If you get creative with a festive molasses drizzle on top of the foam, be sure to snap a pic to Instagram and tag me (@nutritiontofit and #nutritiontofit) so I can see what you came up with! Live well!
Gingerbread Chai Latte
This Gingerbread Chai Latte is a simple, cozy, festive beverage that will keep you warm all winter long.
free from: gluten, peanuts, egg, fish, shellfish. soy, dairy, and tree nut free depending on what milk/ plant-based beverage you use.
Ingredients
1

cup

cashew milk

(or any milk/ milk substitute)

1

chai tea bag

1.5

teaspoon

molasses

¼

teaspoon

ground ginger

¼

teaspoon

cinnamon
Instructions
Heat milk in a pot on the stove (medium high heat for 5-6 minutes) or in the microwave (high power, 2-3 minutes) until very warm, but not boiling. Steep the chai tea teabag in the milk for 4-5 minutes.

Stir in molasses and spices.

To create more foam, blend the ingredients in a blender or with an immersion blender for 1-2 minutes or until foamy. If desired, drizzle molasses on top.
Notes
Nutrition information was calculated using an unsweetened cashew milk. Nutritional content will vary greatly based on milk/ milk substitute use. 
Nutrition
Calories:
58
kcal
|
Carbohydrates:
9
g
|
Fat:
2
g
|
Sodium:
164
mg
|
Potassium:
153
mg
|
Sugar:
7
g
|
Calcium:
21
mg
|
Iron:
0.5
mg