Wondering how to make cucumber water? This recipe shows you exactly how to make delicious cucumber-infused water. It's such a simple and refreshing way to elevate your water for all your hydration needs!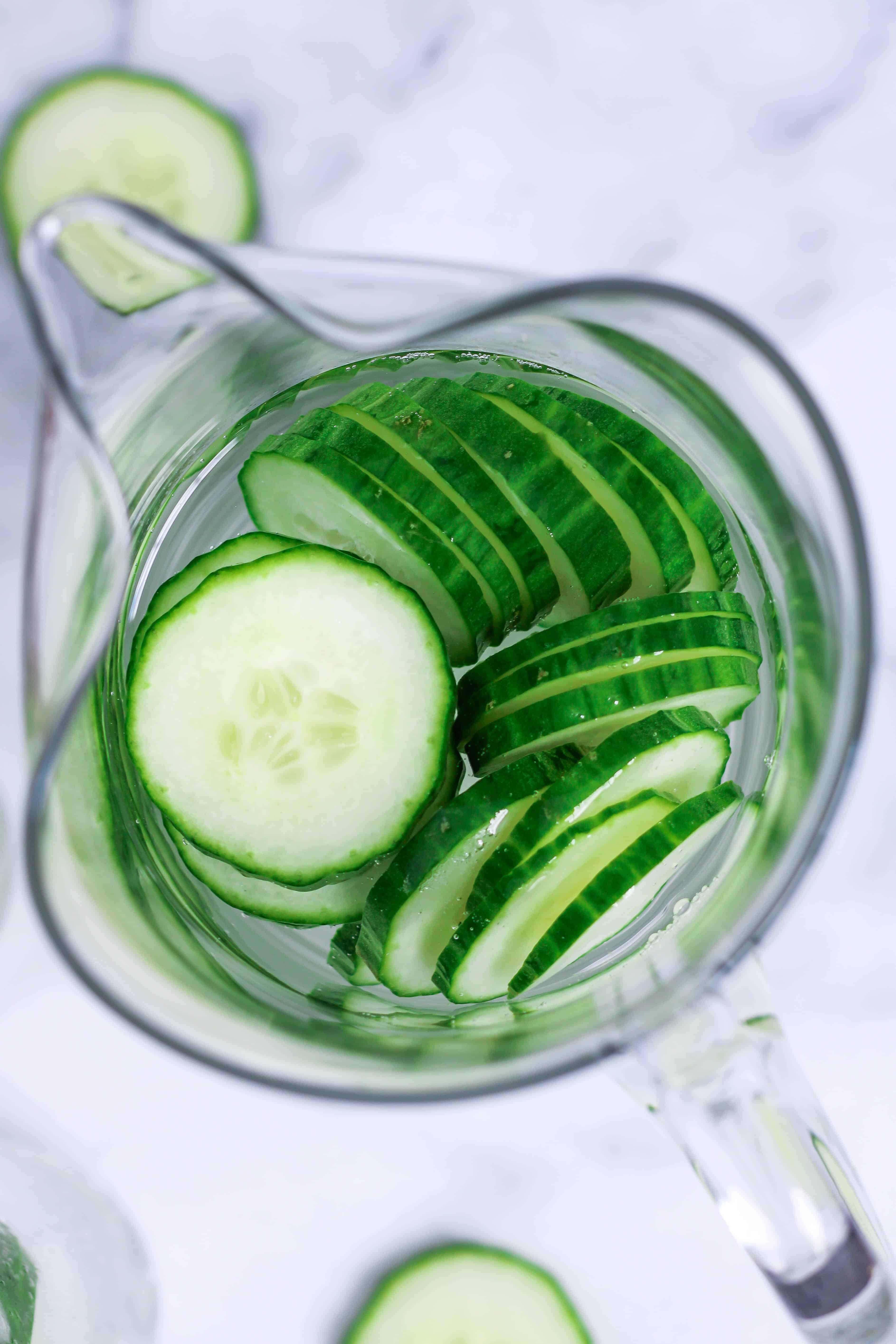 Reasons to Love Cucumber Water
This cucumber water recipe is a simple but amazing way to give your water a flavor upgrade.
Cucumber infused water is smooth, refreshing, and makes you feel like you're at the spa - how relaxing!
It doesn't take long to learn how to make cucumber water - just a couple minutes and you'll be sipping away!
We all know it's important to stay hydrated, but as a registered dietitian, I've seen countless clients struggle to drink their water. Heck - even as a dietitian I sometimes struggle to drink enough water! Giving your water a simple refreshing flavor can be just the switch-up you need to start drinking more water.
What You Need
Cucumbers
Water
A pitcher
Any creative swaps or additional flavor boosters!
How to Make Cucumber Water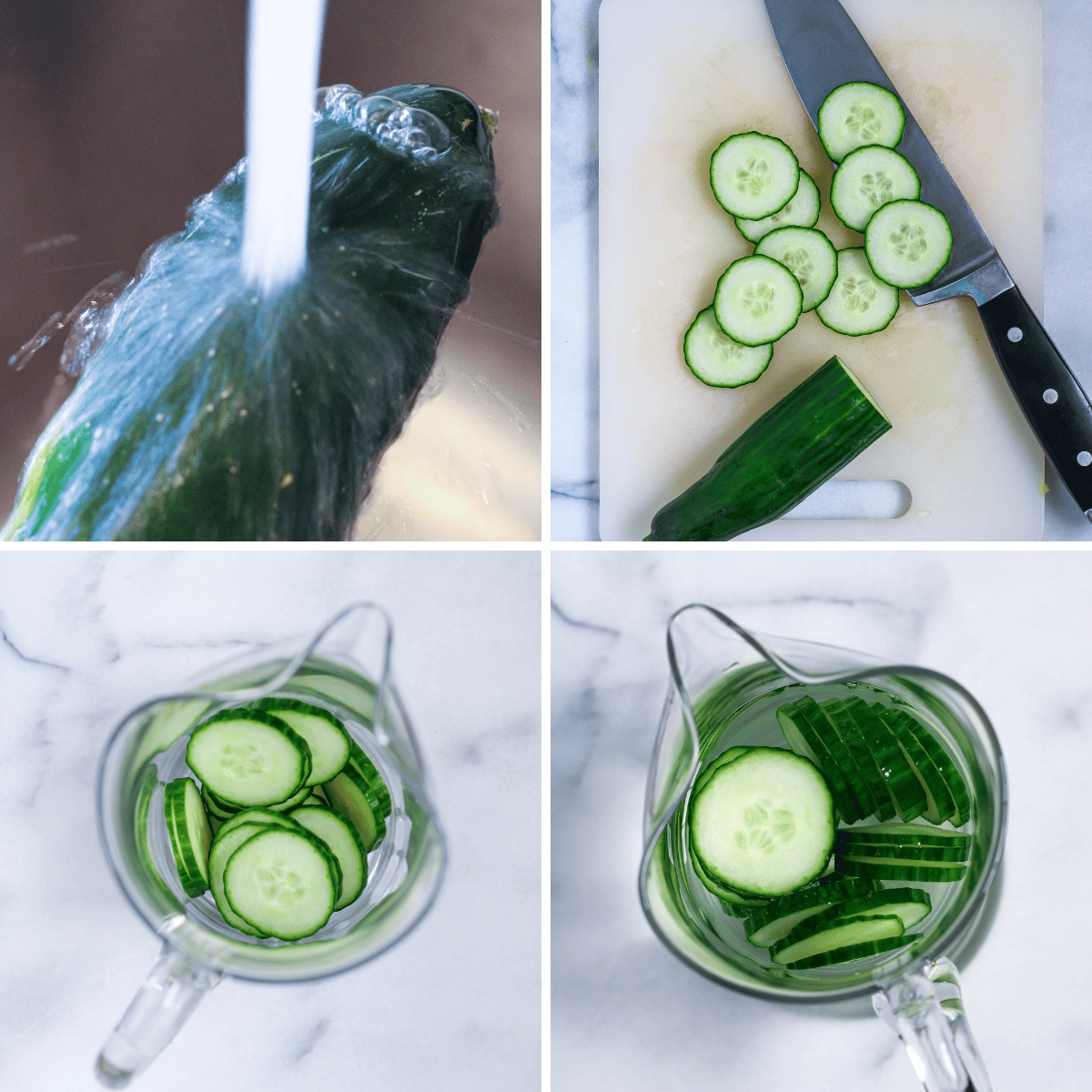 Prep the Cucumbers: Slice cucumbers and place them into your pitcher and/ or glasses.
Add the Water: Carefully fill the pitcher with water, or add a little variety with some sparkling water or coconut water.
Chill: Let the cucumbers infuse the water in the pitcher while you chill it for 20-30 minutes.
Serve: Feel free to add additional flavor boosters, like lemon, lime, berries, mint, or basil, then serve and enjoy!
Cucumber Water for One
Don't nee a whole pitcher of water? Try placing about a ¼ cup of sliced cucumbers into your water bottle or in a glass, then topping with chilled water or sparkling water.
Creative Additions for Cucumber Water
Add even more flavor to your cucumber water by infusing these other additions:
Pineapple (fresh or frozen)
Berries
Fresh mint
Fresh basil
Citrus (add slices or a squeeze of lemon, lime, orange, or grapefruit)
You can also change up the water! I love making a single-serve glass of water with a few cucumber slices in a glass then pouring sparkling water on top. Citrus or berry-flavored sparkling waters are my favorite!
And if you're looking for a little additional sweetness, try adding a little bit of coconut water or a splash of pineapple juice.
Try Frozen Cucumber Slices
I grow cucumbers in my garden and every year when I can barely keep up with the harvest, I freeze cucumber slices! They're great to use in cucumber-infused water. Not only do they infuse a subtle cucumber flavor, but they also help keep your water chilled!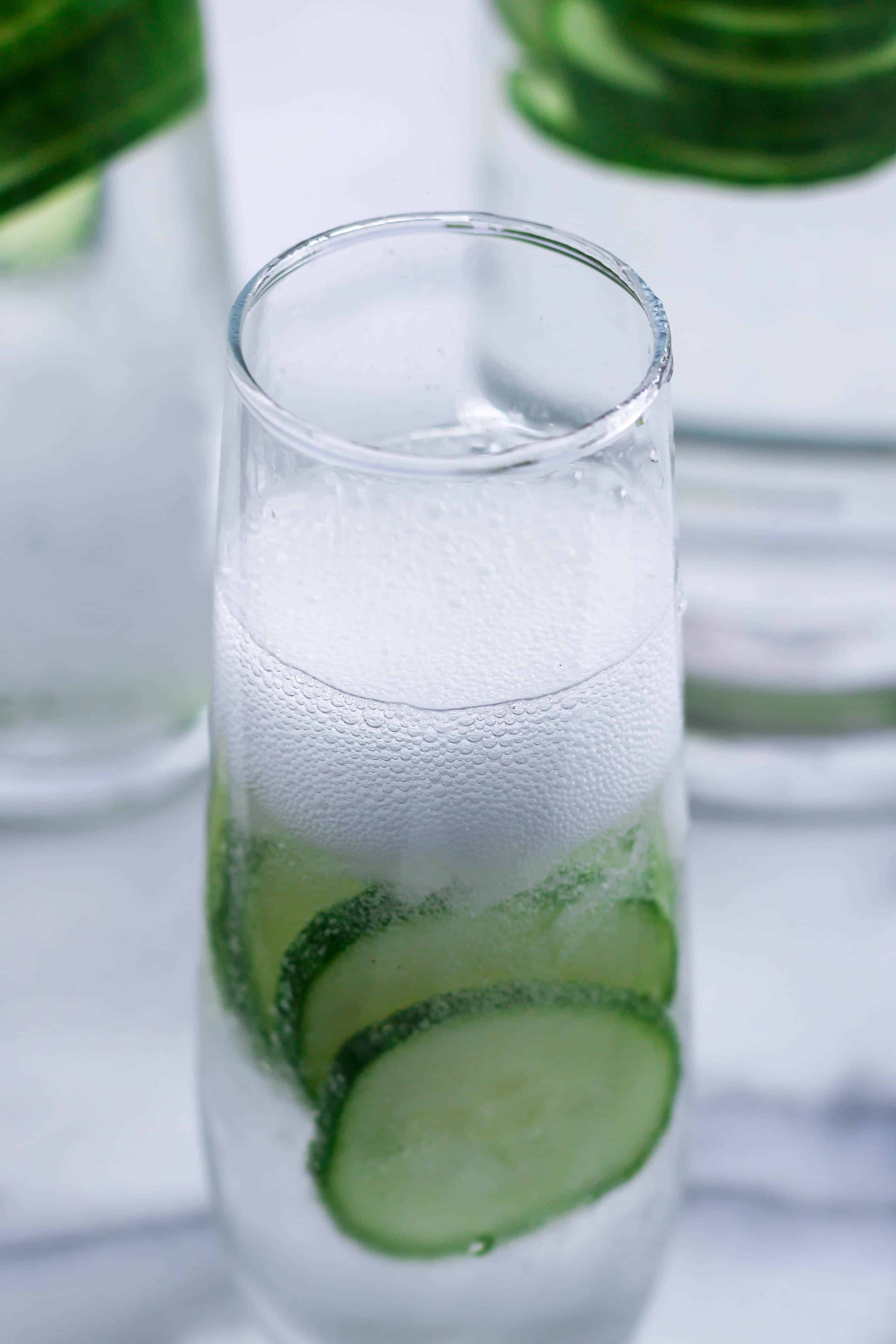 How Long Does Cucumber Water Last?
Cucumber water will last 12 hours with the cucumber slices remaining in the water. At that point, remove the cucumber slices. The infused water can then be stored in the fridge up to 2-3 days.
Cucumber Water for Weight Loss?
Does cucumber water itself lead to weight loss? No. Despite dramatic claims that cucumber water helps you lose weight, there's no evidence to support that.
Weight loss happens when you're in a sustained calorie deficit.
Cucumber water may help support being in a calorie deficit, like if you enjoy swapping sugar-filled or other calorically-dense beverages for cucumber water.
But no single food or drink, including cucumber water, is the reason for weight change in any direction. Your overall eating pattern and lifestyle matters most - and a consistent calorie deficit is required for weight loss.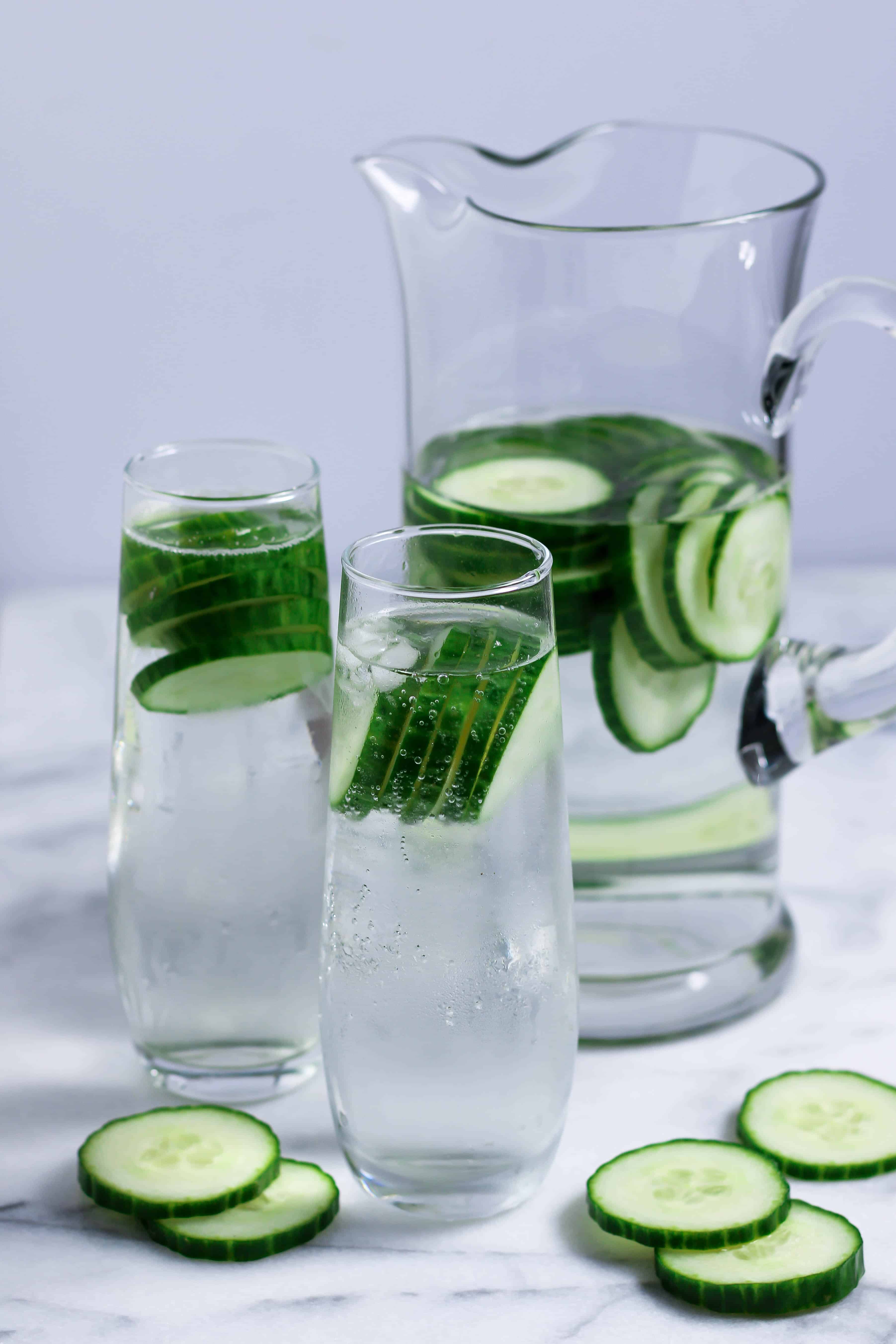 Cucumber Water Benefits
Hydration Benefits
The main benefit of cucumber water is that it helps with hydration.
Water is an essential nutrient, with the Institute of Medicine recommending a total water intake (from food and liquid) of 3.7 liters (125 ounces) for men and 2.7 liters (91 ounces) for women.
Consuming adequate water lessens the risk of dehydration and kidney stones. Adequate water intake also helps prevent poorer cognitive performance.
And with cucumber water being mostly water (and cucumbers themselves containing 95-96% water), it's safe to say cucumber water absolutely helps with your hydration goals and associated benefits.
Cucumber Benefits
There are many health benefits associated with cucumbers, too. Cucumbers contain antioxidants, vitamin K, vitamin B, vitamin C, as well as minerals like potassium, magnesium, phosphorus, and copper.
But let's be realistic: the amount of these nutrients infused from cucumbers into water is pretty minimal. i.e. while cucumbers are a great source of antioxidants, it doesn't mean cucumber water will be.
Final Thoughts on Cucumber Water
If you like cucumber water and it helps you meet your daily hydration needs - fantastic! There are many health benefits associated with adequate hydration, and cucumber water can certainly support that.
But cucumber water itself is not a miracle detox drink and there's no miraculous cucumber water weight for weight loss cure.
Since you've now learned how to make cucumber water, give it a try and enjoy it for what it is - a delicious way to drink more water!
Other Hydrating Recipes
Did you make this recipe? Give it a 5★ rating below! For more balanced nutrition and simple, healthy-ish recipes, be sure to follow me on Instagram!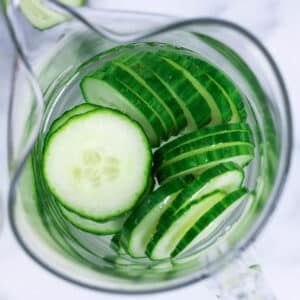 How to Make Cucumber Water
Learn how to make cucumber water for a simple, refreshing cucumber-infused water to help you stay hydrated!
Print
Pin
Rate
Ingredients
1

cup

sliced cucumber

4

cups

water
Instructions
Thinly slice cucumbers, then place them in a pitcher. Carefully fill with water.

Transfer pitcher to refrigerator to let chill for 20-30 minutes while cucumbers infuse.

Pour into glasses with any desired additions (i.e. fresh mint, berries) and enjoy!
Notes
Your pitcher size will vary, but adjust amounts accordingly (i.e. if your pitcher holds 6 cups of water, you'll need 1.5 cups of sliced cucumber).
Nutrition
Calories:
4
kcal
|
Carbohydrates:
1
g
|
Protein:
0.2
g
|
Fat:
0.1
g
|
Saturated Fat:
0.01
g
|
Sodium:
12
mg
|
Potassium:
45
mg
|
Fiber:
0.2
g
|
Sugar:
0.5
g
|
Vitamin A:
24
IU
|
Vitamin C:
1
mg
|
Calcium:
12
mg
|
Iron:
0.1
mg
Was this article on how to make cucumber water helpful? Save it to Pinterest for later and share your cucumber-infused water on Instagram (tag me so I can see - @nutritiontofit!)