This Spinach Banana Apple Smoothie is naturally sweet and refreshing, packed with fruits and veggies and cinnamon flavor. And the best part? This kid-friendly green smoothie is toddler approved!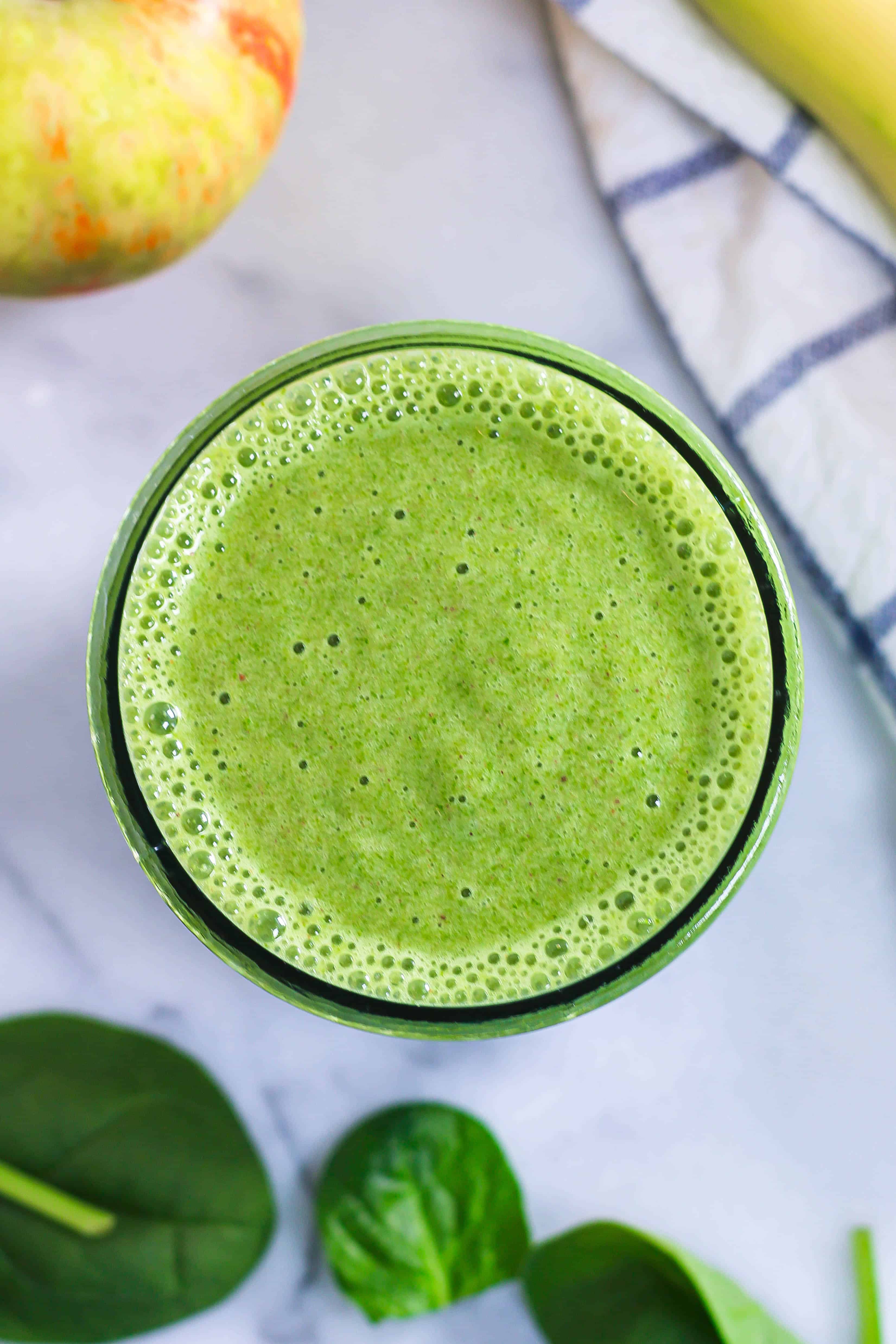 This post may contain affiliate links. As an Amazon Associate, I may earn from qualifying purchases. Click here to learn more.
Smoothies like this Spinach Banana Apple Smoothie are a fantastic, family-friendly healthy snack, or even part of a meal. Similar to my Cucumber Pineapple Smoothie or Chocolate Zucchini Smoothie, it's sweet and refreshing but packed with multiple servings of fruits and vegetables.
And the best part? It's totally kid-friendly! Have fun with it -- my son loves to call it a Hulk smash smoothie.
Ingredients & Substitutions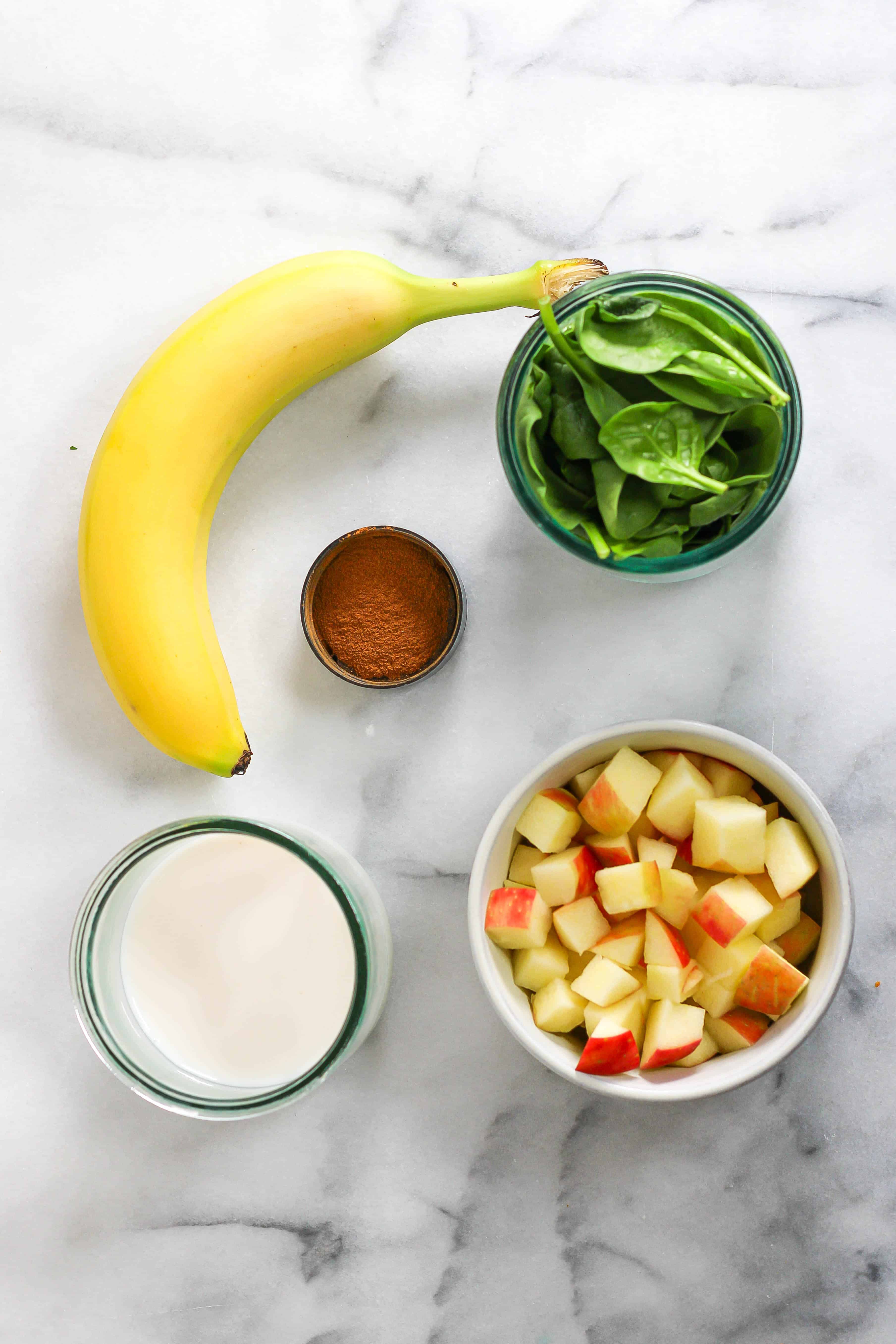 Spinach: The recipe is written for fresh spinach, but you can also substitute one cup of chopped frozen spinach. Not a fan of spinach? You can of course omit, or try another leafy green in its place.
Banana: Bananas add a creamy sweetness, as well as potassium and fiber. Try frozen banana for a thicker and creamier smoothie, and
Apple: Adding more fiber, vitamin C, and antioxidants, you can use any apple you prefer! Pro tip: it all gets blended anyway, so leave the peel on for more nutrients and fiber.
Milk of Choice: I like thicker smoothies, so I use less liquid, but add more if you prefer a thinner texture. And you can use whatever milk you like to drink - dairy, soy, almond, oat...they all work!
Cinnamon: Adds the best flavor that enhances the natural sweetness of the fruit. Feel free to substitute or add other flavorings, like ginger, apple pie spice, or vanilla or almond extract.
How to Make a Spinach Banana Apple Smoothie
Core and roughly chop the apple, then add all the ingredients to a blender. Blend on high for two minutes, or until smooth and creamy.
Pour into a glass or two and enjoy!
Expert Tips & Variations
TIP 1: Always blend smoothies longer than you think! I worked at a smoothie chain restaurant in college and quickly realized this simple tip is the secret to making smoothie shop quality smoothies at home.
TIP 2: Using frozen fruit, like frozen bananas in this spinach banana apple smoothie, will result in a thicker, creamier smoothie.
TIP 3: Start with less liquid. You can always add more liquid to thin it out, but it's harder to make a smoothie thicker again.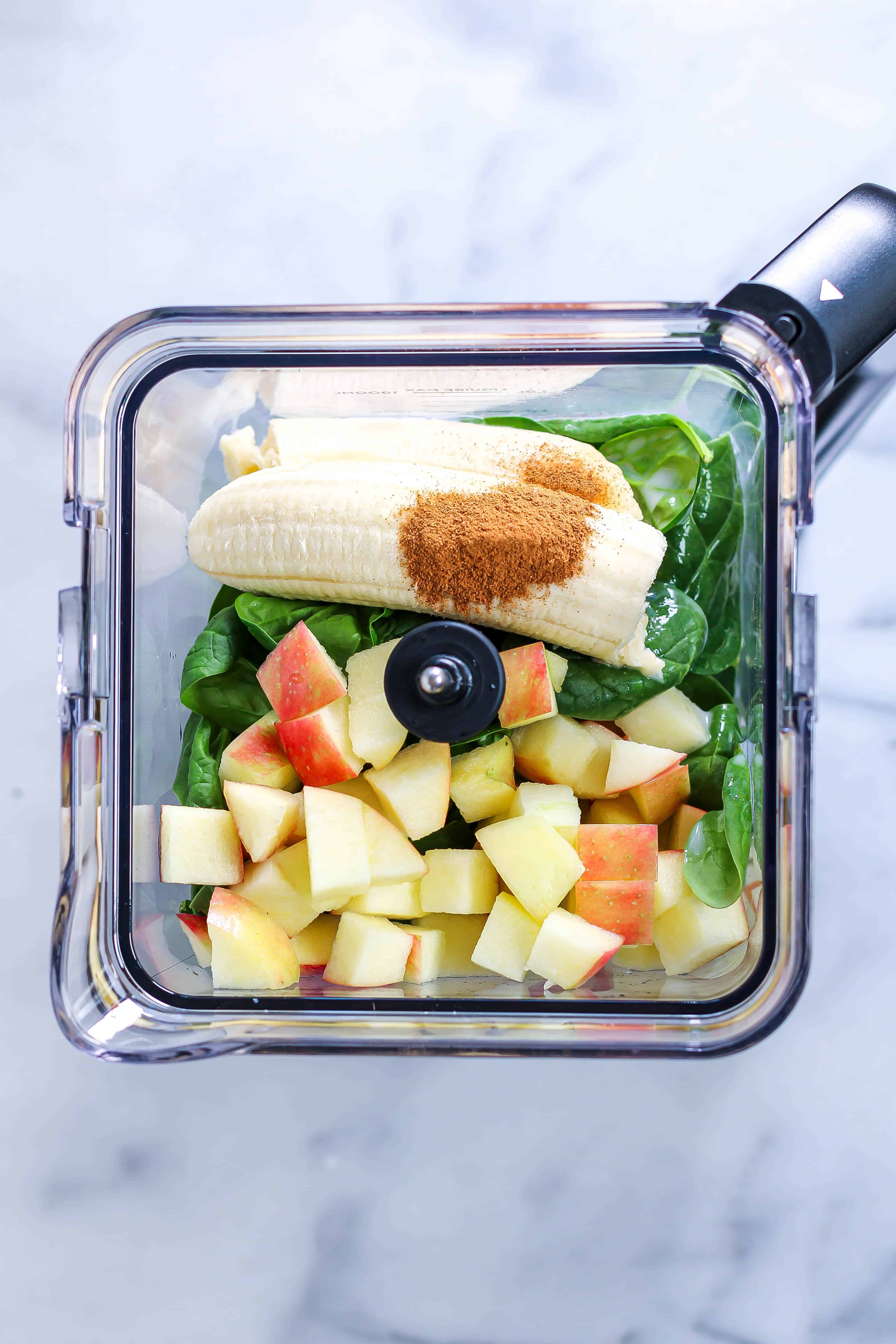 Equipment
The best blender to use is the one you've got! And truly, the tip of blending longer than you think you need to will help any blender out!
If you're in the market for a new blender, the top of the line is typically considered to be a Vitamix. And I've had a Vitamix blender before and really liked it (and it lasted for over a decade!)
But I recently tried a new Vitamix, and ended up returning it and bought a Ninja blender instead. And honestly? I really, truly love my Ninja blender - it works awesome, and can be purchased for a more reasonable price! (The Vitamix was great, too, but I didn't personally feel it performed so much better to justify over triple the price.)
Smoothie FAQs
Why is my smoothie not smooth and creamy?
Most of the time it's due to not blending it long enough - keep going another 30 seconds longer than you think you need to! And if that doesn't cut it, it could be a blender issue (either too low power or dull blades).
How do I keep my green smoothie from getting frothy?
Smoothies get frothy when they contain a lot of high liquid ingredients, such as apples, cucumbers, oranges, etc. The banana in this smoothie is really creamy and helps create a smoother, less frothy texture. You can also try adding a fat source, like nut butter, seeds, avocado, or a higher fat milk, to make it less frothy, too.
And of course - drink up! The longer your smoothie outs, the more time it has to become frothy and separate.
Is this smoothie healthy?
Healthy is actually a pretty subjective term. On an individual basis - it depends. (For example, this smoothie is higher in potassium, so it may not be the healthiest for someone on a renal diet watching their potassium.) But generally speaking, this spinach banana apple smoothie is something I, as a registered dietitian, would consider healthy for the general population.
It has a couple servings of fruits and vegetables, has five grams of fiber, and is full of antioxidants from the fresh fruits and spinach.
Is this smoothie okay for breakfast or a meal?
While this smoothie is generally healthy, it is not enough on its own to make it a full meal. A meal will require more calories, and you need to add some protein and fat, too.
For breakfast, you could make the smoothie as is and pair it with something like eggs for a boost of protein and fat.
You could also add additional ingredients to the smoothie, to make it more balanced and filling on its own. Try a protein powder or ingredient like Greek yogurt or cottage cheese. Check out this article for more ways to add protein to a smoothie.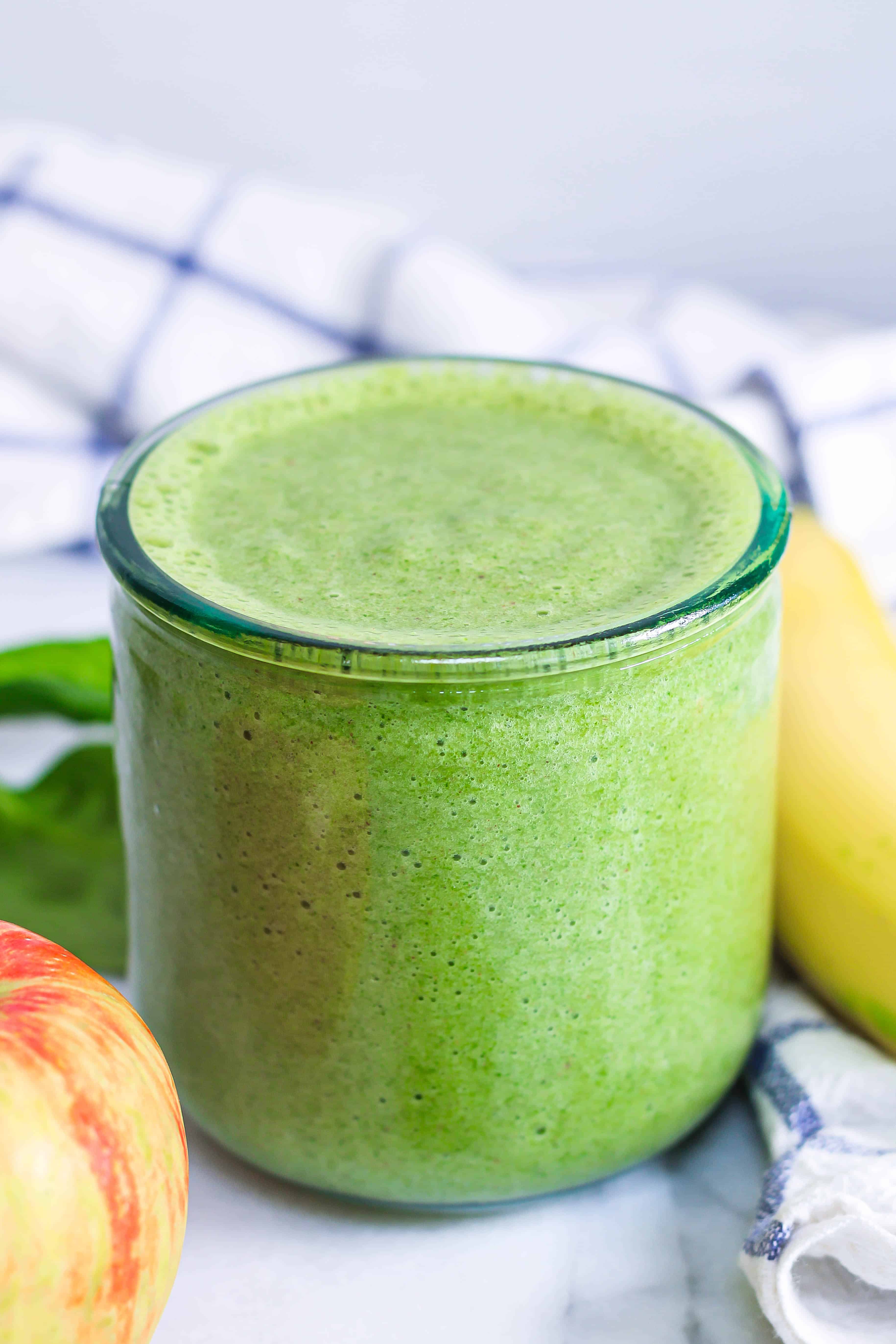 Spinach Banana Apple Nutrition
The nutrition facts for this smoothie will vary based on which exact ingredients you use, especially the type of milk.
Typically I make this smoothie as a snack for my kids to share, so I calculated it as two servings - but you can absolutely drink the whole thing.
Based on this smoothie recipe creating two smoothies, each smoothie contains 117 calories, 2 grams protein, 1 gram fat, 28 grams carbohydrates, 5 grams fiber, and 17 grams sugar (note that there is zero added sugar, this sugar content is all naturally occurring in the fruit).
This spinach banana apple smoothie also contains 478mg potassium, 18mg vitamin C, 118mg calcium, 2901 IU vitamin A, and 1mg iron.
More Smoothie Recipes You'll Love
Want more smoothie inspiration? Try the NTF 5-a-Day Smoothie for a smoothie that checks off five servings of fruits and vegetables in one glass. You can also check out this High Fiber Smoothie Guide and list of 40 Ways to Add Protein to a Smoothie.
Did you make this recipe? Give it a 5★ rating below! For more healthy recipes and tips to create your own balanced relationship with food and health, be sure to follow Nutrition to Fit on Instagram!
Spinach Banana Apple Smoothie
This Spinach Banana Apple Smoothie is naturally sweet and refreshing, packed with fruits and veggies and cinnamon flavor! And the best part? It's a very kid-friendly green smoothie!
Ingredients
2

cups

spinach

1

banana

1

apple

cored and chopped

½

cup

milk of choice

½

teaspoon

cinnamon
Instructions
Add all ingredients to a blender and blend on high for 2 minutes, or until smooth and creamy.

Pour into a glass or two and enjoy!
Notes
Nutrition information will vary based on milk used.
Nutrition
Calories:
117
kcal
|
Carbohydrates:
28
g
|
Protein:
2
g
|
Fat:
1
g
|
Saturated Fat:
0.1
g
|
Polyunsaturated Fat:
1
g
|
Monounsaturated Fat:
0.4
g
|
Sodium:
107
mg
|
Potassium:
478
mg
|
Fiber:
5
g
|
Sugar:
17
g
|
Vitamin A:
2901
IU
|
Vitamin C:
18
mg
|
Calcium:
118
mg
|
Iron:
1
mg