I love making food and cooking easy, and making it fun, too. That's why I wanted to share scenes from the first birthday party we had for my nephew this past weekend. The theme was turning "The Big One", like you'd catch a big fish when fishing. My sister kept all the preparations really cute and themed, but simple. It was such a fun, low-stress family affair that I asked if I could share it with you guys and she agreed!
In my personal opinion, this fishy veggie tray was the star of "the big one" show! My brother-in-law is an avid fisherman and apparently used all of his fishing expertise to craft this awesome veggie fish. Nothing like playing with your food and making it fun, right? We eat with our eyes first! 😉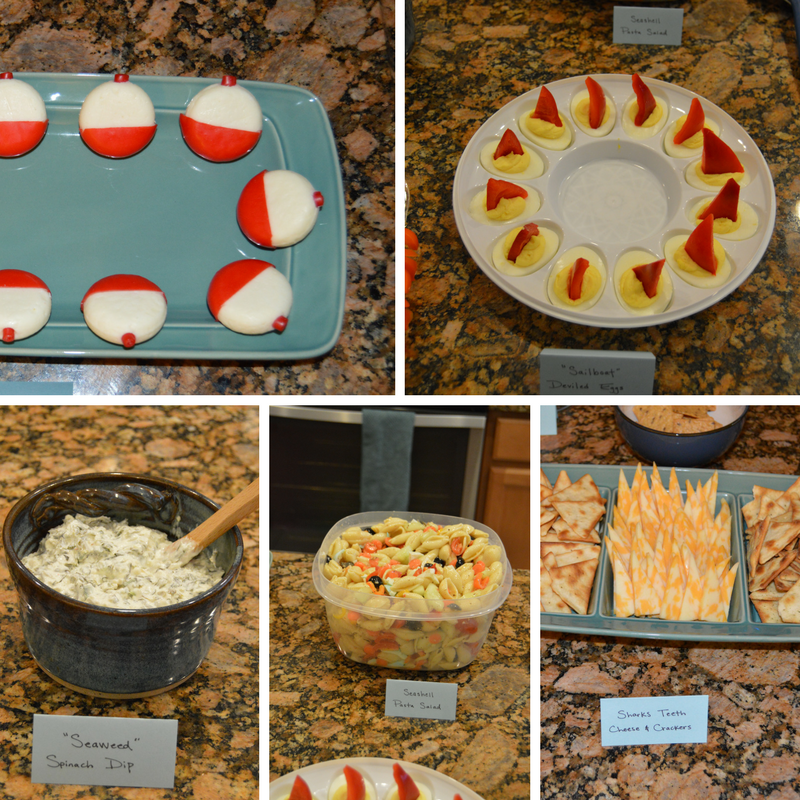 When my family does gatherings we like to keep things even simpler by the good ol' "divide and conquer" method of prep. While my sister definitely did most of the prep, my mom and I helped out a little. My sister used spinach "seaweed" dip, triangle-shaped cheese wedges and crackers for "shark's teeth", babybel cheese peeled to look like fishing bobbers, my mom made "seashell" pasta salad, and I made "sailboat" deviled eggs with bell pepper sails.
Again, we don't go super crazy in my family and like to keep things simple. So, naturally, we're not into crazy elaborate cakes and giant smash cakes. Smash cupcakes for the win! When the birthday boy was given his smash cupcake, we left the decoration out (something about a pretzel poking out of a cupcake seems like it's asking to poke an eye or nose with a one year old...). He seemed to have so much fun with it and basically acted like he was just playing in dirt!
It was such a fun celebration, although I'm still in disbelief he's already "the big one"! My own baby girl is turning six months next weekend, but this party has already started the fun, creative wheels turning in my brain. Tell me in the comments (please): do you have any fun first birthday party theme ideas or baby girl birthday party ideas? Thanks!