Toasting bread in the oven is a hack you want to have. Because one day your toaster will break, or maybe you need to make a lot of toast for a lot of folks and your little four-slice toaster isn't going to cut it. Regardless, it's time to learn how to toast bread in the oven!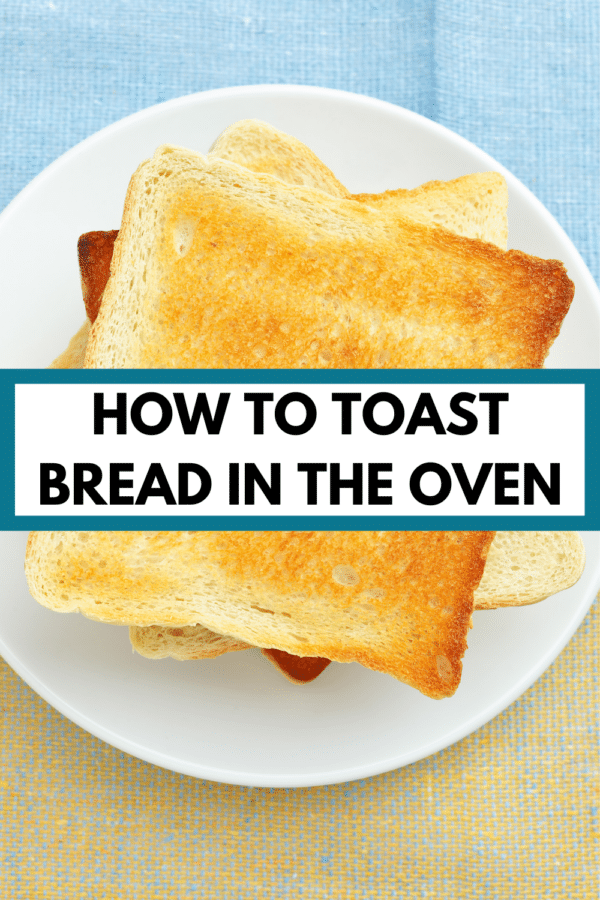 Advantages of Toasting Bread in the Oven
Why use an oven to make toast? Lots of reasons!
You don't have access to a working toaster
There's a need to make a lot of toast all at once
The oven is already on
It can help heat your kitchen and home a bit in colder months
What You Need:
From an ingredient standpoint, it's simple - you just need sliced bread! Read below to see tips on selecting your bread, along with some popular options.
You can get creative with additions like butter, olive oil, cinnamon sugar, garlic salt, and parmesan while the bread is toasting in the oven, but it's unnecessary for basic toast.
For equipment, you need your oven (obviously) and a sheet pan. You can certainly use a silicon baking mat or parchment paper, if you prefer, but truly the cleanup is pretty easy and I don't find them necessary.
How to Toast Bread in the Oven
To toast bread in the oven, start by preheating your oven to 350.
Place your desired number of slices of bread on a baking sheet, making sure there's no overlap and they're in a single layer.
Bake bread slices for 8-10 minutes, flipping them at the halfway mark and rotating the pans.
Everyone has a difference level for how done they prefer their toast, so check at the 8 minute mark and add more time as you need to achieve your preferences.
Oven Temperature for Toasting Bread
The best temperature for oven toasting bread is 350°F. That said, all ovens may vary a bit, so if you notice your oven runs hot, adjust temperature accordingly.
Read below for how to adjust oven temperature in a convection oven or toaster oven.
How to Broil Bread
Broiled bread can make great toast, but the number one thing to remember is to watch it like a hawk. Your bread can go from perfectly toasted to burnt in the blink of an eye.
Top tips for broiled bread:
Let your broiler fully preheat.
Move your oven rack to the top position, as close to the broiler as you can get.
Keep your bread in a single layer. Any overlap will result in less evenly toasted areas.
Many ovens will only take two minutes to broil bread - which means you need to check it (and flip your toast and rotate your pan) at the one minute mark.
Get to know your broiler and whether yours generally requires a little less or a little more time.
Watch it closely!
Seriously, the main piece of advice for toast via broiled bread is to watch it closely. The second you turn around to grab the jar of peanut butter (or pumpkin seed butter, or chia jam!), is when it'll burn.
Tips for a Convection Oven
If you have a convection oven, that's great! Convection ovens can help cook foods more evenly and crispy - which is great for toast!
But because of that, convection ovens tend to cook a bit hotter/ faster, so you'll want to do one of two things:
Drop the cooking temp by 25°F (so cook at 325°F) OR
Drop the cooking time by 25% (so if you need 10 minutes for your toast in a regular oven, you'll need 7-8 minutes in a convection oven).
Still make sure you flip the bread and rotate your pan halfway through cooking!
Experiment a little to see what works best for you with the type of oven you have and bread you prefer.
Toaster Oven Toast Tips
A toaster oven is basically a miniature convection oven, so keep those same considerations in mind.
Try an oven temperature of 325°F.
Cut cook time back by a couple minutes -- smaller ovens like a toaster oven heat faster and may require less time.
Remember you can always add more time, but you can't take away what's already been done!
One perk, though, is that because a toaster oven is smaller, it preheats faster! The main disadvantage is that if you're making toast for a crowd, you're not going to get as much done in one batch.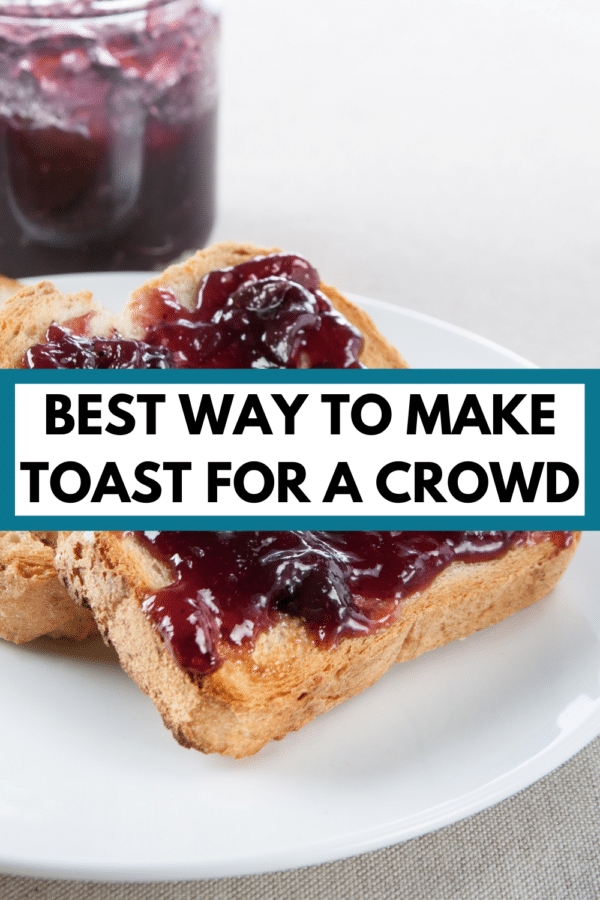 Best Types of Bread for Oven Toast
Truly the best type of bread for oven toast is your favorite one to eat! Some favorites include:
Artisan
Seedy
Whole grain
Sourdough
French
Italian
High fiber
Gluten-free
Toasting Tips for Different Types of Bread
Room temperature bread works best.
Using frozen bread? Thaw it on the counter or in the microwave prior to toasting, or add another minute to the toasting time.
Thicker slices of bread require a little more time (especially if you like it super crispy).
Thin slices of bread need a little less time.
This goes for gluten-free bread, too -- most gluten free bread loaves are smaller, so they need less time, and some brands don't get quite the same browning affect as others.
How to Fix Burnt Toast
One draw back of making toast in the oven is some find it can be easier to burn. If you find yourself with burnt toast and need to salvage it, try using a butter knife to scrape the burnt part off over a trash can or the sink. You can also use a microplane grater or cheese grater.
Can You Make Toast in an Air Fryer?
You absolutely can make toast in the air fryer! In general you need a lot less time - it's kind of more like making toast in a toaster oven.
Check out my post all about making air fryer toast!
Ideas for Toast Toppings
The best part about toast is that it can become a vessel for so many great toppings! I like to think of toast toppings as a way to add more flavor and satisfaction, but also a way to add a little more nutritional balance to make the toast a more satiating and nutrient-dense meal or snack.
Some fun toast toppers include:
And so many more options! Check out my article on Toppings for Toast for a much more in-depth look at toast topping inspiration, including some delicious (and nutritious!) combinations!
Wait, is Toast Healthy?
Is toast healthy? Why is a dietitian talking about toast and bread and *gasp* carbs?!
Toast, bread, and carbohydrates in general can absolutely provide health benefits. Especially if choosing a bread like 100% whole grain bread, where you're going to get added fiber, protein, and vitamins and minerals.
There is a lot of unnecessary fearmongering surrounding carbs in the health and wellness world, and I want you to know that you can eat carbs!
Of course different amounts of different types of food may make us each individually feel our best (so yes - some folks need more carbs, and some may require less!) And while you don't have to lose weight, if weight loss is a goal there's even been a year long, randomly controlled clinical trial showing no significant difference in weight loss between a healthy low carb vs a healthy low fat diet.
The truth is, you don't need another diet. If you're ready to understand the science of nutrition and how to fuel your body, feel your best, and still eat your favorite foods, sign up for my waitlist for my upcoming course.
Still reading? Come follow me on Instagram and let me know what you thought about this article on toasting bread in the oven!