When you are ready to make some healthier lifestyle changes it's perfectly natural to want and need structure. As a registered dietitian nutritionist, I fully support that! But there is a fine line between gentle structure allowing you to create sustainable healthy habits and excessively restrictive and lifestyle-limiting diets and programs. One clue your diet or lifestyle may actually be too limiting for your life? If you feel the need for cheat meals or cheat days.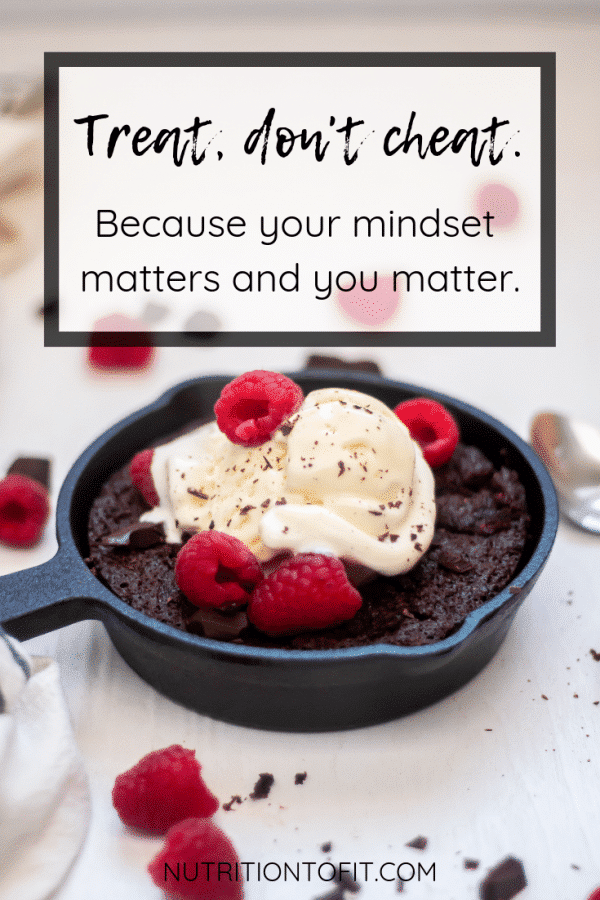 What's a Cheat Meal?
A cheat meal is a popular term for a meal (or day) that's giving you a planned break from a set of rigid diet rules.
A quick search on Google tells me tends of thousands of people are searching each month for things like:
cheat meal

cheat meal ideas

cheat meal vs cheat day

cheat meal calorie limit
Even just look at the definitions of cheating per Merriam-Webster (1):
: to deprive of something valuable by the use of deceit or fraud

: to influence or lead by deceit, trick, or artifice

: to elude or thwart by or as if by outwitting
Honestly - this makes me pretty sad. I can only speak for myself, but I have zero desire to cheat, be deceitful, trick, or be fraudulent with anything that's important to me, like my marriage, my kids, my relationships, my faith, my business, my finances, and more. So why would I want to cheat myself? Well, I don't. And honestly - you shouldn't either. You are incredible and offer so much value just as you are - so honor yourself, don't cheat yourself!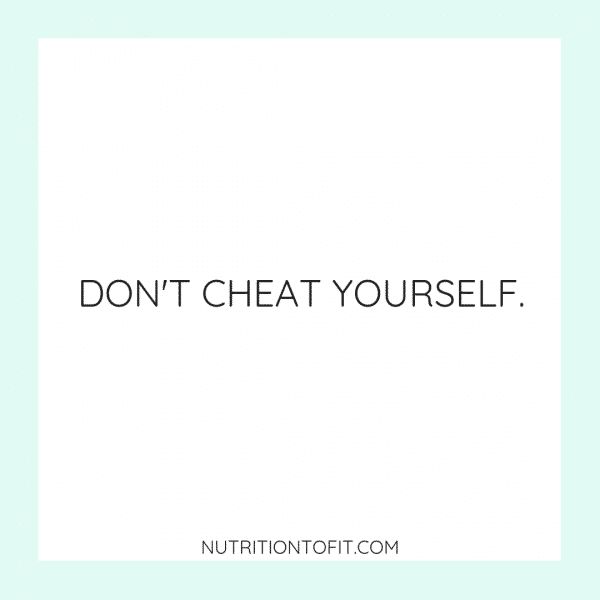 Plus at the end of the day, if you feel like you need a cheat day or a cheat meal, how truly sustainable is your healthy "lifestyle"?
Shift Your Mindset: Treat, Don't Cheat
I'm the biggest advocate for the role a positive mindset plays in health, including creating sustainable healthy habits. A big part of a positive mindset is appreciating and honoring yourself (physically, mentally, emotionally, etc.) as you are now.
When you are focused on appreciating and honoring yourself now, you cultivate a greater desire to take care of yourself. And that's to me where the concept of "treat, don't cheat" comes in.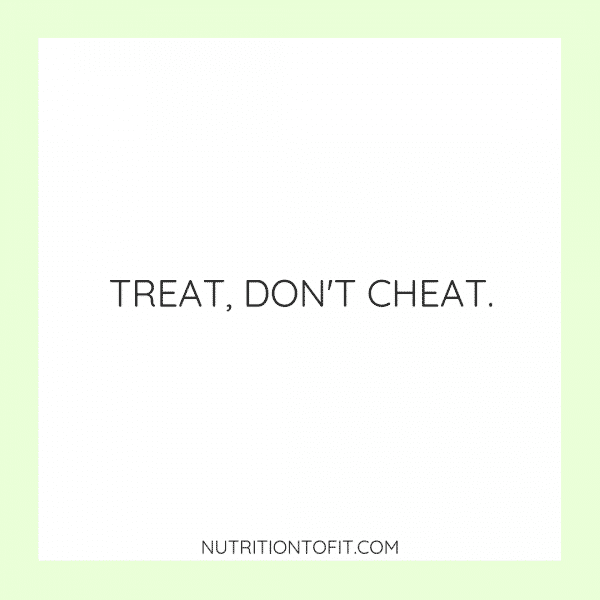 Treats Can Include Dietary Indulgences
Treating yourself can totally include the types of foods you may be more conditioned to viewing as cheat meals or days. It doesn't matter if it's fried, sweet, alcoholic, or anything else. There's space for all of it. It can be the wedding cake at your best friend's wedding, the champagne on New Year's Eve, or it can even be homemade ice cream sundaes on a random Tuesday night at home with your fam.
Remember: we're taking a holistic view of health here. We're looking beyond the nutrients or calories of what's on your plate. Your health also includes your mental, emotional, spiritual, financial, physical, and other areas of health, too. Yes, nutrition is important to consider for health, but so is physical movement, sleep, and stress management.
By occasionally enjoying your favorite treat, it can actually benefit your mental health and decrease your stress. Sure there may be a more nutrient-dense option, but your health is what you consistently do most of the time and is not defined by single moments. Your mindset is much less affected when you ditch the stress and even fears surrounding specific foods and just enjoy it every once in a while.
Your chances of creating healthy habits that are truly sustainable for life are much greater when you allow yourself a treat and then just move on. There's no ruining your day, no "I'll start over tomorrow", no "what the heck, I already had the queso appetizer, may as well order drinks and dessert, too, oh and wait - does this place have bottomless fries?" There's just enjoying one moment and moving on to the next.
Treating Yourself as a Form of Self-Care
Ultimately, I view treating yourself as another form of self-care. Treats can include your favorite bites, sips, and indulgences, but they also encompass SO much more. For example, one of my favorite ways to treat myself is to take the time out of my day to shut technology down and make the time and space for an epsom salt bath. The magnesium from the epsom salts helps relieve any aching muscles, the soothing warmth of the hot water immediately relaxes me, and it forces me to unplug and just be still and present with myself and relax. What a great treat!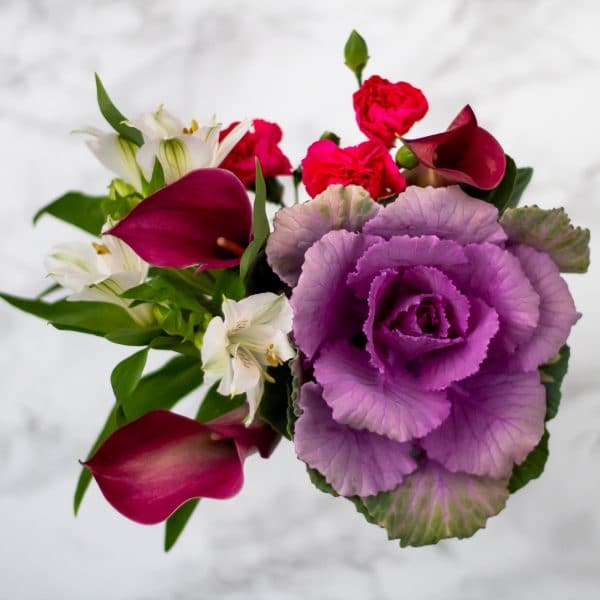 When you lose the cheat mindset and switch to a treat mindset, the positivity allows you greater room to want to care for yourself. You stop the patterns of forcing yourself to have some decadent, greasy, sugary meal on a Saturday night even if you don't feel like it just because it's your cheat meal on your calendar. You stop feeling like every time you go out, you have to go with the greasier, sweeter, more decadent options or load up on many alcoholic drinks just because you need to "take advantage" of being out and the room you made for it.
Other Ways You Can Treat Yourself
Treating yourself can look so different for all of us, and even for each of us depending on the day. But here are some of my favorite treats:
An unplugged, totally disconnected night or weekend.
Picking up an inexpensive bouquet of flowers to add some color and cheer to my house or desk.
A new flavor of herbal tea.
Watching a movie on the couch with my husband or family.
A new book.
A class at my favorite yoga studio.
An epsom salt or bubble bath.
Diffusing my favorite essential oils.
Trying a new mascara or lip tint.
Quality dark chocolate.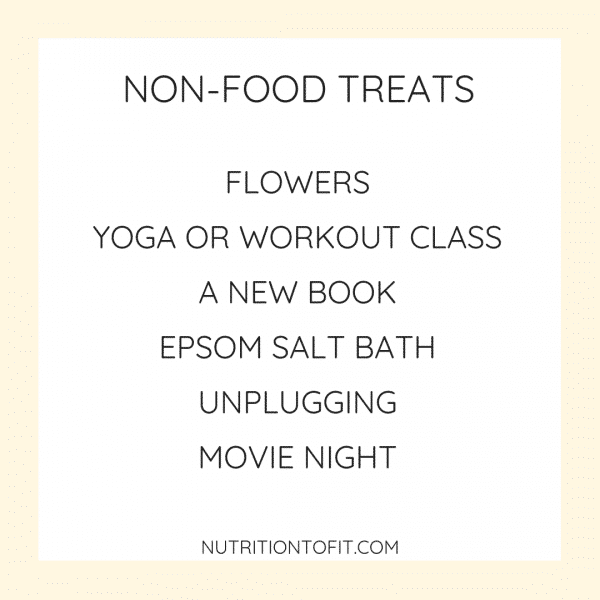 I'd love to hear in the comments below what some of your favorite ways to treat yourself include. Food and non-food alike! And if this post resonated with you, please be sure to share it to Pinterest or with your friends and family on Facebook or Instagram! Live well!