This Strawberry Salmon Salad is a delicious entree salad that is packed with fresh flavors, varied textures, loads of toppings, and salmon baked in the dressing for even more flavor!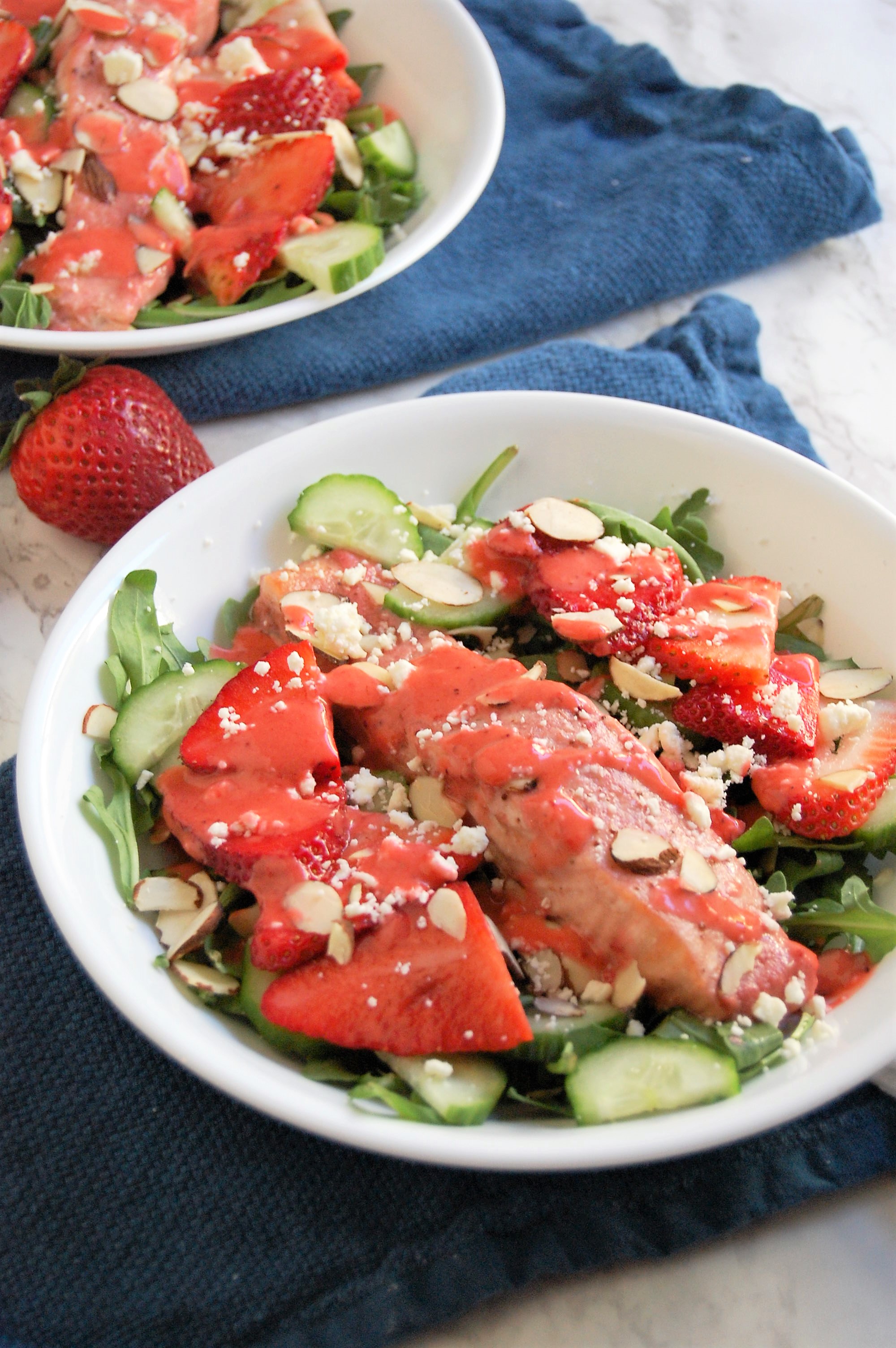 It's that time of year where it feels like spring is finally here! We're surrounded by beautiful pastels and brightly colored merchandise decorating store aisles, we've celebrated Easter, temperatures are rising, and I even have those "April showers" happening outside my window right now! One other way everyone can tell? The food!
Fresh, seasonal, springtime favorites are popping up all over the place. And I don't know about you guys, but all of this beautiful, fresh spring food really just gets me craving more light and fresh foods. But don't get me wrong – this does not mean "diet food". If I'm having a salad, I want it on my terms. Personally, I just don't dig those salads that are mostly greens and like two tablespoons of toppings. Greens are great and all, but toppings are where it's at! I want variety of tastes and textures, I want sweet and savory, crunchy and creamy – I want it all!
This Strawberry Salmon Salad does it all. You've got a base of arugula, which is fresh and a bit spicy for fresh greens. Our main protein is my favorite fish – salmon. The dressing does double duty as both a dressing and a marinade/ liquid bath the salmon bakes in. And the dressing…it's acidic, slightly sweet, and very fresh. Then of course, our toppings. Naturally with strawberries featured in the salad dressing and marinade, we need some fresh berries on this salad. I also threw on some seedless cucumber for a fresh crispness, almond slivers for crunch, and feta for a bit of creaminess. All in all? It's just one delightfully balanced, legit salad. 🙂
What You Need: 
Salmon
Fresh strawberries
Extra virgin olive oil
Red Wine Vinegar
Honey
Arugula
Seedless cucumber
Almond slivers
Feta cheese
Salt and pepper
A note with salmon: you can leave the skin on or off, it's your preference. Nutritionally speaking, there is a high concentration of healthy fatty acids in the skin. But personally? I just don't like it, so I take it off. Gotta make nutrition fit your life and your tastes, and trust me – there are still plenty of nutrients in the salmon flesh and in this salad overall!
By pouring half the dressing over the salmon and baking the salmon in basically a strawberry bath, it almost has a poaching effect that results in a super tender salmon. Super flavorful, too!
Let me know if you try this Strawberry Salmon Salad, and how you like it! And as always, I'm hear for you guys! Any recipes you want to see? Recipes you want made over? Leave a comment below and let me know! Be well!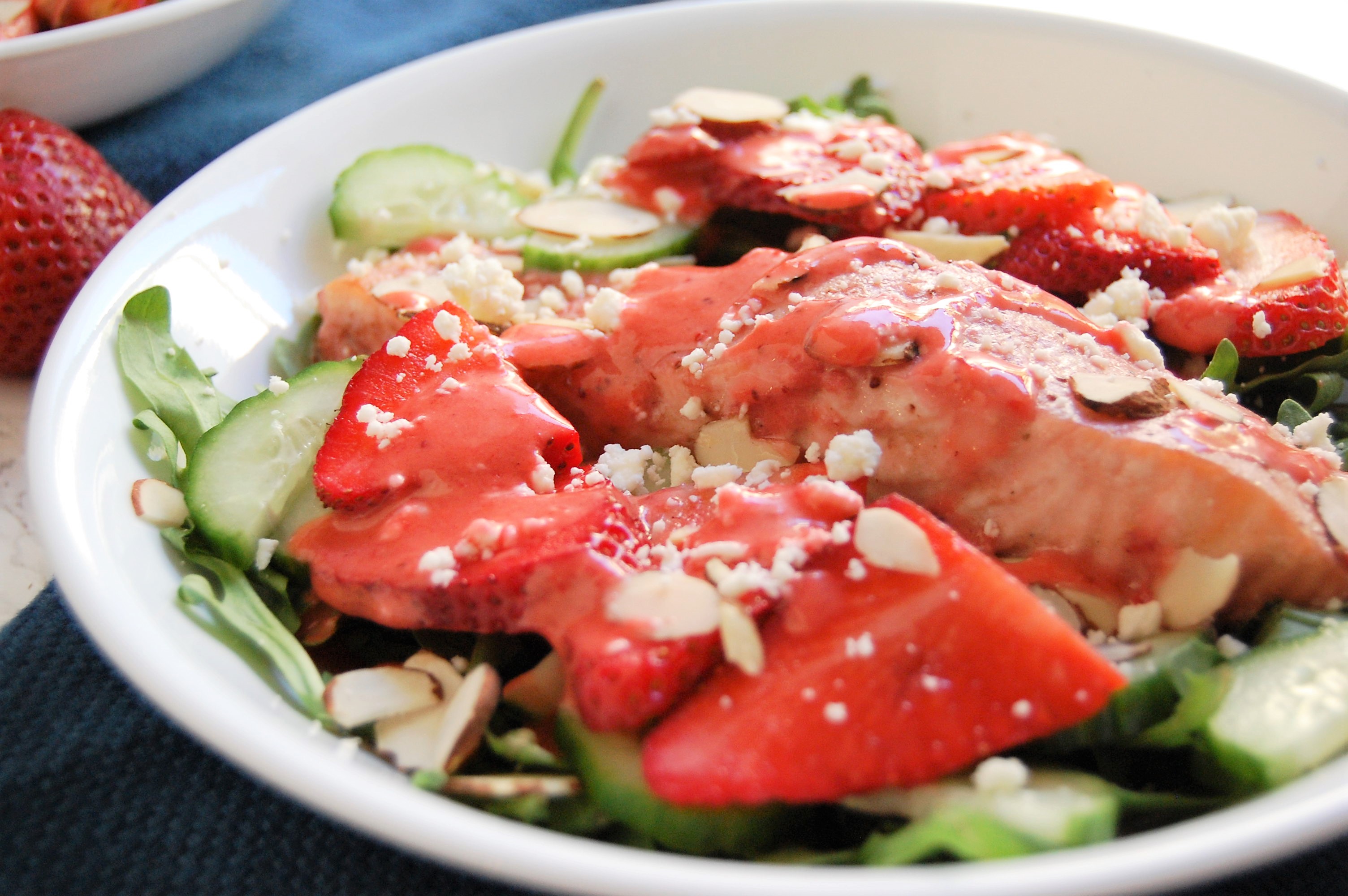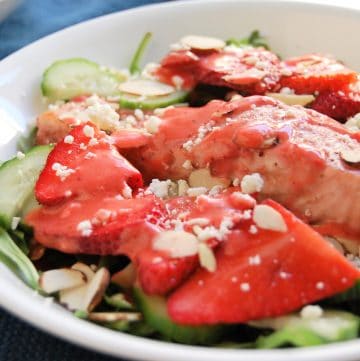 Ingredients
1

pound

salmon

cut into 4 fillets
Dressing:
2

cups

strawberries

¼

cup

extra virgin olive oil

¼

cup

red wine vinegar

2

teaspoons

honey

salt and pepper to taste
Salad Ingredients:
6

cups

arugula

1

cup

strawberries

stem removed and sliced

1

cup

seedless cucumber

cut in half length-wise, and sliced into half-moons

¼

cup

slivered almonds

2

tablespoons

feta cheese
Instructions
Preheat oven to 400 degrees.

Prepare a baking dish (either an 8x8 baking dish or even a pie pan will work) by lining it with foil. Place salmon fillets on foil.

Place all ingredients for the dressing (strawberries, olive oil, red wine vinegar, honey) in a blender and blend for 60 seconds, or until all ingredients are pureed together. Add a pinch of salt and pepper to taste.

Pour half of the strawberry dressing over the salmon in the prepared baking dish.

Bake salmon for 18-20 minutes, or until fork-tender and salmon has reached an internal temperature of 145 degrees.

Divide salad ingredients between four plates. Place a salmon fillet on each salad. Serve remaining salad dressing on the side so everyone can use as much or as little as they want. Enjoy!