Popping in with a bonus Tuesday post! Because Tuesday = Taco Tuesday. And tomorrow = Grilled Cheese Day (yes, that's a thing, and a thing I apparently couldn't be more excited about). So, this recipe is basically the fun hybrid of both days: a Taco Grilled Cheese.
Moms, this is a super time-saver for you! While it doesn't contain full portions from all food groups, this little Taco Grilled Cheese actually has all five food groups in it! And I'm big that any and every exposure to fruits and veggies is beneficial!
What You Need: 
Grains: Whole Grain Bread (can use gluten-free if needed)
Dairy: Pepper Jack or Colby (depending on if you want a little kick or not!)
Protein: Taco Turkey Meat + Pinto Beans
Vegetable: Chopped Romaine Lettuce
Fruit: Chopped Tomato
For the Taco Turkey Meat, you don't need a full pound in order to make this Taco Grilled Cheese, but I love making a batch with a pound of turkey at a time. That way I have cooked, seasoned turkey I can add to salads, quesadillas, burrito bowls, etc. To make the Taco Turkey just cook:
1 pound lean ground turkey
2 teaspoons chili powder
1 teaspoon cumin
1 teaspoon dried onion
1 teaspoon garlic powder
1 teaspoon oregano
Salt to taste (about ¼ teaspoon)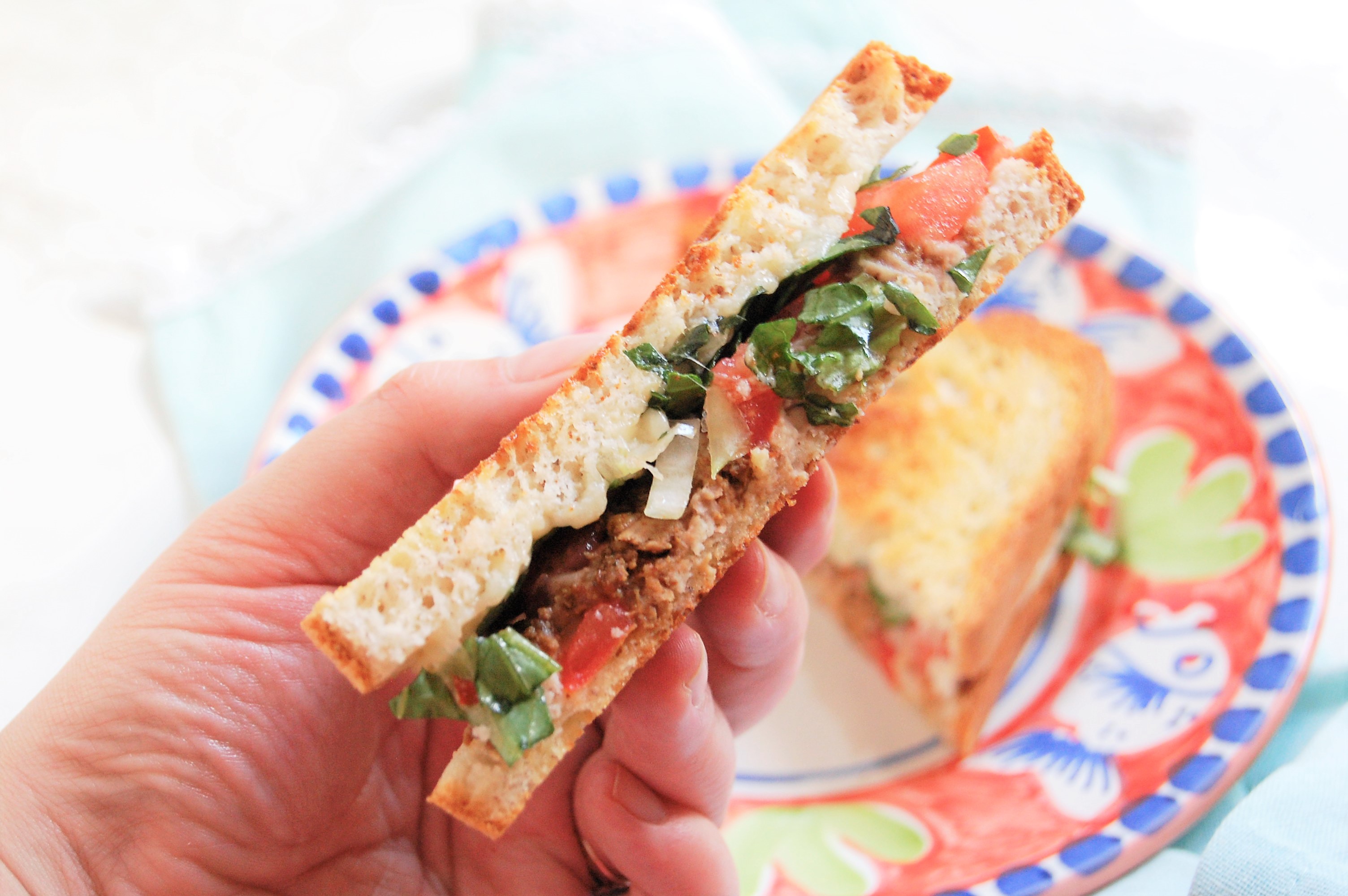 If you really want to go crazy with this Taco Grilled Cheese, feel free to add other things like sauteed peppers, mushrooms, caramelized onions, avocado or guacamole, etc. Food doesn't need to be taken so seriously, so have fun with it!
Taco Grilled Cheese
Ingredients
2

slices

of bread

I used whole grain gluten-free bread

1

slice

cheese

pepper jack or colby

2

tablespoons

pinto beans

mashed with a fork

2

tablespoons

taco turkey meat

2

tablespoons

chopped romaine lettuce

2

tablespoons

chopped tomato
Instructions
Preheat a griddle to 400 degrees (or use a nonstick skillet over medium-high heat).

Brush olive oil lightly on one side of each piece of bread. Place bread oil-side down on the griddle.

Layer the slice of cheese on one piece of bread, and the mashed pinto beans on the other side. Place taco turkey meat on beans.

Once cheese has melted and bread toasted, place lettuce and tomato on the turkey, then flip the other piece of bread onto the sandwich so the cheese "seals in" all the other ingredients.

Serve immediately!