Natural fruits and veggies dye yogurt beautiful colors of the rainbow to make this fun Rainbow Frozen Yogurt Bark that's like foodie arts and crafts for your kids! Don't forget to check the video below!
You guys I am SO EXCITED about this Rainbow Frozen Yogurt Bark recipe/ foodie arts and crafts today! I've been seeing all these beautiful "rainbow" and "unicorn" foods on Instagram and they're just so pretty! So of course I wanted to make pretty food, too! 😉
Now, being the dietitian nerd that I am, when I think of pretty food, I think of fruits and veggies! I love the concept of "eat a rainbow" - it's such a tangible way to think about nutrition, and its a way that gets kids excited about fruits and veggies (and apparently grown women turning 30 this summer...ahem, me). So when I thought about rainbow food, I wanted to come up with a treat that parents could have fun making with their kids, would rely on fruits and veggies, and be a fun snack for kiddos! Mission: accomplished.
I've shared below the exact combinations I used to make the different colors, but honestly? The general rule of thumb is to use half fruit or veggie and half plain Greek yogurt (yes there's protein and a fun tartness there, but the important reason to use Greek yogurt here is because the water naturally found in fresh fruits and veggies will thin the yogurt out a bit). Then you can add a little sweetener to taste (no honey for babies under 1).
The really fun thing about this Rainbow Frozen Yogurt Bark, is that there is no limit to the amount of colors you can create. Go crazy! Open your fridge and freezer and let your kids pick different fruits and veggies to add to see how the color (and taste ;)) changes. I added a few more pops of color to my bark with a few fresh fruits and some unsweetened coconut shreds, but you can use freeze-dried fruit, seeds, nut slivers, a drizzle of honey, or heck - even mini chocolate chips would be fun!
Bottom line? Have so much fun with this with your kids. There's nothing perfect about this Rainbow Frozen Yogurt Bark recipe, and it's a super fun, laid-back way to get creative with your kids. Plus, what kind of awesome craft ends with a snack you can eat? Where were these crafts when I was a kid? 😉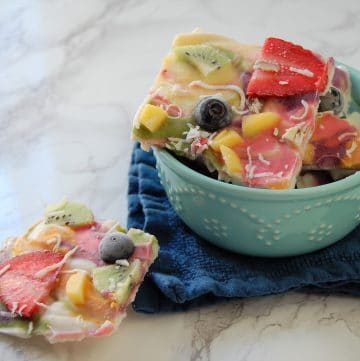 Ingredients
White: 1 cup plain Greek yogurt + ¼ teaspoon vanilla extract + agave or honey to taste

Red: ½ cup strawberries + ½ cup plain Greek yogurt + agave or honey to taste

Orange: ½ cup canned pumpkin + ½ cup plain Greek yogurt + agave or honey to taste

Yellow: ¼ cup mango + ¼ cup pineapple + ½ cup plain Greek yogurt + agave or honey to taste

Green: ½ cup fresh spinach leaves + ½ cup banana slices + ½ cup plain Greek yogurt + agave or honey to taste

Purple: ½ cup blueberries + ½ cup plain Greek yogurt + agave or honey to taste

Toppings: chopped fresh fruit

freeze-dried fruit, coconut shreds, seeds, nuts, peanut butter drizzle, honey drizzle, mini chocolate chips, etc.

Note: all fruit/ veggies can be fresh or frozen

just be sure to thaw frozen first for easier blending!
Instructions
In a blender, blend each yogurt color combination (or any other combination you desire).

Spread white Greek yogurt on a sheet pan lined with parchment paper.

Place small spoonfuls of colored yogurts around the white yogurt.

Using a popsicle stick, a spoon, or some other child-friendly device, create swirls or designs in your yogurt.

Sprinkle any desired toppings on yogurt before freezing.

Freeze flat for 3 hours, or until yogurt has solidified.

Parents: use a knife to chop bark into thick strips. Kids can then more easily break it into pieces.

Store in a covered container in the freezer up to a couple weeks (if it lasts that long!).