This asparagus ricotta frittata is a simple brunch dish with just five ingredients, perfect for Mother's Day. It also doubles as a great weeknight dinner!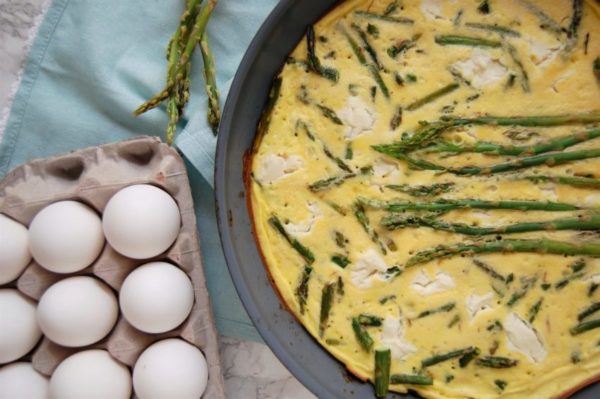 Asparagus Ricotta Frittata
A frittata or crustless quiche is one of my favorite entrees. It's simple to prepare and so versatile for any meal of the day! Bonus is that it's packed with nutrients and it's incredibly easy to make a balanced meal with protein, healthy fats, and fiber-rich carbohydrates with your frittata ingredients and side items you pair it with.
This particular frittata is like a crustless quiche with fresh springtime asparagus and dollops of creamy, protein-rich ricotta cheese.
I really love it for this time of year especially for Mother's Day celebrations. And speaking of - I'm so excited about Mother's Day this year.
My Story to My First Mother's Day
This weekend I'm going to celebrate my first Mother's Day. And honestly? It's still kind of surreal.
Technically last year was my first Mother's Day, as I was pregnant at the time. We actually announced on social media that we were expecting on Mother's Day (see our announcement picture in this Peanut Butter Banana Blender Muffins post!). I mentioned it briefly in that post, but I've been thinking again lately about the apprehension that surrounded us for years about starting our own family. Specifically, I've been thinking about the power fear holds over our lives, when it should hold no place.
When I was diagnosed with PCOS I was explicitly told that I would not be able to get pregnant without help, and that I may never be able to conceive or carry a child. When I was told this, we weren't planning on trying for a family in the immediate future, but we both deeply wanted a family one day.
At some point over the years I started to live with so much fear and anxiety about getting pregnant. The more time that went on, the more I wanted to start our family. But I was always so afraid. I was afraid that I had never lost all the weight I gained from PCOS, hypothyroidism, and years of poorly managed stress, and I was immensely anxious if and how that would play a factor in our journey to grow our family. I was afraid of what would happen when we officially started to try . What if we tried and we couldn't get pregnant? I got so anxious about trying to achieve perfection before starting to try. You know - perfect jobs, perfect finances, perfect marriage, perfect house, perfect life, perfect health, etc. Which obviously is unattainable, and of course, created more frustration and pressure.
When we finally decided to stop waiting, it turns out the longest of the waiting was in the past. I found a new doctor, had a bunch of labs and monitoring/ tracking done, confirmed I still was not ovulating, started a couple treatments to help my body ovulate and better our chances of being able to conceive, and we were pregnant a few months later.
I do believe everything happens for a reason. I'm grateful for the life I lived and lessons I learned (and am still learning) from those years waiting to start our family. But every time I look at my beautiful daughter's sweet, cheeky face grinning up at me, I'm reminded of the power of faith and the grace and beauty that comes from not letting fear take hold over your life.
This lesson is one I can apply to so many areas of my life, and time and time again I'm realizing that fear can be the worst part of the battle, simply because of how it intensifies the negativity.
The journey of starting our family was so much more than "just" starting our family. I'm embracing the "now" more, I'm embracing each moment with a "face-value" look, and not getting caught up in fears of what-ifs. It's carrying over into my personal life, my health, my career, this business! So here's to ditching the fear and embracing today!
One last thing. I know this time of the year can be really hard if motherhood is on your heart. I know there's really nothing I can say. But just know you're in my prayers, and I truly believe that. Shoot me an email and let me know if you have specific things I can be praying for!
Also? This  Asparagus Ricotta Frittata is for you. It's simple. It's nuanced of spring flavors - the season of hope, new growth, new life. It's a brunch for you, because you need brunch, too. We all need brunch. Cheers, friends!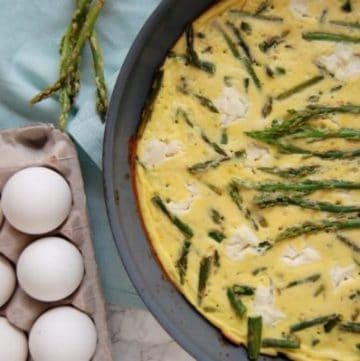 Asparagus Ricotta Frittata
This asparagus ricotta frittata is a simple brunch dish, perfect for Mother's Day. It also doubles as a great weeknight dinner!
free from: wheat/ gluten, soy, fish, shellfish, tree nuts, peanuts
Print
Pin
Rate
Ingredients
3

cups

chopped asparagus

1

teaspoon

olive oil

¾

c

part-skim ricotta cheese

reserve ¼ c for top

8

eggs

¼

teaspoon

salt

optional: reserve a few asparagus spears to garnish on top
Instructions
Preheat oven to 400 degrees.

Heat olive oil in an oven-safe nonstick skillet over medium-high heat.

Add chopped asparagus and saute 4-5 minutes, or until slightly tender.

Using a blender, immersion blender, or food processor, blend eggs, ½ cup ricotta cheese, and salt.

Pour egg mixture over asparagus (do not stir). Continue to cook 3-4 min.

While cooking, place dollops of the reserved ¼ cup of ricotta cheese on top of the frittata. Garnish with remaining asparagus spears, if desired.

Place in oven for 7 min or until set and not jiggly.

Serve immediately with a sweet potato, roasted potatoes, toast, etc. Any leftovers can be stored in an airtight container in the fridge for 3-4 days.
Nutrition
Calories:
218
kcal
|
Carbohydrates:
6
g
|
Protein:
18
g
|
Fat:
13
g
|
Saturated Fat:
5
g
|
Cholesterol:
341
mg
|
Sodium:
329
mg
|
Potassium:
382
mg
|
Fiber:
2
g
|
Sugar:
2
g
|
Vitamin A:
1410
IU
|
Vitamin C:
5.6
mg
|
Calcium:
199
mg
|
Iron:
3.9
mg